Now in its third year, GKIDS in partnership with Annecy International Animation Film Festival, Variety, and Fathom Events held the "Animation Is Film (AIF) Festival" at the TCL Chinese 6 Theater in Hollywood.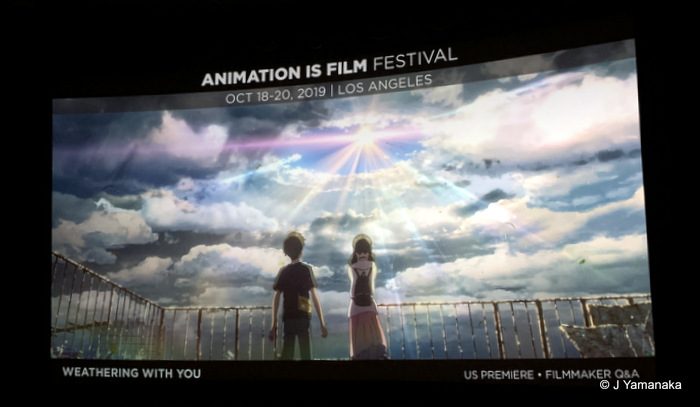 For three days, festival-goers enjoyed five US/North American premieres and eleven filmmaker Q&As, along with four special "behind-the-scenes" presentations including one on the upcoming "Frozen 2."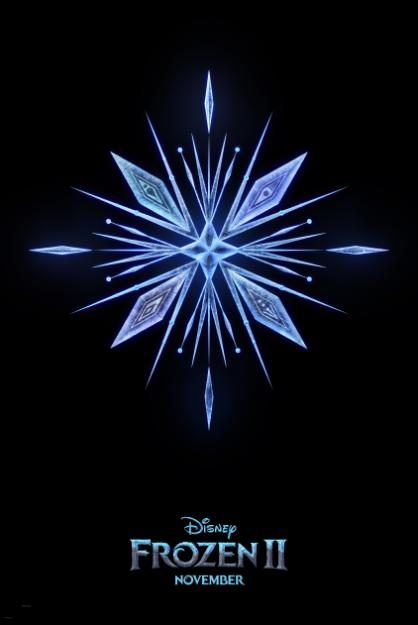 The festival started off with the US premiere of Makoto ("Your Name") Shinkai's newest film "Weathering With You."  This romantic-fantasy tells the tale of Hodaka Morishima, a teen runaway who comes to Tokyo without much more of a survival plan than asking questions on Yahoo! message boards.  In short order, he obtains a job as a gopher for a sketchy tabloid that covers phenomena that could be paranormal…or could just be normal.  Their current investigation is on the incessant rain that falls on Tokyo in defiance of historical records or meteorological rationale and it eventually leads Hodaka to Hina Amano–a legitimate "sunshine girl" who can pray the clouds away.  Upon finding out Hina's dire need for money to support her kid brother (their parents have passed away leaving her the sole breadwinner) Hodaka comes up with a business idea to sell Hina's prayers to people who want a break from the rain.  This solves her financial problems but leaves with her with some others as it turns out Hina's connection with the sky and the weather is more complicated and unfortunate than they might have guessed.
It's a beautifully animated film with pitch-perfect depictions of Tokyo in all of its myriad neighborhoods full of beauty and dilapidation like any big city.  It is unfair but inevitable to compare it with Shinkai's last film "Your Name" which was a huge box office phenomenon for a domestic Japanese film, second only to "Spirited Away."  The similarity of character design, as well as his return to the Japanese rock band RADWIMPS for the soundtrack, gives the two an even closer feel.  A wink to this relationship happens in "Weathering" as the "Your Name" protagonists make brief unnamed cameos in different scenes.
It's a little unfortunate then, that "Weathering" doesn't quite measure up to its predecessor.  The characters are slightly less engaging with foggier motivations–Hodoka runs away and suffers any number of hardships, from almost getting drowned, to being mugged, to starving, to almost killing people…and for what?  All he ever says is that back home he was "suffocating," which wouldn't seem to be enough to justify all that.  The ending, which spirals into mysticism and planetary consequences, is likely a commentary on the growing specter of climate change, but a more fatalistic one than you might expect.  Ultimately, although it may not meet up with the high bar "Your Name" created, "Weathering With You" is pretty and entertaining and certainly a worthwhile film to seek out and watch when GKIDS brings it to theaters in January.
"Children of the Sea" has a much less polished feel to it, which matches its more abstract story.  Young teen Ruka Azumi finds that her temper and aggressive behavior manage to get her banned from her sports club on the first day of summer vacation.  Her home life is troubled, as we can tell by the mounting pile of beer cans she has to pick her way through to get to the door each morning, so she escapes to the aquarium where her (separated) father works.  There she meets up with a pair of brothers that had been fished out of the sea where they had been raised by dugongs (relatives to manatees.)  Her relationship with the mysterious boys takes a path that is inexorably connected to strange occurrences of a meteor hitting the nearby ocean and a worldwide migration of fish.
Adapted from Daisuke Igarashi's manga of the same name, this film was clearly trying to make a statement of the connections between nature and people as Ruka becomes closer to both the sea and the boys that are a part of it, but the message becomes muddled and bogged down towards the last half which takes on a "2001: A Space Odyssey" air of colorful patterns, special effects, and ambiguous meaning.  STUDIO4C and director Ayumu Watanabe do a great job evoking an atmosphere and a real-life to the complicated and sometimes hostile Ruka, but the bigger storyline remains hard to follow.
"Ride Your Wave" is a surprisingly conventional film, given it was from director Masaaki Yuasa who recently gave us the more hallucinogenic "The Night Is Short, Walk On Girl."  It is centered around college student/dedicated surfer Hinako Mukaimizu and firefighter Minato Hinageshi who meet when he dramatically rescues her from a burning building.  She is cute and generally bumbling and he is cute and generally proficient and together they make up a couple so adorably euphoric that we know something terrible will happen to them in short order.  When it does, taking Minato away from Hinako, she finds herself completely incapable of functioning or abiding the sea until she discovers that he reappears in any body of water when she sings Their Song.  This opportunity to…sort of…be with him again restores her joy, just as it inevitably prevents either one of them from moving on with their life or death, respectively.
I really enjoyed the character design here–Minato and Hinako are drawn with sparing detail but retain all the expressiveness of a more realistic portrayal.  Hinako's mourning is raw and well-developed but somehow didn't strike me as touching as last year's "Okko's Inn" which I thought was a masterful depiction of the grieving process.  Maybe because from the outset Minato is so perfect–brave, self-sacrificing, a master cook and barista–that he hardly seems like a real person, while Hinako can barely hold a cup or a plate without dropping and breaking it.  I liked both the film and the titular metaphor, but there were some moments where you wanted to rebuke Hinako, as Minato does, "get a hold of yourself!  You're talking into a toilet!"
One of the two films to close out the festival was "White Snake" from Lightchaser Studio.  A prequel to a well-known Chinese legend, it follows a white snake demon, Blanca, who is also periodically a human girl and an assassin.  After a failed hit attempt, Blanca gets amnesia but is rescued by the brave and free-wheeling Xuan who sticks with her on a journey to get her memories back.  While the two are busy falling in love, larger forces on either side plot to either use or eliminate the hapless pair in service to gaining power and control over the world.
This was by far the most gorgeous of all the films I saw that weekend.  The backgrounds are beautiful and the many fight scenes well-choreographed.  Blanca's initial reluctance to accept her magical powers seems to owe a little to "Frozen's" Elsa, while her relationship with Xuan resembles the dynamic between Jasmine and Aladdin, but in general, the fanciful fairy tale has enough unique elements to give it a distinct identity.  If you were going to see one of these films on the big screen, this would be the one I would advise making a push to attend next month when GKIDS brings it to theaters (don't leave during the credits.)
As they did last year, AIF also awarded prizes based on both jury and audience voting:
GRAND PRIZE:
"I LOST MY BODY" – JEREMY CLAPIN
SPECIAL JURY PRIZE:
"MARONA'S FANTASTIC TALE" – ANCA DAMIAN
AUDIENCE AWARD:
"WEATHERING WITH YOU" – MAKOTO SHINKAI
"THE SWALLOWS OF KABUL" – ZABAU BREITMAN & ELEA GOBBE-MALLEVEC
While I think I found this year's schedule a little thin compared to last year's great Mamoru Hosoda retrospective, AIF continues to have a terrific assortment of international animation that gives audience members a look at some of the best that's being made right now.  If we had one request, it would be to not schedule all their films two at a time–even staggering them by a half-hour would allow people to try to make one if they came a little late for another, or switch films mid-stream if they found they didn't like the first one they started watching.  If we got two, it would be for bigger theaters (since most of these showings sold out) at a venue where the traffic and parking weren't so horrific as it is Hollywood.
For information on next year's festival, keep an eye on their website https://animationisfilm.com/.
Subscribe to the AllEars® Newsletter to get our free download on 109 Things to Know Before You Go to Walt Disney World and stay up-to-date on all the Disney news!
Are you an animation fan, too? Leave us a note in the comments below!