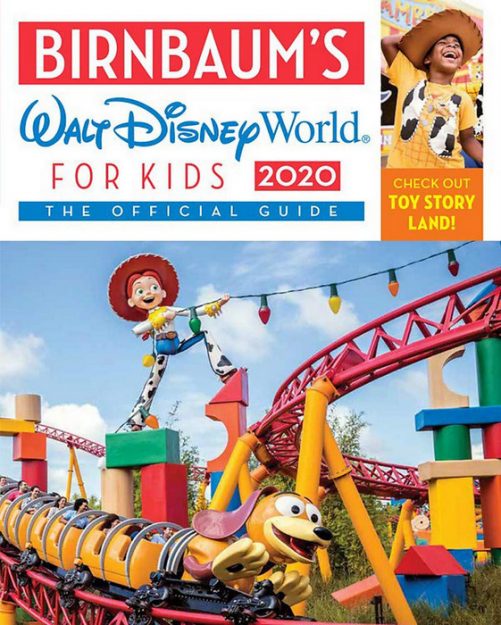 Birnbaum's 2020 Walt Disney World for Kids: The Official Guide
Authors:  Birnbaum Guides
Paperback, 160 pages, Disney Editions, List Price: $12.99
[A copy of this book was provided by Disney for review purposes without restriction on thoughts or opinions.]
Just as the title indicates, "Birnbaum's 2020 Walt Disney World for Kids:  The Official Guide" is the newest edition of WDW's official guidebook specifically written for younger guests.  Filled with tips and maps and short reader reviews, it seems well-aimed towards the enthusiastic twelve-year-old eager to plan out their first trip to the parks.
Structured as an abbreviated version of the regular Birnbaum guide, each chapter runs through a different park with separate areas for suggested activities leading up to the trip, recording memories and getting autographs, and "everything else."  Rides are described and given ratings of how loud/dark/scary/wet/wild they are, with short peer reviews that are sometimes remarkably insightful in the margins. (One mentions that the seats in the Little Mermaid stage show at DHS are low and can yield a poor view if you're behind a tall person which is something we think EVERY TIME we see it.)
At a shipping weight of about half a pound, the book is light enough for a kid to take into the park with them and read the short historical blurbs or search for hidden Mickeys while waiting in line.  Things that may be of particular interest, such as where to find character meet and greets or chicken nuggets, are given separate lists for each park for easy reference.
Of course, the limitations of physical media make timeliness a little bit of an issue with any guidebook and this one is no exception.  They suggest checking out Colortopia, for example, which closed before this edition went on sale, but to their credit do mention that it (along with many other Epcot attractions) may not be open by 2020.  It is also forced to hedge its bets a little with attractions not open yet, such as Mickey and Minnie's Runaway Railway, which it diplomatically states might open in the Spring of 2020…or might not, and Rise of the Resistance which it just optimistically assumes is currently open by the time you go.  There are also are some vaguely comical anachronisms such as when it advises kids to take addresses so they can send postcards home–I'm not sure if anyone under the age of 30 remembers what a physical postcard is, or if they're even sold as anything but keepsakes now.
On the whole, however, "Birnbaum's 2020 Walt Disney World for Kids:  The Official Guide" is a colorful, engaging book that should be perfect for the budding Disney parks fanatic.  It contains more information than we would have expected, such as greetings in each World Showcase pavilion's language, and seems age-appropriate in both language and topics.  We probably wouldn't agree with most of their "Cool" ratings, but then again we could sit all day on the Peoplemover and be pretty happy unlike most of this book's target audience.  Whether your kid is already excited about an upcoming trip or whether you're trying to ramp up excitement about an upcoming trip, this should be a nice addition to your trip planning arsenal.
To purchase this book, click here.
Questions?  Comments?  Suggestions?  Drop us a line below.
Be sure to follow @allearsnet on Facebook, Instagram and Twitter!
Check out our YouTube Channel for reviews, news, information and more!
Click below to subscribe to the AllEars® newsletter so you don't miss any of the latest Disney news!