Our series on panels from the D23 Expo continues as Imagineers Joe (Animal Kingdom, Pandora: The World of Avatar) Rohde, Jeanette (Aulani) Lomboy, Luc (Shanghai Disneyland, Treasure Cove) Mayrand, and Scott (Star Wars: Galaxy's Edge) Trowbridge  discussed some of their thoughts and methods behind creating living environments.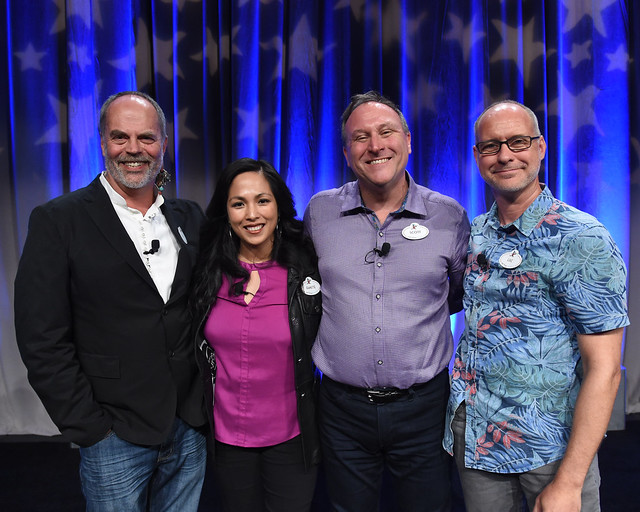 Moderated by Rohde, the panel took the form of various questions he threw out for the panelists as to their viewpoints on developing guest experiences that are both imaginatively transporting and logistically practical.
Why build worlds now?  
Trowbridge argued that building new worlds is nothing new for the company–that Disneyland was, in fact, Walt Disney's attempt to let guests into the worlds of Fantasy, etc. that they saw on the screen.  The only things that have changed are leaps forward in technology and audience expectations.    Lomboy countered by saying that Aulani exists to help people move past their preconceived notions about Hawaii by immersing them in an environment that, while not being a replica of a real place, authentically represents a real culture.  Mayrand described his development of Treasure Cove as extending the story and creating an agency to help guests embrace new experiences.  Rohde summarized the ideas by saying that in each case the worlds were presented for an underlying narrative purpose, which guides the choices that were subsequently made.
What did you choose to immerse people in, and why?
Trowbridge remarked on the demands that the audience expectations have for an environment with which they already feel familiar, and says it's a negotiation between the audience, the author, and the medium.  Rohde talked a little about the consideration required for the "untutored eye"–how you have to use the environment to inform people about their new world to get them to fully enter into it.
How do you let people know what their role is in the space and what behavior is called of them?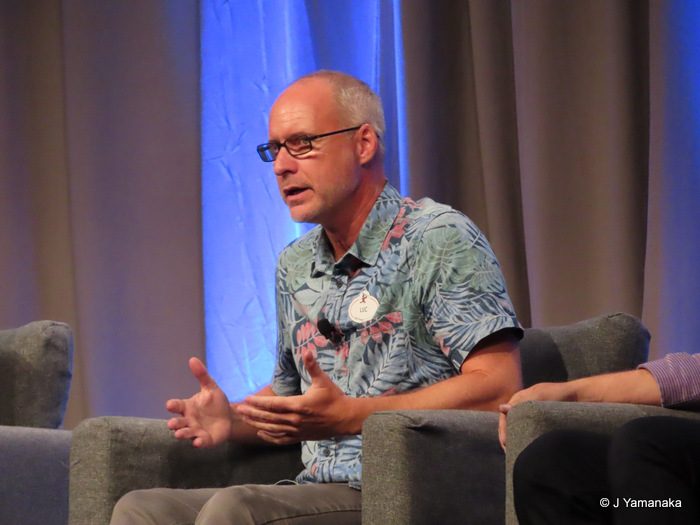 Mayrand said that they did a lot of research and got a lot of advice as to what the Shanghai audience would and would not do, and found most of it to be irrelevant–the desire to just have fun was pretty universal.  The land is staged with vignettes that tell their own stories as they introduce the main background of the area (pirates have taken over) piece by piece.  Inside the ride (Pirates of the Caribbean: Battle for the Sunken Treasure) Jack Sparrow specifically tells them everything's about treasure, which draws them in as something everybody wants.  In Galaxy's Edge, Trowbridge explained that CM's greet people with "bright suns, traveler" which lets them know that they are guests to this outpost.  The land is physically designed so that you cannot see the whole thing from any one viewpoint to invite discovery and surprise and the development of each person creating their own Star Wars story.  Rohde stated that in Animal Kingdom, the assumption was that "you are you, it is today, but you are not home."  Pandora is then designed like an entry into a national park, so that people don't have to make the double leap of thinking they are someone else in addition to somewhere else.  Similarly, Aulani, while being a hotel and functioning in all the ways a luxurious resort needs to function, includes architectural and landscaping details that, along with the Hawaiian cast members which Lomboy considers the heart and core of the Aulani experience, gives people an authentic view into Hawaiian culture.
Where is the line between a real environment and a theatrical representation of a real environment, and has the line moved over time?
Mayrand described the evolution of guest reaction to the Pirate stuntshow at Shanghai Disneyland, where audience members practice in advance when to boo or cheer at various times in the show even if it's their first time seeing it, as indicative of a level of participation that moves the line of what a land needs to offer.  Trowbridge felt that they now increase the level of believability versus reality–the immersion should be enough to let you focus on playing versus forgiving things that might break you out of the story, without going overboard in the other direction and making you worry about getting a job or having insurance.  While they had historically given guests tools to pretend they're in a story, he now feels they are on a journey to give guests reasons to believe they are in a story.
How do you invite people into being part of the story?
Trowbridge specified that it needs to be a invitation to participate–not an obligation.  People have different desires to engage which may change even in the course of a day, so the land needs to be crafted to accommodate all levels of engagement.  Additionally, there should be moments built in where the guests either make choices as a group or turn to each other and interact as opposed to just focusing individually on the theatrical presentation all the time.  In Pandora, Rohde said they mixed real and non-real elements to hypnotically draw people into a state of emotional immersion.  Lomboy boiled it down to facilitating people making memories.
Where do you draw the limits of the thematic envelope?
Trowbridge said they could write a book on the various embellishments they came up with to use in the "refreshers" (bathrooms) in Batuu that they then discarded in favor of practicality.  Mayrand and his team picked Mandarin as the standard language for the entire park of Shanghai Disneyland as that was the main dialect for 97% of their audience.
What are some of the challenges creating a physical land presents?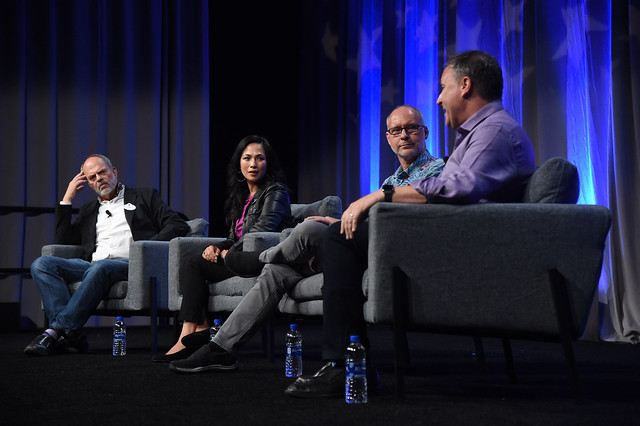 Trowbridge felt that Star Wars, the film, had a high level of reality in it secondary to the production limitations of its time.  This required Galaxy's Edge to show a base level of believable history and reality in order to be consistent with the Star Wars design language on the screen.  Lomboy credited the Hawaiian community with helping to create Aulani and overcoming their initial skepticism that their culture would be misrepresented.  Rohde found that in looking at "Avatar" to get CGI assets on which to base Pandora, there wasn't enough unobscured background to analyze, requiring them to have to come up with their own details.
What is the signifier of success?
Lomboy recollected that on opening, a worker came and gave them an offering to put at the (created) spiritual center of the resort, indicating that it had taken on an additional level of reality that went beyond the guests' perceptions.
Mayrand enjoys seeing people of all ages react and enjoy the stuntshow even if they don't understand exactly what's happening.
Rohde pinned a moment in the third act of Flights of Passage where people are swept up in emotions both upbeat and weepy as the desired spiritual epicenter of Pandora.
Trowbridge remembered hearing a small child make the leap that if Chewbacca was real, then the Jedi and Star Wars must also be real, and said that that was his idea of success:  Giving people experiences that they couldn't possibly be having…but are.
"…We kind of owe you the debt of gratitude for being the vitality that comes into these lands that makes them more than concrete and steel, more than special effects, than some light that blinks on and off…they're made real by you.  And they are made real for you.  And so for that, we thank you and we conclude."
–Joe Rohde
Be sure to follow @allearsnet on Facebook, Instagram and Twitter!
Check out our YouTube Channel for reviews, news, information and more!
Click below to subscribe to the AllEars® newsletter so you don't miss any of the latest Disney news!

Questions?  Comments?  Suggestions?  Drop us a line below.