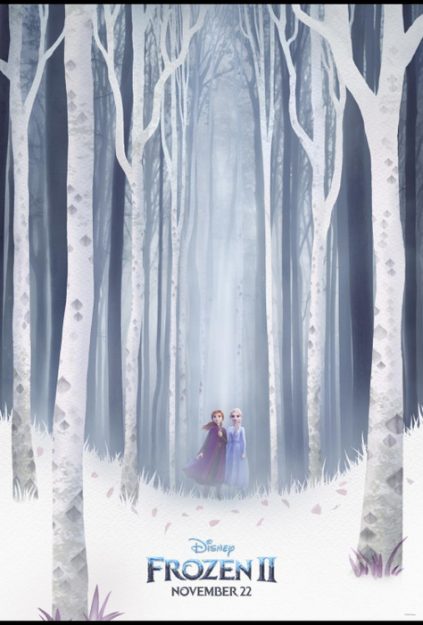 Six years after the huge blockbuster that was "Frozen," comes the sequel "Frozen 2" to tell us how the sisters–especially icy Elsa–fare after their initial Happy Ever After.  To get an advance look at how the film is developing, AllEars was invited down to Walt Disney Animation Studios to hear about it from the animators themselves.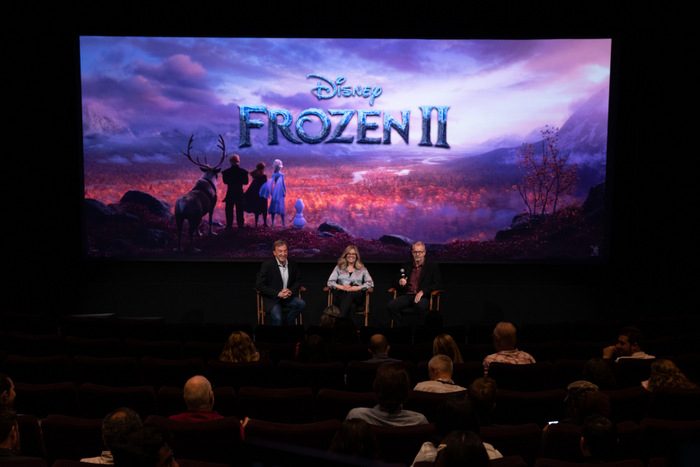 The morning started off with producer Peter Del Vecho introducing the film and noting that although "Frozen 2" is WDAS' 58th animated feature, it is only their fourth sequel (and their first animated musical sequel), because they only do films if the animators have a good idea for a story and a desire to tell it.  In the past years, the most frequent question asked by both audience members and the filmmakers was "where did Elsa get her icy powers?"  To answer this question, "Frozen 2" was born.
To prepare for the task of writing "Frozen 2," co-directors Jennifer Lee and Chris Buck (returning from "Frozen") went on a research trip to Norway and Iceland which ultimately provided the framework for the story.  Anna seemed like a perfect fit for the fairy tale settings of Norway, while Elsa felt more kindred with the stark background of Iceland.  They extended this train of thought by realizing that Anna is a perfect fairy tale character–ordinary, non-magical, and optimistic, and Elsa is a perfect mythic character–burdened by responsibility and always on the brink of a tragic fate.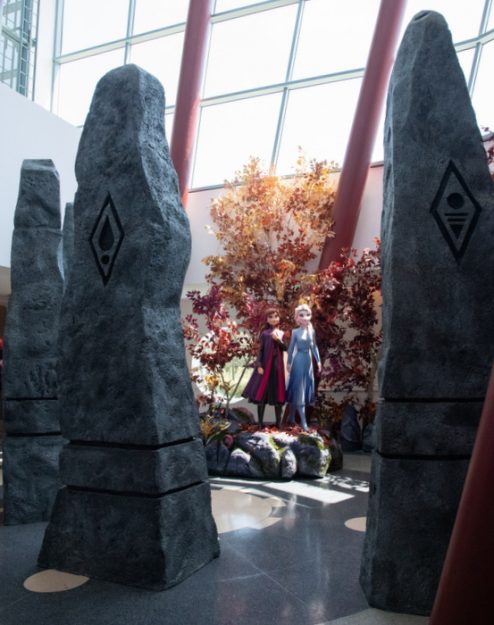 Beyond the question of Elsa's magical powers, there were a few other loose threads left from the first film:  Why was Anna born the way she was?  Where were the parents going when their ship went down?  Is there really such a thing as happily ever after?
The film starts off with a flashback to the sisters being told a tale of an Enchanted Forest by their father, King Agnarr.  The spirits of Nature, Fire, Water, Air, and Earth who rule there become enraged on a visit from Agnarr and while he barely gets out alive, a mist rises and shuts off the forest completely…but perhaps not forever.  To recover from this disturbing bedtime story, their mother sings them a lullaby from her own childhood about a place that has all the answers to all your questions.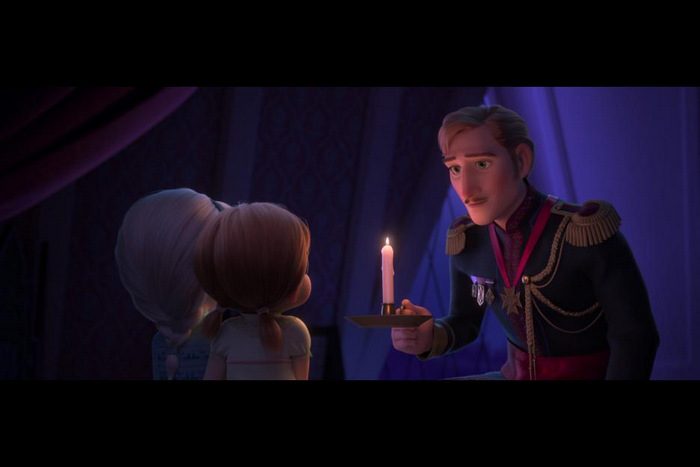 "Frozen 2" takes place three years after the events of "Frozen," and in that time all the characters have settled into a blissful family life.  Anna has her sister back and her true love and her snowman and could not be happier.  Elsa, however, despite trying desperately to be satisfied with her peaceful home and idyllic Arendelle, has begun to hear voices calling her to venture out into the unknown for adventure and answers.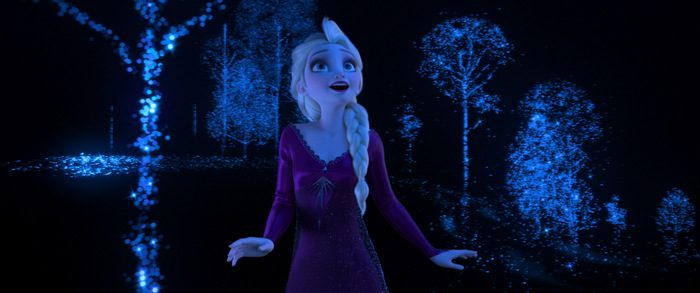 As Arendelle is battered by the elements, our heroes consult Pabbie the Troll (because he gave such great advice the first time around) who tells them that the country is in danger now that Elsa has awoken the Forest.  The group embarks on a journey–Elsa to save her kingdom, and Anna to protect her sister.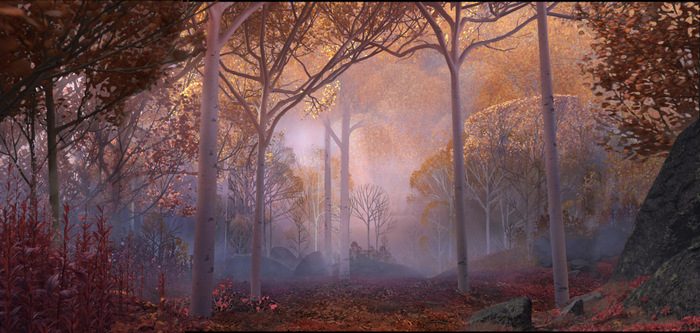 The Forest (as we spoke about back when "Into the Woods" was released) is, in fairy tale parlance, often a metaphor for transformation and maturation.  Characters enter to find out who they are and what they want to be, and our Frozen friends are no exceptions.  As the level of their journey's peril increases, Anna's insistence on staying with Elsa becomes too dangerous for Elsa to tolerate, and she realizes she must go alone to confront the Dark Sea and its water spirit, the Nokk.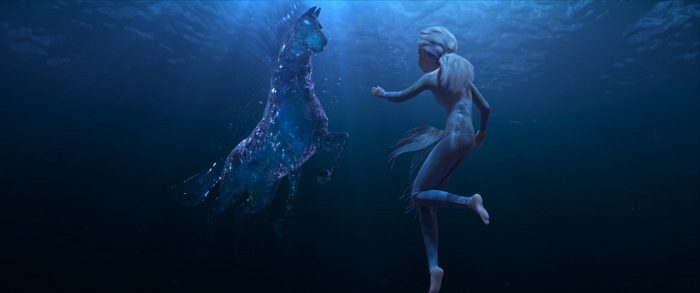 We will have to wait until November for the rest of the story, however in the weeks to come, we'll get to see more from the animators on the specifics of developing "Frozen 2."
Musically, the songwriting team of Bobby & Kristen-Anderson Lopez have returned to write seven new songs for the film, and the entire main vocal cast has reunited as well.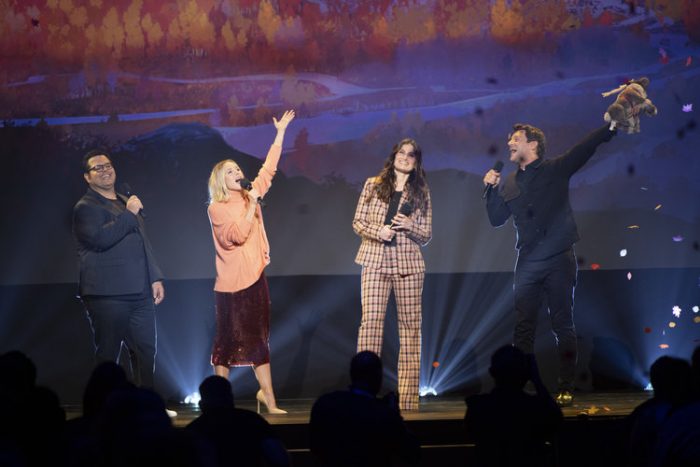 They are joined by newcomers Evan Rachel Wood and Sterling K. Brown as Queen Iduna and Lieutenant Destin Mattias (Lee was the original voice for Iduna in "Frozen.")  
"Frozen 2" opens in U.S. theaters on Nov. 22, 2019.
Questions?  Comments?  Suggestions?  Drop us a line below.
Be sure to follow @allearsnet on Facebook, Instagram and Twitter!
Check out our YouTube Channel for reviews, news, information and more!
Click below to subscribe to the AllEars® newsletter so you don't miss any of the latest Disney news!