To get his foot in the door at WED Enterprises, now Walt Disney Imagineering, Kevin Rafferty had to jump through hoops.
Once he was accepted into the hallowed halls of the company's creative wing — albeit in a low-level position — he had to pay his dues to reach his ultimate goal as a creator of Disney attractions.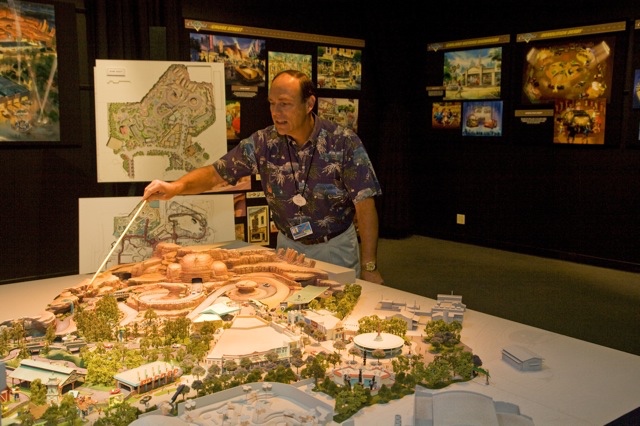 In the end, though, Kevin's persistence and indomitable drive paid off.
His new book, Magic Journey: My Fantastical Disney Imagineering Career, which will be introduced at the D23 Expo in August, takes a deep dive into Kevin's 41-year Disney career, giving fans an intimate look at the many attractions he's had a hand in dreaming up, as well as the behind-the-scenes stories detailing just how those attractions came to life.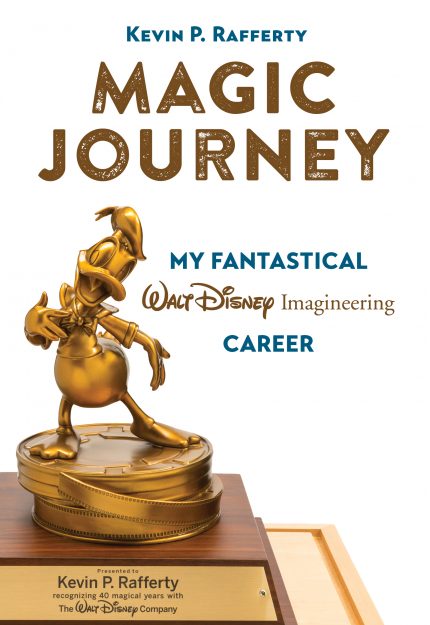 To be sure, Kevin's "magic journey" was a long and winding road, filled with as many downs as there were ups.
In the last installment of Still Goofy About Disney, Kevin described how he made the leap from dish washer at Disneyland's Plaza Inn to low-level WED Enterprises member to Scopes Production writer to finally achieving his goal: creative development for Disney.
"Nothing was ever handed to me; I had to pay a lot of dues," Kevin said during a recent interview. "I had to prove I had the chops to do it. I had to take an entry level job and start at the bottom. I was a nobody and kind of had to work my way up.
Always felt 'blessed'
"After that, I have to say I was blessed to be able to come up with ideas for attractions that actually made it into the parks. Write the scripts, write the songs and direct the talent. That's kind of how it all started."
If Marty Sklar's One Little Spark! book provides a roadmap into becoming a Disney Imagineer, Kevin's Magic Journey tome talks about his personal journey inside the hallowed halls of the creative wing of the entertainment giant.
"The book talks about things that I can't make up," Kevin explained. "Stories behind the stories of attractions and attraction ideas. Kind of how they happened … Where the ideas came from … Some of the crazy things that happened.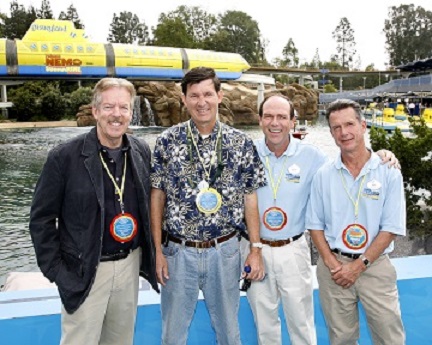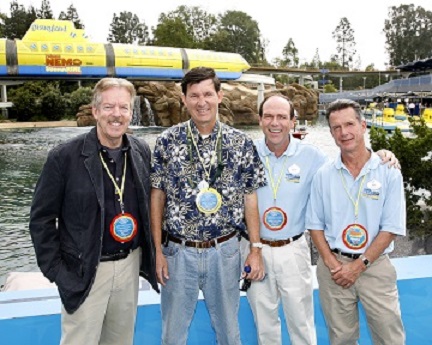 "When people ask me, 'Hey, Kev, what's your typical day like?' I tell them I've never had a typical day in 41 years. You don't do the same thing every day. What's amazing, when you think about it, there are a lot of jobs in the world. There's a lot of airline pilots and a lot of waiters, a lot of dentists … there's a lot of people out there that do the same job, but how many people get to be Imagineers?
"Not really a lot, in the grand scheme of things, so it's just been a great ride. I have not taken a single day of it for granted, either. Every day, I wake up and go, 'How great is it that I get to be an Imagineer?'"
There's a quote from Kevin from the book that Disney Editions used on the back cover to promote Magic Journey. It reads: "Thanks to Imagineering, my imagination has taken me to more places and allowed me to do more things than I could possibly imagine."
Imagineering 'polished me into a diamond'
"It's true," Kevin said. "Imagineering has this wonderful way of allowing you to explore what you're capable of doing. To grow you, to polish you into a diamond. The crazy thing is, I've done things that I never, ever dreamed that I'd do.
"I've been around the world, thanks to Imagineering. I've done so many things, including holding George Washington's personal diary. Who would have thought that designing theme parks you'd be doing all these amazing things?"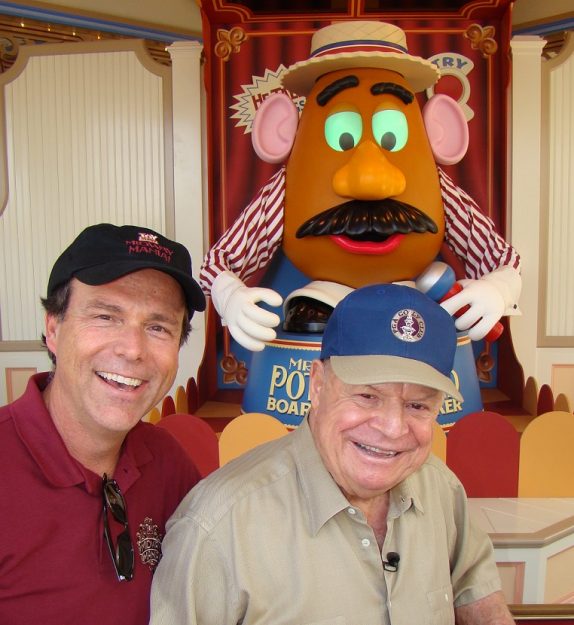 Kevin writes about three people who had a strong influence on his career … and his life.
One is former Imagineer Robert [who goes by Rob't] Coltrin. Another is humorist Jean Shepherd. The last is Marty Sklar.
"Rob't is a big part of my story. He's one of the people who was instrumental in my career who never really gets a nod because Imagineers really don't get credit with their name on the door. I talked a lot about him in my book. Rob't and I worked on Toy Story Midway Mania! and Radiator Springs Racers. We worked on many attractions together."
Jean Shepherd was a storyteller, radio and TV personality, writer and actor. Shepherd is perhaps best-known for the film A Christmas Story, which he narrated and co-scripted, based on his own semi-autobiographical stories. Walt Disney World fans know Shepherd's voice as he supplies the narration for the updated version of Carousel of Progress, which Kevin worked on.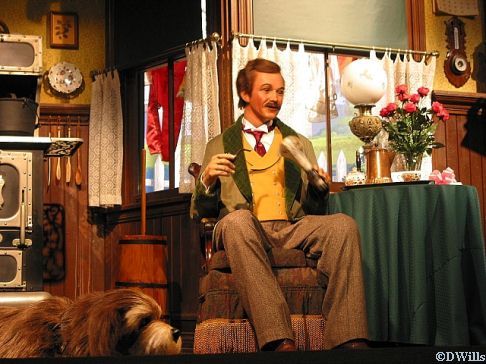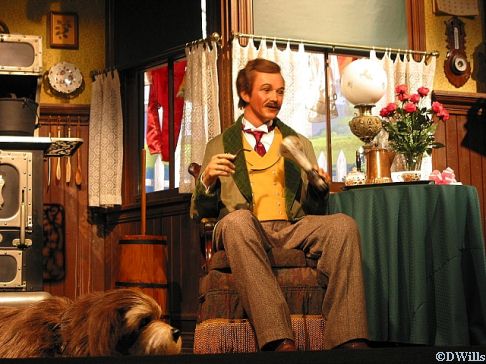 Spent quality time together
"I really loved Jean," Kevin said, "and was so happy to have been able to spend so much quality time with him, both on the road and at my house when he was in L.A. I have a picture of the two of us in my book. He's wearing the Walt Disney Imagineering cap I gave him!"
In the book's introduction, Kevin credits Marty with being "the best boss, advocate, friend and 'dad' an Imagineer could have had."
Kevin's long and storied career includes a long list of attractions that have the distinctive Rafferty stamp on them. The list is extensive and impressive.
It started halfway around the world with the Pan Galactic Pizza Port restaurant in Tokyo Disneyland, where Kevin created the pizza-slinging character Tony Solaroni.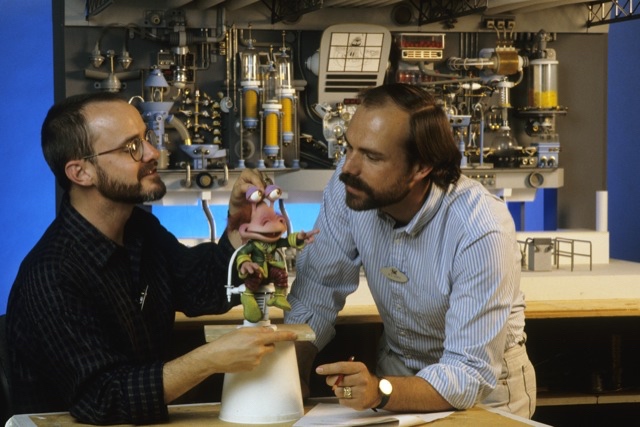 In the restaurant, your pizza is made in a special PZ-5000 pizza-making machine run by Mr. Solaroni, who comes from the Spumoni Galaxy. In addition to making the pizza, Tony is featured in short entertainment skits every few minutes, enlivening the atmosphere in the 590-seat "dinner show" venue.
Then, Kevin created the story and name for the original Twilight Zone Tower of Terror. He moved on to Test Track and Rock 'N Roller Coaster … The Many Adventures of Winnie the Pooh at the Magic Kingdom in Florida, Toy Story Midway Mania! and all of Cars Land.
Conceived Cars Land two years before movie came out
"I kind of cooked up the idea of the whole new land in California Adventure, as well as Radiator Springs Racers, which is just an amazing attraction. Rob't and I came up with that in 2004, two years before the first Cars movie came out.
"The attraction that we came up with is 99.9 percent of what's there and we created it two years before the movie came out. I am really proud of that."
He also has Mickey's PhilharMagic, It's Tough to Be A Bug! and the Carousel of Progress re-do on his resume.
Kevin's latest creation, Mickey and Minnie's Runaway Railway, which opens in Disney's Hollywood Studios next year, figures to be the capper on his incredible career with Disney.
Is he mulling retirement?
"Maybe. I don't have a date locked in yet, of course. I don't want to jump the shark. This year, there's so many wonderful things happening. I have this book coming out.
"Crazy enough, I designed a collectible set of Mickey ears that are themed after the ride, so they're going to sell this exclusive set of Mickey ears in a collectible box that's kind of like the Kevin Rafferty Edition kind of thing. It's unbelievable.
To be part of documentary on Imagineering
"Leslie Iwerks [the daughter of Disney Legend Don Iwerks and granddaughter of legendary animator Ub Iwerks] is working on the new Imagineering documentary that I'm in. And then I have this amazing new attraction opening.
"It's just like all the moons are coming into alignment. All the dreams are coming true, from working as a dish washer and at Club 33, dreaming of designing things like Cars Land, leading up to the new Mickey attraction, it's just been amazing, really amazing.
"I've been really blessed to be able to kind of create my own work over the last 10 to 15 years. I haven't really been assigned anything, I've been able to pitch my own ideas and then work on them."
How to inspire an Imagineer
Permit me to toot my own horn.
In 2017, I had my first opportunity to interview Kevin Rafferty as I was researching my Disney's Animal Kingdom: An Unofficial History book. It was Kevin who came up with the concept for the It's Tough to be a Bug! attraction at the base of the Tree of Life. He also was the co-writer of the "We're Pollinators" song that caps off the attraction.
During our 40-minute talk, which took place at 7 a.m. Pacific Coast time, Kevin was incredibly open about his then 39-year Disney career. I took the information he gave me on It's Tough to be a Bug! and immediately worked it into the book. The remainder of his fascinating story was too good to pass up, so it became the topic of a Still Goofy About Disney blog on AllEars.Net. (You can read that blog here!)
I had the pleasure of meeting Kevin in person at a Ryman Arts fund-raising event in September 2017 at Marty and Leah Sklar's Hollywood Hills home several weeks after Marty's passing in July. Kevin was everything I expected him to be: Warm, personable and instantly likeable.
During our conversation, he thanked me effusively for the blog I had written about him.
Earlier this month, I interviewed Kevin on the eve of the release of his book, Magic Journeys: My Fantastical Walt Disney Imagineering Career. Before we started, he dropped this bombshell:
"I don't know if I properly thanked you for the amazing article you wrote about me a while ago," he said. "I just loved it, loved it, loved it. It was just amazingly fantastic.
"You know, Chuck, I was just thinking about how great it is that you're the first one that I'm talking to about the book. Because of the great article you wrote about me, the book is really kind of an elaboration on the story that your article told. It's really 40 years of unbelievable stories, from the dish room all the way through to being an executive creative director. Stuff you can't even make up.
"I can't thank you enough for that article you did about me. It was just fantastic. You made me feel really good about myself."
Good enough to turn his story into a magical, fantastical book.
Interested in Disney history and Imagineering details? Take a look at these recent posts:
Be sure to follow @allearsnet on Instagram and Twitter!
Check out our YouTube Channel for reviews, news, information and more!
Click below to subscribe to the AllEars® newsletter so you don't miss any of the latest Disney news!