Walt Disney's Enchanted Tiki Room is a beloved classic Disney attraction. But did you know it was the first attraction to feature the famous Disney Audio-Animatronic figures?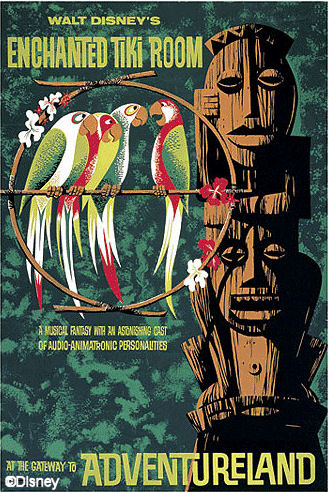 That's right! Prior to Disneyland's Tiki Room, Disney attractions featured mechanical figures (like on The Jungle Cruise) or stationary set pieces (like the Storybook Land Canal Boats).
But upon returning from a visit to New Orleans, Walt brought a little, simple mechanical bird to his Imagineering team. He seemed fascinated by it, and asked Wathel Rogers to look at it, to see if he could figure out how to make its beak move on its own.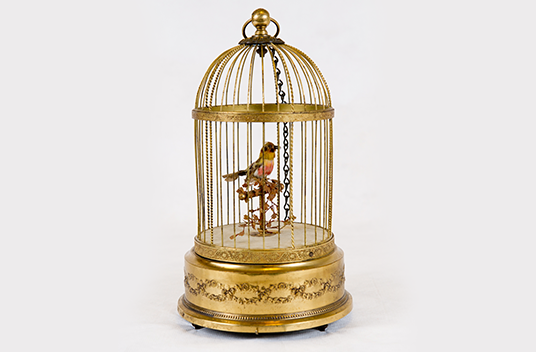 This little bird was the beginning of Audio-Animatronics, and Wathel Rogers would later become known as "The Godfather of Audio-Animatronics."
Walt was very inquisitive and asked about using magnetic tape to record the birds' movements. This turned out to work — and the Imagineers got set on choreographing the birds' routines. From opening and close their mouths to blinking or turning their heads, they were able to record these movements with the magnetic tape, along with the movement cues (such as dialogue).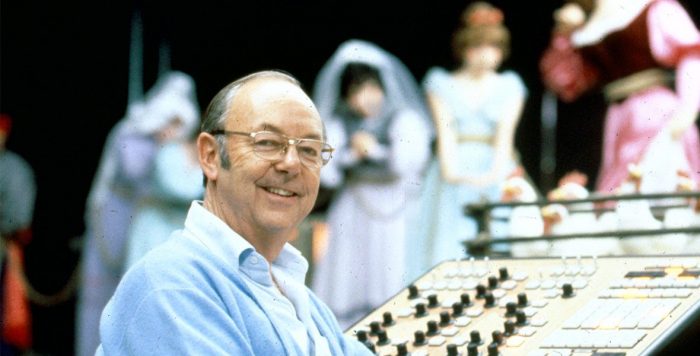 As the team continued to perfect the technology of the birds, how to use them in Disneyland became the question. Eventually, it was decided that the birds would be part of a restaurant!
The idea was that guests would enjoy a Polynesian-themed dinner show. However, the Imagineers soon realized guests would be too fascinated by the birds to actually pay attention to their meals. Plus, you wouldn't want to sit under a bunch of birds while you eat right? (HAHA! Get it?)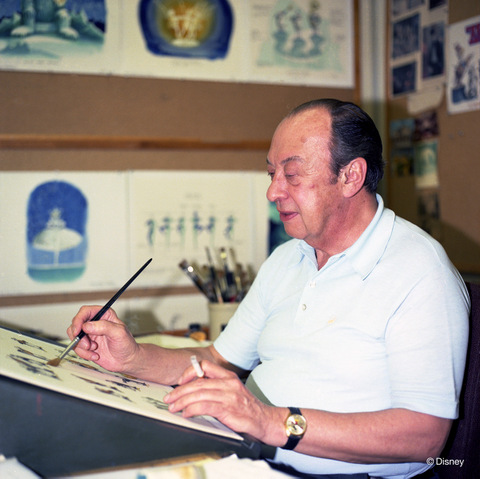 Walt wanted the birds to be full of personality, and he stated to his team, "This show doesn't have to be a natural history museum. Let's have some fun!"
Several Imagineers drew sketches of the feathered friends, and sculptor Blaine Gibson (who is known for sculpting the "Partners" statue of Mickey and Walt) made clay models that looked like real birds — with slightly exaggerated faces so you could see their expressions. Legendary Imagineer Marc Davis (also known for animating beloved characters such as Cinderella, Maleficent, and Alice) designed many of the anthropomorphized birds, flowers, and tikis.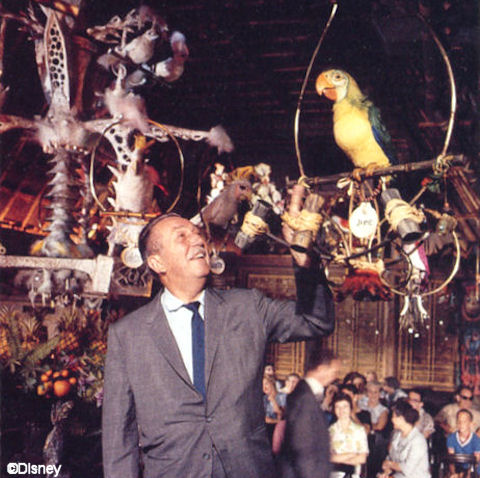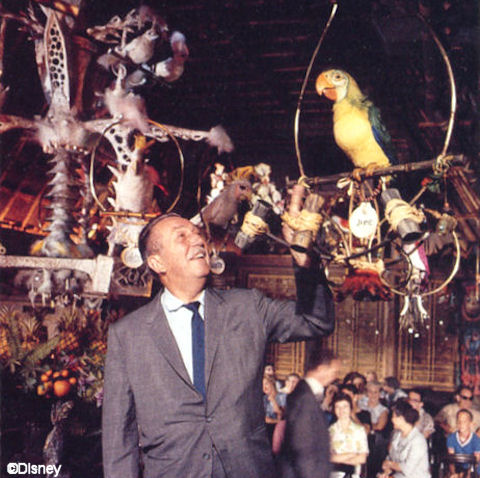 But as all this state-of-the-art craftsmanship was coming together beautifully, Walt saw one issue. Legend has it, one day he looked at the birds, who were blinking, talking and moving, and responded with four words, "Why aren't they breathing?"
In Walt's mind, the birds were talking and singing — shouldn't they be breathing, too? The Audio-Animatronics were then updated to have moving, breathing chestplates.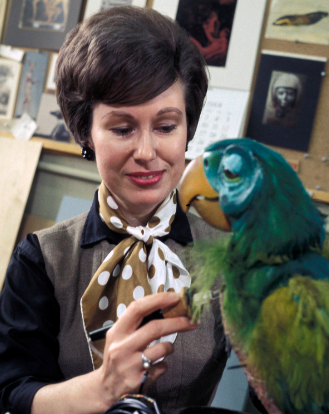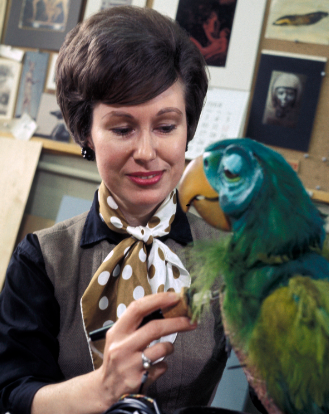 It was the task of the first female Imagineer, Harriet Burns, to figure out how to showcase the birds' chest plates so people knew they were breathing. Harriet was in charge of the detail work on the birds, and personally applied thousands of real feathers to them.
However, she ran into an issue on the chest plate — you couldn't see them breathing when they were covered in feathers, as the feathers remained mostly stationary. But one day, she noticed a strange thing: Walt's elbow. You see, Walt often wore a blue wool sweater and Harriet noticed how the fabric bent and moved with his arm. She then used a similar fabric on the birds' chest pieces because it would move with them as they breathed in and out.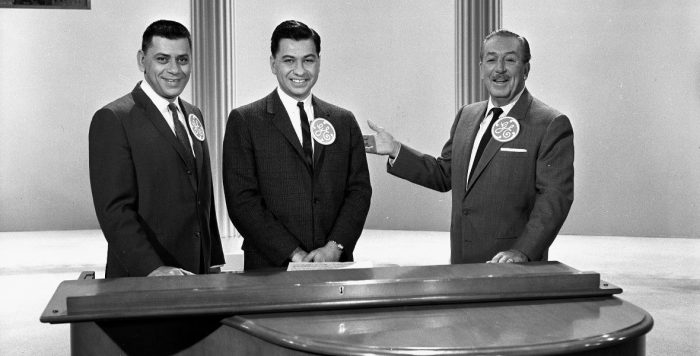 The last piece of the puzzle was the music. Walt turned to the Sherman Brothers, Dick and Bob, who at the time had already written "Pineapple Princess" for Annette Funicello.
The Sherman Brothers, in their genius, wrote one of the most famous Disney park songs to this day: "The Tiki Tiki Tiki Room."
And with the song, the attraction name was born.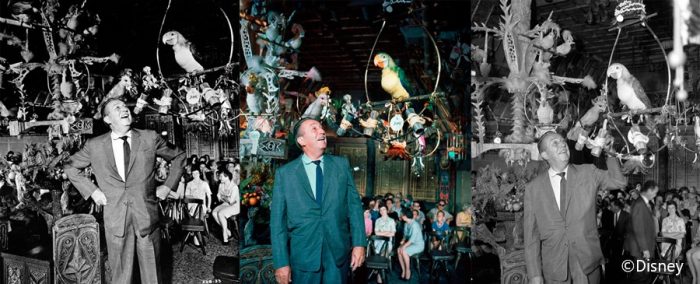 Walt Disney's Enchanted Tiki Room opened to guests on July 23, 1963.
It remains one of the most beloved classics in Disneyland, and was an opening day attraction in the Magic Kingdom.
So now you know, whenever you see an incredibly realistic Audio-Animatronic in the Disney parks — like Hondo Ohnaka on Millennium Falcon: Smuggler's Run or the Shaman of Songs on Na'vi River Journey — it all started with the incredible tiki, tiki, tiki, tiki, tiki birds.
What is your favorite of the Tiki Birds? Let us know in the comments!
Interested in Disney history and Imagineering details? Take a look at these recent posts:
Be sure to follow @allearsnet on Instagram and Twitter!
Check out our YouTube Channel for reviews, news, information and more!
Click below to subscribe to the AllEars® newsletter so you don't miss any of the latest Disney news!