When Kevin Rafferty was an art major at Cal State-Fullerton in the 1970s, he had dreams of taking his place among the Walt Disney Company's most revered animators.
"That was my goal," Rafferty said during a recent interview. "Cal State-Fullerton offered a new class animation and it was taught by an ex-Disney animator by the name of Carm Goode. I got to take the animation class for a year and made a couple of student films. In those days, there was 16mm films and you did all the animation for the films on paper. There was no such thing as computer animation."
With his art diploma secured, Rafferty figured he'd get his foot in the door by applying for a job at Disneyland.
As it turned out, it was goodbye pencil and sketch pad, hello soap suds and dish pan hands.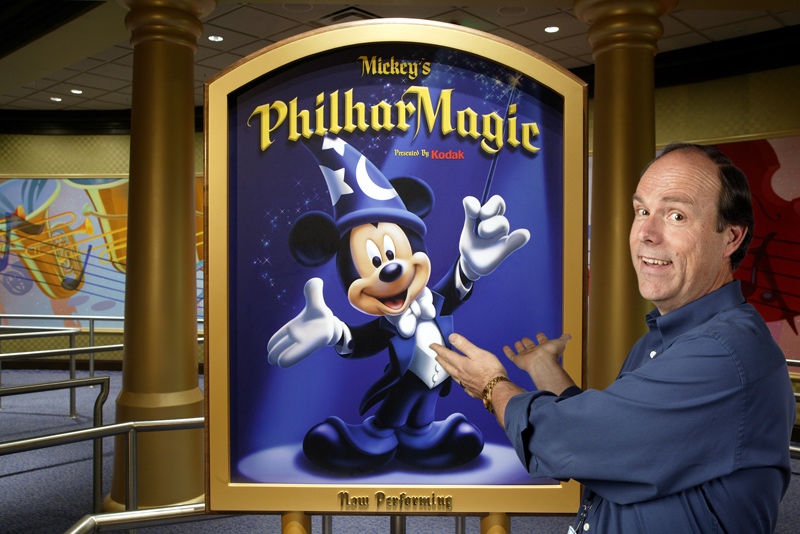 That's right. Kevin Rafferty's celebrated career with Walt Disney Imagineering as a creative director – which he details so wonderfully in his new book, Magic Journey: My Fantastical Walt Disney Imagineering Career [Disney Editions] – began in the dish room at the Plaza Inn in Disneyland.
Kevin's book, which will debut at the D23 Expo in August, is filled with intimate details into the sometimes secretive world of Imagineering.
No dirty laundry … only dirty dishes!
"There's not a negative word in it," Kevin said of his book. "There's no dirty laundry. The only thing dirty in the book is dishes!" he adds with a laugh.
"It's all very, very positive. Just kind of a light-hearted look at my career… all the crazy things that I was involved with as an Imagineer."
Even though Kevin was an art major and he had applied for a job in hopes of landing a position at Walt Disney Animation, he was assigned to the dish room.
"Because I've always been a big fan of Disneyland, working at the park made me fall in love with the place that much more," Kevin said. Still, he needed reassurance. His dad told him "the only time you're going to find success before work is in the dictionary." So Kevin slipped on his apron and "worked my tail off in that dish room."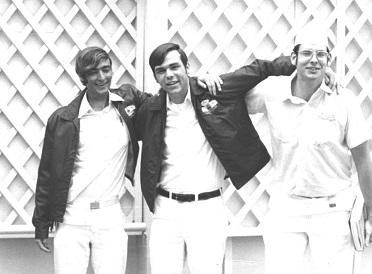 Having proven his worth as a dish washer, he landed a job as an assistant manager at Disneyland's prestigious Club 33.
Then, one day he spotted a poster in a staff break room that said: "Mickey Wants You." There was design work that needed to be done at a place called Epcot Center and Kevin wanted to be part of the action.
"That was probably the end of 1977," Kevin said. "I landed one of the last interviews with what was then called WED Enterprises. I went up there, fresh out of college, naïve at the time, kind of fully expecting to be hired as a designer or an artist to help design Epcot Center."
'Most entry-level job you can imagine'
He was offered a job at WED. "But the reality is, I got the most entry-level job you can imagine. It was almost the equivalent of the dish room at WED. My job was emptying trash cans, sweeping floors, cleaning conference rooms and setting them up for meetings and dusting models that were being built for Epcot. It was the worst job at the best place."
It also meant taking a pay cut and adding a long commute to his day.
"I had to make the decision to drive 50 miles from Orange County in a car that didn't behave like it had 10 miles left in it. Not only that, but I had to take a 50-cent an hour cut in pay from what I was making at Disneyland.
"When I went up there to WED Enterprises, I was making five bucks an hour."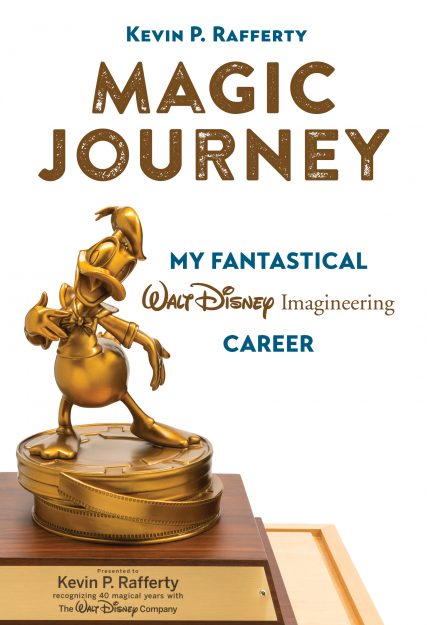 As it turned out, however, it was a career-altering, life-changing decision for Kevin.
"When I stepped into the inner sanctum of WED Enterprises on my very first day and I saw attraction posters hanging in the hallways in the very place where those attractions were designed and developed, it was unbelievable," he said.
"I wasn't afraid to get in at an entry level, bottom-of-the-barrel job. The amazing, magical thing about accepting the job at WED Enterprises was that instead of being an artist myself, I got to support real artists. The real designers."
Worked hand-in-hand with revered Disney artists
He rubbed shoulders with revered artists Claude Coats and Herb Ryman. Ward Kimball was a shining star at WED at the time. So was Marc Davis.
"All of those guys … the guys that Walt hand-picked to invent the three-dimensional park business. They would come in to see me, in my little hole-in-the-wall place where I dry mounted and matted their artwork and their concepts.
"They all came in there for art supplies and they wanted me to talk about their art. They would all have impromptu conversations with me," Kevin said.
"These are the people who were designing Tokyo Disneyland and Epcot Center, so I was privy to all these design conversations. And then somebody like Herb Ryman would come in with a piece of art. He was so great. He'd come in and say, 'Hey, Kev. Can you matte this for me?' And I'd say, 'Sure, Herbie. What is this?'
"I was in this entry-level position, but I was always the first guy that got to hear the pitches that all these amazing founding fathers and mothers of Imagineering were working on."
It turns out Kevin's hole-in-the-wall "office" was a place where he learned from the best.
"My little closet where I mounted all these things was located between the main model shop and near the executive row where Marty Sklar and everybody else was. I was right in the heart of the building.
"So, for that first year and half on my career doing that, I learned more about Epcot Center and Tokyo Disneyland and WED Enterprises than I could possibly ever imagine. It was the greatest school in town. It was really amazing."
Apparently, people were taking notice of Kevin's strong work ethic, winning personality and his insatiable appetite to learn.
Mark Rhodes, who Kevin worked with at Disneyland, was in charge of writing show operational procedures [SOPs] for the Oriental Land Company, which was building Tokyo Disneyland.
Needed to know how the attractions worked
"The Oriental Land folks wanted to understand how all the attractions worked at Disneyland," Kevin said. "So, essentially, they needed explanations for the rides and how they operated and Mark was one of the people whose job was writing these descriptions.
"Jim Cora, who was a VP at Disneyland, who was hired to be kind of liaison between Disney and the Oriental Land Company, asked Mark to write all the SOPs and asked if he'd be willing to transfer up to WED, to start a department called Scope Productions, where written descriptions of all the projects being designed and developed could be found."
It was a hectic, but exhilarating time to be at WED.
"You can imagine at that time, with all the design and development in progress, a Scopes writer was supposed to keep everybody current. It was like the encyclopedia. Everything that was going on you had to know … things like track lengths and square footages of buildings, how many restrooms and how many scenes were in each attraction and what the ride vehicle was.
"It was daunting for one guy to keep up with that. Mark came up to me and said, 'Hey, can you help me? Can you get all the designs and graphics to incorporate into the Scopes? I just want you to make the Scopes look pretty.'"
Kevin's new assignment gave him access to attractions that were in the design phase, years away from completion.
Supported EPCOT's design and development
"Those days, there were hard copy machines and three-ring binders. We didn't have any publishing computers. It was an awful lot of work. So we supported the whole design and development of EPCOT Center and we kept the Scope fresh for every pavilion, every restaurant … everything throughout the course of the design and development of EPCOT."
However, once EPCOT and Tokyo Disneyland opened in the early 1980s, "they started to lay off folks," Kevin said. "I got laid off in 1983."
It turned out to be a blessing in disguise.
"It was the best thing that ever could have happened to me because I went out into the world. I worked in advertising and I worked in corporate communications and I actually got some credibility to be a writer. I did some writing things, such as copy writing for advertising. I wasn't really a trained writer. I was a trained art major, but what I discovered is I really had a knack for writing."
Kevin's time in the "real world" was short-lived.
"I got a call back from WED Enterprises from a supervisor who said 'Mark [Rhodes] is moving on in the creative division to be a show writer and we want to know if you want to come in and interview to take his position.' I said 'Absolutely.'"
Kevin was rehired as the head writer for the Scopes department, which broadened his company resume and enabled him to reenergize his dream of getting into the creative wing of the company, even though he was told creative was "rarified air" and "nobody ever gets to that level."
"But I kept the dream," Kevin said. "Someday I'm going to get into creative. I got to know the company and everybody in it. Because as a Scopes writer, before I got laid off, I got to know all the designers and learned how WED worked and I got to go around on my breaks and see all the figures and characters being made for the parks, right there.
"It was so great, because after I got laid off, I never got a chance to prove that I could do creative stuff. But here was my chance to come back."
As the head writer for Scopes, Kevin would be in attendance at all the important creative brainstorming sessions. "It was my job to take notes so I could keep all the project Scopes fresh."
Heading up most of these meetings was Randy Bright, who at the time was director of scripts and show development.
"Randy would look across the table and see me squirming," Kevin said. "It wasn't my place to contribute, but I was really dying to. Then, one day in a meeting, he said 'Hey, Kev, what do you think of this?' And all the designers stared at me and I kind of spewed it all out and some of it kind of stuck.
A short time later, Randy summoned Kevin into his office to bounce an idea off him.
"I'm working on this crazy idea of Mickey Mouse being on Sleeping Beauty Castle," Randy said. "Maybe we could do some kind of inflatable Maleficent that comes up and Mickey fights the forces of evil."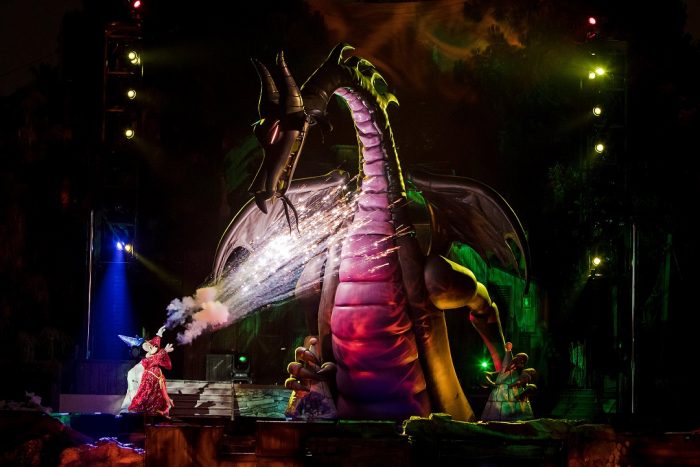 With Kevin's input, that "crazy idea" ended up becoming the Fantasmic! night-time show at Disneyland. And Kevin Rafferty's career as a Walt Disney Imagineering creative director was about to take off.
Over the years, Kevin has made significant contributions to some of the most beloved attractions in the Disney theme park world.
It started with Pizza Port at Tokyo Disneyland. Then Kevin created the story and name for the original Twilight Zone Tower of Terror. He worked on Test Track and Rock 'N Roller Coaster, as well as The Many Adventures of Winnie the Pooh at the Magic Kingdom in Florida.
Then there was Toy Story Midway Mania! and all of Cars Land in California Adventure, as well as Radiator Springs Racers, Mickey's PhilharMagic, It's Tough to Be A Bug! and the Carousel of Progress re-do.
He's currently working on the Mickey and Minnie's 's Runaway Railway attraction at Disney's Hollywood Studios, due to open next year. It will be the first Mickey Mouse-themed attraction in the history of Disney theme parks.
For more on Kevin's book, Magic Journey: My Fantastical Walt Disney Imagineering Career, as well as more stories about his 41-year stellar Disney career, see the next installment of Still Goofy About Disney.
Interested in Disney history and Imagineering details? Take a look at these recent posts:
Be sure to follow @allearsnet on Instagram and Twitter!
Check out our YouTube Channel for reviews, news, information and more!
Click below to subscribe to the AllEars® newsletter so you don't miss any of the latest Disney news!