I have always had a longing to visit Walt Disney's first park to see where it all began. When I came upon the Disneyland Resort and Southern California Escape tour that was being offered by Adventures by Disney I realized this was my chance to make my dream come true.
My girlfriend and I both share an affinity for all things Disney, and between us have visited Walt Disney World in Florida more times than we can count. Yet neither of us had been to Disneyland in California nor had we been on an Adventures by Disney trip. I threw out the idea that we try this AbD, and she enthusiastically agreed!
The big draw for me on the itinerary was a tour of the Imagineering Studios. It would be my first time to California as well. We both looked forward to seeing Disneyland where it all started and having the chance to tour parts of the Walt Disney Company not usually accessible to the public.  Although this particular adventure is a new offering, it is a shortened version of their longer Southern California trip that also includes excursions in Hollywood and Los Angeles.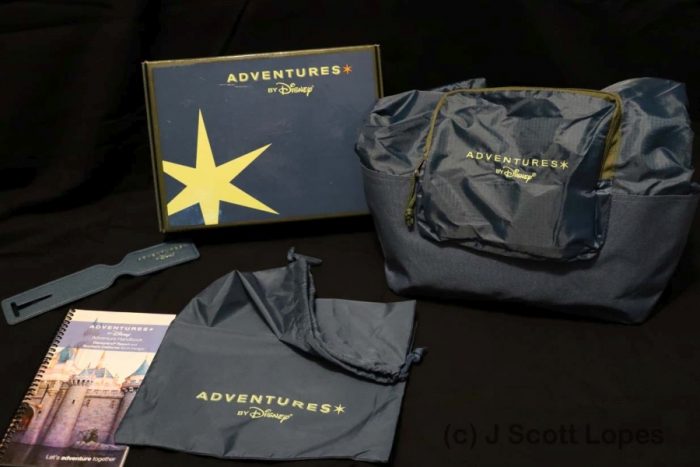 After booking the trip and returning our signed travel documents to Adventures By Disney, we received a surprise package in the mail. It was a box containing a lightweight backpack, luggage tag, small pouch, and a booklet with travel information. We were already very excited about our upcoming trip, but this surprise built up our anticipation even more!
Day 1:
On the first day of our adventure, we flew into Burbank, California, after making the long journey from across the country. (One thing to note, this tour generally picks up from LAX, however for us it made sense to fly into Burbank due to flight availability. Luckily for us, Adventures By Disney was able to accommodate us and have the car service pick us up at this airport.)
When we arrived at the Grand Californian Resort, our guide, Danny, came out to meet us at the drop-off area and brought us inside where we checked in with AbD. They gave us our room keys, park tickets, a welcome letter with their contact information and another gift, a collapsible duffle bag, which by the end of our trip was convenient for toting all our souvenirs home.
We settled into our room, and had some time on our own to explore the resort and venture out to the parks. One thing that is much different at Disneyland from Walt Disney World is that everything is all in one area and you can easily walk from the hotel to both theme parks. I also found it interesting that you go through a security checkpoint prior to entering the Downtown Disney area, which made it very easy to go from Disneyland to California Adventure without any extra bag checks.
We took a lap around the park via train so that we could get the lay of the land, then had lunch and took in a few attractions. One tip I have for first-time Disneyland visitors (especially those who are Walt Disney World Resort veterans) is to download the Disneyland app on your mobile device and link your park ticket to it. There are no Magic Bands, so you can use your mobile device to enter the park or to enter the FastPass lines. However, you will need to use your actual paper park ticket to get FastPasses from the kiosks.
Later that evening, we met our guides Danny and Natalia, and the rest of our group. For dinner we were led over to a restaurant in Disneyland, where we had a reserved section on the outside patio.  We were able to order anything we wanted off the menu, an appetizer, entrée, dessert, and beverage.  After dinner, we went over to the Haunted Mansion and used one of the FastPasses that were loaded onto our ticket to ride the attraction as a group. Another perk of being there with AbD was that we had pre-loaded FastPasses on our tickets. We realized later that that was a special thing and not typically how the FastPasses work there. After dinner, we were given more free time before meeting up with the group again in New Orleans Square, where we had a VIP area set aside just for us to watch Fantasmic.
It had been a long day of travel and fun, but jet lag had set in and we were ready for a good night's sleep before the next day's exciting activities!
Day 2:
On the second day of our adventure, we started with an early meet-up for breakfast at Storyteller's Café. This was a great buffet-style character breakfast located at the Grand Californian.
After breakfast, we boarded a bus to head out for our first full day of adventuring. The theme for the day was "How It All Began."
Our first destination was to Burbank and the Walt Disney Studios. The campus is just how you would imagine it — lush green grass, well-maintained trees providing shade over the spotless streets and sidewalks, and, of course, a topiary in the shape of the mouse that started it all.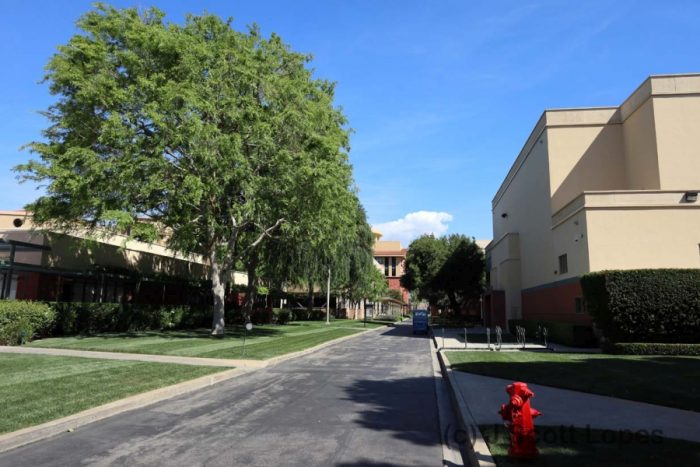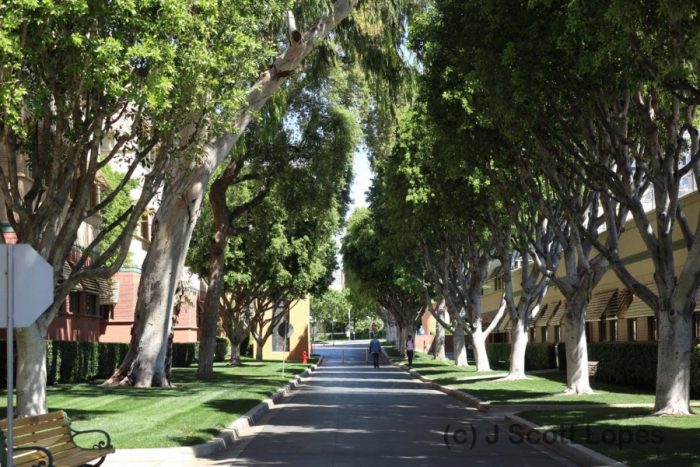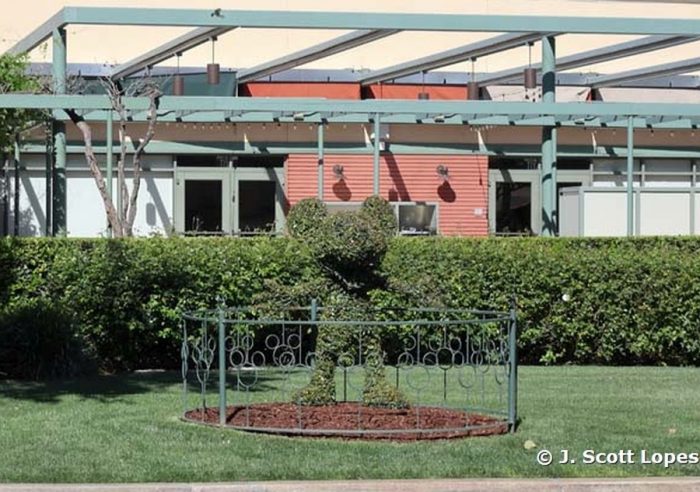 There were also official flag poles flying the American flag and the company flag that were used at the 1960 Olympics. These were given to Walt Disney, who had served as the Olympics' "Chairman of Pageantry." Avenues within the main part of the property were given cute names such as Mickey Ave. and Dopey Drive, which we recognized from the movie Saving Mr. Banks. Turns out those portions of the movie were actually filmed on location!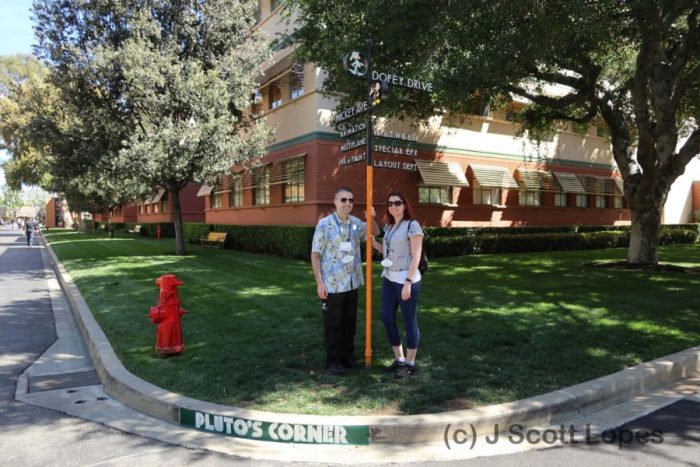 Our first stop on the property was to the Studio Store. This was the first of many "shopping stops" on the tour.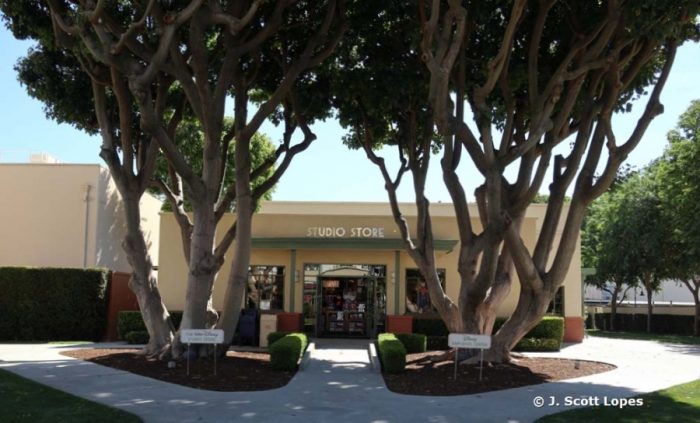 The front of the store reminded me of a typical Disney store, however in the back of the store they had exclusive cast-only items, which we were allowed to purchase.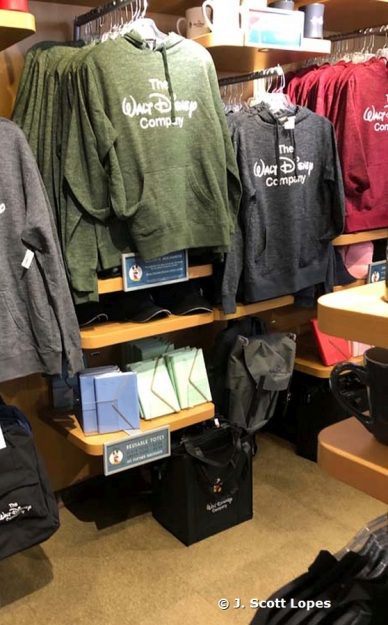 Once we were finished shopping, we took a tour around the studio. We saw such things as the building where the animators used to work, the tunnel that they used to transport animations between buildings, sound stages, and voice-over recording studios.
After stopping for a group photo, we took an exciting walk through the Legends Courtyard where we saw numerous plaques (some boasting handprints and autographs) honoring those who have greatly contributed to the Walt Disney Company and have been named "Disney Legends," such as Alan Menken, Annette Funicello, George Lucas, Robin Williams, and Dick Van Dyke.
After spending some time in this area, we walked over to the Frank G. Wells building, which is home to an original multiplane camera, as well as the Disney Archives.
In the archives, we were given a chance to look around and take pictures of the various artifacts on display including some items from Walt Disney World's Adventurers Club.
We also had the opportunity to hold and take a picture with a real Oscar.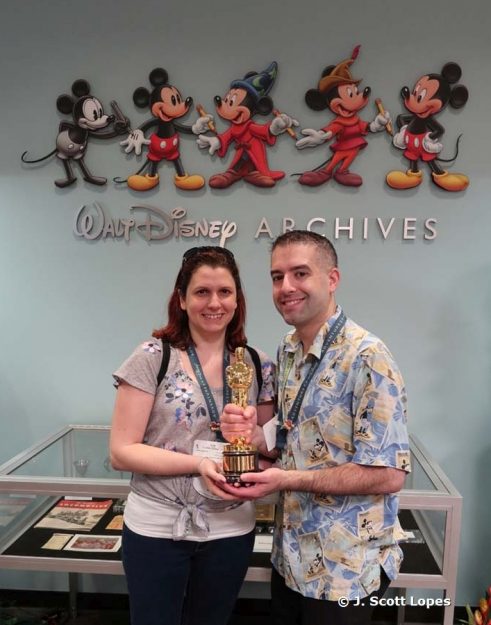 To cap off our time at the studios, we ate lunch at the commissary.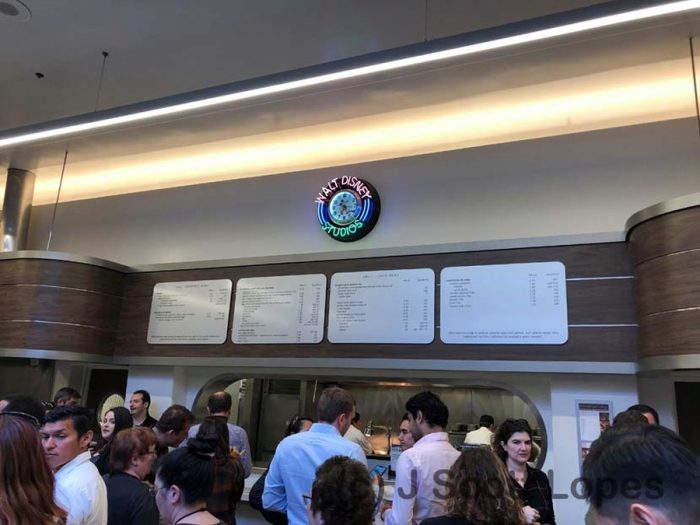 After lunch, we boarded the bus again to head to our next destination, 1401 Flower Street, better known as Walt Disney Imagineering.
We saw so many amazing things here, but, unfortunately — and understandably — this stop had many photo restrictions. We could only take pictures in front of the sign on the building and there was one special photo op inside. It had to be taken by our guide and could only be shared after the trip was completed.
Inside of Imagineering, we were split into two groups, each with an Imagineer.  During our tour, we were brought into a soundstage and were shown how they handle adding sound effects to the rides and attractions. We watched a clip of a run-through of a ride with the sound added in. It felt like you were on the ride for real!
We also saw the "DISH," or Digital Immersive Showroom. This is a large virtual reality room, where the images are projected onto the walls and using special glasses we were able to see a 3D environment. There was also a special hat, which the system uses to track the user to simulate movement of the images. This is where Imagineers can use virtual reality to walk through various designs before they are built, saving time and money during construction.
In this room we got to see a virtual reality simulation of "The Hub" area of Magic Kingdom Park in Walt Disney World, as well as the Swiss Family Robinson treehouse. It was a very realistic experience! Continuing our tour of WDI, we ventured through the model shop as well as the sculpture department where they develop and keep clay models of many of the famous busts seen around the parks, work on audio animatronics, and a store a multitude other familiar statues and sculptures.
After the tour, we had our second shopping opportunity of the day. This time at Mickey's of Glendale, which is located right at Imagineering. They had many great, one-of-a-kind items, including clothing with the WDI logo. We boarded the bus once again and, this time, headed to a special stop, Griffith Park, to see the carousel that inspired Walt Disney to create Disneyland.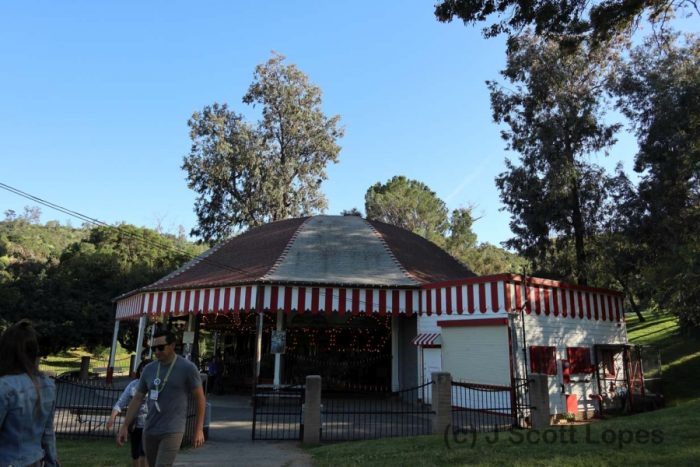 The owner of the carousel, Julio, told us about its history and showed us some of the intricate detail that the horses have, such as real horse hair tails.  It was an exciting treat to able to take a ride on it as well. I would say it's one of the fastest carousels that I have been on and it was only going at about half of its speed limit!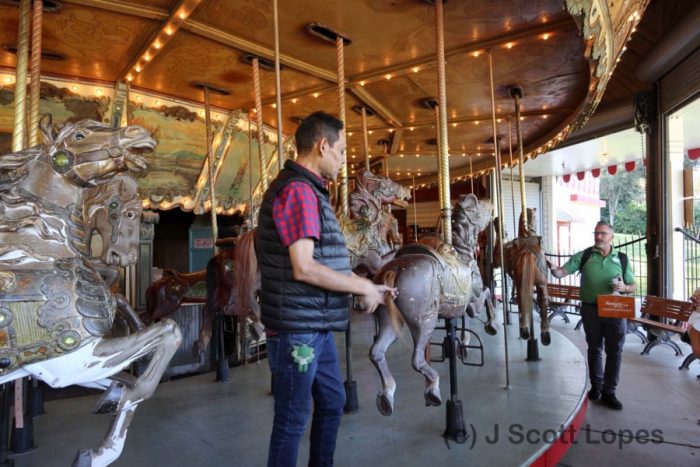 After our carousel ride, we headed over to dinner at The Tam o'Shanter restaurant on Los Feliz Blvd. This dinner location was a very relevant choice as this was where Walt Disney would meet with his Imagineers.  It also is where he got the idea for the plaid uniforms that the guest services cast members wear at the parks.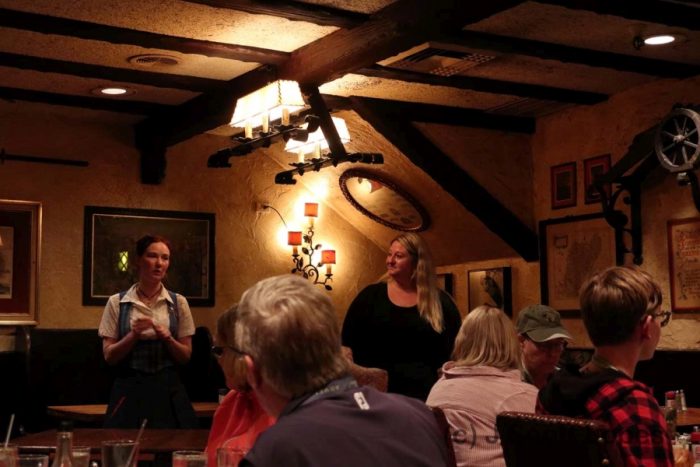 During dinner, staff from the restaurant discussed the history of the restaurant as well as how it tied in with Disney.  We had a very cool opportunity to see and take a picture at the table where Walt Disney would dine and had even left some imprints of doodles and notes from collaborations way back then in the wooden table top.  For our tour this table was reserved so that we could see it, but generally this is open for anyone to dine at.  That, along with a delicious meal and great atmosphere was a superb way to wrap up day two of our Disney adventure.
Day 3
On the third day of the adventure, we met the group at 6:15 a.m. in the lobby of the hotel before heading over to Disneyland. We were able to enter the park before it opened! What a contrast to see the park empty and quiet as the sun was rising.
This made for some great photo ops, as we were able to leisurely walk down Main Street before the rush of people entered the park.  Once the park was officially open at 7 a.m., we went over to the Plaza Inn for our last group breakfast of the trip.  The Plaza Inn in Disneyland is buffet style and had a great selection of foods.
After breakfast, we went over to ride the Matterhorn, Peter Pan, and the King Arthur Carrousel as a group.  My girlfriend was giddy to be able to ride on the horse specially dedicated to and ridden by Mary Poppins herself, Julie Andrews.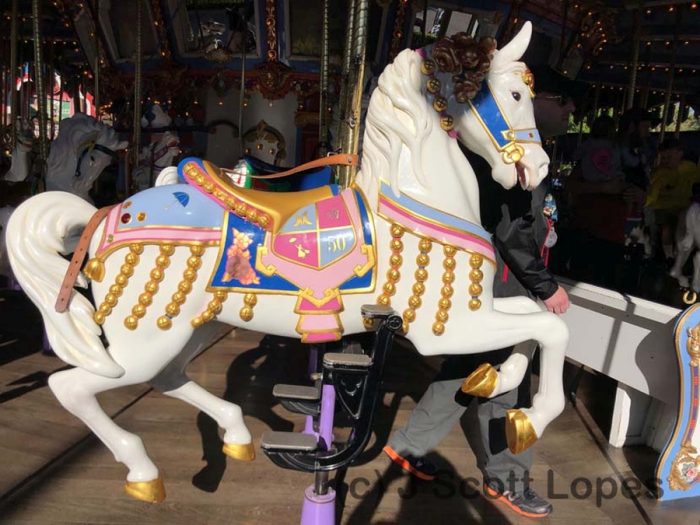 Next, we were in for a treat when we all headed over to the Indiana Jones attraction for our first backstage visit. We were escorted through the ride exit and out a back door to the maintenance shop.  Here we were given a technical description of how the cars work and some of the things that can happen inside the attraction. They also had a car connected to a test control board where we could take turns controlling the up and down motion of the car. We learned that the track and ride vehicles are identical to the Dinosaur attraction at Disney's Animal Kingdom in Disney World.
After our backstage visit, we were able to ride the attraction. For our next experience, we split into two groups again, both taking turns seeing the next two exhibits. Our group went over to the Disney Gallery and viewed the Great Moments with Mr Lincoln show. At the Town Hall, we also saw a park bench that was originally at the Griffith Park Carousel and was donated by Julio, the carousel owner we met the previous day.
Next came a once in a lifetime opportunity to visit Walt Disney's apartment above the firehouse.  We were not allowed to take pictures in the apartment, but as with the Imagineering Studios, the guides took a picture of each group using their phone, which they later shared with us. The apartment was decorated and set up the same way it was when Walt was there. The cast members who took us inside explained the significance of various pieces of decor and shared interesting stories about Walt and his family and their time there.
After viewing these areas in Disneyland, we left that park to head over to Disney's California Adventure for lunch on our own.  After our break, we all met up again to go backstage and into the maintenance bay of Radiator Springs Racers. It's amazing what it takes to keep an attraction like that running and to take care of the cars, which the cast member jokingly called "genius cars." The workings of these vehicles are definitely beyond a "smart car." After riding the Radiator Springs Racers, the group trekked over to the Grizzly Peak area of the park to ride Soarin' and then had the special opportunity to go behind the screen and down into the pit to see the next group ride. It was a very impressive sight to see the ride mechanism in action!
We then went backstage to hear about the origins of the ride. They also let us smell some of the scent canisters that are used in the attraction.  After this, we were given some more on our own time before our final dinner together at Flo's V8 Café.
At this final meal, we were presented with our very own Disneyland Mickey ears with our names embroidered on them. This was the time to exchange contact information and say our formal goodbyes to others in the group.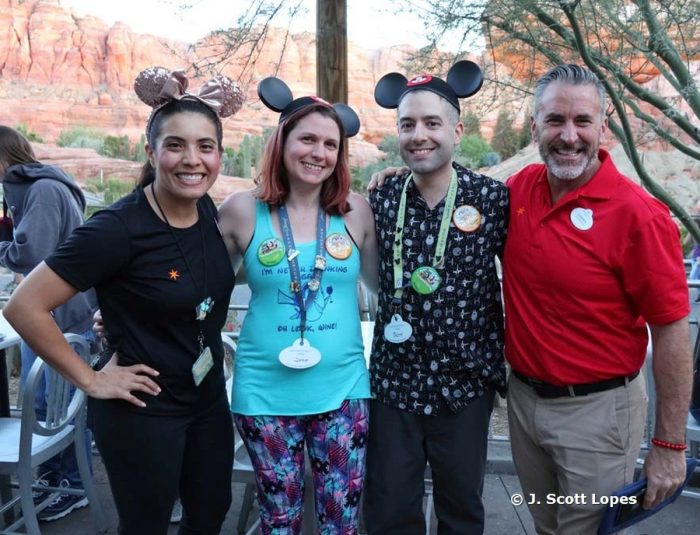 Although it was only a few days, we all shared so many great experiences together and bonded over our common love of Disney. This short escape was designed to be taken prior to a cruise and offers transfers to the Disney Cruise Line on the day of departure, which is the last day of the trip. However, no one in our particular group was continuing on to a cruise. It seems we all had wanted to just enjoy this adventure for what it was — experiencing the Disney of the past, present, and future.
Before parting ways, we had our last VIP experience — viewing World of Color from a spot reserved just for us.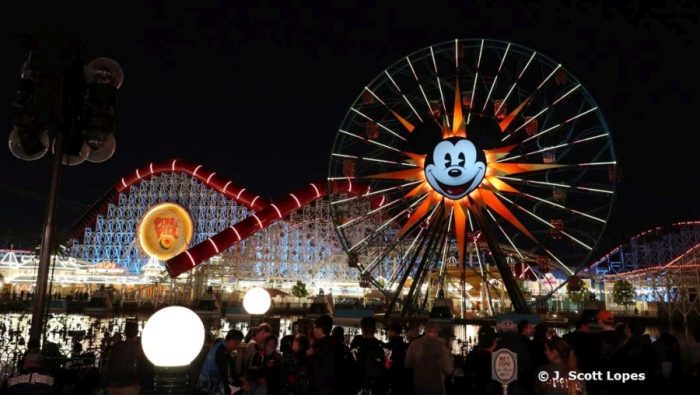 Heading back to our hotel room that last night was bittersweet. It had been such a grand adventure to visit Disneyland for the first time in this way and even more special to see it through the eyes of Walt himself. Venturing through the Disney parks from now on will be extra special having learned even more about the history, the intricacies of keeping the park up and running, the attention to detail everywhere you turn, and Walt's soaring imagination and determination to create the world of his dreams. His ultimate goal was to simply make people smile and laugh. I'd say he definitely achieved that goal as we remember: "It all started with a mouse."
Have you taken this Adventures by Disney trip? Or any Adventures by Disney vacation? Share your thoughts in our comments below!
Be sure to follow @allearsnet on Instagram and Twitter!
Check out our YouTube Channel for reviews, news, information and more!
Click below to subscribe to the AllEars® newsletter so you don't miss any of the latest Disney news!