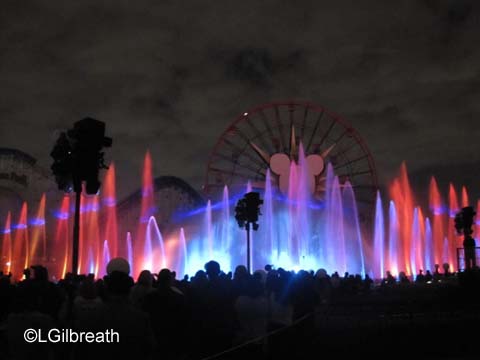 The Disneyland Diamond Anniversary Celebration kicked off last night with the media preview of the new World of Color – Celebrate! The Wonderful World of Walt Disney show. We'll be bringing you a lot more information on it as we have time, but for now I wanted to share a few thoughts.
Here's video of the entire show. We will post a high-definition version when we have more time and bandwidth.
The show is hosted by Neil Patrick Harris and Mickey Mouse – live action Neil and animated Mickey. I was not sure how well this would work, but it's fun. I wish there were outtakes. 🙂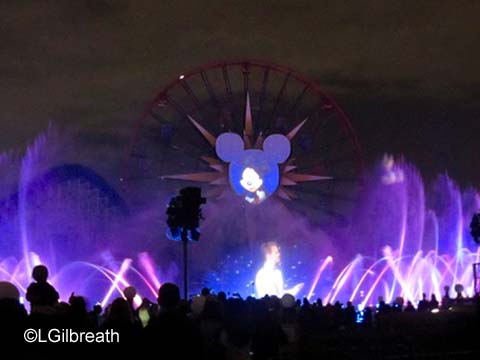 There are some fabulous new lighting effects. I don't know if it's projections, lasers, lights, or some combination, but color seems to ripple and flow through the air. It's just stunning.
There's also some awe-inspiring new fire effects – like a 300′ pillar of fire. That drew a lot of "wows" from the audience.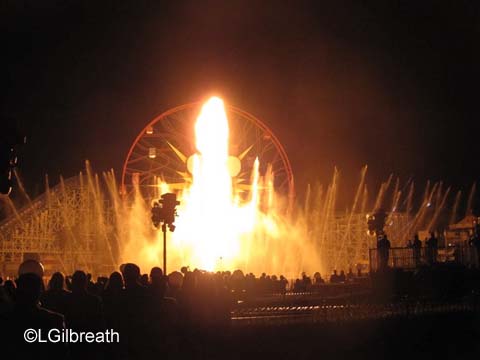 The first version of World of Color was more about the fountains. This one relies heavily on projections. In addition to the mist screens and the screen in the loop of California Screamin' Mickey's face on the Fun Wheel is a new projection surface. The latter two, because they are a solid surface, are used to great effect for the animation sequences where we need to be able to see more detail. While I thought the projections on the mist screens were significantly improved and much clearer than in the past, they aren't a reliable surface for anything detailed. The higher screens also added some additional dimension to the animation, since images could move up or down more than in the past. There was some really nice stuff.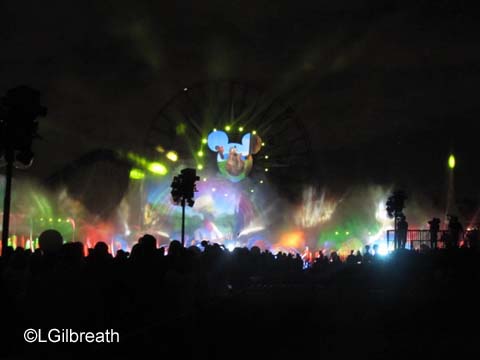 Because of all of the animation, I don't think this show is going to look very good unless you're watching it from the viewing area. There's just way too much that you're going to miss. With previous versions there was enough going on with the fountains that there was generally still something to watch even when you couldn't see the screens.
For me the show started off a little slowly, but it definitely kept building and building and that last half was truly spectacular. With the focus on Walt Disney and his dreams, especially in the first part, I think this show is going to be very popular with Disney fans, but I'm not sure how well it will go over with mainstream America.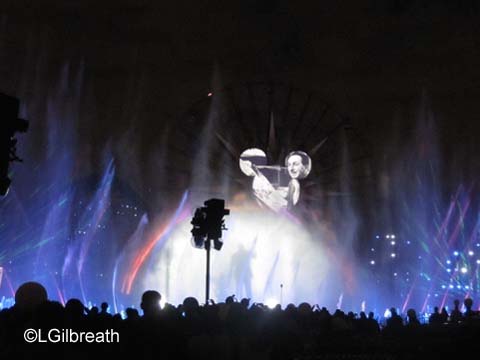 Unlike the previous version, there's very little familiar music in this one. Most of it is an original score by John Debney, which I enjoyed very much. But again, that may not be as popular with others, especially kids.
But because the music was new, I found it very jarring when suddenly the (very) familiar strains of "Let it Go" started to play. I know that "Frozen" is still extremely popular, but I'm very tired of it. I have to think that some pressure was put on the show designers to include it in the show, because, as I said, I didn't think it fit. The animation and fountains during the song (and it was almost the ENTIRE song) were really beautiful, but…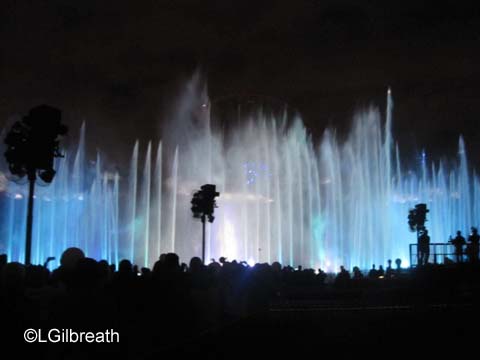 The theme park section was my favorite – it included music/images from the Tiki Room, Pirates, and Haunted Mansion, to name a few. It ended with Star Tours, which incorporated Star Wars music AND some scenes and dialog from the upcoming "The Force Awakens" movie.
There was a wonderful little "kiss goodnight" at the VERY end – and I mean the end after you think the show is over, there's no fountains or lights, and just the "Forever Young" song playing. Wait until the end of that. Trust me.
I really liked this show, and I am so looking forward to seeing it again in a couple of days! In talking with people afterward, I know there were a lot of things that I missed seeing, so I'll be looking for them!