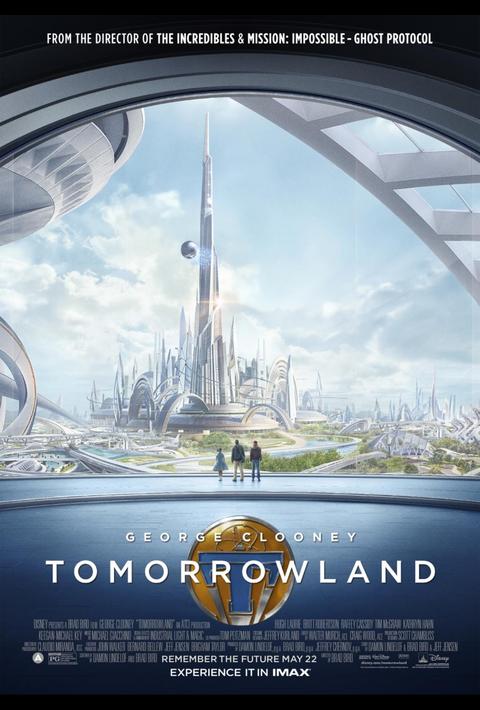 "If I was walking down the street and I saw somebody with a jetpack flying over me, I'd believe that anything's possible. I'd be inspired. Doesn't that make the world a better place?"
–Frank Walker
"Tomorrowland," Brad Bird's latest oeuvre, is a paean to a time when the future was perceived as bright and limitless, and technology inspirational rather than oppressive.
The filmmakers have been fairly insistent on maintaining secrecy over the details of the plot, but in brief, "Tomorrowland" tells the story of why an essentially optimistic world might lose its sense of wonder and turn towards cynicism and despair. It does so through the eyes of a bright young girl named Casey Newton who gets a glimpse of Tomorrowland–where the best of all possible futures is being developed–and then is determined to see more.
On her adventure, she will encounter any number of dangers, and enlist the help of Frank Walker, a bitter loner who knows more about Tomorrowland than he would like to admit, and Athena, a young girl who is at once much more and much less than she appears.
Long-time Disney fans might remember that the first reveal on this film was in the summer of 2013, when Disney unveiled an alternate reality game called "The Optimist." Based around the story of another bright young girl investigating a secret society of visionaries, players traveled around Disneyland and Los Angeles to different Walt-Disney-related landmarks, uncovering clues and special items. Ultimately, the game revealed that Walt Disney (among others) was a member of the Plus Ultra society–people who believed in and worked to make a Great Big Beautiful Tomorrow. They operated out of a secret/hidden locale that was accessible through the "it's a small world" exhibit at the 1964-65 World's Fair.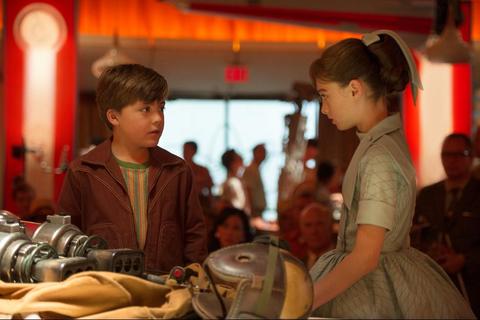 The game culminated at the 2013 D23 Expo, where people solved riddles, took a ride on the Lily Belle, and ended up in the Main Street Cinema, where a short film confirmed the society's existence and proffered membership pins for those ingenious enough to make it to the end.
At the same Expo, Bird and Lindelof uncovered the "Dusty Old Box" that apparently was found in the Walt Disney Studios and dated back to 1952. In it were articles and blueprints that seemed to verify Walt Disney and his Imagineers' Plus Ultra involvement. The contents, along with a variety of other artifacts were on display and viewable through a mobile app: https://itunes.apple.com/us/app/tomorrowland-d23-2013-disney/id684585068?mt=8
I go through this backstory, so that, like me, you can go in with a knowledge and appreciation of the depth of thought that went into the world of this movie, and unlike me, will not have the expectation that it will all have much to do with this particular movie. The retro World's Fair segment and the futuristic Tomorrowland are beautiful and beautifully done, but make up relatively short sequences in the beginning and end of the film. The bulk of the film is the "Wizard of Oz" style journey Casey takes that spans time and space, and utilizes motorcycles, bicycles, rockets, and a Chevrolet Volt.
George Clooney, although not making an appearance until after the film is well underway, is a good choice for the part of the cranky, defeated Walker. His innate charm keeps the character likeable despite his initially forceful repulsion of Casey and complicated relationship with Athena.
The highlight of the movie however, is Raffey Cassidy who is fabulous as Athena. In some ways carrying the bulk of the film on her tiny, sturdy shoulders, she has all the bright appeal of a young girl, but the depth and maturity of something quite a bit older.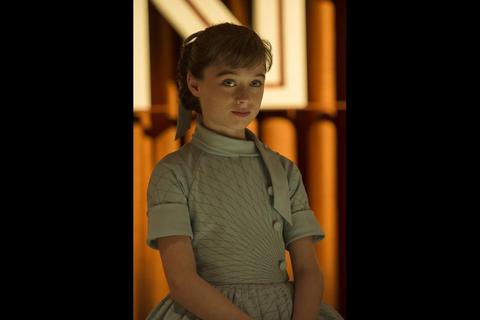 "I'm the Future, Frank Walker."
At the end of the day, "Tomorrowland" proves to be an enjoyable action-adventure movie with some nice performances and some beautiful set pieces. As you'd expect, from someone with Bird's eye for detail, the World's Fair recreation (keep a look out for Composer Michael Giacchino as the "it's a small world" ride operator) and especially the Tomorrowland visions are spectacular–so much so that it comes as something of a let-down that after a brief glimpse it's taken away from us, just as with Casey.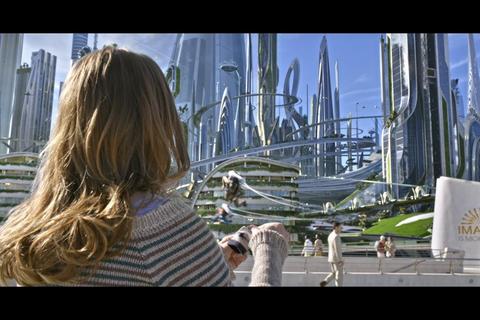 The movie's message, that the Future is likely to be as good or bad as you make it, is a positive one, and the emphasis on a teenage girl's intelligence and perception over her romantic proclivities is refreshing. If I still think wistfully on the film that might have been, that focused more on Walt Disney and Disneyland's involvement in "Tomorrowland's" secret society (material that was included in the film's precursor novel "Before Tomorrowland") it is more on me than on Bird or Lindelof. It's hardly their fault, after all, that I went in wanting "20,000 Leagues Under the Sea," and they gave me "In Search of the Castaways."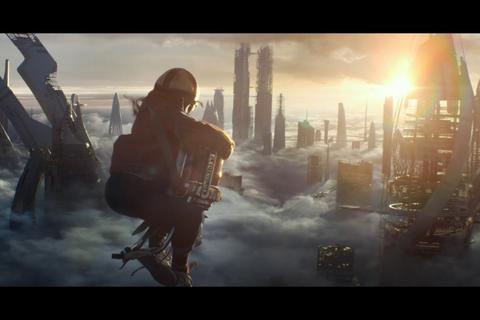 "When I touched this pin, I saw this place–someplace amazing. And it felt like anything was possible. And then it was gone."
–Casey Newton

"Tomorrowland." Rated PG, it stars George Clooney, Hugh Laurie, Britt Robertson, Raffey Cassidy, Tim McGraw, Kathryn Hahn, Keegan-Michael Key, and Thomas Robinson.
Directed by Brad Bird, with a screenplay by Damon Lindelof and Brad Bird, based on a story by Damon Lindelof, Brad Bird, and Jeff Jensen. Produced by Damon Lindelof, Brad Bird, and Jeffrey Chernov. The Executive Producers are John Walker, Bernard Bellew, Jeff Jensen, and Brigham Taylor.
The film enters general release on May 22, 2015, and is distributed by Walt Disney Studios Motion Pictures.