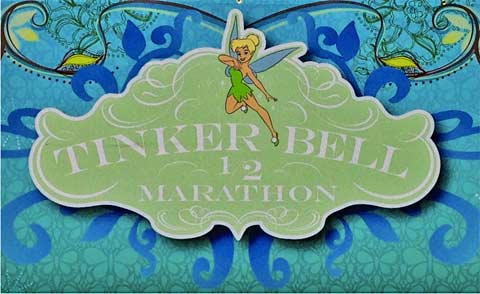 Sunday, May 10 – Tinker Bell Half Marathon
Happy Mother's Day! There were a lot of moms who apparently thought that getting up early and running a half marathon was a fine way to spend Mother's Day.
We set the alarm for 3:30 again. We'd brought yogurt and bread and peanut/almond butter to eat in our room. Lee was very happy when he'd seen the signs in Downtown Disney and the hotel on the previous days stating that that several places that serve coffee would be opening early on race mornings. So at 4:00 he went down to the Hearthstone Lounge for his coffee. He was the first customer there.
For this race we were both going to run with wings. Lee dressed as Terence, who is a keeper of pixie dust. (He's a character from the Tinker Bell movies – a lot of people don't know who he is, but the pixies all recognized him!) These were new (and larger) wings for both of us, so we weren't sure quite how they would work out for us. They were definitely a lot wider – we both had to go sideways through doors! 🙂 I realized I'd have to be much more careful to allow enough space during the race when I was trying to pass people – particularly between people.
In the pre-race area we met up with my friend/co-worker Janet. It was her first half marathon, and she was very excited – and a little nervous. Yep, we've all been there! Any of the Disney half marathons are really terrific first half marathons, but I think this one is an especially good "first" for a woman. (She did GREAT, and finished in 2:08:04 – and she wasn't even wearing wings!)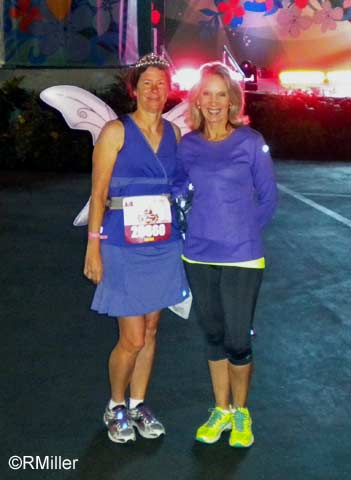 We went over to see the Mickey Milers, where wing expert Lee helped Caryn with her wings.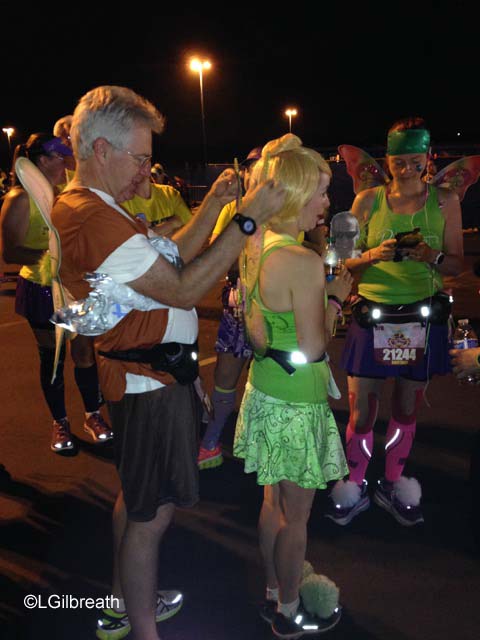 At about 5:00 we headed to the corrals again. For the Tinker Bell Half Marathon they don't let men start any higher than Corral B, so I went back there to run with Lee. Since we were both dressed up I wanted to get some photos of us, hopefully with the pixies.
It was another terrific morning for running. About the same temperature as the day before, but the sky was clear, and it felt a little cooler. I had a mylar sheet (saved from a previous runDisney race) wrapped around me while I was waiting.
For the half marathon there were some fireworks that went off during the national anthem.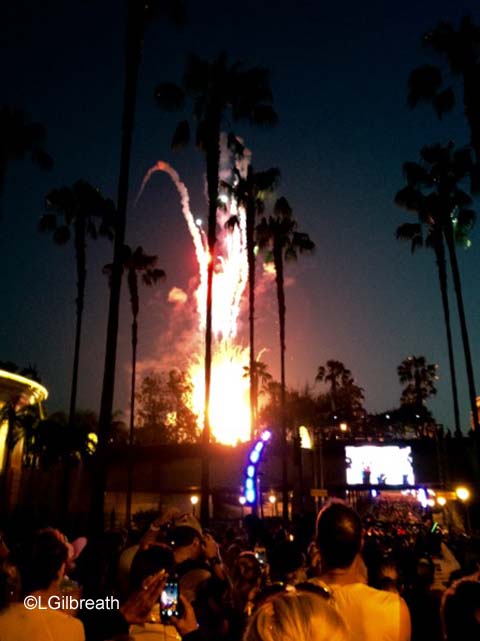 I was surprised that it was Minnie and Daisy who came out on stage with the announcers just before the start of the race and not Tinker Bell like we'd seen the day before. The race started just a little after 5:30, and Corral B started about 7 minutes after Corral A. Our start time was just a little less than 10 minutes off of the official clock, so that made it easy for us to know where we were time-wise when we saw the mile markers during the race.
The first mile and a half was like the 10K course, but then instead of going into Disneyland we went into Disney California Adventure. We went past the Tower of Terror, down Hollywood Blvd, and then down Route 66 through Cars Land, and around Paradise Bay. The first pixie we saw was Silvermist,and the line was fairly short.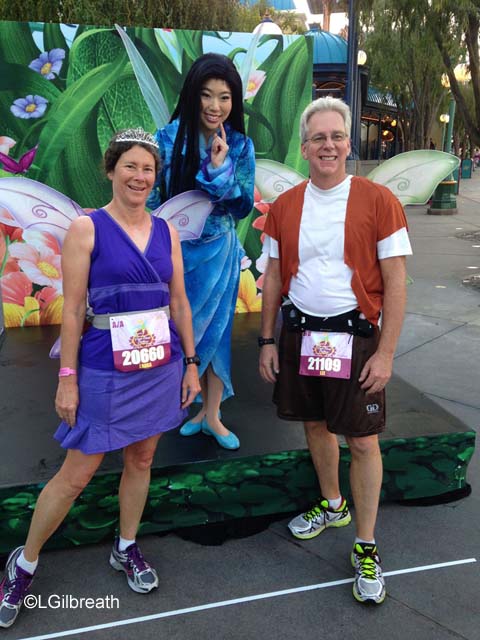 Vidia was not too far away, again with a pretty short line. In my dreams I am a fast-flying fairy like Vidia…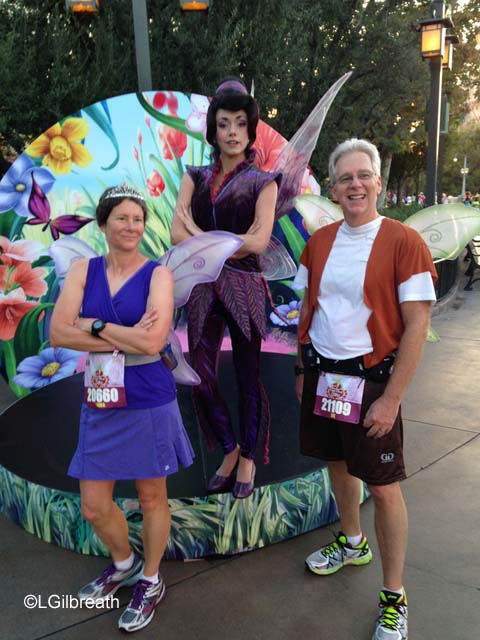 We ran out of DCA and across the Esplanade into Disneyland and onto Main Street. Goofy, Chip and Dale were out with one of the Soundsational floats, but had a very long line so we didn't stop. We were just past mile 3 in the race.
We ran around the hub and through the castle, then around the Carrousel. The Lost Boys were riding the Carrousel, but I couldn't get a good photo. One of the monorails, with the new Tomorrowland movie logo, was gliding overhead as we ran past the Mad Tea Party. We headed back to the hub passing Pixie Hollow, where there was a long line for Tinker Bell. It was the longest that we saw – not surprising.
This course spends a lot of time going through Disneyland, which is really nice. We went back to the hub so that we could go into Tomorrowland. The Storm Troopers were out by Tomorrowland Terrace, and they had a very long line. I'm not quite sure how Storm Troopers fit in with Tinker Bell, though…
From there we went past the submarine lagoon and the Matterhorn and out towards "small world" where we saw Rosetta and Iridessa. They were especially thrilled by Lee's Terence costume, and very complimentary.
Then we went backstage behind "it's a small world", and to mile 4. One of the trains was parked back there.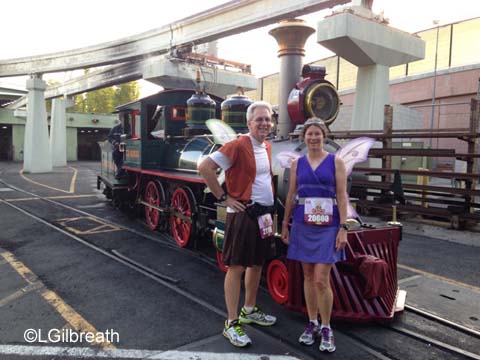 We ran back into the park next to Big Thunder Ranch and then around the Rivers of America. Jack Sparrow and a couple of pirates were on the bridge above the entrance to Pirates of the Caribbean. Gee, with a race full of women I can't imagine why they would make Jack Sparrow inaccessible like that! 🙂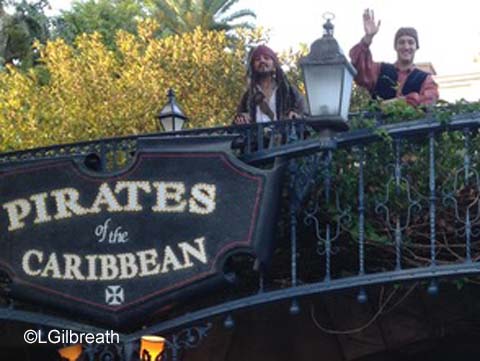 Mile 5 was near the entrance to the Haunted Mansion. We went backstage again by Splash Mountain and ran around the perimeter of Disneyland until we emerged near the Esplanade and then ran through Downtown Disney.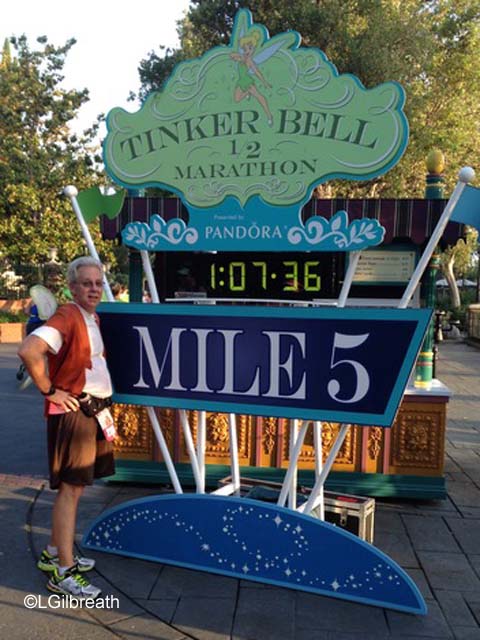 Next to the Disneyland Hotel is one of my favorite parts of the Tinker Bell Half: that's where the Red Hat Society cheers every year. This year there were several hundred of them cheering and ringing cowbells and high-fiving runners. Seeing them is always one of the highlights of the race for me!
Just past mile 6 we found "Captain Hook". 🙂 We were almost at the 10K point, and about to leave Disney property. That's one of the things I like the most about this course compared to the other half marathon courses: we're almost halfway through the race before we leave Disney! It really makes the race seem to go a lot faster. Lee was feeling his PR from the day before and wanted to slow down a little, so I went on ahead at my own pace.
After we leave Disneyland resort property we run north through an Anaheim neighborhood of houses and apartments. Since it's still quite early on a Sunday morning, Disney puts up some signs to remind us to be quiet. I've never really found runners to be all that noisy when we're running, except for those who carry their own music and speakers. I ran past one of those guys later in the race – I sped up and ran through a walk interval to get past him.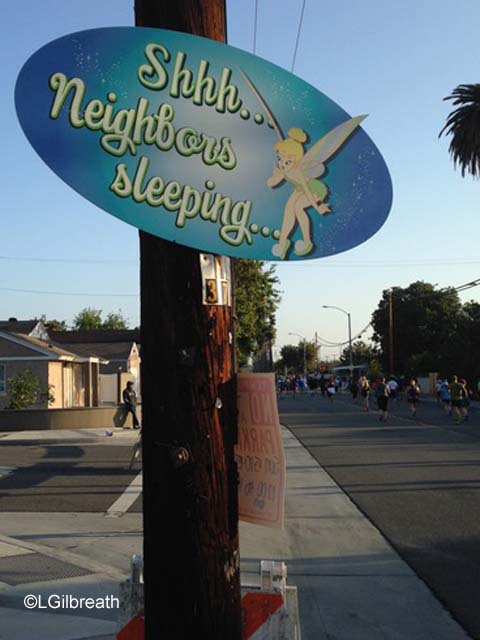 We turned right and headed east, and into a slight breeze. I could feel some resistance against my larger wings…so I was hoping I'd get a little added push from them when we turned west again.
About mile 8 we run out of the "quiet zone" and into downtown Anaheim – and into the enthusiasm of marching bands and cheerleaders. The route takes us down the Anaheim Center Street Promenade.
We went around the corner past the Anaheim Public Library.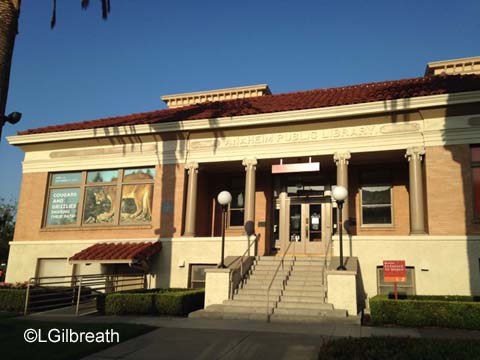 We run down Harbor Blvd past the mile 9 sign and back towards Disneyland…and just when it looks like we're getting close, we turn left on Ball Rd and head away from the park. Major fake out for those familiar with the area…there's still over three miles to go! Since there were no clouds we were getting some sun on us by then and it was starting to feel a little warm even though the temperature was only about 60 degrees. I should mention that we had very nice support from the community once we got away from the "quiet zone". Quite a few high school bands and cheerleading squads to cheer us on, and a lot of people out with signs and cowbells, too. Runners appreciate all of the support – thank you!
We went all the way south to Disney Way and then did a loop around some of the Good Neighbor hotels before turning onto Harbor again briefly (Mile 12) and going backstage near Disneyland. We stayed backstage behind Cars Land and Paradise Pier before crossing Disneyland Drive for the final dash to the finish line.
I finished in 2:18:24, so I had a pretty good second half of the race. After I got my Tinker Bell medal I went to the Pixie Dust Challenge and Coast-to-Coast area to pick up my other two medals. Ahhh…it's just not a Disney race without that "clank, clank" sound! 🙂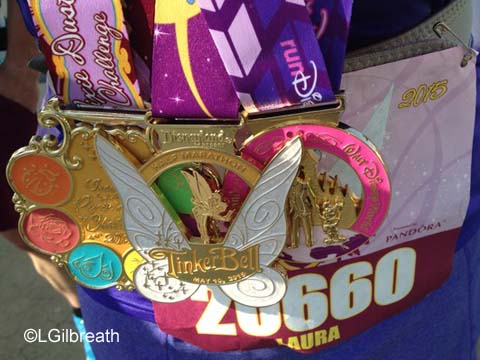 For this race they had refreshments for us. We had heard rumors that the reason there were no runDisney boxes for the 10K was because they had discovered that the applesauce in the boxes was past its "use by" date. So someone (I'm sure it was some of the volunteers) had opened up all of the race boxes, discarded the applesauce, and separated the contents into different bins. At the front of the line we got a bag with a Clif bar and a moist towelette packet in it, and then as we went down the line we could get the other items that had been in the box.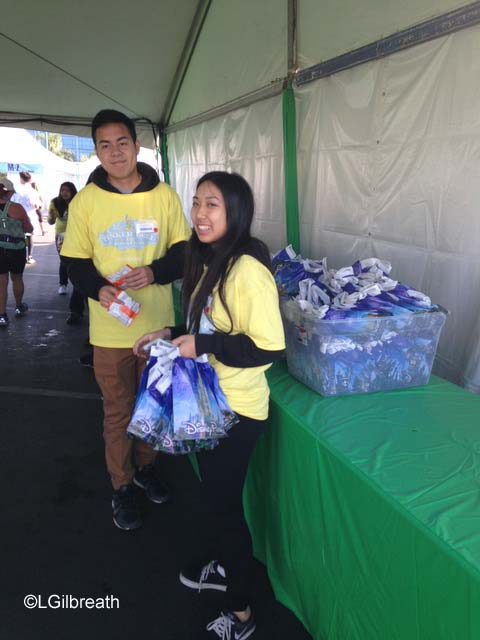 I thought the bag was a lot easier to handle than the boxes are since I could hang it around my hand or wrist. And I also didn't have to take items that I really didn't want. But I still don't like the box contents and wish that we had REAL food.
I waited a bit for Lee to finish…his time was 2:25:16. Any time we finish a Disney 1/2 marathon in under 2:30 is really good for us!
The Tinker Bell half marathon medal also has the pearl-like finish on the wings like the 10K medal did.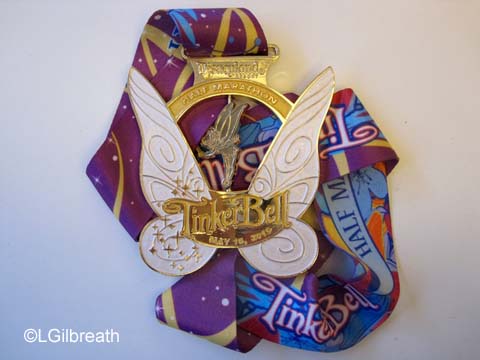 I don't care for the Pixie Dust Challenge medal at all. It looks like a child designed it. I hope they'll re-think this one for next year.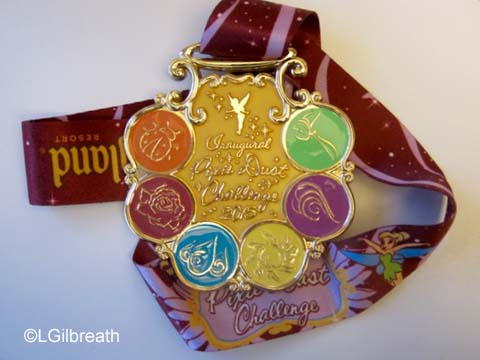 And here's the pink Coast-to-Coast.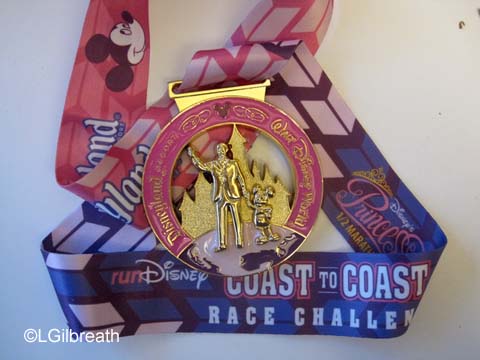 When runDisney announced last year that the Tinker Bell Half Marathon Weekend was moving to May – and Mother's Day weekend, to boot – I had a lot of reservations. This is, after all, a race for women – and a lot of women want to be with their families on Mother's Day! I wondered if that affected registration: this half marathon has in the past sold out very quickly (often the day that registration opened), but this year it didn't sell out for several weeks.
The weather was also a concern. It's not uncommon for southern California to have some very warm days in May – I've been at Disneyland when it's been in the 90s. Now, it's not that warm at 5:30 in the morning, but still – temperatures in the upper 60s and low 70s are very warm when you're running 13.1 miles. Fortunately we had exceptional weather this year – except for the 5K. And even that was "exceptional" – it very rarely rains in southern California in May!
This was the 4th Tinker Bell Half Marathon, and our fourth time running it. I hope they'll do something special for the "Perfectly Tink" runners on the 5-year anniversary next year. This is still my favorite Disneyland 1/2 marathon course. I think that overall I prefer Star Wars half marathon weekend to Tinker Bell, but it's really close, and I still think Tink has the better 1/2 course (the 10K courses are very similar now). But there's just nothing like all of the costumed Star Wars cosplayers along the Star Wars course. Though I think Disney did a better job with characters for the Tink races than they did for the Star Wars (and Avengers) races. I thought there were a pretty good number of character opportunities as well as a good selection of characters in both the 10K and the half marathon.
Thank you to all of the wonderful volunteers and cast members who work so hard, and are so incredibly cheerful on these early mornings! And thank you to all of the bands and cheerleaders and members of the community who come out to cheer for the runners, including the Red Hat Society ladies. It just wouldn't be the Tinker Bell Half Marathon without them.
One final photo – this is the start line that we drove under as we were leaving – just about 7 hours after we had run under it. 🙂