This year for the first time the Disneyland Tinker Bell Half Marathon weekend was moved from January to May – specifically to Mother's Day weekend. I was not sure how that change was going to work out, but it ended up being a great time, at least for us.
Although there was an Inaugural 10K last year, running both the 10K and the half marathon was not considered a "challenge" as it is with the other half marathon weekends. But this year runDisney introduced the Pixie Dust Challenge for those running both races, and Lee and I signed up for that.
The week before the race, runDisney released some statistics on the race entries:
Tinker Bell 1/2 Marathon Weekend Fun Facts:
32,050 total registrations
16,000 1/2 Marathon
10,000 10K
4,550 5K
1,500 Kids Races
5,000 Pixie Dust Challenge
I was alarmed when I first saw this – 21,000 in the half marathon would've been too many – but the numbers for the 10K and half included the 5,000 Pixie Dust Challengers. I think those are reasonable numbers for the two courses.
The first event of the race weekend is always the Expo, which opened on Thursday morning. Those running the 5K on Friday morning needed to pick up their bibs on Thursday – and it was also the first opportunity for people to grab the Tinker Bell merchandise. Unfortunately, "grab" is often an appropriate choice of word. I REALLY wish that runDisney would institute merchandise limits, or offer more of it that can be pre-reserved by people who are actually RUNNING the races. It's not right that a lot of this stuff shows up on eBay two hours later…I refuse to buy it there, no matter how much I want something.
Anyway…as I'm sure many of you have heard, California is in the midst of a multi-year drought, so guess what happened the morning of the 5K? Yep, it rained. I'm sorry that it wasn't as nice an outing for the runners as it normally is…but I'd like to invite them to please extend their stay in California as long as they would like. 🙂
I've never run this 5K, but everyone who has says it's runDisney's best 5K race. It starts in Disneyland on Main Street and runners go through both parks, finishing in Disney California Adventure. Maybe next year…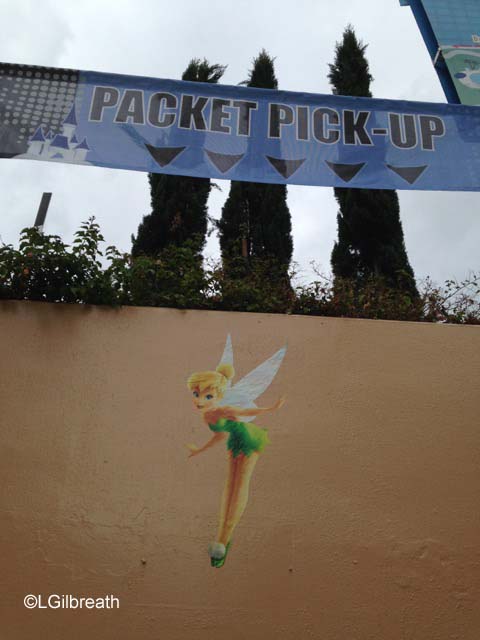 We arrived late Friday afternoon and went to the Expo. The packet pick-up was in the underground parking garage of the Disneyland Hotel, as usual. There were some fun pictures at the entrance.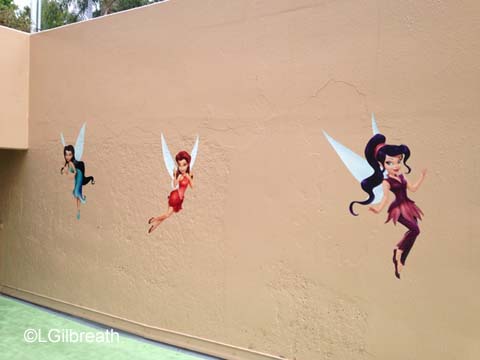 It didn't take long to pick up our bibs. I also got a wristband, since I qualified for the pink Coast-to-Coast medal, because I ran the Princess half marathon in February, and was now running the Tinker Bell half marathon. Because we were running the Pixie Dust Challenge, we had to get our runDisney mug shots taken.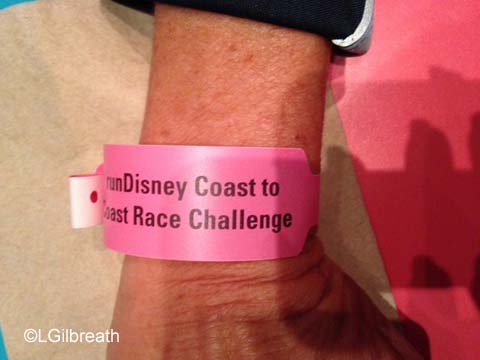 We went upstairs to the Convention Center, where the main Expo was held. There were some cute banners at the entrance. I thought they did an especially nice job with the decor this year.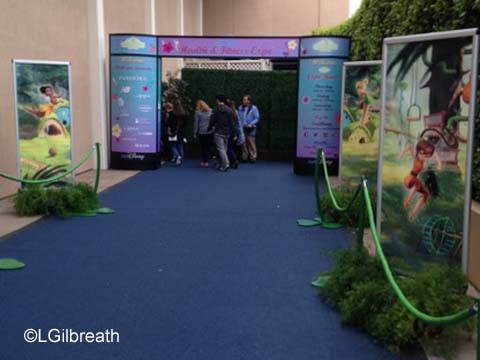 That Tink is such a hussy… 🙂
It seemed to me as though there were more vendors than we saw at the Star Wars and Avengers Expos, so that was nice. But still, the area was not overly crowded, and everyone seemed to be enjoying themselves.
We picked up our shirts…one nice thing about moving the race to May is that we received short sleeve shirts and not long sleeve. I really liked the blue and green shirts. When I first saw a photo of the Pixie Dust Challenge shirt online it looked like a raspberry color (ick), but in person it's more of a grape color. Not my favorite, but not as bad.
We checked out the official merchandise area…though they had lots of merchandise out, a lot of if was the same stuff in different places – we could tell that a lot had sold out. As I expected, the two things that I wanted, the Pixie Dust Challenge mini medal and one of the Pixie Dust Challenge car magnets, were sold out. I was still able to purchase the Mickey-ear magnet, though. And thanks to a friend who had an extra, I also have the mini medal now. (You know who you are – thank you!!!)
There was the usual speaker series, but we didn't stay for any of that. We wandered through the non-Disney part of the Expo, also. Lots of neat shirts, and the booths selling the various types of running skirts were very popular.
And the New Balance booth was really hopping, since they introduced a new Tinker Bell-inspired running shoe that was just made available this weekend. They were VERY popular, and we saw lots of people walking around wearing them. There were accessories that you could buy for the shoes, like wings and pom-poms, and they also glow in the dark!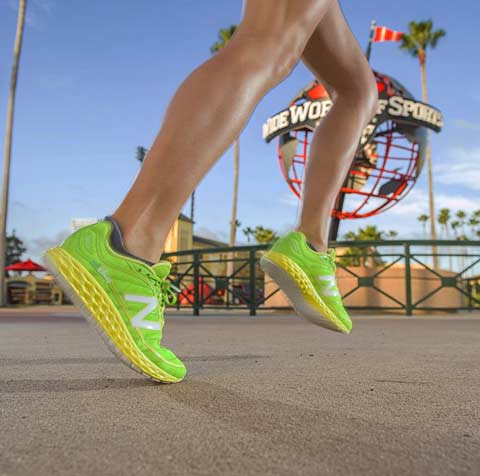 There was a photo-op in the lobby of the Expo, so we took advantage of that before leaving the Expo. We had an early dinner at Tangaroa Terrace and then spent some time over at Disneyland before calling it a night – we had a 10K to run at 5:30 the next morning.
Tinker Bell 10K – Saturday, May 9
The alarm went off at 3:30…not quite as early as for the races in Florida, and since we were in our own time zone, we weren't also dealing with jet lag. That's another thing that makes the California races so much easier for us!
I had a new outfit to wear for this race. It wasn't any specific character, instead it was just a sort of dark fairy. Rather than wings I had made myself a kind of winged cape. One advantage of it was that I could wrap it around myself a little bit while we were waiting to stay warm.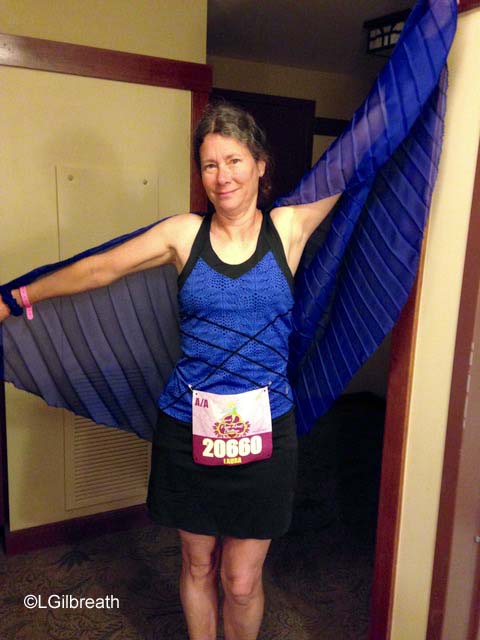 One of my concerns with the race moving to May was that the weather might be very warm (80s and even 90s in May is not that uncommon), but it ended up being a little cooler than normal. The conditions Saturday morning for the 10K were as good as it gets, I think – it was about 55 degrees at the start. Overcast and not much of a breeze. Really great running weather!
We met up with the Mickey Milers before the race – they were easy to find in the dark since many of them wore their bright yellow shirts (including Lee).
We headed to the corrals about 5:00. For some reason I was in Corral A for the 10K and Lee was in Corral B. Last year we were both in A, and this year there were other men in A (legitimately), so I'm not sure why he wasn't in A. He was going to run the 10K for time, and I wasn't sure what I was doing, though I hoped to get some photos, which meant that being in A would be an advantage, so I went up to A instead of going to B with him.
It's always fun being in A, where I'm actually close to the start line and able to see the stage and what's going on. Tinker Bell and Fawn were on-stage before the race to wish us luck. The race started right on time at 5:30, and we were off!
The 10K course was a bit different this year than last year – but it was all good changes! At the start we were outside the parks for just over a mile (same as last year), but then the rest of the time we were in the parks or backstage until the last tenth of a mile when we crossed Disneyland Drive and headed to the finish line near the Paradise Pier Hotel. I loved this course – it's my favorite 10K course now. (You can see the map HERE).
The first characters I saw were Chip and Dale on Main Street, but there was a line, so I didn't stop. We ran to the end of Main Street (Mile 2) and into Frontierland past Big Thunder Mountain and into Fantasyland, where Alice and the Mad Hatter were next to the Carrousel. That line was only about six people, so I stopped.
Iridessa was near Pixie Hollow, with only a couple of people in line.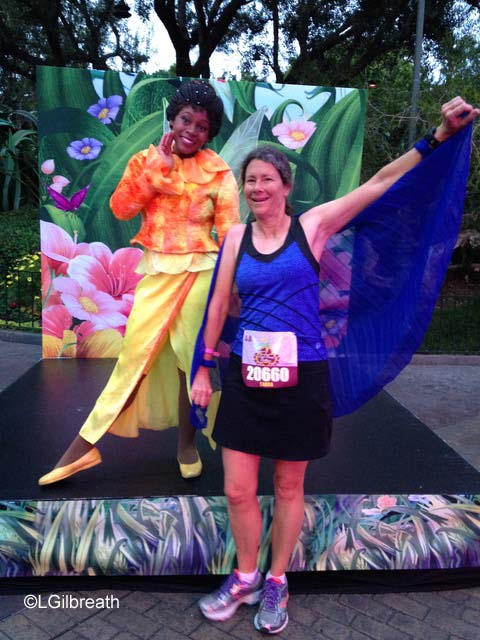 The course went back to the hub and then into Tomorrowland, past the submarine lagoon and the Matterhorn, then on "small world way". Rosetta was there, also with only a couple of people in line. In a pixie-themed race I wasn't sure why the lines for the pixies were so short, but it very nice for me!
Clarabelle Cow and Horace Horsecollar were in Toontown, but that was a much longer line, and I didn't stop. We went backstage behind Toontown (Mile 3) and ran around the backstage perimeter of Disneyland until we came back out at the Esplanade (Mile 4) and ran across into Disney California Adventure.
The course went down Buena Vista Street and Hollywood Blvd, past the Tower of Terror and into "a bug's land". Silvermist was there, with no line. Nice.
From "a bug's land" it was back towards the Winery and then left towards Paradise Pier. Vidia was near the entrance of Ariel's Undersea Adventure. Two people in front of me there, so it was another quick stop.
We went across the bridge past Ariel's Grotto and around Paradise Bay. I was surprised that the World of Color fountains weren't running. We went backstage at the parade gate near Boardwalk Pizza & Pasta, and soon were at the mile 5 marker.
I hadn't really been paying attention to the time, but when I saw the time at mile 5 I knew I could finish in less than an hour if I kept a reasonable pace. We re-entered the park at Paradise Wharf and ran into Cars Land past Radiator Springs Racers. Lightning McQueen and Mater were out near Ramone's but I didn't stop. We went backstage again and ran around the perimeter of DCA behind Cars Land and Paradise Pier before crossing Disneyland Drive (Mile 6) and headed towards the finish.
My time was 58:23: I made it in under an hour WITH photo stops, so I was very happy with that!
When I went through the refreshment area there was PowerAde and water and bananas…but no runDisney boxes. No food at all other than the bananas. What???? We found out later that there was a problem with one of the items in the boxes, so they pulled them for the 10K, even though they had given them out at the 5K the day before. Sigh.
I didn't have too long to wait until Lee arrived – he had a great run and finished with a personal best of 56:55!
We visited with a few friends in the finish area but we didn't linger for very long – it was still early (6:45), and we were getting a bit chilled so we went back to our hotel.
The 10K is still my favorite race distance – it's so nice to be done in about an hour. And this one in particular is a lot of fun. Maybe not quite as much fun as last year, when Lee, Eddie and I goofed off and took almost two hours to finish, but I still enjoyed myself this year. As I mentioned earlier, I really like this course. Last year's course was good, but they certainly improved on it this year.
Another change from last year was the characters: last year it was mostly regular Disney characters like Chip and Dale, Daisy, and Buzz – though it did have the Haunted Mansion bride and parasol girl (BEST CHARACTER STOP EVER!). This year in addition to the regular characters there were the pixies, and in a pixie-themed race that's quite appropriate! I really enjoyed them – they were into their characters, with just the right amount of sass and attitude.
The medal was slightly different this year – it's the same design, but a pearl-like finish was added to the pixie wings, and it looks very nice.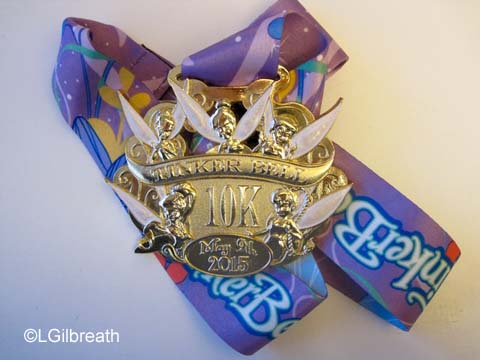 Another nice thing about finishing early…we had enough time to shower and dress and still get to Disneyland in time for early entry! (It started at 8:00) Tink was already greeting guests in Pixie Hollow, so we went to visit. She and Silvermist were very happy to hear that we had enjoyed the race and that we would be out there the next day, too. They were really cute.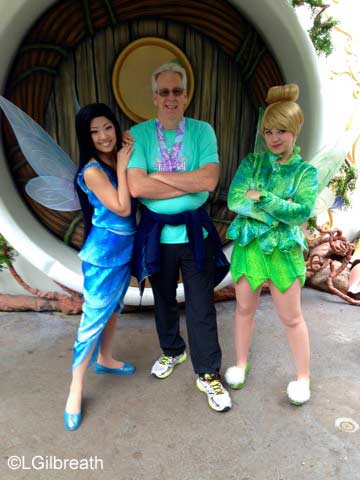 Part one of the Pixie Dust Challenge complete, next up: the Tinker Bell Half Marathon.