Just in time for falling temperatures and winter, Disneynature has treated us to the release of the poster for their 2019 film Penguins.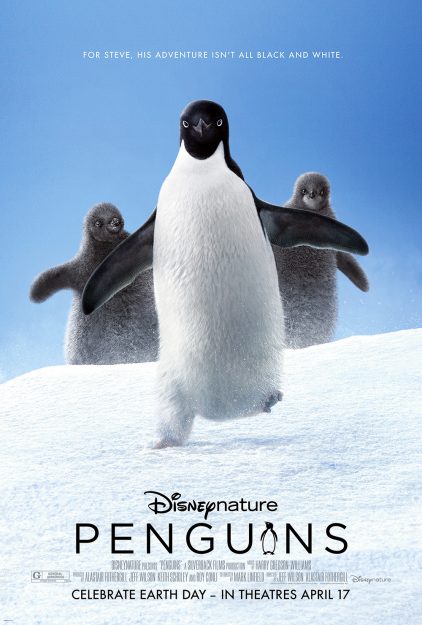 Penguins, the eighth theatrical release for Disneynature, will be released April 17, 2019.
Disneynature's Penguins is a coming-of-age story about an Adélie penguin named Steve who joins millions of fellow males in the icy Antarctic spring on a quest to build a suitable nest, find a life partner and start a family. None of this comes easily for him, especially considering he's targeted by everything from killer whales to leopard seals, who unapologetically threaten his happily ever after.
Launched in 2008, Disneynature was created to bring the world's top nature filmmakers together to capture a variety of wildlife subjects and stories. Disneynature's first seven theatrical releases, Earth, Ocean, African Cats, Chimpanzee, Bears, Monkey Kingdom and Born in China, are seven of the top eight highest grossing feature-length nature films to date, with Chimpanzee earning a record-breaking opening weekend for the genre.
Disneynature's commitment to conservation is a key focus of the stuido and the films empower the audience to help make a difference, with each film driving significant conservation outcomes, supporting wildlife featured in the films.
Walt Disney himself was a pioneer in wildlife documentary film making, producing 13 True Life Adventure motion pictures between 1948 and 1960, including Seal Island (1948), Beaver Valley (1950), The Living Desert (1953) and Jungle Cat (1958). Collectively the films earned eight Academy Awards®.
Have you seen any Disneynature films? What is your favorite part of these films? Let us know in the comments below!
Remember! When you're in Disney tag us @allearsnet in your photos!
Want more AllEars.Net content? Be sure to check out our YouTube Channel for reviews, news, information and more! 
Click below to subscribe to the AllEars® newsletter so you don't miss any exciting Disney news!