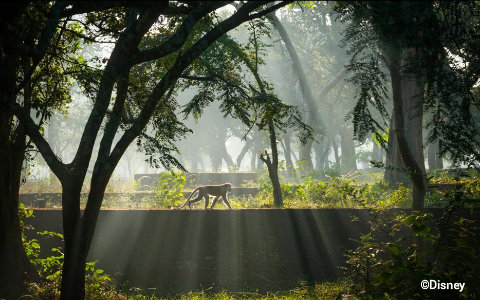 "Monkey Kingdom," Disneynature's newest film that opens nationwide today, gives viewers a front-row seat to view the lives of macaque monkeys living in Sri Lanka. What sets the film apart from other nature movies, though, is the story narrated by comic Tina Fey.
Director Mark Linfield (Disneynature's "Chimpanzee," "Earth") draws viewers into "Monkey Kingdom" by humanizing the struggle of the monkeys. His crew filmed a troop of monkeys for 1,000 days – almost three years – and during that time, personalities emerged that helped Linfield find the focus for the film. His leading lady, Maya, is a scrappy underdog who wants to better her lot in life.
Through Maya, we are introduced to the caste system of the jungle. Some macaque monkeys definitely are more equal than others, and poor Maya is at the very bottom of the heap. But she is industrious and motivated to improve her situation by working within the monkey hierarchy, which is fascinating in its layers of alpha animals.
Maya's personal journey also takes viewers on a journey through the Sri Lanka jungles, countryside and even into an "urban jungle." Some of the funniest scenes in the movie take place when the monkeys break into a house in the city that is decorated — and fully stocked with snacks and treats – for a child's birthday party.
"Monkey Kingdom" is the eighth film from Disneynature, and as we've come to expect, it delivers gorgeous photography of its subjects and their various habitats. One of the most unusual sequences is when the monkeys, and other animals of the jungle, have their annual feast on winged termites, which overwhelm the sunlit fields. We see during the film's credits that the filmmakers were positioned incredibly close to their subjects, even shooting underwater so we can see the monkeys swimming. Who knew monkeys were adept at searching for food in ponds?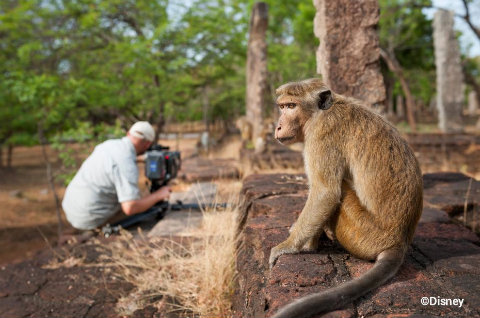 "Monkey Kingdom" is rated G, and there is little that would make it inappropriate for families. Although there is fighting between Maya's troop and a rival group of monkeys, the scenes are not overly wrought with violence. Even when a predator makes a kill – and be assured, there is the inevitable Disney plot device of a death – what is shown is no worse than what audiences see in Disney's animated movies.
Overall, 'Monkey Kingdom' is an enjoyable movie for audiences of all ages. Plus, by going to see it during opening week, viewers can feel good about contributing to a worthy cause. For every ticket sold through April 23, Disneynature will make a donation to Conservation International to help protect monkeys and other endangered species in their natural habitats.
Visitors at Walt Disney World can see a sand sculpture dedicated to 'Monkey Kingdom' take shape near The Outpost in World Showcase at Epcot. Artists will begin working today and the big reveal will be on Earth Day (April 22).
DISCLAIMER: I viewed 'Monkey Kingdom' at a media screening before its official release. This did not affect my review; my opinions are my own.