Disneynature's newest film, "Born in China," features the breathtaking cinematography that the studio division is known for, but, sadly, the story itself feels forced. I had high hopes for the movie after seeing all the ads with the adorable panda bears, but it just isn't as engaging as other Disneynature movies.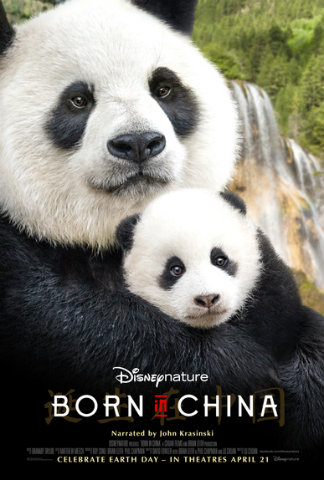 "Born in China" follows the lives of three families of animals — the majestic panda, the savvy golden snub-nosed monkey and the elusive snow leopard — that live in China's vast terrain. Director Lu Chuan and narrator John Krasinski take the audience on a journey that allows us a front-row seat to watch each species grapple with raising its young in a challenging environment. In between each story, we also learn a little about tribes of antelope and red-crowned cranes.
What sets Disneynature films apart from other wildlife documentaries is the filmmakers' ability to expose the animals' individual personalities while imposing an engaging storyline on their behaviors. This is possible because the filmmakers spend years in the wild, studying, following and documenting particular groups of animals. In this case, they condense what they have learned into a story that is told within the framework of the changing seasons.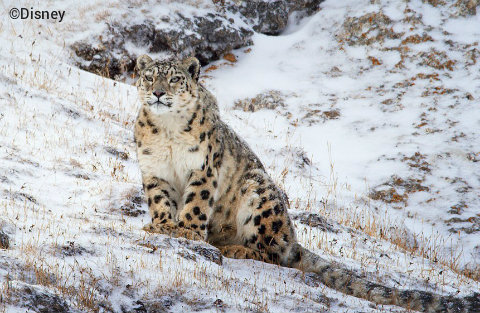 We are drawn into the snow leopard's world with the introduction of Dawa, a powerful female who is protecting two young cubs in the craggy cliffs of Qinghai-Tibet Plateau. But over the course of the year, we see how her job as protector has its ups and downs, especially because she lives a solitary life without adult companions. In the end, the circle of life — defined as "love, hardship, hope" — plays out.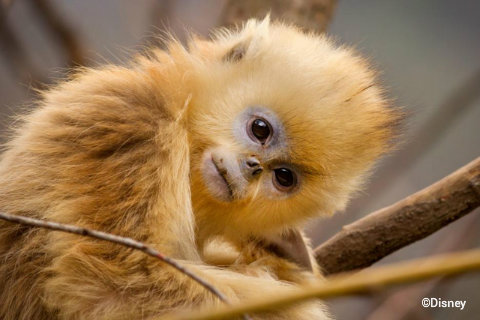 Swinging from trees and crashing down from them is Tao Tao, a rebellious golden snub-nosed monkey. He and some other adolescents in the tribe have become outcasts from their families and are dubbed The Lost Boys. Tao Tao shows us the pure joys of being a monkey but also the very real danger from a Goshawk that can swoop in at any time and carry off the babies.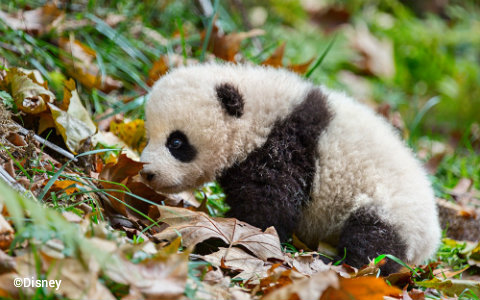 In the bamboo forest, we find what we have been promised — a lumbering, roly-poly panda bear, Ya Ya, and her cub, Mei Mei. We learn that for Ya Ya, this fleeting maternal period in her life is one she cherishes because it's one of the few times she will have companionship. But as Mei Mei grows, she seeks her freedom, ultimately gaining it once she can climb a bamboo tree by herself. In between, we see some of the most darling images that are sure to melt anyone's heart.
"Born in China" is the ninth movie from Disneynature. And while it is far from a disappointment, it is a little dry. Having seen many of the Disneynature films, my family and I have come to especially enjoy the productions that are able to successfully combine the amazing photography with a humorous storyline. "Born in China" has its moments, but it just couldn't compare to "Monkey Kingdom," which was narrated by Tina Fey. As my children said, "Born in China" feels more like an educational film than an entertaining one. (You can read more about the producer's perspective in AllEars.Net blogger Jeanine Yamanaka's blog here.)
"Born in China" is rated G, and there is little that would make it inappropriate for families. There are scenes that show animals' deaths, and while they may tug at your heartstrings, they are not gory. "Born in China" is a short film at just 76 minutes.
For everyone who sees "Born in China" during opening week (April 21-April 27, 2017), Disneynature will contribute $.20 per ticket to World Wildlife Fund through the Disney Conservation Fund, with a minimum guaranteed donation of $100,000.
DISCLAIMER: I viewed "Born in China" at a media screening before its official release. This did not affect my review; my opinions are my own.