Disney's Animal Kingdom has just introduced Aella, a female Masai giraffe calf that was born on June 29, to the savanna of the Kilimanjaro Safaris attraction.

The two-month-old, which was more than five-feet-tall at birth, is the first offspring of parents Lily and George. This was an important birth, because the Masai giraffe is a vulnerable species. There are roughly 32,000 Masai giraffes left in the wild, primarily in Kenya and Tanzania, but poaching and loss of habitat are causing their numbers to decrease. The Disney Conservation Fund supports conservation efforts in Africa to protect wildlife habitats, including those of giraffes.
Named after an Amazon warrior, Aella (pronounced "eye-la") is already a bold young giraffe, adventurous enough to explore on her own.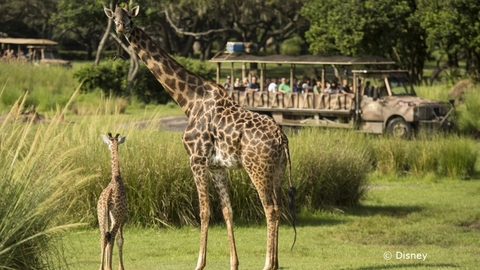 You'll be able to spot Aella easily if she's on the savanna the next time you ride the safari — she'll be the youngest, smallest giraffe in the herd.
Aella adds to the growing Kilimanjaro Safaris family — a baby mandrill was just born there a few weeks ago, on Aug. 8.
Have you seen Aella or the baby mandrill on the savanna yet? Which animals are your favorite to spot on Kilimanjaro Safaris?