Trash can with the World Showcase emblem in Epcot.
Nikon D750/Sigma 15m Fisheye, 1/125s, f/16, ISO 450, EV 0.
Epcot's World Showcase is the closet to one of the original Epcot concepts of being a world exposition which features countries from all over the world. Each country pavilion features its architecture, people, food and music. As a travel photographer, one is hard pressed to find such a place in the world which brings it all together.
Archtecture of each country was throughly researched by Disney Imagineers. You can find details everywhere in either a famous landmark or in the types of materials, colors and structures presented. Since I love color, China is one of my favorites to photograph.
Colorful architecture at the China pavilion in Epcot's World Showcase.
Nikon D750/24-120VR, 1/640s, f/6.3, ISO 100, EV 0, 120mm Focal Length.
Most of the Cast Members you encounter around World Showcase are from the countries they are working in. From entertainers to counter service cast members, I enjoy watching and talking with them to learn more about the country they are from. Or, as in this case, I just watch and savor the smells of the Karamell-Küche shop inside the Germany pavilion. Carmel corn anyone?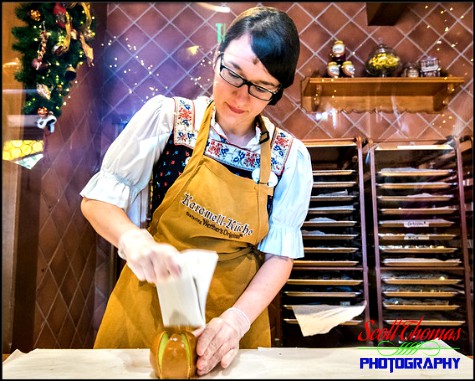 Cast member cutting a caramel apple in the Karamell-Küche shop inside the Germany pavilion.
Nikon D750/16-35VR, 1/100s, f/4, ISO 6400, EV +0.3, 21mm Focal Length.
Many of the World Showcase pavilions feature muscial entertainment. In Mexico, the Mariachi Cobre play and sing traditional Mexican folk songs and tunes. Feel free to dance or sing along.
Mariachi Cobre performing in the Mexico pavilion.
Nikon D750/16-35VR, 1/125s, f/16, ISO 400, EV 0, 25mm Focal Length.
Epcot's World Showcase is a good place to practice classic travel photography. Document each country's culture by photographing places and people to tell each one's story.