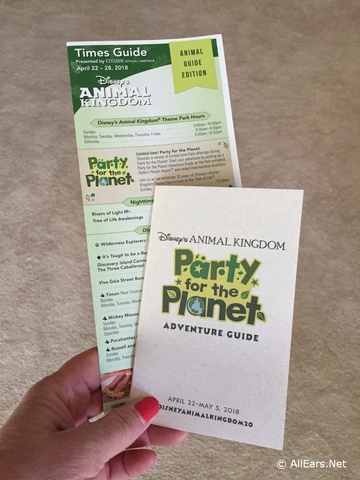 Each year, Disney's Animal Kingdom celebrates its anniversary on Earth Day, April 22, with a "Party for the Planet," filled with special animal experiences and hands-on activities around the theme park. This year, in observance of Animal Kingdom's 20th anniversary, they've extended the party to a two-week celebration, concluding on May 5.
That means if you're headed to Walt Disney World this coming week, there's still time for you to enjoy all of the many activities that Disney's Animal Kingdom has lined up. Here's an overview of what you may encounter.
Located just to the right after you pass through Animal Kingdom's security, you'll see a special 20th anniversary "photo frame" photo op — be sure to get your picture taken there to commemorate the day!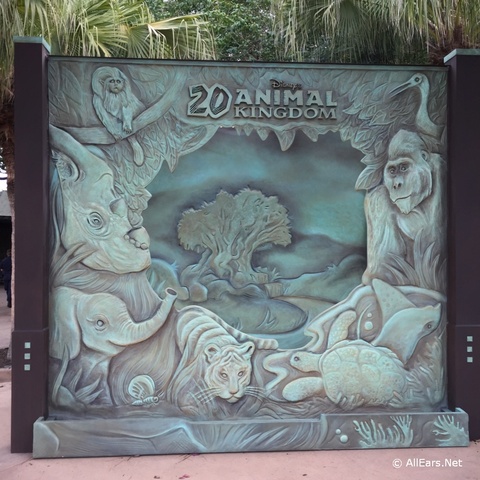 There are other photo ops scattered around the park — look for the PhotoPass photographers and ask them about handheld anniversary-themed props and also about special MagicShots that are available.
Once you enter the park, be sure to pick up the Party for the Planet passport, located near the times guides and park maps. It's a handy little reference (pictured at the top of this blog) to help you keep track of all the various offerings.
As in previous years, Rafiki's Planet Watch (RPW) tends to be the hub of much of the Party for the Planet activity. In this area, you'll find lots of hands-on, interactive experiences for the younger set, as well as numerous animal encounters. Animal "ambassadors" will be exhibiting lots of smaller critters, from reptiles to birds and small mammals, in and around Conservation Station. When I was there, I was lucky enough to see several snakes and a surprisingly tiny screech owl.
Outside of Conservation Station, at the Affection Section, there's the usual petting zoo-like area, with goats, donkeys, pigs, and more, as well as an expanded schedule of up-close "Animal Encounters" on the little stage tucked away on the side. On the hour, between 11 a.m. and 4 p.m., you'll get to see a variety of small animals up close — maybe you'll even get to hold one!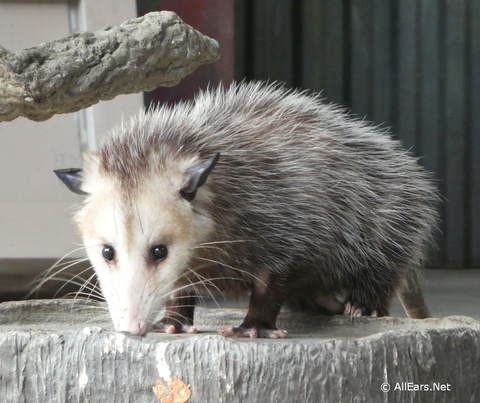 (For the record, no, I did NOT hold this opossum! But I did learn a lot about it.)
If you arrive early enough in the day, you might also be able to catch a simple animal medical procedure — they are performed in the veterinary clinic and you can watch from the big window or overhead monitors. The doctors will answer your questions during the procedures, which are usually suitable even for the squeamish. I have to admit that this is one of my favorite areas in Animal Kingdom. Over the years, I've seen such fascinating (to me, at least) procedures as the neutering of a tiny rat, the removal of scales from a snake's eyes, and a blood draw from a Florida cooter (turtle). I always learn something here, and I think that's one of the most valuable things about Animal Kingdom in general.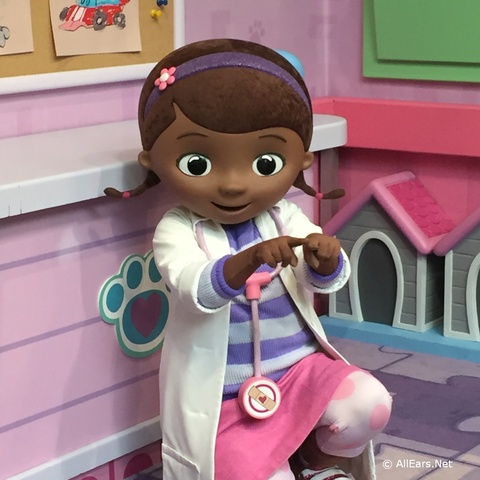 There's also face-painting, caricature drawing, character meet-and-greets (Rafiki and Doc McStuffins [above], who is outside the vet clinic) and an Earth Month "Sharing Tree" activity that allows youngsters to decorate a paper leaf with a message about why they love the Earth, which is then added to other leaves on the tree.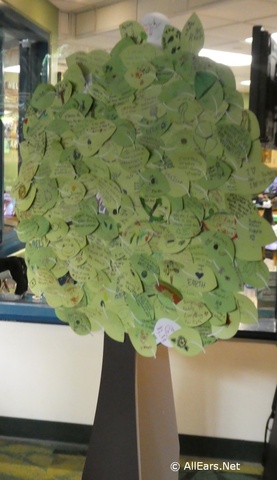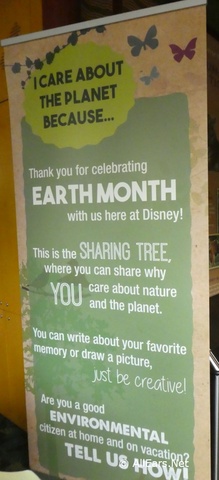 The characters, animal demos and medical procedures are part of the normal activities at RPW, but during the Party additional times are scheduled so that it seems there is always something going on.
Also at Rafiki's Planet Watch during the Party for the Planet is a series of talks given by animal care experts who share anecdotes about the individual animals they work with at the park. Called "My Story, A Day in the Life of…" you'll find the talks taking place at a little bench on the right, just after you enter Conservation Station. You might hear a hilarious story from a giraffe handler, or some interesting tidbits from one of the primate keepers — if you love animals, you'll love to hear their stories.
You might also be interested in a short backstage "sneak peek," for a look at the inner workings of the park. You could visit the Animal Nutrition Center or the Invertebrate Building or one of a few other areas — just ask at the main information desk when you enter Conservation Station.
You can find out here, also, about A Path Less Traveled, a collection of several experiences designed to give guests a behind-the-scenes look at the park. For $59 person, you can participate in the Caring for Giants elephant program, take a backstage tour of the Veterinary Hospital and Animal Nutrition Center, help perform a purple martin birdhouse nest check and get VIP seating at the nightly show, Rivers of Light. To book one of the remaining spaces (remember, it's just available until May 5), call 407-WDW-PLAY.
But the Party for the Planet isn't just being celebrated at Rafiki's Planet Watch. Around the park, you'll find special 20th anniversary merchandise, from t-shirts and ball caps to limited edition pins and Dooney & Bourke Disney animal print handbags.
There's even a special limited-release banshee, found in the Rookery in Windtraders in Pandora – The World of Avatar. Bathed in the colors of Pandora — a mossy green and mauve — this unique toy comes with its own perch and retails for $99.99… if it's not sold out by the time you get there!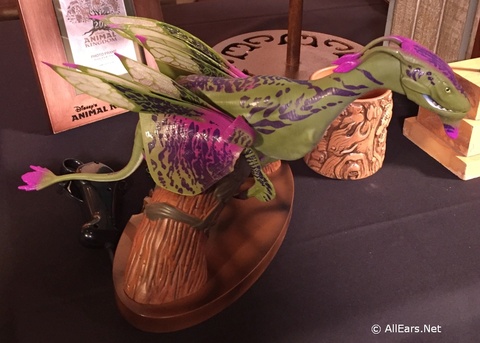 You can read more about the 20th anniversary merchandise and where to find it in Kristin Ford's blog HERE.
A lot of the merchandise is, as you might expect, "conservation-minded," such as the reusable tote bag. And don't forget — if you purchase anything while in Animal Kingdom, make a donation of at least $1 to the Disney Conservation Fund (Disney matches your donation dollar for dollar) and you'll receive this snazzy special edition button. (You can also buy the button outright for a $1 donation.)
Of course, the park is also offering special edibles during the Party for the Planet. I'm not a fan of all these specialty cupcakes with four inches of frosting that have been springing up all over the World, but if you are, you're in luck. There are two to commemorate Animal Kingdom's 20th anniversary — one featuring the park's iconic Tree of Life, with bright green frosting atop a vanilla base (available at Flame Tree Barbecue and Creature Comforts), the other a chocolate cupcake frosted to resemble our Planet Earth (found in Pizzafari and Restaurantosaurus).
Speaking of Restaurantosaurus, it's there that you'll find another special food item — a meatless burger by "Impossible Burger" with avocado and tomato.
Nomad Lounge is also serving up a plant-based dish from "Impossible Burger" — meatless sliders on a brioche bun with tomato chutney and smoked onion, and yucca fries on the side. I didn't try the burger, but I sampled the sliders, which were tasty, though a little on the dry side. The yucca fries, however, were anything but "yuck"-a — they were, in fact, quite yummy. I hope they find a permanent home on some restaurant's menu.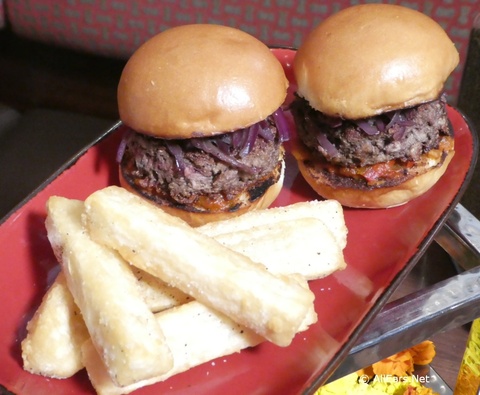 Nomad's adjoining signature restaurant, Tiffins, also gets in on the anniversary action, featuring a three-course chef's tasting menu at lunchtime (from 11:30 a.m. to 3:30 p.m.) that highlights the cuisines of Africa, Asia and South America. Tiffins is also hosting a series of special four-course dinners with one of the park's conservation experts, such as Dr. Scott Terrell, Director of Animal & Science Operations for the park. (Cost for these "Tiffins Talks" is $165/person — as of this writing, the remaining dates still have space available. You can make reservations online at disneyworld.com/dining or at 407-WDW-DINE.)
In addition to the limited-time offerings of the Party for the Planet, the 20th anniversary of Animal Kingdom saw the launch of a few new regular attractions that are definitely worth making time for.
Pandora – The World of Avatar introduced the Pandora Conservation Initiative's Utility Suit. This 10-foot-tall mechanical suit is operated by a human pilot who interacts with guests, explaining the flora and fauna of the land while delivering an ecological message about taking care of our planet. If you're familiar with the original AVATAR movie, you'll recognize that the Utility Suit is inspired by its Amplified Mobility Platform (AMP) suits of power armor.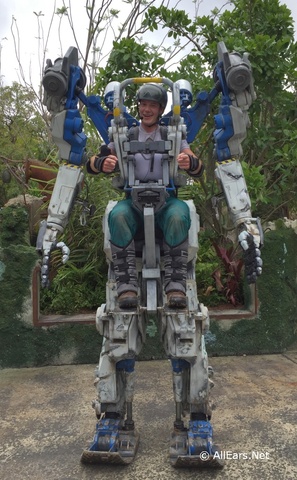 You'll find the Utility Suit and its pilot across from Satu'li Canteen periodically throughout the day, and I think it's well worth a few minutes of your time. The size of the suit is impressive, and the pilot — at least the one I saw — was very entertaining. He just needs to find a way to get the crowd to back away from him a bit and let him show off how he can walk and move a little more.
Over in Asia, there's the replacement for the Flights of Wonder bird show, which closed at the end of last year. I always enjoyed Flights of Wonder and, fortunately, UP! A Great Bird Adventure borrows heavily from its predecessor. At just under 30 minutes, the new show eliminates the rather tired "Guano Joe" tour guide element, and replaces it with healthy doses of the characters Wilderness Explorer Russell and his talking dog Dug from the film Disney-Pixar film UP. Their appearances are interspersed with segments featuring about 15 species of birds from North and South America, Africa, and India exhibiting natural behaviors.
If, like me, you were a fan of the old show, you'll be happy to note that some familiar avian faces return like Frasier (the Crowned) Crane, Miles the Trumpeter Hornbill — even the stately bald eagle makes a brief appearance at the end of the show.
(Kristin Ford also reviewed the new show in her blog HERE.)
Oh, and speaking of Wilderness Explorers reminds me — if your kids want to participate in the Wilderness Explorer activity, there's a special Party for the Planet merit badge available at the Discovery Island HQ. As you continue exploring the park, you can find exclusive Wilderness Explorer Party for the Planet activities and merit badges in Asia, Rafiki's Planet Watch and Upcountry Landing, too.
I guess you can tell that I'm rather partial to Disney's Animal Kingdom — and that's even when the Party for the Planet isn't going on. But when it is, I really find so much to do and see there, truly I think there's something to appeal to everyone.
You can see it all and Party for the Planet yourself there now through next Saturday, May 5.
DISCLAIMER: I was a media guest invited by Walt Disney World to attend the Earth Day festivities on April 22, but my opinions are my own.