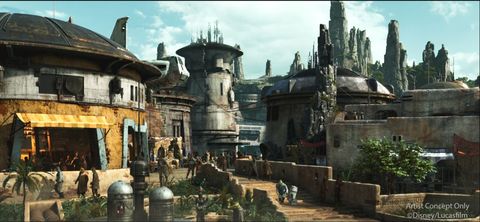 I was so disappointed that I was unable to attend the Star Wars: Galactic Nights event held on May 27 at Disney's Hollywood Studios — I've been a fan of the Star Wars films since I was 17, and am so excited at the prospect of seeing these faraway worlds become real at Walt Disney World and Disneyland Resorts next year!
Since I couldn't go to the event, I kept hoping that Disney would release some more details about Galaxy's Edge afterward — but really, not much was forthcoming. They did announce in the Disney Parks Blog right after the Galactic Nights event that Black Spire Outpost would be the name of the village that Galaxy's Edge is set in (on the planet Batuu, if by chance you missed that bit of info), but there hasn't been much else "officially" released.
So I was happy to see that today StarWars.com has published a summary of the main takeaways from the event. Written by Dan Zehr, host and co-creator of Coffee With Kenobi, a podcast that examines the Star Wars mythology, the summary draws on details discussed in a Galactic Nights panel moderated by actor David Collins that featured Walt Disney Imagineering's Scott Trowbridge (portfolio creative executive), Eric Baker (creative director), Jon Georges (executive producer), and Margaret Kerrison (managing story editor).
According to Zehr, these were the other top takeaways from that event:
— In addition to a large-scale Millennium Falcon (pictured below), two huge AT-AT walkers (similar to the one stationed outside Star Tours: The Adventures Continue in Hollywood Studios) are currently being built in Japan. The walkers will be part of one of two attractions in Galaxy's Edge, with guests facing off against the AT-ATs.
— An all-new vehicle, known as a Resistance Transport, is also being constructed. According to the panel, guests will step on board this vehicle in their journey to face the First Order. The transport features battle damage, and, according to Zehr, "the attention to detail is staggering."
— A "creature pen" is being built that will simulate an encounter with Star Wars creatures, some that have only existed as animation. For example, the team is creating Loth-cats, popular creatures from the Star Wars Rebels animated series, that guests will be able to interact with.
— Among the familiar characters who will appears in Star Wars: Galaxy's Edge are Nien Nunb, Lando's co-pilot in Return of the Jedi who returned to take on the First Order, and Hondo Ohnaka, a Weequay pirate from the animated series Star Wars: The Clone Wars, Star Wars Rebels, and Forces of Destiny. (Zehr notes that actor Kipsang Rotich, who originally voiced Nunb back in 1983, was located so that he could provide some continuity for Galaxy's Edge.)
So does knowing all this make the wait any easier? Not really. It just helps me to share it with you, in case you missed it and were looking forward to more news, too. And it makes me even more excited for Galaxy's Edge, coming to Disneyland Resort in summer 2019 and to Walt Disney World Resort in fall 2019.
I'll leave you with this little snippet Disney released a few weeks ago — I can't wait!