If you study your surroundings, you can discover fascinating images in the detail of Jambo House – Animal Kingdom Lodge. Consider the following images:
These black circles are repeated on several antelope heads posted high around the main lobby. Do they qualify as Hidden Mickeys? (Thanks to Karen Ullman and Anthony Miele).

On your immediate right as you enter Boma Restaurant, this faint image traced high on a wall in the seating area seems to suggest a classic Mickey, or does it? (Thanks to Andrew Yturaldi).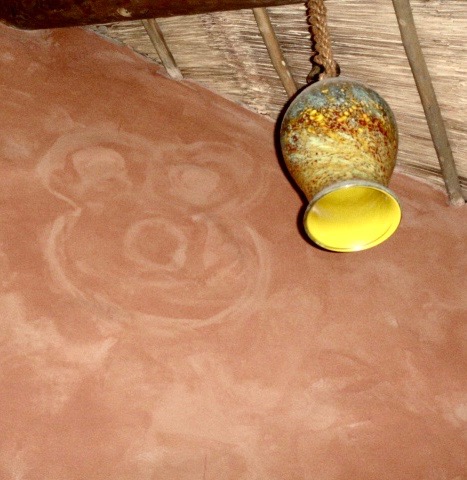 Inside The Mara Restaurant, what do you think about this group of green tree leaves? Find them in the middle of the rear wall of the seating area. A sideways – to the left – classic Hidden Mickey? (Thanks to Andrew Yturaldi).

A fence has appeared in front of the first Hidden Mickey along the rear wall behind the water slide of the pool. It's even more difficult to spot!

The Disney Resorts are packed with great Hidden Images!