Our first stop is Disney's Hollywood Studios, at the BaseLine Tap House on Grand Avenue. Some images inside suggest Hidden Mickeys. Like these framed "Notices" on the rear wall to the right of the bar. A 'Drill Hole Point Size Chart' is at the bottom of the frame. Do three black circles on the chart form a classic Hidden Mickey? (Thanks to Larry Brooks, and Ryan Paolo).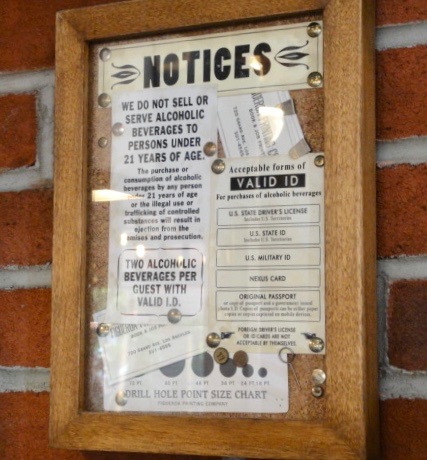 Books are stacked on a shelf above the main entrance/exit doors to the Tap House. Do three dark spots just below (or above) the title on the spine of a book on its side suggest a sideways classic Mickey? (Thanks to Ryan Paolo).

Models of the Disney Cruise Ships stand in several Walt Disney World Resort lobbies. This image is from the BoardWalk Resort lobby. Some folks might think the white classic Mickeys on the red smokestacks count as Hidden Mickeys. What do you think? (Thanks to James Carraher).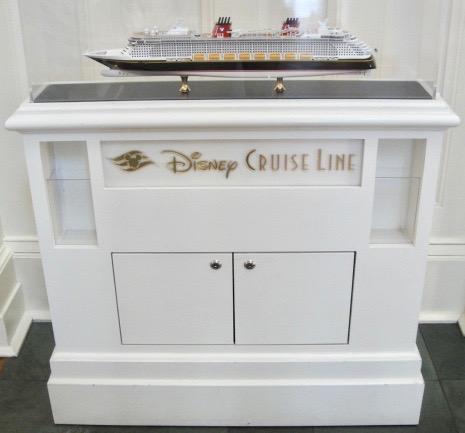 Here's a close-up.

Check out an example of the many decent Hidden Mickeys you can find below your feet in Disney Resort Hotel carpets. This image is from the Beach Club Resort, at the middle right of the photo.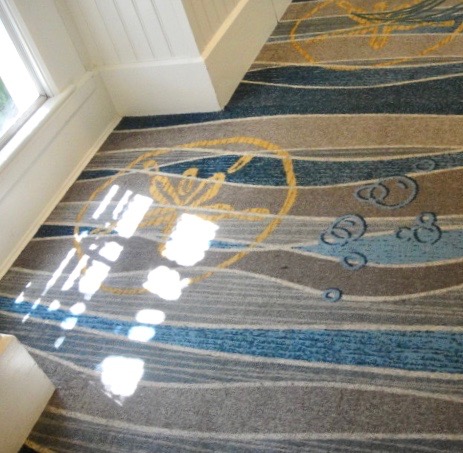 There must be some Hidden Mickeys in this white fence design at the 2018 Epcot International Flower and Garden Festival. What do you think? I see two possible classic Mickeys, tilted to the left, at the middle left and middle right of the photo, which was taken at the Water Wise Garden display near Innoventions. Unfortunately, this fence probably won't last beyond the Festival.

Have a great time searching for Hidden Mickeys!