Although I often write about fun for families in Orlando, this blog post is for adults. Parents need some time away from the kids to recharge, and we at AllEars.Net think the annual Walt Disney World Swan and Dolphin Food and Wine Classic is the perfect date night opportunity. Kids are welcome at the event, but it's definitely the grown-ups who will have the most fun at it.
For those not familiar with the event, the Food and Wine Classic is two evenings of sampling appetizer-size portions of food, wine and beer in an outdoor atmosphere with live entertainment. Each night has a different menu at the food stations that represent restaurants and chefs that are part of the resort — Kimonos, Cib's Smokehouse, Shula's Steakhouse, Il Mulino, bluezoo and more. During the last eight years, the event has grown to also include specialty areas: Beer Garden, Carnival Corner, Chinatown and now The Bubble Lounge.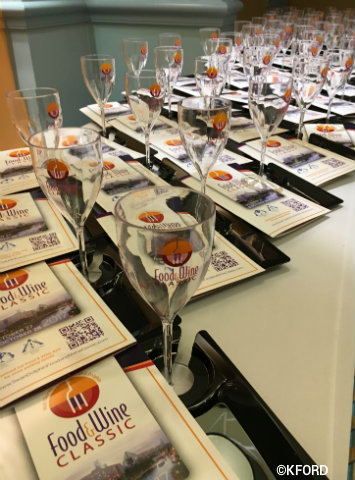 My husband and I attended the eighth annual Food & Wine Classic on Saturday night, and Deb Wills and Linda Eckwerth were there enjoying the offerings Friday night. There were more than 60 food and beverage stations. Plus, guests could choose to attend one of 11 food and beverage seminars before the main event opened each day.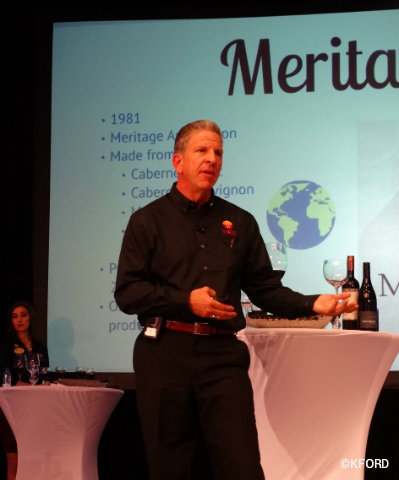 I had the opportunity to attend the Wine Blending class for the first time, which Deb highly recommends. Unlike Deb, though, I am a wine novice, so everything about the class was new to me. Our instructor was Tony Porcellini, a certified sommelier and director of food and beverage at the Walt Disney World Swan and Dolphin. So, clearly, Mr. Porcellini was well-qualified to teach our seminar, but he also was entertaining, so our time together did not become a dry history lesson.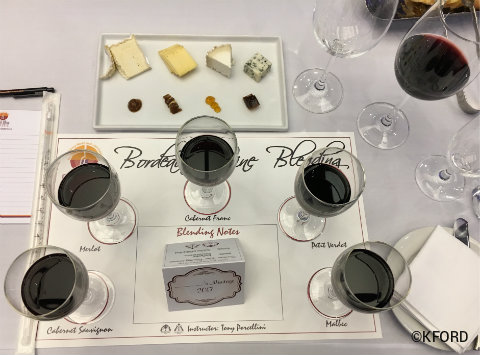 As a wine novice, I wondered if I would feel out of place among the connoisseurs at this class. I certainly did not. The instruction was appealing to attendees of all backgrounds, and I, too, would recommend this seminar if it is offered again next year.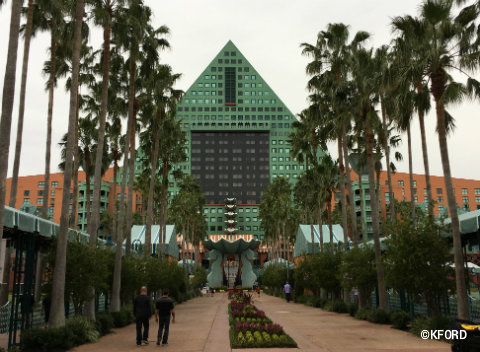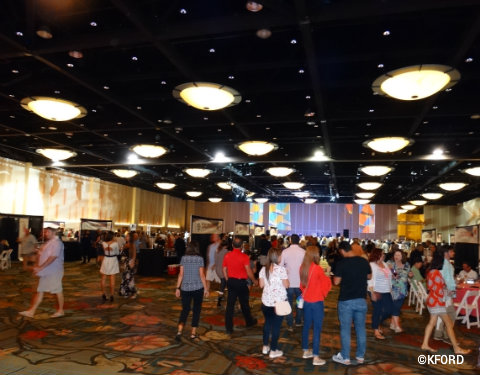 Afterward, when it came time for the main event, we walked across the covered causeway from the Swan to the Dolphin. Because of the inclement weather, the event was moved indoors to the ballrooms on the first floor. Food and beverage stations were grouped as they would have been outdoors and the specialty foods each had their own areas. Celebrity chef Todd English was in attendance and greeting attendees.
Here are some of the dishes we sampled this year: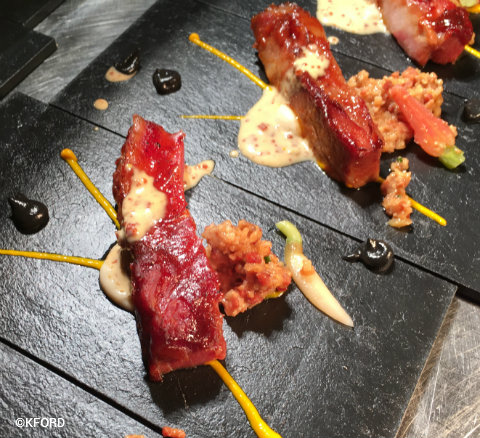 Cib's Smokehouse: Smoked Spanish Iberico Pork Collar, Celery Root Puree, Toasted Hazelnuts, Fall Truffle
Fountain: Southern Pulled Pork Slider, Apple & Cabbage Slaw, Nashville BBQ, Toasted Sesame Brioche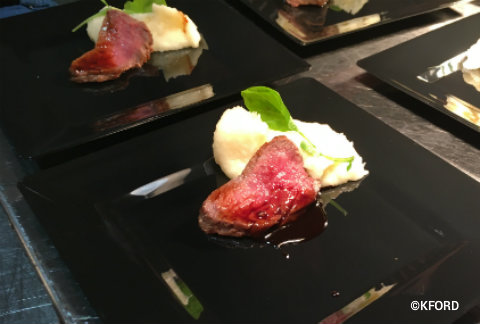 Shula's Steakhouse: Oven Roasted Beef Rib Eye, Silky Mashed Potatoes, Sauce Bordelaise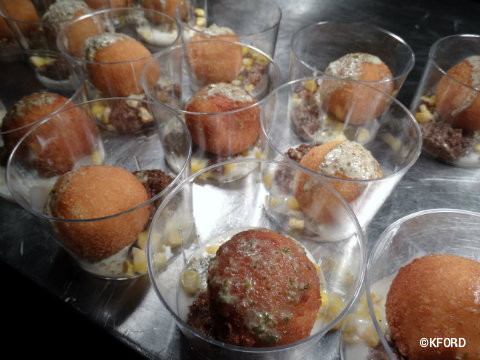 Cabana Bar and Beach Club: Sweet Corn Risotto "Arancini," Wild Chanterelle Mushrooms, Caper Emulsion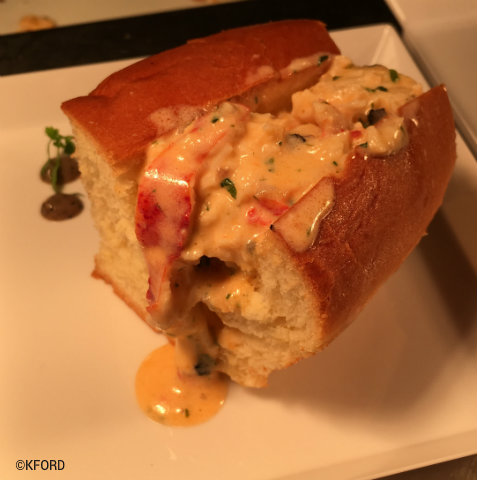 Chef Todd English: Brown Butter Maine Lobster Roll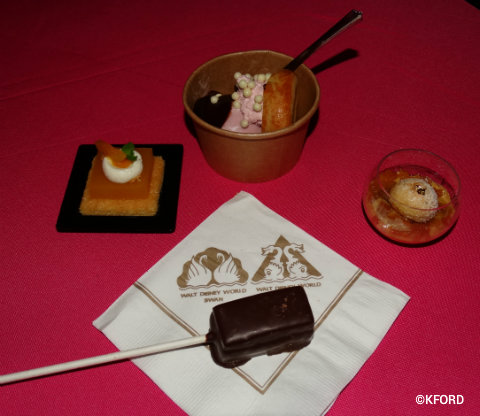 Chef Laurent Branlard Desserts:
(from front, clockwise) Chocolate Cake pop, Mandarin Comfit, Raspberry Ice Cream Filled Profitrole, Vanilla Caramel Cream
Carnival Corner: Nitro Kettle Corn
As the name indicates, the Food and Wine Classic is also all about the beverages. In fact, there were 44 beverage stations — and that didn't include Carnival Corner, Beer Garden, Chinatown or The Bubble Lounge.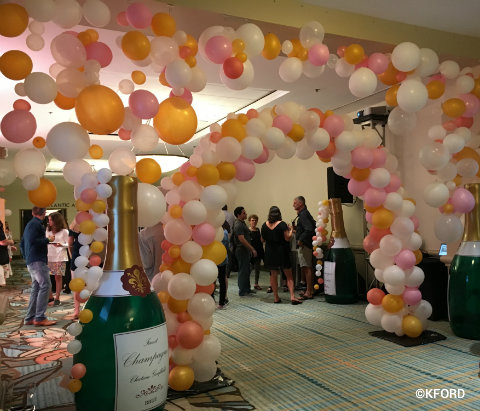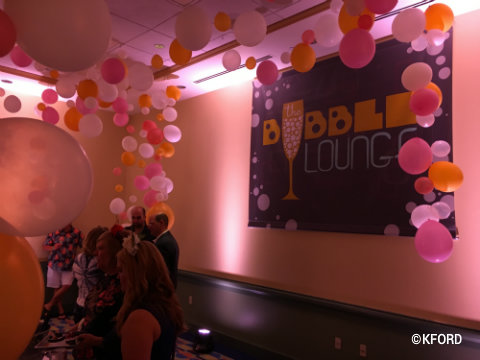 "The causeway provides a great opportunity to taste new wines and learn more about what you like or may not like," Deb said.
Guests who prefer beer to wine had plenty of beverage options, as well.
My husband, who enjoys IPAs and other robust beer varieties, once again had a lot of options at the event.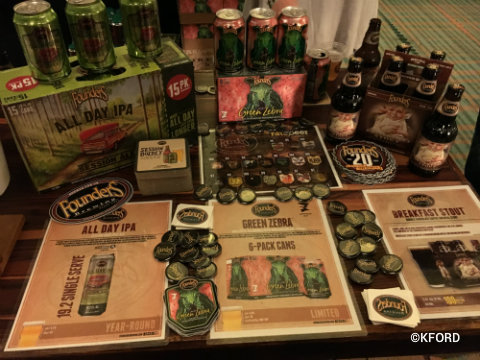 He sampled his favorites from what he discovered at previous Food and Wine Classic events — the Kentucky Bourbon Barrel Ale selections, stouts and lagers from Founders Brewing, and the selection being offered by one of his all-time favorite Florida brewers — Winter Garden's Crooked Can Brewery.
And, though there were samples being offered throughout all areas of the event, he said the Beer Garden offered the most consistently pleasing samples.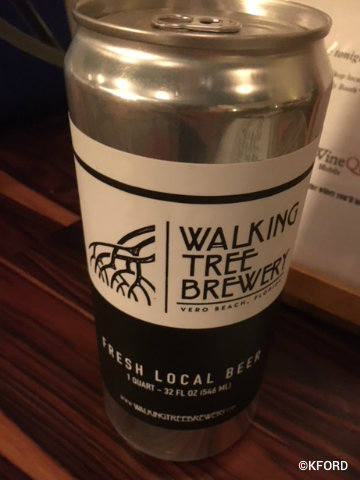 One Florida brewery of which he wasn't familiar was Walking Tree Brewery, based in Vero Beach. He said he really enjoyed the flavor of its IPA, White Walking Tree. It was advertised as having a "dry and crisp" flavor, and an aroma of citrus and pine. My husband said it definitely lived up to the advertising, and he'd be looking for it at area retailers.
That sample, by the way, and all the other varieties he enjoyed in the Beer Garden were said to be available at area liquor stores, such as ABC and Total Wine and even at some Publix locations.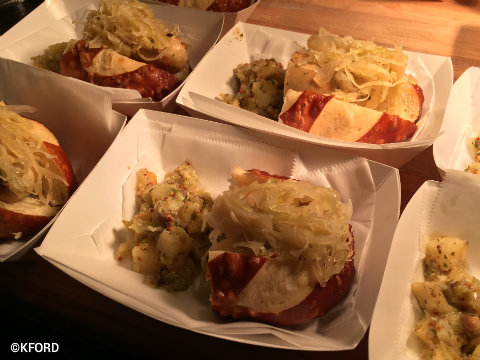 Beer Garden: Bratwurst with Sauerkraut
Along with the great-tasting beer offerings were warm pretzels and various mustards, and vendors offering German Style sausage and Wiener Schnitzel, too, for a perfect beer-pairing snack.
Tips:
** From Deb: When the event is outside, I suggest starting at the far end near the Dolphin. The live entertainment is there and as the night goes on, it gets extremely crowded — unless, of course, you like that kind of thing!
** From Linda: When checking in, make sure to pick up a pamphlet and look at the map of the causeway and vendors. Circle the ones you want to try first and then try the others. This way you make sure you visit your "musts."
** From Linda: If going with a group of folks, it is fun to grab a large table so everyone can meet back at the table and compare food and drink choices. If there are just two folks in your group, don't be shy about asking to share a high-top table. It is a nice way to meet folks and share comparisons on the food and drink.
To be sure, moving the event indoors was the correct call with the almost-certain rain that was expected. But, in my opinion, it just wasn't the same. The ambiance of being outdoors under the stars and by the water on a balmy Florida evening just can't be beat. Probably the most jarring change to the evening was the loudness of the band. Being outdoors diffuses the sound, but inside it was so loud in all three ballrooms that my husband and I had to shout to have a conversation. Still, this was not the planned setup so it certainly wouldn't stop me from wholeheartedly recommending this event to others in the future.
This was my fifth year covering the Food and Wine Classic for AllEars.Net, and it's an event I look forward to every year. It's a great value for your money with the event lasting for three and a half hours, and it does not feel rushed. If you haven't tried this event, I recommend putting it on your calendar for next year. Official dates for 2018 have not yet been announced, but it typically is held the last weekend in October.
DISCLAMER: I was a guest of the Walt Disney World Swan and Dolphin at its Food & Wine Classic. This did not affect my review, and my opinions are my own.