Residents and visitors alike have just one more weekend to enjoy SeaWorld Orlando's Halloween Spooktacular before it disappears for another year. This gentle celebration is perfect for the youngest of trick-or-treaters, but all ages are invited. Here are some tips that we have learned over the years, and things that are new for 2017.
** Admission to the Halloween activities is included in your regular admission (or Fun Card or annual pass) to SeaWorld Orlando. The last dates for 2017 are today and Sunday (Oct. 28 and 29). Unlike at the other local theme parks, you do not have to pay extra to get in the Halloween spirit. The Spooktacular events take place from 11 a.m. to 7 p.m. both days, although the park opens at 9 a.m.
** Certainly the whole family is welcome at SeaWorld's Halloween Spooktacular, but you should know that most of the activities are planned for children 12 and younger. In Penelope's Garden Party, for example, children can dance to a live DJ's music, make easy crafts and play simple games. The popular Sesame Street's Countdown to Halloween stage production is presented four times each day in the Seaport Theater. The day wraps up with a bubble-filled Spooktacular Dance Party at the front of the park from 6 to 7 p.m. And, of course, the parties take place mostly during the daytime, which is ideal for little ones who have early bedtimes.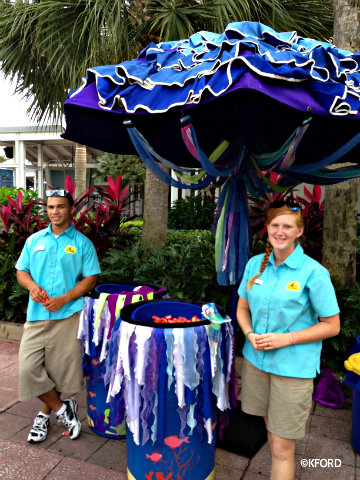 ** Trick-or-treating is for all ages — and that includes parents! SeaWorld provides guests with bags, and team members pass out candy at various stations. Although each person only receives one piece of candy at a time, guests are welcome to go through the lines as many times as they would like. Last year, we actually stayed later than in the past, and we discovered that visitors are likely to get more candy per treat stand during the last hour the park is open. That's because team members cannot save the candy for another day so they're trying to empty their barrels. One station that actually had run out of candy was giving out cool bookmarks.
** All guests are welcome to dress up in costumes, although only those 12 and younger are allowed to wear masks. (Guests who are ages 13 and older may not wear masks or hoods in the park, and all costumes are subject to the normal dress code for the park.) In addition, face painting is not permitted on any guests unless it is done by park artists. A cool fact I learned this year: face-painting touch-ups are free all day on the day the painting originally is done. Love this policy!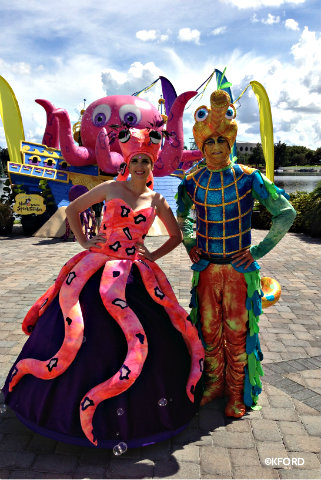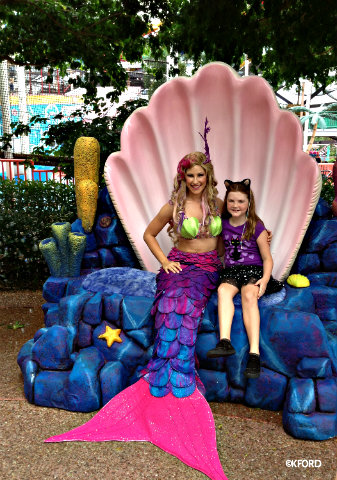 ** Perhaps the best thing about the Underwater FantaSea Path is the sheer number of characters who roam among guests and pose for photos. Unlike at Walt Disney World, face characters and furry characters are not a common occurrence at SeaWorld. But they come out in full force for Spooktacular. We've seen princesses, mermaids, stilt walkers, catfish and dogfish, and more.
** Pass members receive 20 percent off food and beverages purchased along the event pathway. Look for treats such as warm mini donuts, kettle corn and SeaWorld's special spooky punch.
** It's not too late to purchase Halloween upgrades if you do so online before your arrival. Visitors can reserve seats to Sesame Street's Countdown to Halloween stage production for $19 each. There's also a new Sppoky Game Pass that allows a guest to play five games for the price of four ($20), and each game guarantees a prize. Adults can purchase the Seasonal Craft Brew Sampler for $30, which gives the bearer 10 craft brews (7 ounces) from a seasonal selection of craft brews that includes more than 20 brews from Florida.
Live out your FantaSea of Halloween fun at SeaWorld Orlando!