Beginning tomorrow (Nov. 3), segments of the Disney Parks holiday specials that air in November and December on ABC and the Disney Channel will be taped at Walt Disney World. According to online reports, tapings at the Orlando theme parks will take place through Tuesday (Nov. 7). Like last year, the production schedule calls for stage performances and other segments to be filmed here, while the Christmas parade that is shown on the morning of Dec. 25 will be filmed at Disneyland in California.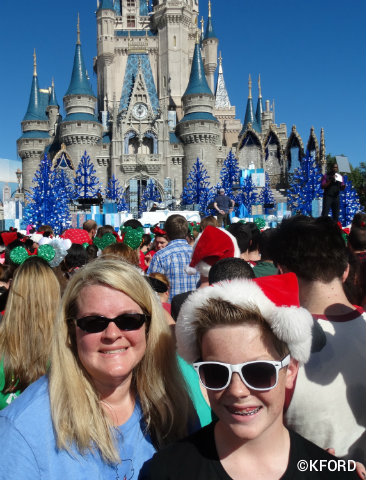 For years, Walt Disney World invited various groups, such as passholders, sports volunteers and even the general public, to apply for free tickets to the tapings. In exchange, ticketholders agreed to be in the audience for a block of time. In recent years, however, only cast members were eligible for the tickets, and that is the case again this year.
But even if you don't have one of the complimentary production tickets, you still may be able to take part in the tapings — or at least see some of the acts. The production schedule this year has a crew at Hollywood Studios on Friday, Animal Kingdom on Saturday and Magic Kingdom on Sunday through Tuesday. (Many times that last day is planned as a backup for a rain delay, so I wouldn't necessarily count on seeing anything that day.) Filming takes place at all hours of the day — from very early in the morning to late at night, depending on what the producers want to depict and, of course, the weather.
Annual passholders and guests who pay admission may enter the park, and if there is room in the roped-off areas for the pre-selected audience, they may be allowed to join cast members. Park hours for the public to enter Hollywood Studios on Friday are 9 a.m. to 8 p.m. with Extra Magic Hours for Disney hotel guests from 8 a.m. to 9 a.m. On Saturday, hours for Animal Kingdom are 9 a.m. to 8 p.m. with Extra Magic Hours from 8 a.m. to 9 a.m. At Magic Kingdom, hours are 9 a.m. to 11 p.m. on Sunday and 8 a.m. to 11 p.m. on Monday and Tuesday.
Two years ago, my son and I arrived when the park opened and easily were able to join the crowd in front of Cinderella Castle to see a few performers, including Jason Derulo and Ariana Grande.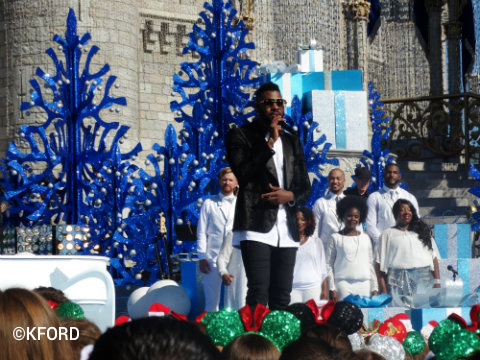 A word of warning: This is an actual television production, which means that songs are sung multiple times to get the desired images from the correct camera angle. For example, on one of Ariana's takes, her mouse ears fell off, so the crowd got to see her perform the song again. We weren't complaining, especially because it was a song from her new album. Know that you most likely will spend more time waiting than viewing the events, and you shouldn't expect to see a seamless concert.
I speak from more than a decade of experience when I say this can be a tedious process when you have young children. I've taken my children to the tapings when they were a range of ages — from preschool through middle school. Certainly, older is easier. If you're determined to take part, I'd suggest bringing plenty of snacks, drinks and electronics to occupy the kids during the wait. Still, it can be a unique opportunity for guests to see their favorite performers from just feet away.
Production also may take place at other locations across Walt Disney World resort, as well. One year that my family and I had tickets for the production taping, we ended up at the Grand Floridian Resort & Spa to watch Celine Dion perform because it began raining and the production couldn't continue at the Magic Kingdom. So, don't be surprised if you happen upon a production set this weekend!
Fans love to speculate who will be performing, but that, too, is a closely guarded secret, for the most part. Presumably, this is to help avoid overwhelming crowds that would be disruptive to other guests' park experiences.
Last year's performers who taped in Orlando included the stars of "Decendants 2," Kelly Clarkson, Trisha Yearwood, Garth Brooks, Jordan Fisher, Alessia Cara, Gavin DeGraw and Flo-Rida.
No dates for taping on the West Coast have been announced yet.