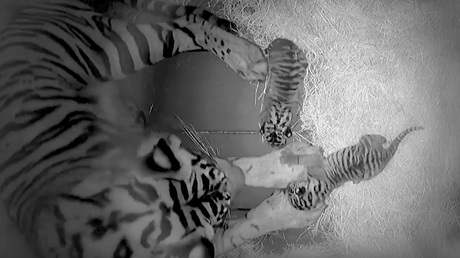 Disney's Animal Kingdom Celebrates Birth of Critically Endangered Sumatran Tiger Cubs
Sohni, a Sumatran tiger at Disney's Animal Kingdom, recently gave birth to a pair of tiger cubs, the first in the park's history.
Sohni and her cubs are bonding well. Guests can expect to see Sohni and her cubs on the Maharajah Jungle Trek within the next several months. In the meantime, watch the video below for a sneak peek at these adorable baby animals bonding with their mom.
Fewer than 500 Sumatran tigers exist in the wild, as the species is facing significant threats like habitat loss, poaching and the illegal wildlife trade. The Disney Conservation Fund (DCF) is working with groups like the Wildlife Conservation Society on its Reverse the Decline initiative to develop strategies for saving these amazing animals. To date, DCF has provided nearly $4 million to support the conservation of wild cat species like tigers, lions and snow leopards in 25 countries around the world.
These tiger cubs were bred by Disney's trained team of animal care experts through the Species Survival Plan, which is overseen by the Association of Zoos and Aquariums and ensures responsible breeding and diverse populations of threatened and endangered species.