Many new photographers make a common mistake of concentrating on their subject and not looking around the subject. Especially the edges of the frame. It is very easy to overlook objects and people creeping in from the sides, top and bottom of a camera's viewfinder edges.
Below is a photo of Spaceship Earth on a beautiful Flordia day. I turned around and focused on the big geodesic sphere and got the photo you see below.
Spaceship Earth with Edge Distractions.
Nikon D750/16-35VR, 1/125s, f/16, ISO 125, EV 0, 16mm focal length.
Well, I looked at my camera's LCD to review the photo and saw all the edge distractions of palm tree fronds, tree branches and people walking past. Not what I remember shooting. To get the photo I really wanted, I moved out from underneath the trees and raised my camera's angle upward.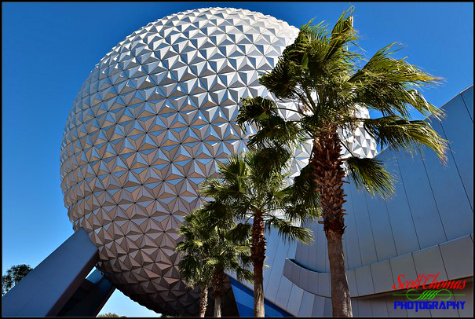 Spaceship Earth without Edge Distractions.
Nikon D750/16-35VR, 1/125s, f/16, ISO 200, EV 0, 24mm focal length.
This was the photo I wanted to capture at the time.
Let us review, I noticed all the edge distractions in the camera's LCD. I moved and changed the angle to Spaceship Earth and before pressing the shutter button, I checked all around the viewfinder to make sure I had elminated any distractions. This is good practise to do whenever you are photographing.