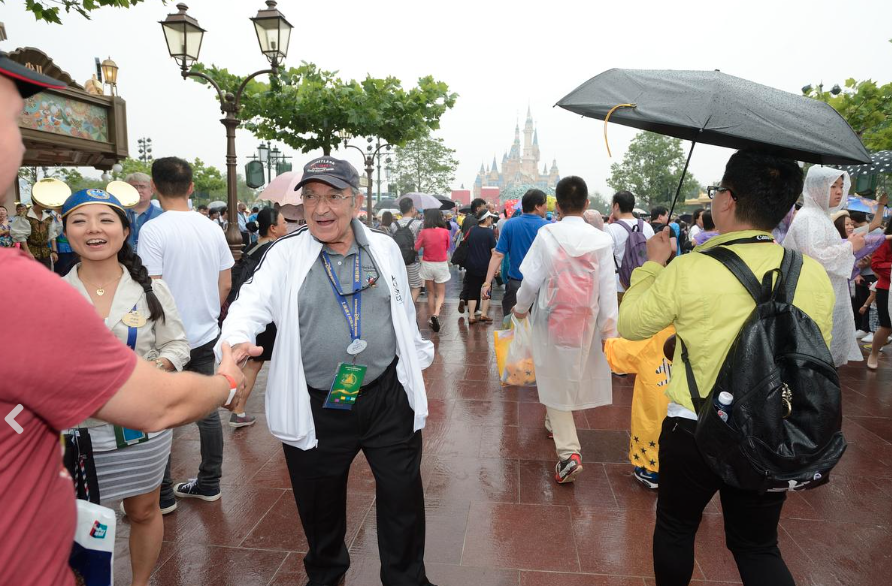 Disney Legend Marty Sklar greets a fan on Mickey Avenue during opening day at Shanghai Disneyland Resort. [The Walt Disney Company]

CHUCK SCHMIDT / Still Goofy About Disney
AllEars.Net Guest Blogger
The first time Marty Sklar walked down the main thoroughfare of a Disney theme park — Disneyland's Main Street U.S.A., on July 17, 1955 — he was a 21-year-old intern working in the park's public relations department and was, for all intents and purposes, just another face in the overheated crowd on that momentous opening day.
The most recent time Marty walked down the main thoroughfare of a Disney theme park — Shanghai Disneyland's Mickey Avenue, on opening day, June 17, 2016 — he was an 82-year-old retiree who was far from just another face in the crowd.
This time around, he was recognized.
A man named Christian Ahuis of Cologne, Germany, was scurrying along Mickey Avenue [Shanghai Disneyland's equivalent of Main Street U.S.A.] on opening day when he spotted the former head of Walt Disney Imagineering on the crowded street. Marty was sporting a blue ball cap, a lanyard with his Disney name tag affixed to it and a white wind breaker on the damp and drizzly day.
"Marty!" Ahuis screamed. He walked up to the Disney Legend and proceeded to ask him if he'd pose for a photo.
"That's the best part of the day," Ahuis said afterward. "I got my picture taken with Marty Sklar! I'm such a Disney geek."
Excited guests get emotional as they enter the park during opening day at Shanghai Disneyland Resort. [Orange County Register]

For years, Marty Sklar has held the distinction of being the only Disney cast member to have played a role in the opening of all 11 Disney theme parks worldwide. Although Marty, who retired from the Walt Disney Company in 2009 after 55 years of helping to create magic, wasn't directly involved in the creation of Shanghai Disneyland, Disney's 12th park, his influence, guidance and inspiration on the scores and men and women who worked on Shanghai was invaluable. So, in a very real sense, Marty Sklar played a important role in Shanghai's development: That of a mentor.
Still, a year ago Marty, had his doubts as to whether he'd make the long trip to China, thus breaking his streak of at least being at every Disney park on opening day.
"On the other 11 parks, I was actively involved," he told me last summer. "On 10 of them [except for Disneyland Day One], I had an active part in creating them. Shanghai is different; I've had nothing to do with it.
"I love what they are doing and the creative leader, Bob Weis, has done a marvelous job. When the park opens, he will have spent six or seven years developing and building it. Bob and his fellow Imagineers [many of them I trained] deserve the credit. I don't want to be seen as horning in on their party."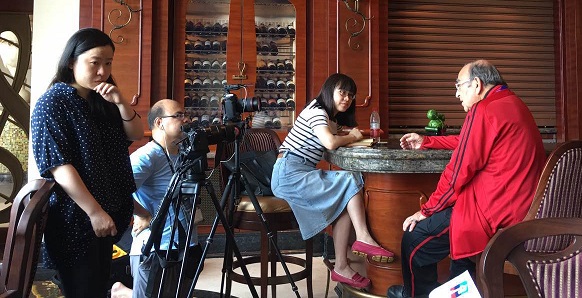 Marty Sklar answers a question during an interview inside the Shanghai Disneyland Hotel. [Cheers Publishing Company]

As Shanghai's opening day approached, however, Marty had a change of heart and made the long flight from Los Angeles to mainland China for all the pomp and ceremonies. "Our former fearless leader," wrote Wayne Hunt after posting a photo of Marty on Mickey Avenue. "He's the only person to have been present at the opening of all 12 Disney parks." [Hunt, the principal of Hunt Design, has worked with Marty on a number of Disney-related projects since 1974. His firm also made contributions to Shanghai Disneyland's signage, particularly in Tomorrowland.]
"I left my plush home," Marty joked, "but it was a great trip" … adding, quite emphatically, that Shanghai Disneyland is "the best Disney park!"
Shanghai Disneyland has been open less than two weeks, but its reputation has been spreading quickly. In designing the park, Disney's planners interviewed residents of China and took the unprecedented step of asking them what they wanted and didn't want in the new park.
"They started by spending a good year learning what the mainland Chinese thought of the Disney parks and each attraction," Marty said. "Among the results: No train circles the park, as well as huge changes to the Pirates of the Caribbean." There's also a boat ride — Voyage of the Crystal Grotto — that sails under the castle, a first for a Disney park. Indeed, Enchanted Storybook Castle holds another distinction: It's the largest and tallest castle in all of the Disney parks worldwide.
Shanghai Disneyland is divided into six themed lands: Mickey Avenue, Gardens of Imagination, Fantasyland, Treasure Cove, Adventure Isle and Tomorrowland. The Gardens of Imagination serves as the hub of the park; within the area are seven Chinese-themed gardens.
Among the familiar attractions and shows in Shanghai Disneyland are The Many Adventures of Winnie the Pooh; a Bibbidi Bobbidi Boutique; a Star Wars Launch Bay; Peter Pan's Flight, and For the First Time in Forever: A Frozen Singalong.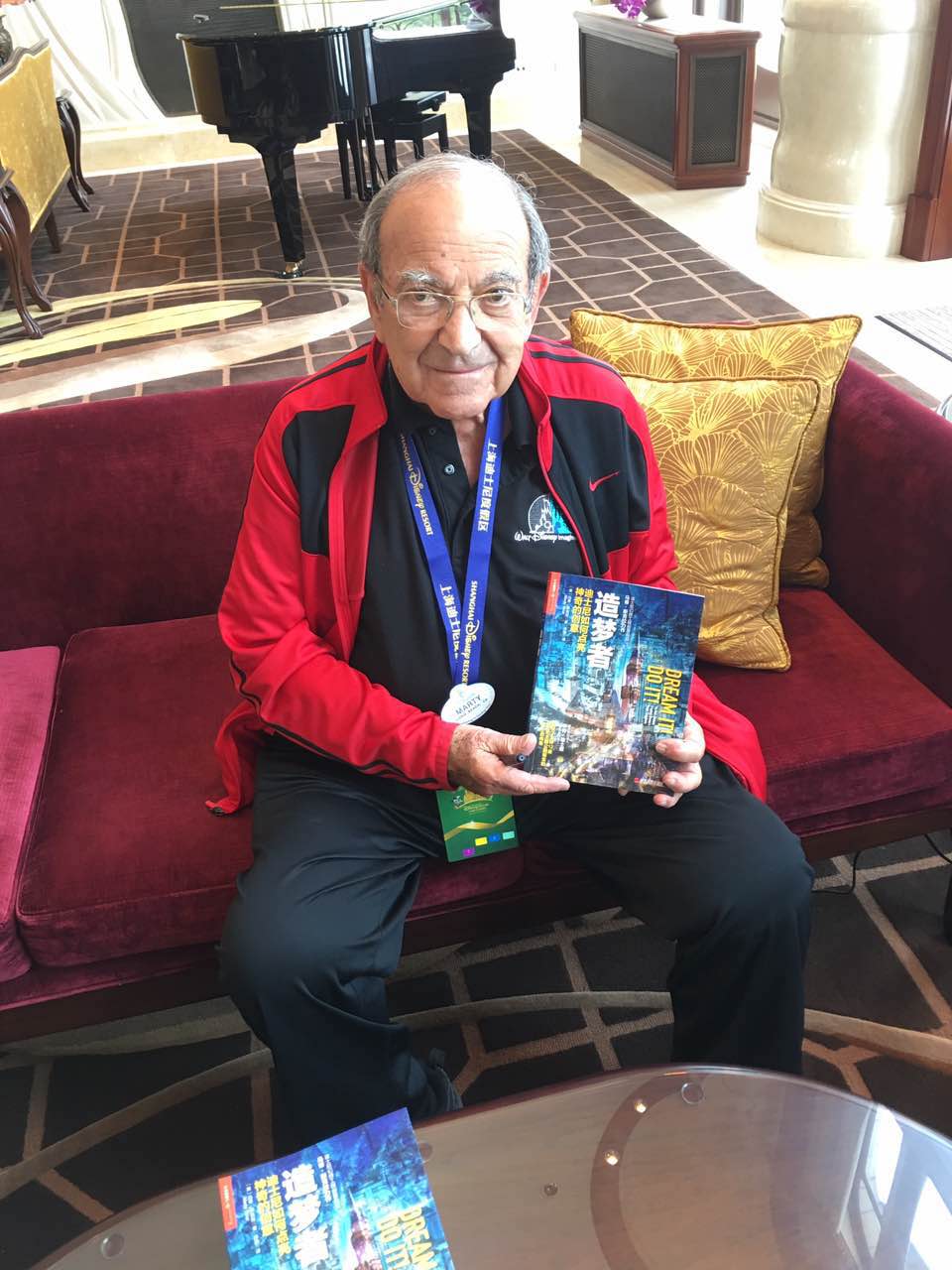 Marty shows the redesigned cover of his recently re-released book "Dream It! Do It!". [Cheers Publishing Company]

There also are a number of familiar attractions that have been re-imagined by Disney's creative team. Pirates of the Caribbean: Battle for Sunken Treasure has been reworked into a bigger, more elaborate adventure. Guests ride in magnetically propelled boats past Audio-Animatronics figures and projected scenes from the Pirates of the Caribbean movie franchise, with sword fights and a sea battle among the many thrilling highlights.
"Pirates of the Caribbean [at Shanghai Disneyland] is the best park attraction ever," Marty says bluntly. "Great big sets, plenty of action, seamless blend of sets and film, a boat that can spin 360 degrees." Clearly, he was impressed.
Marty also enjoyed Soarin' Over the Horizon, which is an updated version of the original Soarin' in Disney's California Adventure and Soarin' Over California in Epcot. The Shanghai Disneyland attraction features panoramic views of The Great Wall of China and many of the world's most iconic natural and man-made structures.
Marty also was impressed with the TRON Lightcycle Power Run, which takes the place of Space Mountain, a staple in all of the other Disney parks. In the TRON attraction, guests ride in realistic-looking lightcycles inside a darkened structure for a thrilling adventure through the futuristic world of TRON, the 1982 science fiction thriller.
That film saw the lead character transported inside the software world of a mainframe computer, where he interacts with programs in his attempt to escape. Curiously, the original concept for Space Mountain, proposed by Disney Legend John Hench in the 1970s, was a journey through the inner workings of a computer. The technology [or lack of it] of the time prevented that version of the attraction from being built.
"The TRON racers, Tomorrowland, the castle, Soarin', Pirates … are all fabulous attractions. For me, it was a great trip … but it's good to be home."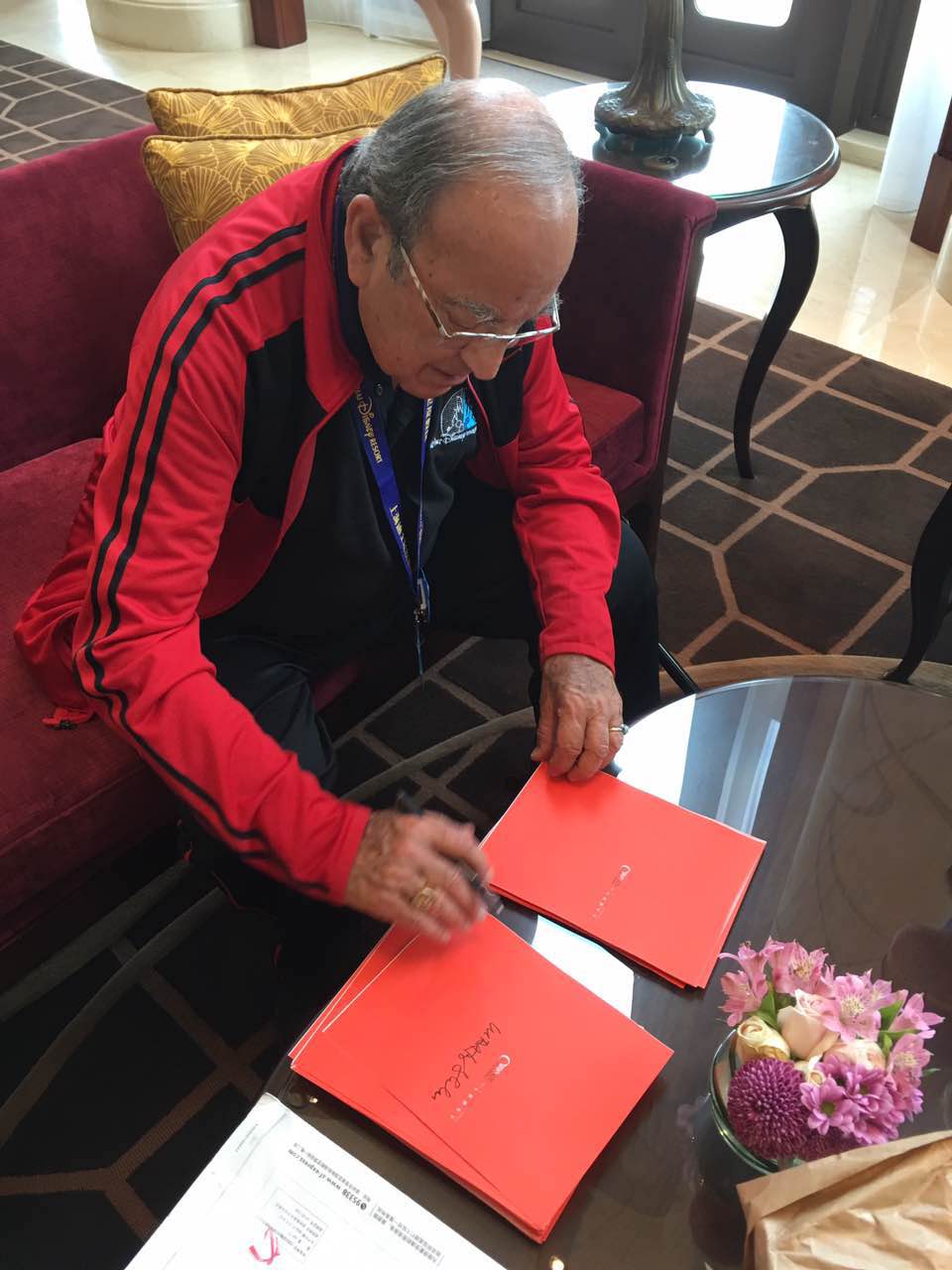 Marty autographs a few items while promoting the re-release of his first book, "Dream It! Do It!". [Cheers Publishing Company]

Marty also took time out from his park explorations to do some promotional work for his latest book, One Little Spark!, as well as his first book, Dream It! Do It!
In conjunction with the opening of Shanghai Disneyland, both books were re-released in China in Mandarin, the country's official language. "I'm told they printed 10,000 copies of Dream It! Do It!," Marty said. The book has been re-released by Cheers Publishing Company, with a new cover design.
During his visit to China, Marty squeezed in interviews for the Chinese media at the Shanghai Disneyland Hotel before heading off to the park to become just another excited guest … the only excited guest who had been through the experience 11 times before.