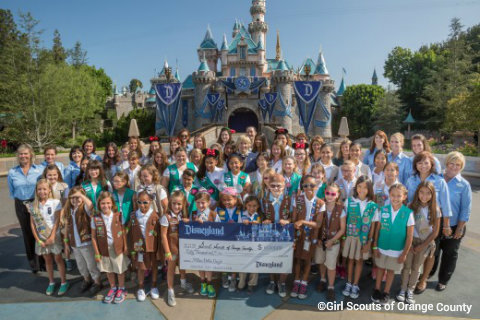 Disneyland is celebrating Girl Scouts of all ages in April, May and June with Disney Youth Education Series programs offered on Saturdays and Sundays. Individual girls or their troops can register now for special events at Disneyland Park and Disney California Adventure.
If this sounds exciting — and who wouldn't like learning at a theme park? — don't delay because some programs already are sold out.
Saturday programs take place at Disneyland Park. Those that still are available for Cadets, Seniors and Ambassadors include:
Culinary Experience in Disneyland Park (May 14, June 25): "Take a behind the scenes tour of some of Disneyland Resort Food and Beverage Operations. Learn how Disney meets and exceeds the demand for the high volume quality meals we serve to millions of people. Get a peek behind the curtain into how we receive, store, prepare and serve Guest meals. Gain an understanding of how we work with other companies, vendors and operating partners, showcasing our Disney Difference."
Disney's Approach to Leadership and Teamwork (May 14, June 4, June 11, June 25): "Discover your personal leadership style by exploring Walt Disney's leadership styles, past and present, and discover how through small and simple acts great things can be accomplished. Exercises designed to reinforce courage, curiosity and constancy aim to give participants the confidence to set goals and accomplish their dreams."
Marketing the Story of Your Visual Brand (May 14, June 4, June 11, June 25): "Disneyland Park will serve as the backdrop for this exploration of photography, public relations & marketing and its relationship to story. Scouts will discover their artistic eye and come to understand the technical and creative elements that result in images with impact that connect people, places and events. The iconic environment provides scouts with the opportunity to discover and apply the art of storytelling through the art and science of photojournalism."
One Saturday program at Disneyland park is just for Daisies, Brownies and Juniors:
Energy and Waves Physics Lab 101 (May 14, June 25): "Discover light and sound as forms of energy and how to use them in practical application. See first-hand how these elements are a vital part of creating world class attractions and how Disney uses these physical properties to entertain and amaze guests from all over the world. As they travel through the park, scouts will come to understand some of physics most noted historical figures and their impact on the field."
Sunday programs take place at Disney California Adventure. Each targets a different age group of Girl Scouts.
For Daisies only — must be ages 5 to 7 years old and have an adult chaperone stay with them for the entire duration of the program:
Exploring the Golden State (May 1, May 15, June 5, June 12, June 26): Learn about California's rich history including the influencial Dreamers who have shaped the Golden State. Explore the people, events, hopes and dreams that have shaped the Disneyland® Resort's home state.
For Cadettes, Seniors and Ambassadors:
Creating a Leadership Legacy (May 1, May 15, June 5, June 12, June 26): Discover Walt Disney's secret of making dreams come true. Scouts will become confident in their ability to accomplish their goals and be motivated to achieve the impossible. Scouts will also be challenged to develop personal core values, have the courage to step out of their comfort zone, and identify their personal leadership legacy.
Each program is approximately three hours long, and troops and individual Scouts can expect to experience the events with other Girl Scouts. "Exploring the Golden State" is about two hours in long. Particpants must be at east 7 years old, with the exception of "Exploring the Golden State," which is designed for ages 5 to 7.
To attend one or more of these sessions just for Girl Scouts, each girl and each chaperone must purchase a Youth Education Series ticket package. They can choose from a one-day, one-park ticket for $85; one-day, park-hopper ticket for $124; two-day park-hopper for $168; three-day, park-hopper for $205. An additional Youth Education Series program can be added to a multi-day ticket package for $44 per participant. No taxes or service charges will be added. These prices include a Disney Youth Education Series "Celebrate Girl Scouts" participation patch and Disney Youth Education Series string backpack.
One complimentary chaperone ticket will be issued for every 10 paid Scouts. One complimentary troop leader ticket will be issued for every 30 paid students. The same discounted pricing is available for additional guests visiting Disneyland on the same day. These additional guests, including non-participating youth, will not be permitted to attend the programs but instead can explore the park.
For more details and to receive a registration form, email [email protected] or call 714-956-6454 between 9 a.m. and 4:30 p.m. PST Monday through Friday.
Although Walt Disney World is not offering the "Celebrate Girl Scouts" program in 2016, Girl Scout and Boy Scout troops with 10 or more participants can register for regular Youth Education Series programs year-round at DisneyYES.com. The Orlando resort offers such unique programs as going backstage at Cirque du Soleil, discovering marine life conservation, everyday chemistry, exploring careers in zoological sciences, and the evolution of technology, to name a few subjects.