To all who come to this photo trivia game, Welcome! Along the way, the photos can make us relive memories and see details Walt's Imagineers put into everything we love in Walt Disney World!
Thank you, Sandie Albrecht and Susie Howard, for the happy 400th wishes! I'm proud of our corner in AllEars. 🙂
Chris Kelly hit the single digit dance! So, let's dance because he's there this week!

Jennifer Rowell, you're right: I did mention a Hidden Mickey in the Wilderness Lodge Villas lobby! On the way to the train room, look up to the ceiling beams. You'll a mouse hole where a little fella burrowed in. Looking into the mouse hole, and you'll see Mickey smiling back at you! A castmember can help you find it; that's how I know about it.
You can see him at Steve Barrett's Hidden Mickey Guide here.
Now for Challenge #400: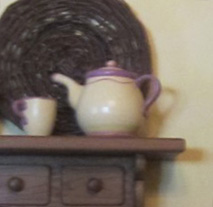 And here's the answer:


Copyright © Erin Blackwell
We're in Maurice's cottage at Magic Kingdom's Enchanted Tales with Belle. You can see the portrait of Belle with her mother on the right.
Jan Rosato, I didn't know it's called the Hearth Room; thank you!
Jeff Blank, I missed your trip? Mea culpa. 🙁 On the other hand, I love your photo! You got to be one of Belle's knights! Carla C's daughter played the Beast! I haven't done anything like that but I have played enthusiastic cheerer in the audience several times. 🙂
The Parker Family was the first to send in the correct answer! Congratulations to The Parkers and to all our winners this week! Ruben O'meara, Kristi Strembicki, Donna Frank, Linda Ranatza, Carol Ney, Mary Beth Tarbet, Erin Hammer, Robert Wescovich, Melissa Such , Deb Ragno, Sam Rossman, Ed Elder, The Modecki's, Hillary Waldroop, Sandie Albrecht, Cassidy , Ellen Sullivan, Linda College, Beth Mcmeekin, Kris Nixon, Darrin Mann, Claire Gregory, Kathy B., Paul Dickson, The Kertes Family, Tricia Petty, Nan Amor, Laura, K Beasley, Sarah And Chris, The Fosbenders, Karen Schlumpf, Team Hill, Deb Gallo, Chris Kelly, Pat Schwier, Matt Wildey, Laurie Walker, Ellie Argaluza, Cynthia Hitchcock, Lori Rienhardt, John Bickers, Elaine Tomko-deluca & Aj Deluca, Phyllis, Mickey Eckert, Kerry A., Karen Taylor, Herb Miller, Jan Rosato, Belicia Cullen, Scott Cullen, Susie Howard, Maureen Handy, Jim Finley, Kyra, Christopher Thacker , Mark Donahue, Bridget, Duskin Henard, Carolyn Como, Chloe Mayhew, Jim Poplawski, Chris, Gretchen, And Katie Barnes, Cathy Derecola , Toni, Les Whitten, Arlene Vicek, Andrew Carrieri, Debra Kuklinski, Eric Johnson, Patrick Broaddus, Jeff & Cheryl Simmons, Josh Weiss, Maryann Romagnano, Brian Mcwithey, Adolph And Kimberly Timm, Diane Curfman, Kerri Coggins, Josette Gabel, Kristan Bertelmann, Jeff Blank, Luis Rodriguez, Andrew Pettit, Stephanie Linares, Jeremy Hardy, Jeremy Reichelt, Carla C, Lyn Johnson , Jim & Lorie Sonnen, Matthew Frey, Brian Yesutis, Karen Bellamy, Annie Snodgrass, Dave Carriere, John Casey, Sheila Savage, The Filiater Family , Vera And Izzy Williams, The Gunnels Gang, Brian Miller, Mark Proper, Vicki Britt, Mark Franklin, Gabriella & Matthieu, Kelly Smith, Barclay Bakkum, Julia Wickware, Emily Hudson, Emma Ramsey, Michael Z., Caroline Burmester, Thomas Higbee Sr., Grumpy's Groupies, Theresa Maradei, Rob Blundin, Shirley Garcowski, Jackie Graebel, Tammy Cousin, Joseph M. Zafia, Michael Haeberle, George Mundy Jr, Theresa Rucando, Smitty, Melody Odonnell, Rachel Hoover, Andy Hickey, and Jackie Klafeta!
Incredibly, it's time for the monthly drawing! The September winner is Shannon ! Congratulations! I'll be emailing you to talk about getting your prize from Deb Wills!
__________________________________ _____________________
Challenge #401 Where in the world is this?
Hey, I found what could be a tough challenge for the challenge after this. Do we want to go tough?
Meanwhile, here is this week's: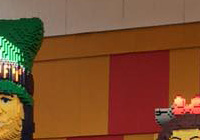 Do you know? Do you have a guess? Please send in your answer, before the end of the day on Thursday, October 8th, by clicking on the blue box below.
Please do not post answers using the Feedback Form link at the bottom of this post.
See you soon, Players!


_______________________________________________________________________
Everyone who sends in a correct answer to a Where in the World Challenge this month will be entered in a drawing at the end of the month for some special AllEars® goodies!