I photographed Illuminations and Wishes fireworks shows from FastPass+ (FP+) locations in Epcot and the Magic Kingdom on my last trip. The FP+ locations had their advantages and disadvantages which I will discuss below.
Magic Kingdom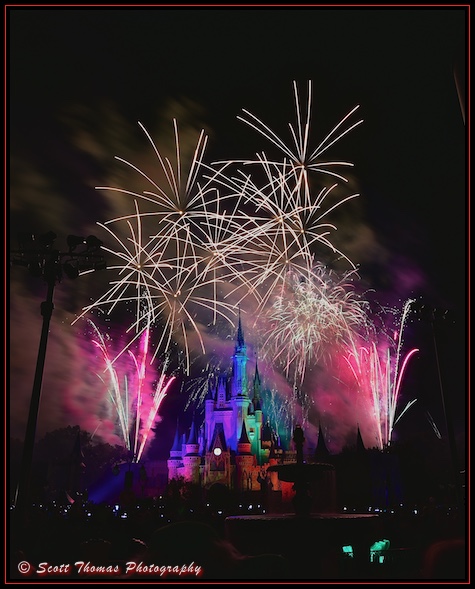 Wishes photographed from the FP+ location in the Magic Kingdom.
Nikon D750/Tokina 16-28mm, 10.5s, f/16, ISO 100, EV 0, 16mm Focal Length, Tripod, Cropped.
The FP+ locations in the Magic Kingdom are found around the Central Plaza or Hub in the new Main Street Plaza Gardens locations in front of Casey's Corner and Plaza restaurants. I was in the one in front of the Plaza Restaurant for the Wishes photo. The big advantage to FP+ fireworks viewing locations are you are not shoulder to shoulder with other guests and there is plenty of room to setup a tripod. The people with me thought it was the best place to watch Wishes. As a photographer, there are lots of obstacles between the FP+ location and Cinderella Castle. You can see light posts and a water fountain in my photo.
Overall, for photography, I would prefer to set up on Main Street USA, near the Partners statue or from the Main Street Train Station for Wishes.
Epcot
Finale of Illuminations: Reflections of Earth fireworks show.
Nikon D750/Tokina 16-28mm, 11.3s, f/16, ISO 100, EV -1.0, 16mm Focal Length, Tripod.
The FP+ location for Illuminations is between the two gift shops as you walk from Future World to World Showcase. It is a slopped plaza area and is an excellent spot to both watch and photograph the show from. Being slopped, people do not mind a tripod setup as much as on Main Street USA. The slope makes it easier to photograph over people in front of a tripod, too. I set up about twenty feet from the fence you can see people lined up against.
Like at the Magic Kingdom, there are things like columns, torches and even some tall palm trees between the camera and the World Showcase Lagoon. They are not as distracting as in the Wishes photo and people are lower in frame.
For me, the Illuminations FP+ location is about as good as it gets. The only issue is you can not get on the rail along the water for safety reasons. You can set up closer in other areas along the lagoon but the angle may not be as good.
The FP+ locations for the fireworks shows are definitely something to try on your next trip whether you are photographing or just watching. Note you will have to try and get them as soon as they become available as they go quickly depending on the time of year one is visiting.