To all who come to this photo trivia game, Welcome! Along the way, the photos can make us relive memories and see details Walt's Imagineers put into everything we love in Walt Disney World!
Mr. Gunnel! I'm just passing on the message that if you and the family went to Walt Disney World more often, everyone would get the answers right!
Wendy Barney, I miss the Skyway too.
Last week's challenge: number #342

And here's the answer: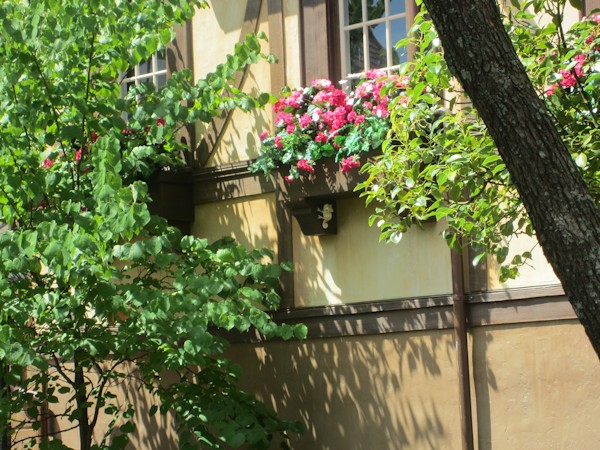 Copyright © Erin Blackwell
It's one of Pascal's friends for the "Look for friends of Pascal" at the…. well, it has many names but I call them the Rapunzel bathrooms. I once told a guest in Liberty Square that she had to go to these restrooms when she was looking for one. She looked at a cast member who said she should check them out. Still looking back like we're crazy, she left. She came back later and said, "Best. Bathrooms. Ever." 🙂
Sandie Albrecht, I found 7 of the Pascals. One was really tough because the plants had grown so much around his spot. After the 7th, my husband begged, "Can we go on a ride now?" So I stopped my hunt. I can't wait to finish it!
Kristi Strembicki was the first to send in the correct answer! Congratulations to Kristi and to all our winners this week! Chuck Sands, Judy Koslowski, Deb Gallo, Antoinette Leblanc, Linda Ranatza, Virginia Pierce, Donna Frank, Tricia Petty, Carol Ney, Jennifer Rowell, Phil Vickers, Ed Elder, Ed Suscreba, Mary Beth Tarbet, Jim &Lorie Sonnen, Kerri Coggins, Emily Hudson, Jed Orth, The Kertes Family, Kris Nixon, Debbie Desimone, Olszak Family, Kenny, Nan Amor, Becky Norman, Kris Blamphin, Debbie Desimone, Al Desimone, Phyllis, Andrew Swiatowicz , Elaine Kleinhenz, Jen Peterson, Lee Anastasi, K Beasley, Karen Adamakis, Linda Scrivano, Sharon Pierce, Sandie Albrecht, Team Hill, Andrew Carrieri, Maryann Eckenrode, Desiree Fremer, Deb Ragno, Claire Gregory, Rachele Dalton, Mary Ann Lamay, Melissa Such, Scott Cullen, Ellen Sullivan, Jack Lynch, Belicia Cullen, Lynette Michalos, Tim Johansen, Lyn Johnson, Katherine Campos, Heather Sabatino, Jennifer Harmon, Brian Miller, Jim Poplawski, Tinalala, Ed Adams, Susan Moeller, Donna Begley, Kye Layton, Ashley P. , The Parker Family , Herb Miller, Lorine Landon, Laura Tracy, Amber Penske, Karen Spreitzer, Pat Schwier, Ruth Senecal, Susie Howard, Pegreadinger, Christi Ison, The Fosbender's, Mary Graves, Krista Serpi, Rebekah Schultz, Betsy Silvestri, Britta Andrews, Andreas Beer, Mike Haven, Rob Hepler, Ken Daube, Haylee Smolek , Christina Trigiani, Meghan Gleason-vollmer, Shari.sand, Lori Rienhardt, Roxanne Kliebert, Candice Grimes, Darrell Shortt, Angela Fennell, Laurie Walker, Abby Otts, Lisa Mckenzie, Chloe Mayhew, Duskin Henard, Kerry Mihalik, Candi Highsmith, Robin Robinson , Jennifer And Elizabeth Geno, Pollyanna Buff, Maureen Handy, Gunnels Family, Paul Dickson, Carla C, Theresa Rucando, Hobbes And Snorky, Jen Cerce, Dave Freemyer, Kara Morton, Tom Koval, Shelly, Carol Anne Hastings, Suzanne Denham, Chris, Gretchen, And Katie Barnes, Louise Barton, Les Whitten, Jen Eacret, Jen Tremley, Jonathan Ward, Patti Mccaffrey, Jim Finley, Lisa Bohannon, Scott Precise, Grumpy's Groupies, Janet T Thorn, Gabriella, Terry And Matthieu, Smitty, Colleen, Dee Dee Kenney, Judy Simonsen, Jim Nitschke, Diane Curfman, Cynthia Hitchcock, Maryann Romagnano, Dawn Bach, Kathy Morris, Daniel Record, Team Bonnie Sue, Chris And Alison, Mickey Eckert, Karen Bortz, Demetrios Makres, Jamie Rayot, Scott Greenbaum, Lorraine Williams, Hillary Waldroop, Maggie Klotz, Stefanie Vest, Josette Gabel, Paul Moore, Vera And Izzy Williams, Carida De La Torre, Kimberly Langh, Fiona Knight, Julia Marsh, Andrew Pettit, Kevin Parmeland, Wendy Barney, Christopher Hall, Michelle, Jeremy Reichelt, Chris Bauman, Rebecca Keenan, Barclay Bakkum, Sara Alaimo, Tricia Noble, Bob Hendrix, Karrie Duffey, Erin Duncan, The Lenz Family, Shelly Borella, Monica Owens, Matt Holley, Anastasia Macneil, Erin Loring, Kate Fischer, Fred Shakeshaft, Fran Rendulic, Vicki Britt, The Hutchinson Family, Sarah And Chris, Melissa Littman, Sarah Noelle, George Mundy Jr, The Patterson Family, Amy B., Carrie R, Rob Blundin, Lauren Blundin, Caroline Burmester, Brian Yesutis, Stacy Guarracino, Chris Kelly, Joy Shaw, Les Stewart, Jeremy Hardy, Carolyn Como, Heather Pedulla, Chris Thacker, Hope Hardy, Bryant O'meara, Cheryl Costello, Ken Rhinehart, The Koren Family, Jamie Steiner, Maja Kodani, Josh Carney, Jeff Finger, Eric Enli, Matthew Frey, Jamesd (dzneynut), David Ballard, Nathan York, Danielle Harsley And Agnes Ciotti, Jennifer Bogdan, Joseph M. Zafia, Jane Johnson, Tom Higbee, Matthew Jadro, Sandy Ednie, Heidi Goodhue, Jackie Graebel, Allison Caputa, Trina Noggle, and Mike Haeberle.
Guess what? It's time to announce the July winner! And that Player is: Kate Fischer! Congratulations! You will receive a prize from Deb Wills!
__________________________________ _____________________
Challenge #343 Where in the world is this?
We're leaving the parks for this week's challenge: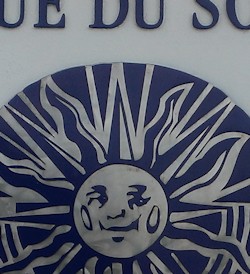 Do you know? Do you have a guess? Please send in your answer, before the end of the day on Thursday, August 7th, by clicking on the blue box below.
Please do not post answers using the Feedback Form link at the bottom of this post.
See you next week, Players!


_______________________________________________________________________
Everyone who sends in a correct answer to a Where in the World Challenge this month will be entered in a drawing at the end of the month for some special AllEars® goodies!