I recently stayed at the Coronado Springs Resort to see what had changed since my last review several years earlier. Today I will be revisiting the All Star Resorts to take another look at these value properties. The last time I visited here was in April, 2011.
When I first started visiting Disney World, my only lodging options were the Contemporary and the Polynesian. As the years went by, I've always been fortunate enough to be able to afford the other deluxe resorts as they were added to the lineup. It wasn't until I moved to Orlando and began writing for AllEars that I stayed at the All Stars for the first time. And I have to tell you. I like them – a lot. In fact, I occasionally stop by for lunch in one of their food courts simply because I enjoy the atmosphere here. The All Star Sports, Music, and Movies are a hoot! They're fun! They're crazy. In fact, I would recommend to any Disney fanatic to stop by for a visit one afternoon to experience their over-the-top architecture. It's worth your time to see how Disney has themed these imaginative resorts.
In reality, not much has changed since my last review three years ago so this will not be a full review. But it's always nice to know what's going on if this is your Disney resort of choice. To see what I wrote three years ago, click here.
The All Star Sports Resort was the first of the three to open (April 29, 1994) and this is where you'll see the biggest change. After 20 years, Disney has decided it's time to give the food court a new look and feel. And I'm glad they did. The food ordering stations were beginning to look dated and a little dingy. The new look is a lot brighter and less busy. The first picture was taken before the remodel, the second, after. Both were shot from approximately the same angle.
However the biggest change can be seen out in the dining area. Once again, the Imagineers have gone for a less busy look. The old dining room featured a huge mural of sports figures. There were also room dividers topped with acrylic silhouettes of more athletes.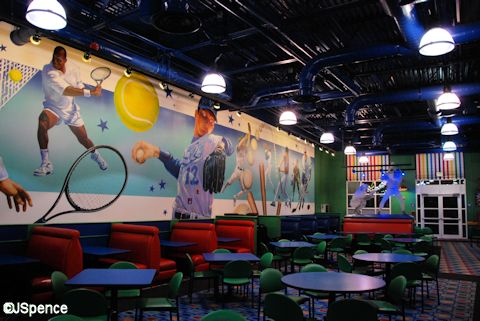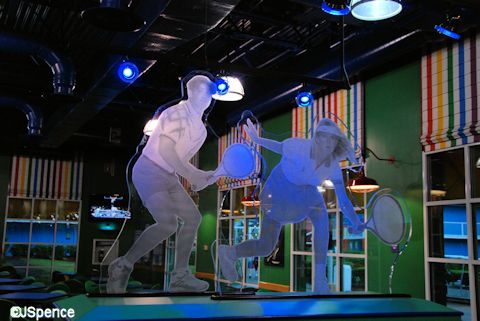 All of this has been replaced with brightly colored pictures of the Fab Five engaged in a variety of sports activities. These graphics are a lot more fun and a lot more kid friendly.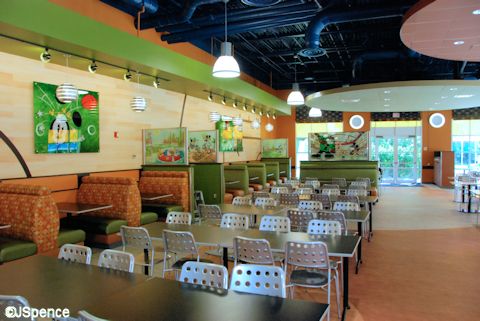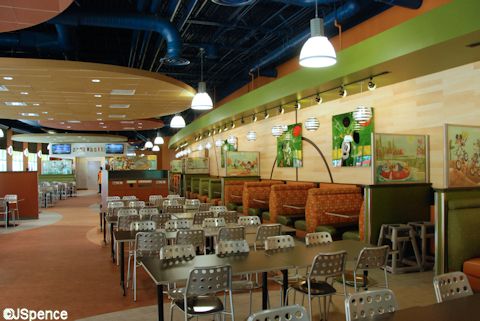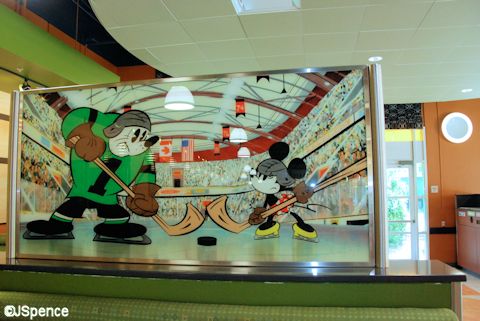 I spoke with a manager at the All Star Sports Resort and was told that the food courts at Music and Movies Resorts will also be seeing similar refurbishments in the months to come.
A special note"¦ The Hidden Mickey Guy, Steve Barrett, has been immortalized at the All Star Sports Resort food court. A caricature of him can be found on one of the new wall dividers.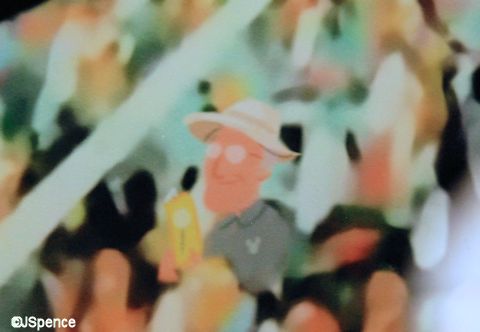 This next change is not restricted to just the All Star Sports Resort, but to ALL Disney resorts that offer beverage stations. You can no longer get unlimited refills with a standard beverage purchase. Your paper cup now has a microchip attached the bottom of it. When filling your cup for the first time, a small computer screen above the dispenser will inform you that you have three refills remaining for the next two hours (which is more than generous). When you return for a second helping, you are told you have two refills remaining until x-o'clock. And so on. If you want unlimited refills, you need to buy a Rapid Fill plastic mug. And don't think about using your own cup to steal beverages. Without this microchip, you get zip. Which seems more than fair to me.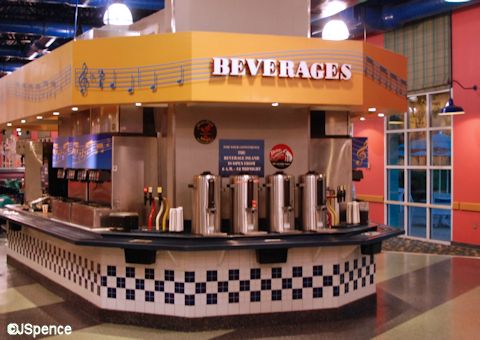 Another change can be seen in the Portrait Hall of all three lobby areas. In the past, photographs of recognizable people were displayed. Now the pictures are larger and more generic.
Even though the All Stars are divided into three sections (Sports, Music, and Movies), and each have their own check-in desks, it is considered one giant resort. This means that all All Star guests can use all of the common/public areas – like the swimming pools and play areas. However, I discovered a kink in this policy that even the resort's management wasn't aware of.
As you may know, all Disney resorts now use the Magic Band, armband, as a room key.
Before Magic Bands, the All Star laundry rooms were unlocked each day from 8am to 10pm. After hours, they required a room card key to enter.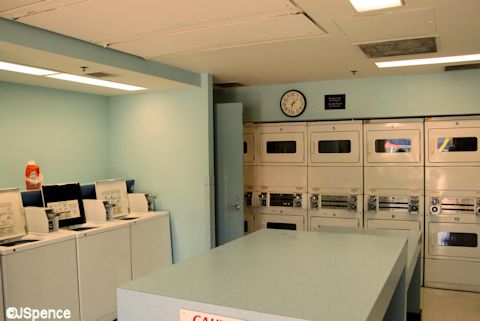 Now, all All Star laundry rooms are locked 24/7 and require an armband for access. However, your Magic Band will ONLY unlock the laundry rooms in your resort (Sports, Music, or Movies). For example, if you're staying at Music, you cannot use the laundry facilities at Sports, even if you're enjoying the Sports pool.
I discovered this while trying to take pictures of the various laundry rooms and could not gain access to some of them. It took me over an hour of discussions with several managers to finally find out what was going on. And it was news to them too. I don't know if this policy will change in the future, but that's the way it is now.
On this last visit, I stayed at Music. The room has changed a bit. The first thing you'll notice is the bedspread is missing and has been replaced with a simple throw. This gives the room a cleaner, more contemporary look. You'll also notice the room colors are different. The headboard and nightstand are the same.
The chest-of-drawers and television stand are identical except a refrigerator has replaced the interior shelves.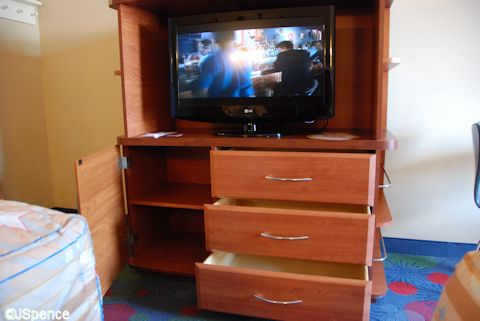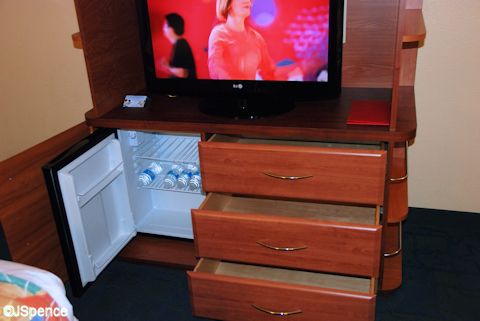 Speaking of the television, when you turn it on, your senses are no longer assaulted with Stacy telling you about the top 10 things to see and do at Disney. Instead, you are greeted to a simple information channel. If you want to find Stacy, you need to change channels. In addition, every time you turn the TV on, the volume is reset to its lowest setting. This is fantastic as you won't blast out others in the room who may be sleeping.
The table and mirror are the same but the chairs are new. I prefer the new chairs as they have a cushioned seat.
All of the furniture in the All Stars have laminate surfaces. This allows adults to relax when their kids put wet items on the table and chest-of-drawers.
The old carpet was brighter and a little more festive. It also featured Mickeys in the design. The new carpet is darker and features stars. I think I prefer the old carpet style.
The ceiling wallpaper boarder is new and more colorful. It now displays the resorts icons which is a nice touch.
The drapes have also changed. Gone are the musical features in favor of simple stripes.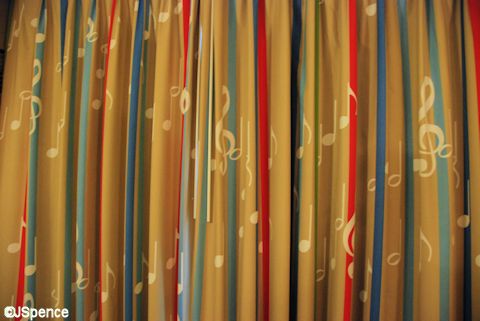 My previous room had a picture of Donald Duck. My new room had a picture of Mickey Mouse. Although I don't know for certain, I suspect that the pictures change from room to room and have nothing to do with the upgrade.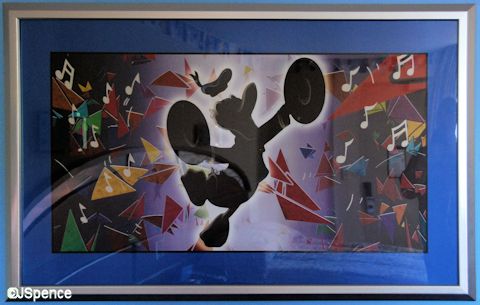 The only difference I could find in the bath area was the shower curtain. Gone is the plain design for one that features the resort's icons.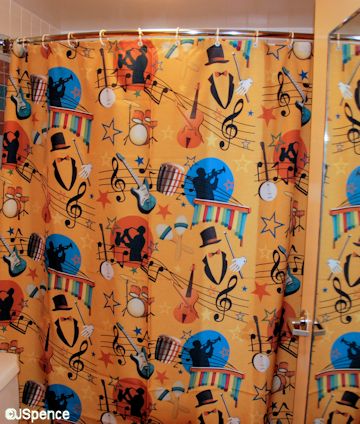 That's it for the room. Now I'll take a walk around the resorts and point out a few more changes.
Currently, Mickey is missing from Mount Mickey at All Star Sports. I'm assuming he's backstage being refurbished.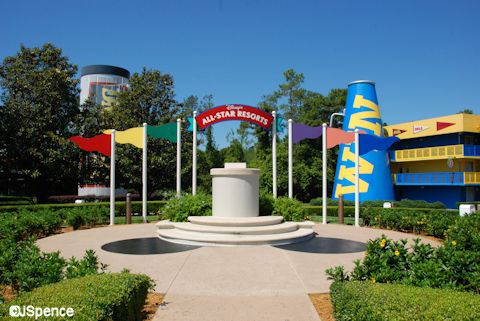 Right after I took the above picture, a family walked up to this empty pedestal and encouraged their teenaged daughters to climb up for a photo op. Once on top, each girl took a one-legged "sports" pose. I just cringed.
PLEASE. Do not encourage your children to act irresponsibly. These girls had absolutely no business being atop this high pedestal. I don't care that there were no signs posted. Common sense tells you that this is a dangerous stunt. If they had fallen, they could have been injured seriously and their hard-earned vacation would have gone down the drain.
In the Touchdown! Section of All Star Sports, the three-dimensional X's and O's have been replaced by a football play embedded in the turf. I suspect this change was made for safety reasons.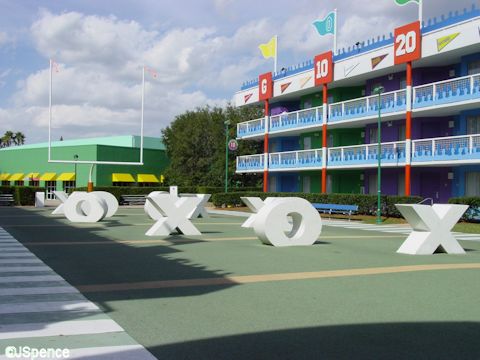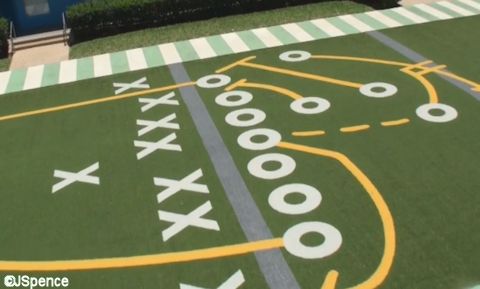 In the Broadway section of Music, the marquees that anchored the main entrances to the buildings have been upgraded. In years past, the marquee surface was full of small holes and "Beauty and the Beast" was the only show spotlighted. Today, the marquee surfaces are solid. In addition, Disney has had many more Broadway shows since the construction of this resort and their posters have been added to the lineup.
Over at All Star Movies, Herbie is missing from The Winner's Circle. Once again, I'm assuming that he's just backstage being refurbished as the plaque describing him is still present.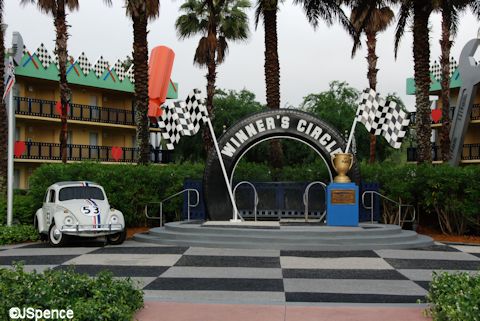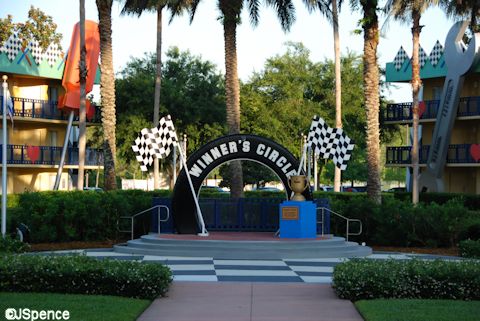 As you can see, the changes to this resort are minor. This whimsical place is still as much fun as it always was.
To wrap things up, I would like to give my recommendations of which of the fifteen themed areas are best depending on your needs. A particular section can be requested when making your reservation, but not guaranteed.
If you want to be close to the food court, bus stop, and the major pool, stay in the Surf's Up (Sports), Calypso (Music), or Fantasia (Movies) sections.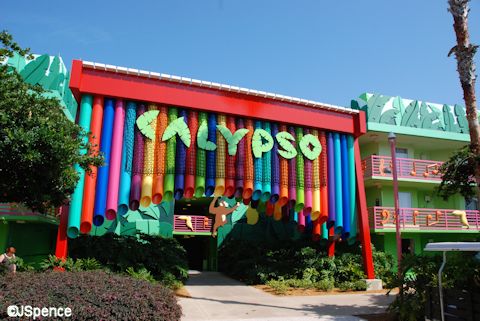 If you have young children, I suggest the Toy Story (Movies) section. Your kids can easily relate to the film characters and there is a play area nearby.
If you're a smoker, the Broadway (Music) section is nice. This area has a lovely secluded park that is wonderful for a relaxing break.
If you like to eat alfresco, try the Country Fair (Music) section. There are a number of picnic tables under numerous shade trees. This is a wonderful spot.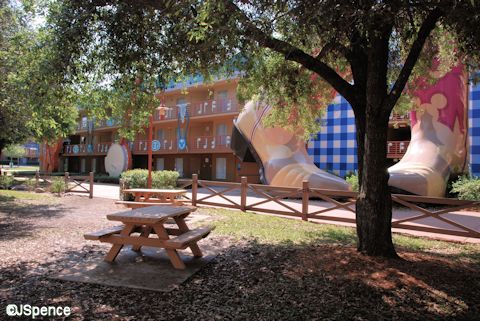 If you want a quiet swim, the Mighty Ducks (Movies) section features the least used pool.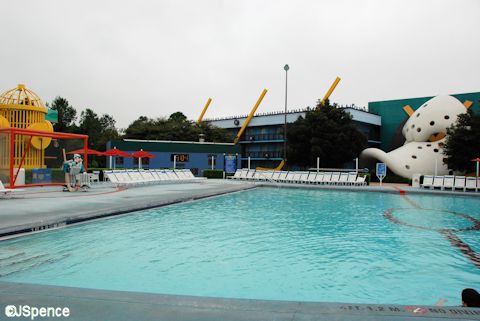 If you plan on doing laundry while on vacation, the Mighty Ducks (Movies) and Baseball (Sports) sections are closest to the least busy facilities.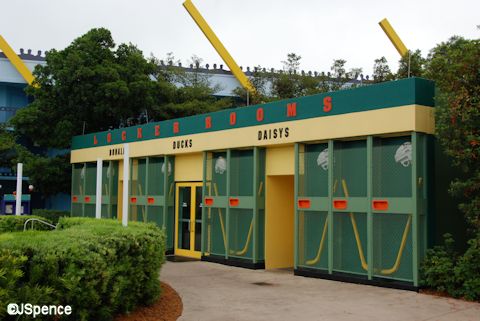 RELATED LINKS:
** Reader Reviews All Star Movies
** Reader Reviews All Star Music

** Reader Reviews All Star Sports

That's it for my relook at the All Star Resort. Check back next week when I start my Tomorrowland series.