Things are constantly changing in the Disney parks and hotels. Sometimes we like the changes, sometimes we don't. But like it or not, things are going to keep changing so we might as well get used to it. As I like to point out to people who grumble about change, if the parks didn't grow and evolve, at Disneyland brassieres would still be sold on Main Street and bathroom fixtures would be on display in Tomorrowland. Nonetheless, this doesn't stop us from waxing nostalgic for the "good ol' days."
Sometimes it's obvious why the Imagineers remove or change something. Sometimes it's not. I like to believe that they always have a good and compelling reason when they tinker with the parks, but sometimes I believe it comes down to simple economics. It's cheaper to do without.
Today's blog will not be about the big changes that have taken place at Walt Disney World over the years, but rather the little things. We all miss the full-scale attractions like the Skyway, Mickey Mouse Review, Horizons, and World of Motion. But these attractions have all been lamented over in numerous articles through the years. Today I want to talk about the small stuff. The details. And minutiae.
So here we go. I'll start with the Magic Kingdom.
I miss slow days. When I lived in California, I always visited Walt Disney World over its anniversary on October 1st. I found the weather tolerable and the crowds more than manageable at this time of year. That's not the case anymore. Now seasons at the Disney parks can be sorted into two categories, Busy, and Very Busy. Even January, which used to be the slowest month of the year, is hectic nowadays.
Disney is a business. And contrary to what many think, their primary goal is to make money, not magic. Because of this, the Disney marketing team is constantly coming up with new ways to entice people to visit the Most Magical Place on Earth. I understand this, and accept it, but I still miss my beloved Octobers of the 70's, 80's, and 90's.
These next two pictures were taken right after the Magic Kingdom opened (9am) sometime in early October, 1989. When was the last time you saw Main Street this empty during the day?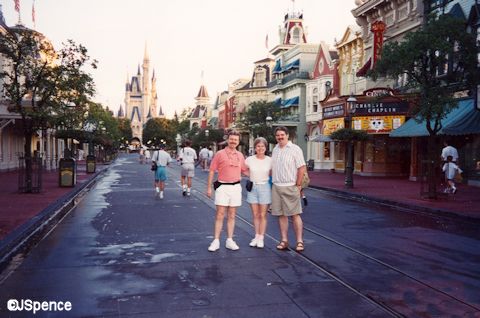 I miss breakfast at Tony's Town Square Café. If you want a full-fledged morning meal in the Magic Kingdom, you can either go to Cinderella's Royal Table or the Crystal Palace, both character meals. Not everyone wants to pay extra to dine with Tigger, Pooh, Snow White, and Sleeping Beauty. Some of us would like eggs & bacon sans characters.
One of my fondest memories of the Magic Kingdom is enjoying a Christmas morning breakfast on Tony's porch, watching the holiday guests arrive.
I miss the House of Magic on Main Street. As a kid, I loved going into the Magic Shop at Disneyland and marveling at the magician's slight-of-hand illusions. I also loved browsing the merchandise racks in this shop, longing to buy a marked deck of cards or a fly suspended in plastic that looked like an ice cube. These were good times and have provided me with good memories.
I didn't start visiting Walt Disney World until I was an adult, but the kid in me still enjoyed the illusionist and the shelves stocked full of tricks and gags found in the House of Magic on Main Street. Unfortunately, magic tricks and gags don't bring in as much cash as Disney souvenirs and magicians are paid more than sales clerks.
I miss the large trees that once graced the Hub. These beautiful old oaks provided shade and softened the overall feel of this area. And in the evening, they lit up with hundreds of make-believe fireflies. These trees were removed to provide more viewing opportunities when Disney started projecting images on the castle as part of their nighttime entertainment.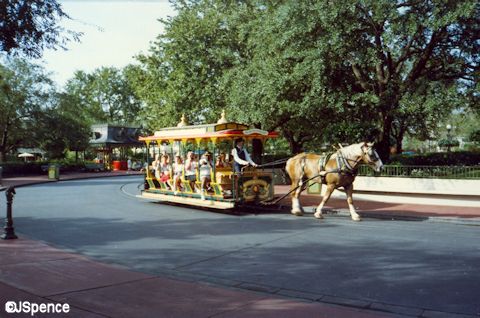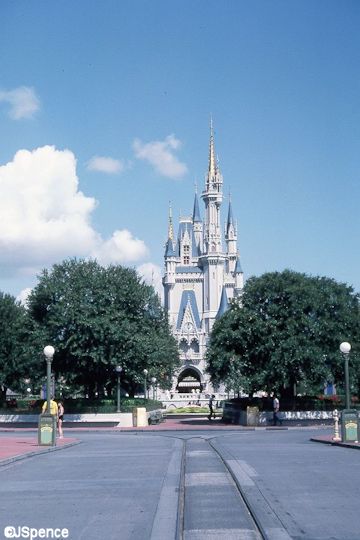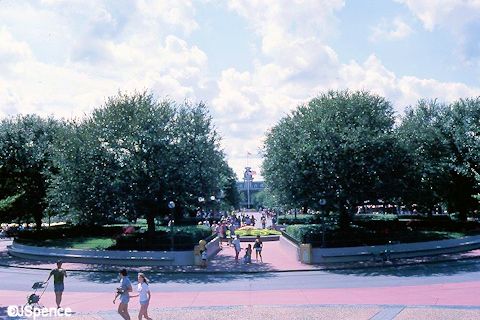 I already miss the recently removed Rose Pavilion that was razed as part of the Hub makeover. This was such a wonderful place to escape and relax.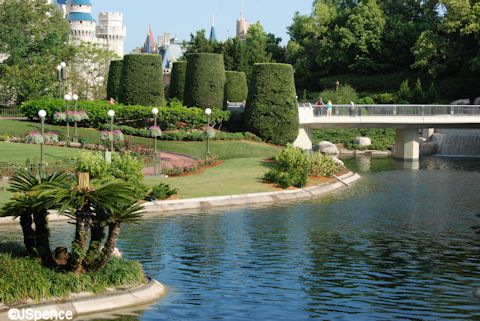 Here is an artist rendering of what the new Hub will look like when complete.
I miss the rocking chairs that once sat beneath the arbor next to Liberty Tree Tavern. This was a wonderful place to sit and people watch. I don't know why these were removed as rocking chairs still exist in Frontierland and in front of Exposition Hall on Main Street.
I miss Aunt Poly's. This spot on Tom Sawyer Island once served cold fried chicken, ham sandwiches, chips, and brownies. It was a wonderful place to have lunch and escape from the crowds.
I miss the log cabin on fire as seen from the Liberty Belle Riverboat. I realize that burning gas for this prop was wasteful, but I was okay with the cellophane fire effect that replaced the real flames. I mean, if you can accept the "statuesque" moose and deer on the banks of the river, fake fire is okay. Now this all-but-forgotten structure isn't even mentioned by Sam Clemens or Captain Horace Bixby as we pass by.
Epcot
Over at Epcot, I miss the Lucite work-of-art that sat on top of the fountain in front of Spaceship Earth. Well, that's not really true. By the time the Imagineers got around to refreshing this fountain, the Lucite was looking pretty tired and dated. But I do feel this fountain looks naked without something eye-catching perched on top of it. Disney must agree on some level because they occasionally use this spot during the annual Flower and Garden show.
I miss Dreamfinder. Enough said.
I miss the double-decker buses that once circled World Showcase. I admit, they really didn't offer good transportation around this promenade, but I loved sitting on the upper level for a different perspective of the countries. But alas, the large crowds of today would not grant these stately vehicles safe passage.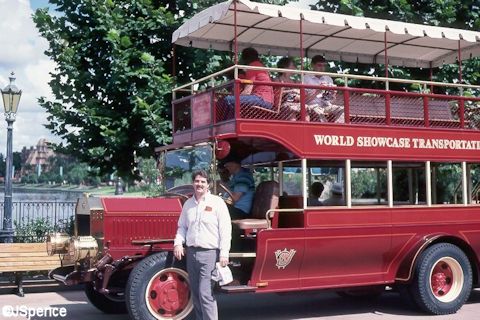 I miss the flamingos that once enjoyed the waters near the Mexico Pavilion. They were beautiful to watch and added atmosphere to the area.
I miss the song that played in the old "El Rio del Tiempo" attraction, "Ola Mis Amigos." I like the re-imagining of this attraction to include the Three Caballeros. And I understand why this song was retired. But I still miss it. It was a catchy tune.
I miss the Viking ship playground that once sat beside the Norway Pavilion. Not that I played on it, but I did enjoy watching kids getting lost in make-believe. This mini-attraction was removed due to safety concerns.
I miss long trains on the miniature railroad at the Germany Pavilion. By 'long train' I mean an engine pulling six or seven cars and a caboose at the end. I can't remember when I last saw more than a single vehicle traveling along the tracks here.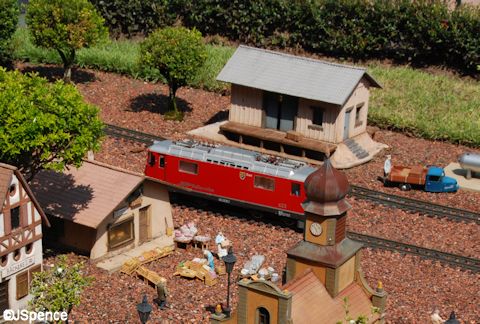 In the same pavilion I miss the movement of the wooden oompah band inside the Der Teddybär shop. At one time, this cute display perched in the rafters of the store was animated. But alas, it's been a long time since I've seen these characters move to the rhythm of their music. I hope this lack of movement is on someone's punch list and these characters will be brought back to life someday soon.
In the France Pavilion I miss the second story of Plume et Palette. At one time, this space was an art gallery and sold prints of the French masters. This spot also offered wonderful views of the World Showcase promenade.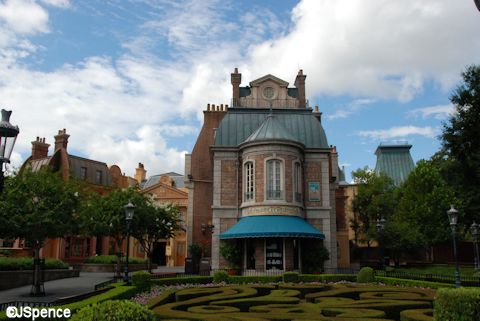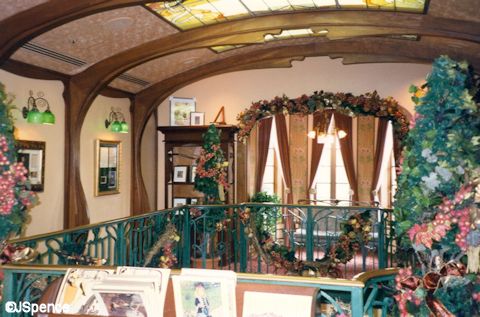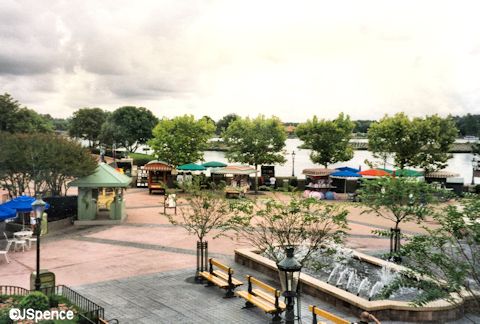 At the Canada Pavilion, I miss the fine shop that was located within the Hôtel du Canada. The merchandise here was more refined and genteel compared to the goods sold in the Northwest Mercantile located on the lower level of the pavilion.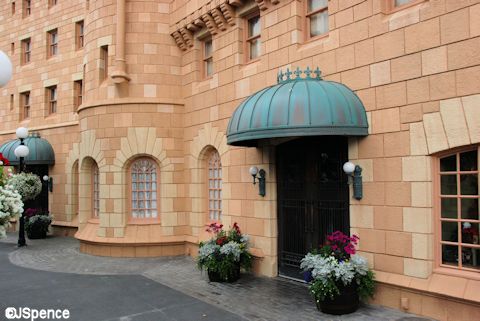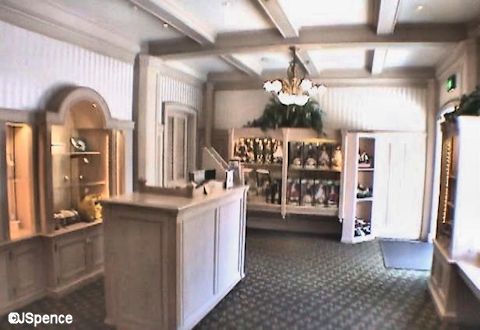 At the Coral Reef Restaurant, I miss butter shaped like Mickey Mouse. It was fun to cut his head off.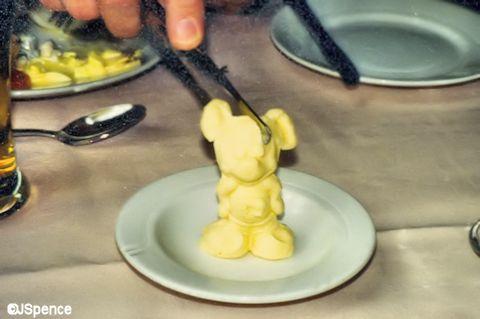 Disney's Hollywood Studios

At Sci-Fi Dine-In I miss the clever menu names that were once offered here. Most selections had sci-fi appropriate names such as "Onion Rings of Saturn," "Milky Way Shake," and "Monster Mashed Potatoes." Now the menu offers standard names with no imagination. I also miss the roller-skating servers.
On the Great Movie Ride, I miss the rotating Busby Berkeley Girls. When this attraction first opened, each level of this circular platform revolved opposite the level below. It added some pizzazz to an otherwise boring tableau. But due to technical problems, this movement was discontinued and a scrim was added to help hide this embarrassing display.
Come on Disney. How difficult can it be to rotate these plastic-looking girls?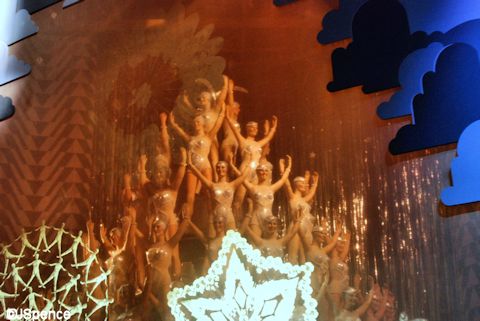 Anyone who has taken the Studio Backstage Tour knows that you visit Catastrophe Canyon. After experiencing this special effect, the tram drives around behind the make-believe scenery to reveal how the magic is created. When I took this tour in October 1994, I snapped this picture of a sign posted on one of the electrical control boxes.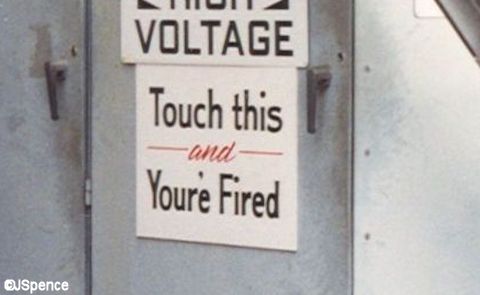 This sign cracked me up because it was so un-Disney. It was so un-magical. I'm sure this is why it was removed. But I miss it.
In the fall of 2009, Imagineers tested an animatronic version of Pixar's Luxo Jr. (the dancing lamp). Every 15-20 minutes, Luxo Jr. made an appearance across the street from Toy Story Mania. Perched on a stage above the crowd, this cute little fellow danced to a variety of tunes. The passing crowd would come to a standstill as Luxo Jr. went through his routine. However, he was discontinued soon after his debut with no official explanation. Luxo Jr. was cute. I miss him.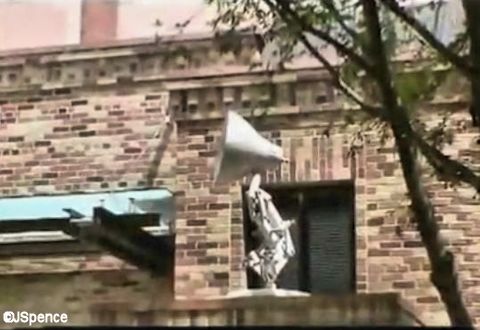 I miss the unobstructed view of the Chinese Theater at the end of Hollywood Blvd.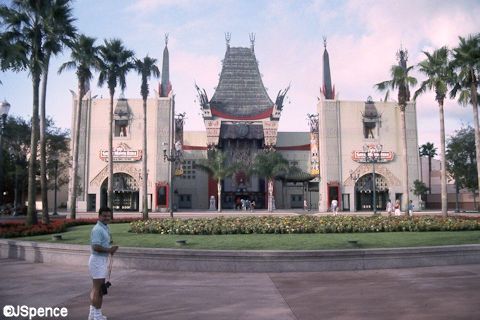 I miss the vehicles that were once parked on Hollywood Blvd, Sunset Blvd, and New York Street. I'm sure they were removed to accommodate larger crowds, but they added a touch of realism.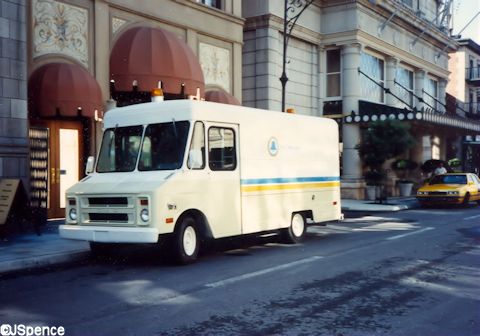 I miss the coin-operated rocking horse that stood in front of Celebrity 5&10 on Hollywood Blvd. As a kid, I often begged my mother to let me ride similar machines that were strategically place in front of our local food market. I have seen this Disney horse come and go over the years, but it's been quite a while since its last appearance. I suspect upkeep on this machine became more than maintenance wanted to deal with.
Animal Kingdom
Since the Animal Kingdom is the newest park at Walt Disney World, it has seen fewer changes over the years. But there are still a few things I miss. The first are the scarlet ibis that once greeted guests just passed the ticket booths. Their vivid color always impressed me.
I know that in any zoo, the exhibits are constantly changing, but I still look for the return of the scarlet ibis someday.
Also on the Oasis are the "tunnel" rock formations. Similar underpasses spanned both the west and east passageways leading to Discovery Island. These portals provided a nice transition into the main park. About a year ago, the upper rock portions were removed on both walkways.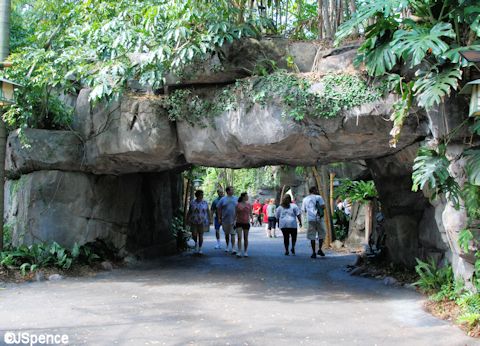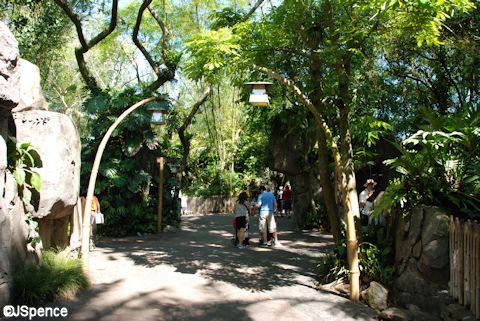 When this happened, I figured management needed a higher clearance for vehicles to pass beneath. However when I asked a cast member, I was told that water had seeped into the fake rocks and damaged the structure beyond reasonable repair. I don't know if this is true or not, but I miss the tunnels.
I miss the name "Countdown to Extinction", the original name for the Dinosaur attraction. I also miss the menacing triceratops that once stood sentinel.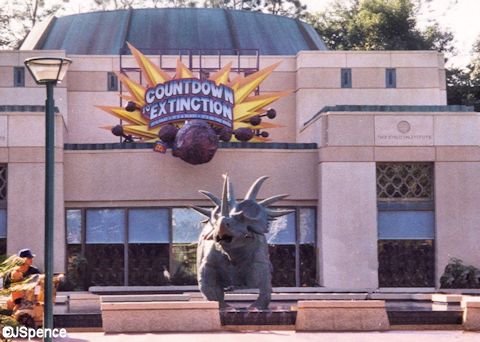 To help promote the 2000 Disney movie "Dinosaur," Michael Eisner had the attraction's name changed to "Dinosaur" and the triceratops replaced with Aladar, the friendly iguanodon that starred in the movie. The film was mildly successful, but certainly not counted among one of the Disney greats.
I understand the importance of Disney tie-ins, but I wish they had left this attraction's name and mascot alone.
In the spring of 2012, a branch fell from the Tree of Life. No one was harmed, but it was an alarming event. As safety is always top priority with Disney, they immediately took action to make sure no guest could be harmed while they investigated and repaired this and any other trouble spots. To that end, they built open-air canopies over the Discovery Island Nature Trails and portions of the "It's Tough to be a Bug" queue.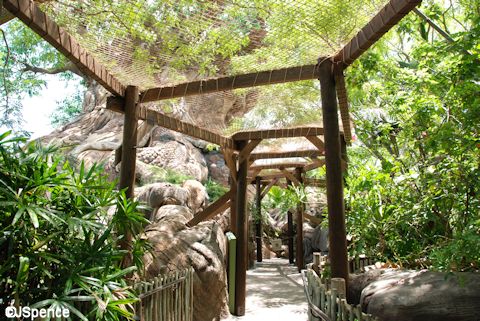 I totally understand Disney's move and I applaud their quick response. But now I feel like I'm in a cage and my view of the Tree of Life diminished. I'm keeping my fingers crossed that someday, after all repairs have been made, these canopies will be removed.
Downtown Disney
Over at Downtown Disney, the Empress Lilly riverboat (Fulton's) is missing its paddlewheel.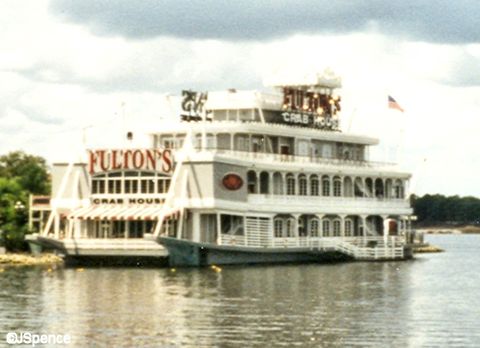 I have no idea why it was removed. It added realism to the structure. Without the paddlewheel, the boat looks stupid. Once again, I suspect this was an upkeep issue and management didn't want to spend the money.
I miss the personalized swizzle sticks and fruit picks that every resort and restaurant once offered. These made wonderful souvenirs.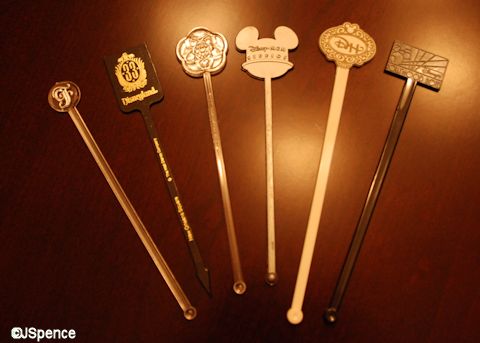 Okay. Now it's your turn. Tell me what LITTLE things you miss. Please don't tell me you miss the Adventurers' Club or Horizons. These are BIG things and we all miss them. I'm looking for small details that help promote the magic. The "stop and smell the roses" stuff.