Walt Disney World has been teasing us this spring with a steady stream of details about the renovations that have begun at the Polynesian Resort. Among the less-publicized changes is a complete makeover for the kids' child-care center, which is set to reopen June 14, a Disney representative told me.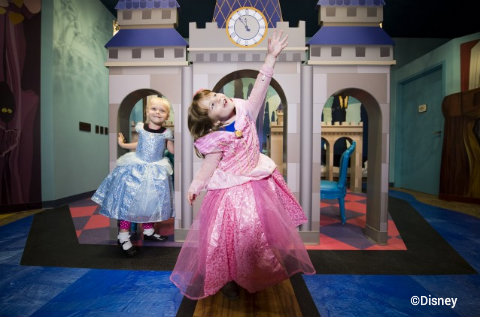 The center, which formerly was known as The Never Land Club, has been renamed Club Disney and characters from the story of Peter Pan have a much smaller role, though they certainly have not been banished altogether. The themes inside Club Disney are based on tales in classic Disney Little Golden Books including "Alice In Wonderland," "Pinocchio" and "Lady and The Tramp."
Young guests ages 3 to 12 enter the activity center through a book-page portal, I'm told, and they will find additional storybook pages decorating the walls and floor to help bring the various beloved stories to life.
In the section of the center themed to "Alice in Wonderland," children will see Cheshire Cat grinning at them from above five two-person stations set up for video game play with PlayStation consoles. Game players will perch on chairs made to look like mushrooms.
"Lady and The Tramp" is represented with a recreation of the alley scene in the story, in which the two share their infamous meal of spaghetti and meatballs. There are tables, which will be used for making crafts and also dinner, which is included in the price of child care. The adjacent Stromboli Theater shows Disney movies.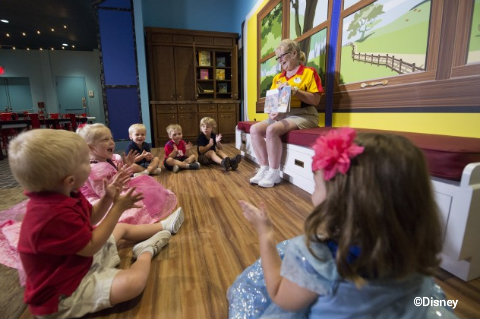 A mural of Christopher Robin's window looking out to the Hundred Acre Wood from "Winnie The Pooh" serves a backdrop for story time and nap time. The iconic castle from "Cinderella" is a structure that has been built and furnished with royal pieces and gowns to encourage dress-up. Last but not least, a play area will allow kids to fly to Never Land to help Peter Pan take on Captain Hook.
With a month to go before Club Disney's opening, the meal plans have yet to be finalized. However, I'm told the procedure is likely to be the same as before — children and their parents can order their dinners when they are checked in, and the food will arrive between 6 and 8 p.m. A cast member told me that kid favorites, such as cheeseburgers and hamburgers, will be available. Club Disney also is expected to offer more healthy options to suit a variety of palates, including grilled shrimp skewers, grilled chicken, grilled fish, a cucumber roll or vegetarian sushi.
The cost of having your child entertained and fully engaged so you can enjoy adult experience at Walt Disney World? Priceless, of course. In U.S. dollars, that translates to $11.50 per hour per child with a two-hour minimum.
Reservations can be made now by calling 407-WDW-DINE for June 14 and dates going forward. Cancellations must be made one day in advance or the parent will be charged $23. Walk-ups are welcome, based on availability, and you don't have to be staying at Walt Disney World for your child to be cared for at Club Disney. Club Disney will be open from 4:30 to 11:55 p.m. daily.
My children have spent time at other child-care centers at Walt Disney World: The Sandcastle Club at Disney's Yacht and Beach clubs and Camp Dolphin at the Walt Disney World Swan and Dolphin. (Read about those experiences in the links.)
Disney representatives told me that Club Disney will continue to host children's birthday parties with the same format and pricing as The Never Land Club. You can read about all the options in my story about Walt Disney World birthday parties here.