The Disney Cruise Line delivers the same high quality, service, and entertainment that you would expect at one of the Disney theme parks to help create a truly magical experience at sea. Although the Magic, Wonder, Dream, and Fantasy share some common traits, they each have their own unique style and charm and offer different experiences for their Guests. Being newer and larger ships, the Dream and Fantasy were able to improve and expand upon many of the features of the Magic and the Wonder.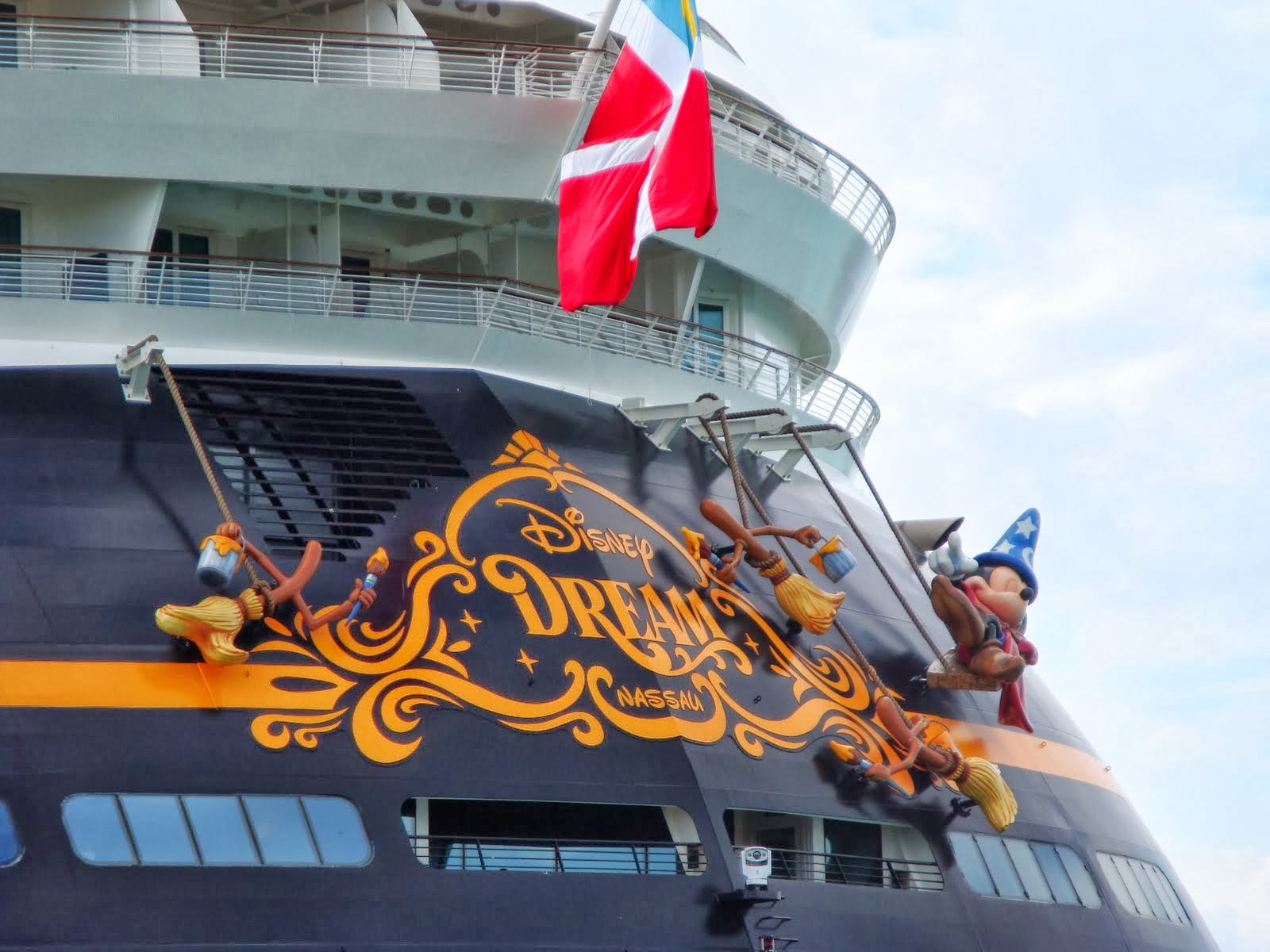 Having just recently cruised aboard the Dream, I am continually amazed by the sheer size of the ship and yet attention is still paid to the tiniest of details. Whether it is the staterooms, shops, clubs, or restaurants, everywhere there are examples of the great theming and storytelling that make cruising with Disney so special.
Of course, no cruise would be complete without food and the Disney Dream offers plenty of options to choose from. One of the unique features of Disney Cruise Line is the concept of rotational dining. Rather than having just one main dining room, aboard the Disney ships each night offers something different as you move between three completely distinct dining experiences. Aboard the Disney Dream, the first of these restaurants is Royal Palace, which draws its inspiration from classic Disney films such as Cinderella, Snow White and the Seven Dwarfs, Sleeping Beauty, and Beauty and the Beast, and offers diners a French-inspired fare.
Next is Enchanted Garden, which takes its cue from the beautiful gardens of Versailles and features a menu of continental European cuisine in a setting that magically transforms from day to night throughout the course of the meal.
Finally there is Animator's Palette, which may provide the most unique dining experience of them all. Unlike its sister ships, the Magic and Wonder, Animator's Palette aboard the Dream does not transform from black and white to color during the course of dinner. Instead, the dining room is magically submerged under water and throughout the meal Guests have the opportunity to interact with Crush the sea turtle from Pixar's Finding Nemo all while enjoying a menu of Pacific Rim cuisine.
If you are looking for something a little more special, however, the Disney Dream also offers two additional dining experiences for an extra cost. While Palo (an additional $25 per person) highlights the elegance of northern Italian cuisine, Remy (an additional $75 per person) provides diners with an array of gourmet French-inspired dishes. Both of these restaurants are the equivalent of a Signature restaurant at Walt Disney World, providing unparalleled service in an upscale atmosphere with beautifully-presented dishes made with the freshest ingredients. While I have yet to try Remy, Palo is an absolute must-do whenever I am on a Disney cruise.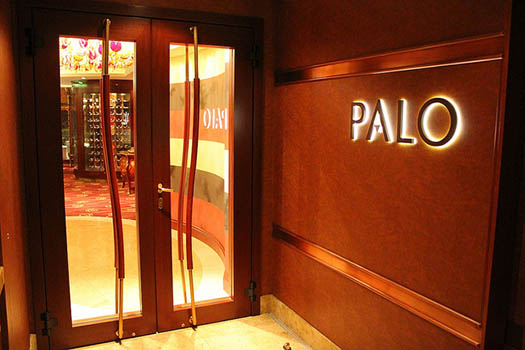 Atmosphere:
Located high above the sea on deck twelve, Palo offers tremendous ocean views in an elegant setting. The name Palo actually refers to the long poles used by gondoliers in Venice and it is easy to see this Venetian influence throughout the restaurant.
The dining room features a warm color palette of gold and red highlighted with subtle touches of blue and green.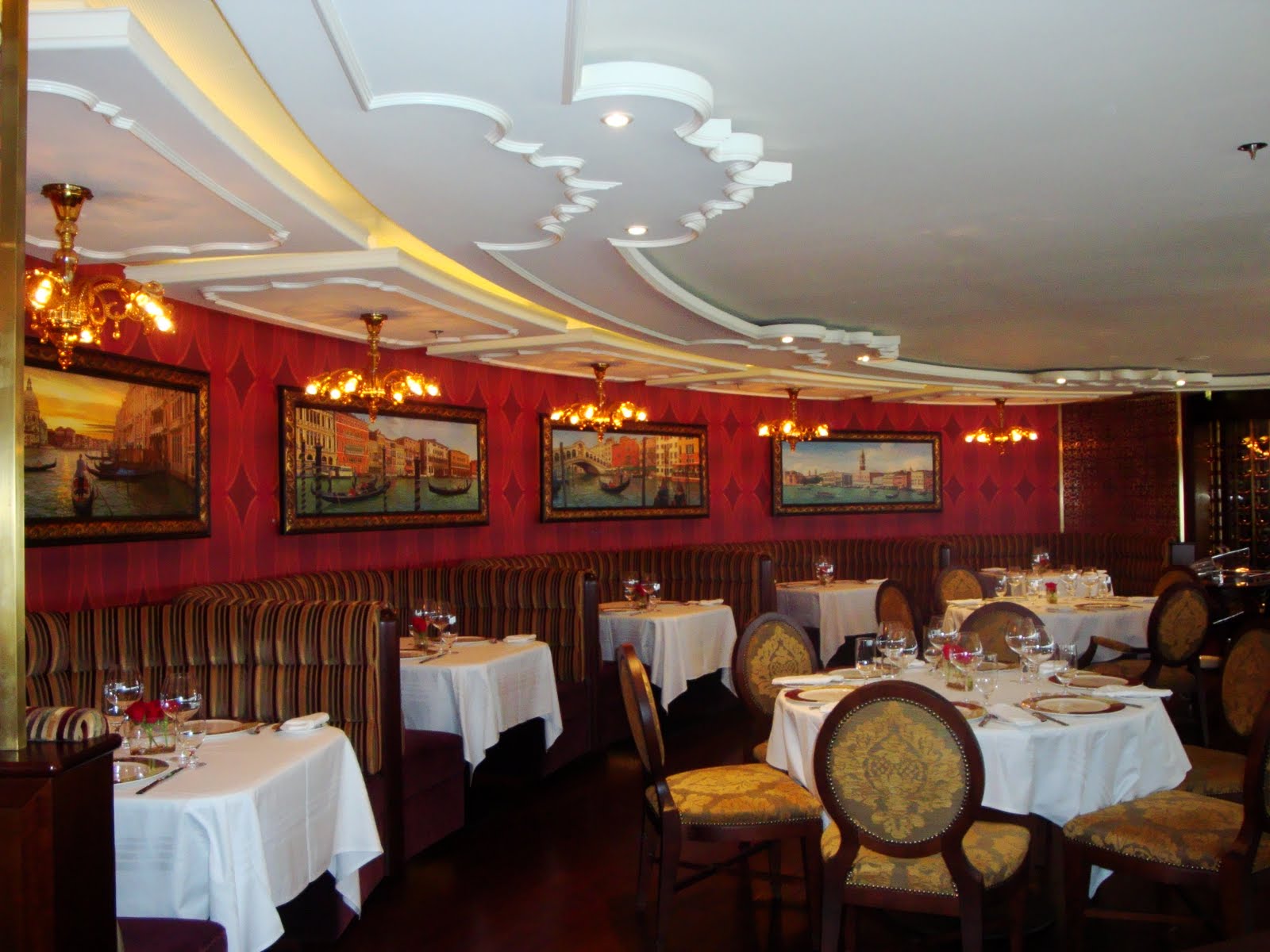 As soon as you enter the restaurant your eyes cannot help but be drawn to the magnificent light fixture hanging overhead, which has a look reminiscent of the iconic glass creations of Murano (a small island less than a mile north of Venice).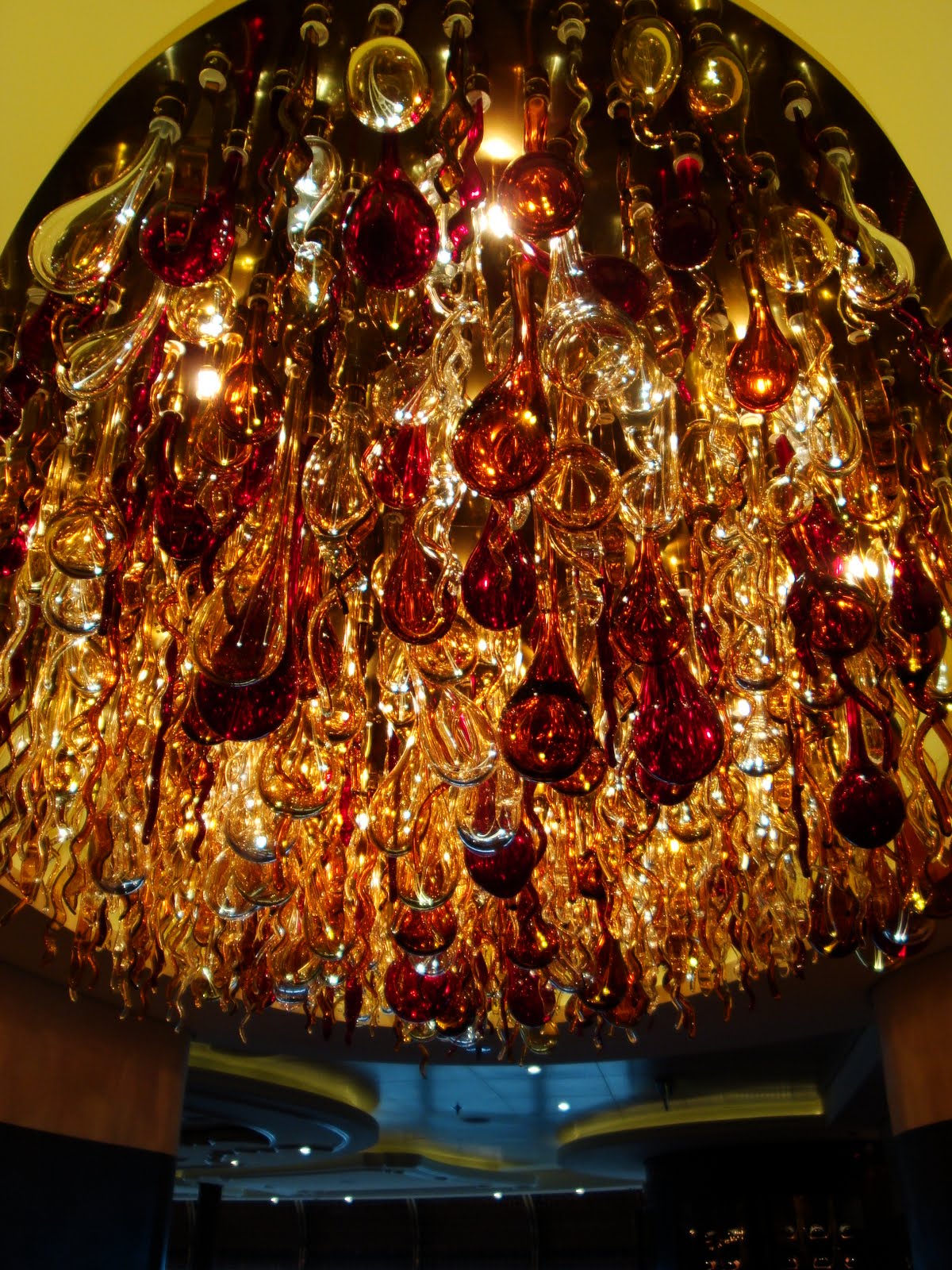 One of the most distinctive features of Palo are the beautiful paintings of Venice that adorn the walls, all of which were custom-made for the restaurant.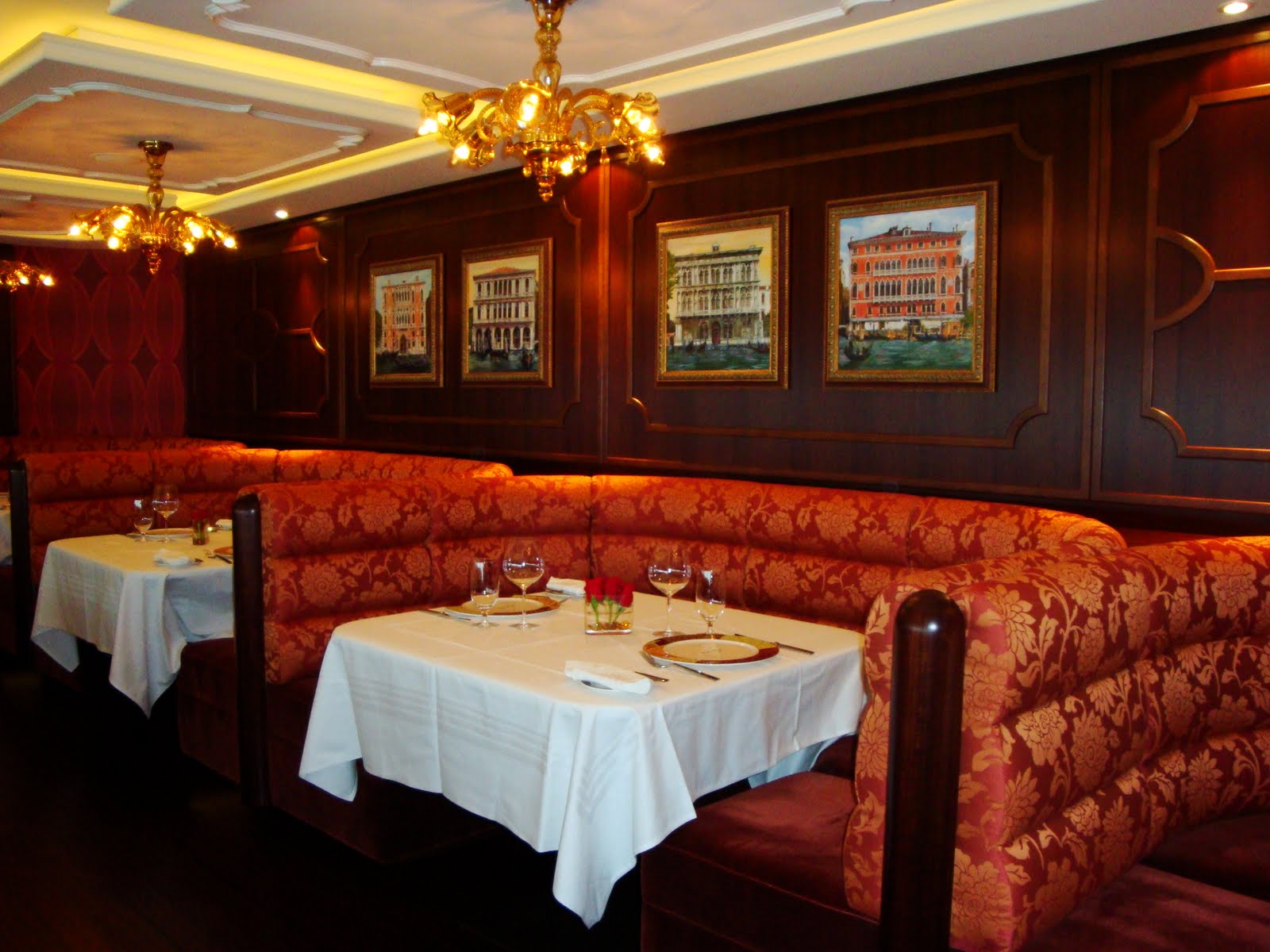 The painting help add a splash of brighter colors that really make them pop against the more subdued tones throughout the rest of the dining room.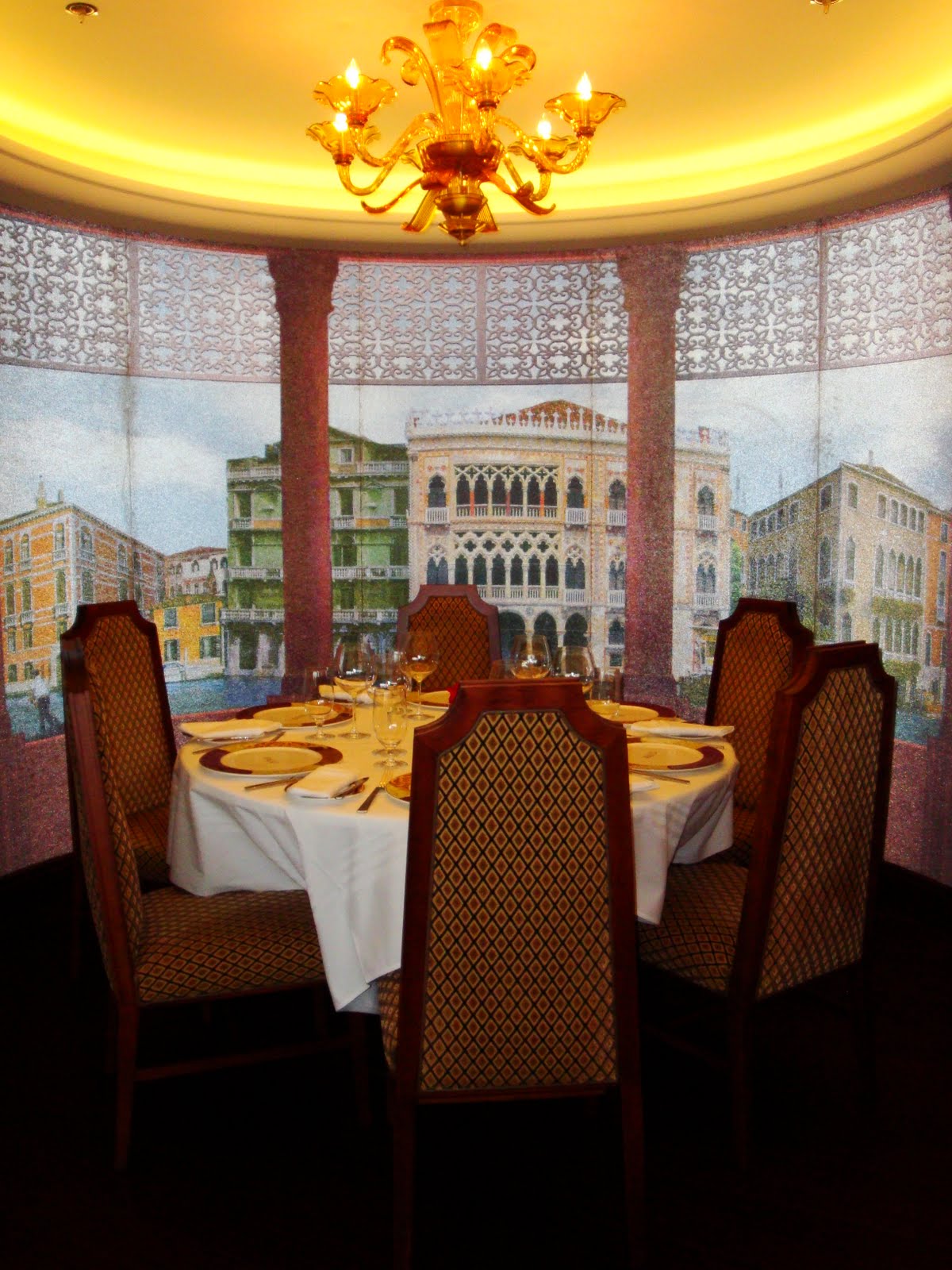 The low-light of the dining room combine with the richly upholstered furniture, lush carpeting, and warm dark wooden paneled walls to create a very upscale and romantic setting. Although larger than its counterparts on the Magic and Wonder, Palo aboard the Dream still has a limited seating capacity with tables that are spread out to make for a quiet and more intimate dining experience. On a cruise ship that certainly caters to families and children, Palo proves that it can appeal to adults as well.
One feature on Palo aboard the Dream that is not found on the Magic and Wonder is a private dining room that even includes a window into the restaurant's kitchen.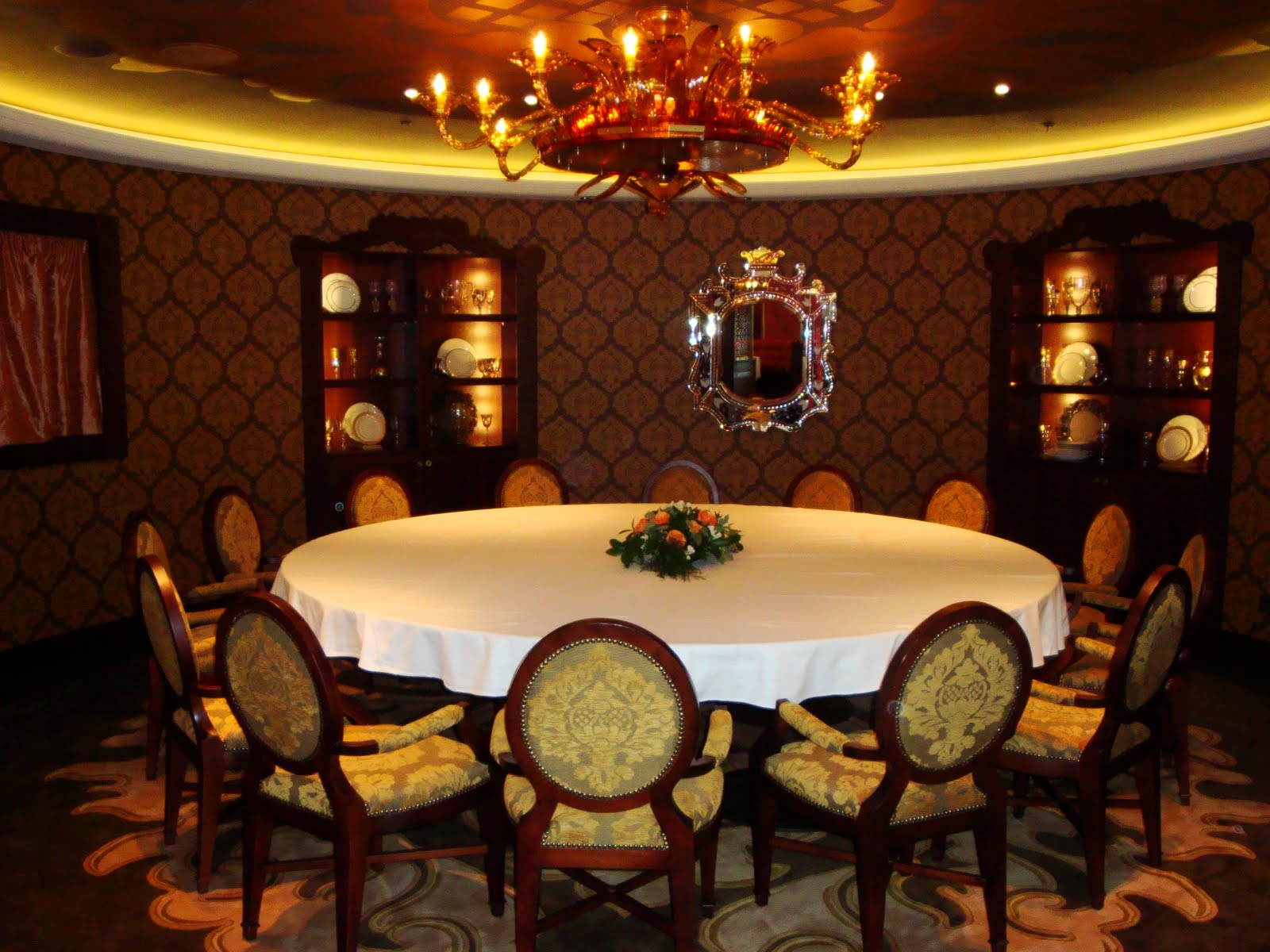 Of course, one of the aspects of Palo that the restaurant is best known for is its tremendous ocean views. Throughout the dining room, every table has tremendous view. This is thanks not only to the floor-to-ceiling windows, but also tiered seating that places diners at the back of the dining room on a higher level than those closer to the windows.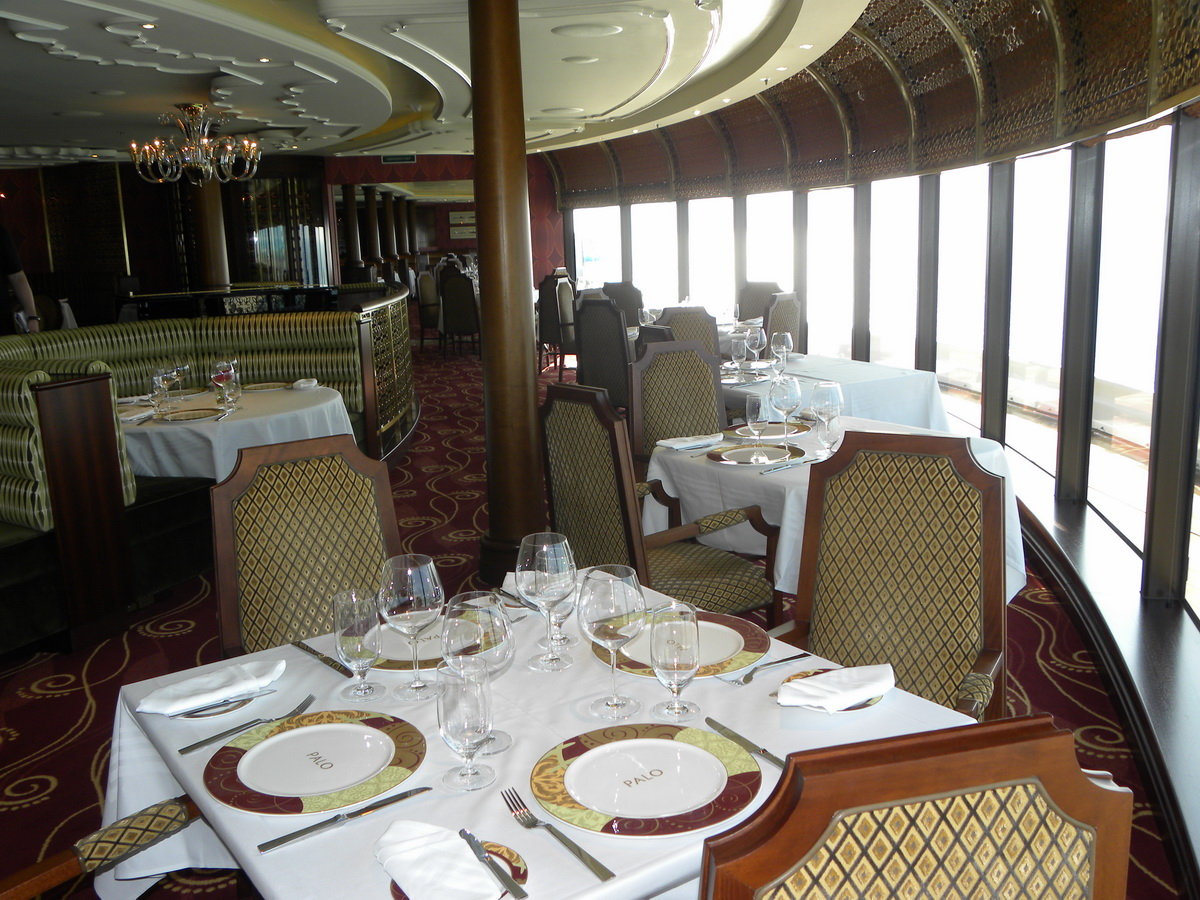 No other dining location aboard the Dream, save for Remy, can match the majestic vistas offered at Palo. This setting alone really helps set the tone for a truly memorable dining experience.
The Menu:
Palo specializes in fine northern Italian cuisine, featuring classic dishes presented with a bit of a contemporary twist. There is certainly no shortage of options on Palo's menu. In fact, the most difficult decision you will have to make is which of the delectable dishes you want to order. This starts with the appetizers which include Tuna Carpaccio brushed with the chef's special lemon olive oil, Mozzarella and Plum Tomatoes topped with balsamic dressing, Sicilian Pesto Marinated Grilled Shrimp served atop a mussel, crab and cherry tomato ragu, Grilled Portobello Mushroom served over polenta and topped with a roasted shallot sauce, Fritto di Calamari served with deep fried cherry peppers, a Fresh Arugula Salad with choice of Palo's dressings, Tuscan White Bean Soup with prosciutto and parmesan cheese, and Cioppino, a traditional Italian tomato fish stew with calamari, clams, shrimp, and halibut.
The next course is the pasta dishes as well as risottos. First is the Risotto di Mare featuring a saffron risotto served with fried zucchini, shrimp, mussels, and clams. There is also the Wild Mushroom Risotto topped with freshly-shaved parmesan and a chianti reduction. For pasta there is the Lobster and Mascarpone Ravioli with a light white truffle sauce, Chianti Braised Beef Ravioli tossed in a rich red wine reduction, Gnocchi con Gorgonzola e Asparagi served with gorgonzola sauce and asparagus, Pappardelle con Aragosta featuring lobster, parsley, and fennel with chili and a fresh tomato sauce, and Penne Arrabbiatta with a spicy fresh tomato and basil sauce topped with grilled shrimp.
Then, after all this, come the entrees. For Pesce (seafood) dishes there are the Grilled Sea Scallops accompanied by borlotti beans and pancetta topped with a tomato sauce, Rombo al Finocchio, a pan seared turbot served with fingerling potatoes, porcini, pancetta and fennel with walnut butter, Branzino in Cartoccio featuring sea bass with spaghetti-cut vegetables and a ginger-orange glaze, and Grilled Tuna Piemonte atop a truffle-infused potato risotto with garlic marinated artichokes. The Carne (meat) offerings include Pan-Seared Calves Liver served on a polenta cake with caramelized apples and onions, Fagotti di Petto di Pollo, a baked chicken breast filled with ricotta, basil, and red peppers served with a pinot grigio reduction, Osso Buco, a slow roasted center-cut veal shank with risotto Milanese, Oregano and Parmesan Crusted Rack of Lamb with roasted shallots, baked Roma tomatoes, potato pave, and herb jus, and the Beef Tenderloin Palo topped with either melted gorgonzola cheese or Palo's signature red wine sauce (or with both served on the side).
With all this food you might find it difficult to save room for dessert, but you definitely want to make sure that you do in order to try Palo's signature dessert, the Chocolate Soufflé. In addition to this, other desserts include Palo's Homemade Tiramisù, Panna Cotta with strawberry-basil sorbet, Pistachio Cake with amaretto cream and hazelnut meringue, Layered Chiffon Cake glazed with ganache, and Zabaglione with berries.
For my meal I chose to start with the Cioppino. With so much food to come, this fish stew was a nice lighter option to start the meal. Although Italian in name, this dish actually originated in San Francisco. It was the creation of an Italian immigrant fisherman who made it from whatever seafood was leftover when the boats returned from sea. The presentation of the dish was absolutely stunning and the amount of seafood very impressive. The stew included shrimp, calamari, halibut, clams, and mussels. It was not a stew in a traditional sense, but rather more like seafood garnished with a light broth. The broth itself was tomato-based, its flavor enhanced with garlic and basil. Although light in consistency, it provided a tremendous amount of flavor that paired perfectly with the fresh seafood.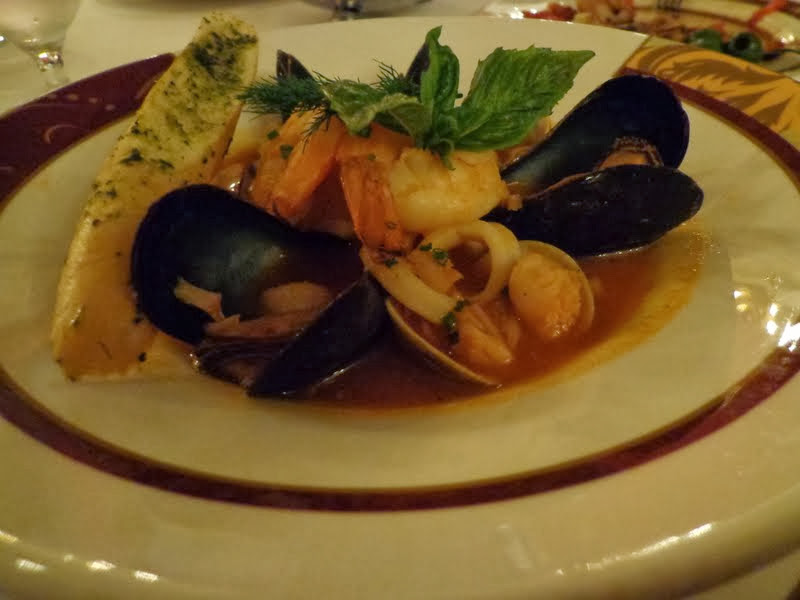 The next course was the pasta dish, for which my server highly recommended the Chianti-Braised Beef Ravioli. I decided to go with his recommendation and I was certainly not disappointed. Whereas the Cioppino was served in a very light broth, the ravioli came in a rich red wine reduction; this is what absolutely made the dish. This pasta dish was just the perfect size since it was a far heartier offering than the fish stew. The ravioli themselves were cooked perfectly al dente and the beef was very tender and flavorful. The red wine reduction stole the show with a rich flavor that really popped, but at the same time still complimented the beef very well. This is a perfect example of how Palo can take a common dish like beef ravioli and give it a completely unique and contemporary spin.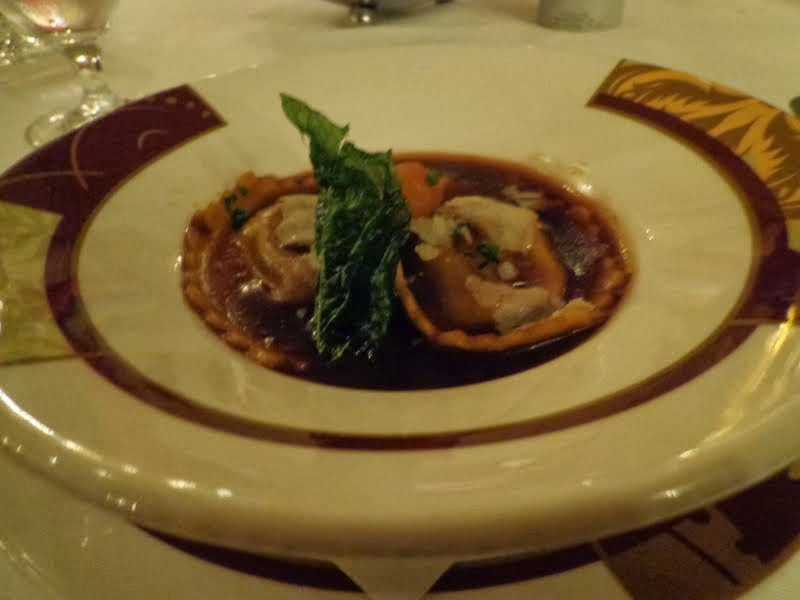 When it came to the main course I was torn between so many options, but I finally settled on the Osso Buco since it is a dish that I had never tried before. Osso Buco is Italian for "bone with a hole," a reference to the marrow hole at the center of a cross-cut veal shank. The distinguishing feature of this dish was its incredible flavor. The veal shank is slow roasted in white wine and broth so that it absorbs a tremendous amount of flavor. Extremely juicy and tender, the veal literally fell apart at the touch of a fork. The veal was then topped with a tomato sauce that added even more flavor to the dish. Accompanying the veal was a rich and creamy risotto. Risotto Milanese is prepared with beef stock, cheese, and then colored with saffron and its creamy cheesiness was a nice contrast to the veal, but it was also very filling. The hardest part was not eating too much in order to save room for dessert.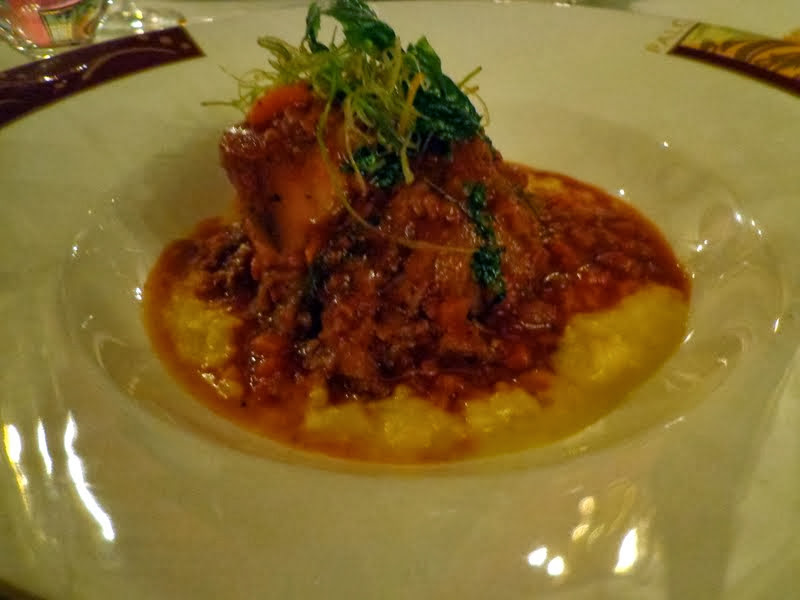 The reason for pacing yourself throughout the meal and saving room for dessert is Palo's signature dessert (if not its signature dish), the Chocolate Soufflé. If you are dining at Palo, this is one dish that you absolutely cannot miss. It is no stretch to say that this is one of the best desserts that I have had in any restaurant anywhere. Upon being seated at your table, you are asked if you will be ordering the soufflé for dessert since each are cooked to order and take the duration of your meal to prepare. Presentation is a major component of this dessert as, at the table, your server will puncture a hole at the top of the soufflé and then pour in the chocolate and vanilla sauces. There is nothing not to like about this dessert. Served piping hot, this is extremely rich and decadent and comes served alongside a scoop of vanilla gelato, which provides a light and refreshing contrast. Even after all the food you have throughout the course of your meal, you cannot help but eat this entire dessert.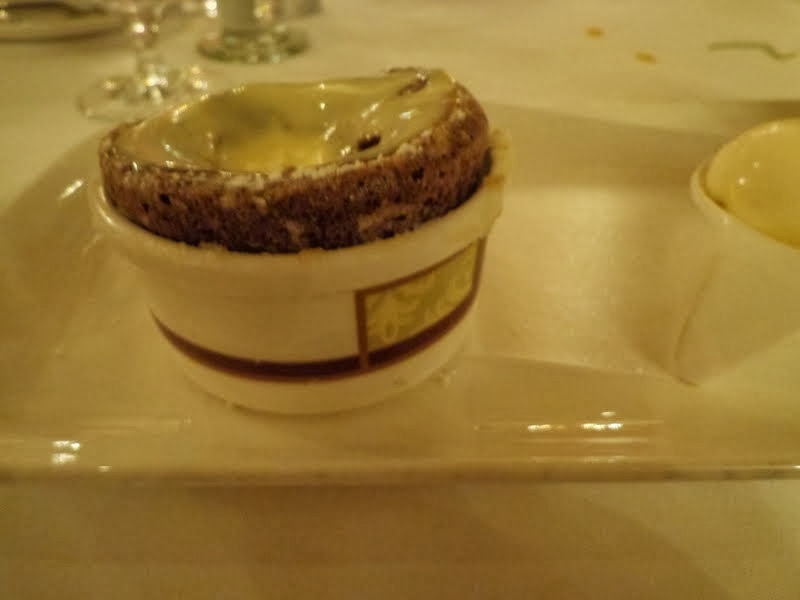 Service:
This is yet another area in which Palo excels. To be fair, no matter where you are dining aboard the Disney Dream the service is tremendous but Palo takes this service to an entirely different level. Your server is always there for you, the smaller size of the restaurant meaning that each server has fewer tables to wait upon. This also means that each server can really take their time to get to know you and get a sense of what types of dishes you would like to try. In the times that I have dined at Palo, I have had multiple servers bring out additional dishes that I did not even order because they thought that it would be something I might like to try. One time I even had a server who said, "Just let me take care of you" and proceeded to bring out dish after dish without me even choosing anything from the menu. Another quality of the service at Palo is that they really allow you to take your time and enjoy your meal at a relaxed pace. It is not uncommon for a dinner here to last anywhere from two and a half to three hours, so be sure to plan accordingly. Dinner at Palo is more than just a meal, it is meant to be an experience and the service and pace of the meal both contribute to allowing you to enjoy every dish and drink to the fullest extent.
The Overall Experience:
With the meals on a cruise included in the price, some might question whether paying the extra $25 to dine at Palo is worth it. My answer to this is absolutely yes. While Royal Palace, Enchanted Garden, and Animator's Palette are all very good in their own right, Palo is at an entirely different level. Everything about the dining experience, from the elegant atmosphere to the northern Italian-inspired cuisine to the attentive service, is of the highest quality. With a prime location on deck twelve, the views are unmatched by any of the other dining locations aboard the ship. Meanwhile, its smaller size makes for a much quieter and more intimate dining experience. If you are looking for a romantic night out or for a little alone time away from the kids, there are few better places to go aboard the Disney Dream. It is unquestionably one of the best dining experiences I have had at anywhere on land or on sea.
See past restaurant reviews by guest blogger Andrew Rossi.
Check out Reader Reviews of the Disney Dream's Palo and post your own too!