If you're a regular reader of AllEars.Net, you and I (obviously) share a love of Disney, and perhaps other theme parks, as well. As my husband likes to say, we're of the same tribe. With so much in common, I'm guessing that you may also share my enjoyment of walking through all the gift shops at Walt Disney World and even the Disney Store at your local mall. You never know if you'll find something new that you really "need," right?
It may surprise you that, although I love to look, I'm not an avid collector of Disney merchandise like many fans. Unlike perhaps many of you, I do not even have a Disney-themed room in my house. Don't get me wrong — I admire the attention to detail and hours of hard work that other fans have dedicated to recreating their favorite attractions or spotlighting their favorite characters in those rooms and which house their beloved merchandise. The Haunted Mansion seems to be an especially popular theme these days for some Disney fans. And have you seen the amazing Pirates of the Caribbean room Jack Spence has just conceived and created in his new home?
At my house, though, the Disney reminders are subtle yet sprinkled here and there like pixie dust through the rooms. Nonetheless, these items achieve the same effect that I imagine a Disney room would for others — they make me smile and remember with fondness the occasion during which I purchased or received them.
T-shirts aside, here's a look at some of the Disney-themed merchandise my family has collected through the years that have become part of our daily lives:
** Fab Five popcorn set. This includes a big metal bowl and four smaller bowls, each decorated with a different character. We've had this set for years — it wears well! It's our tradition to always use it for movie night at home; each family member uses his or her own bowl with a designated character. I bet you can guess who gets Goofy, right? The set still is for sale at Walt Disney World, and I believe it costs about $35. I love giving this set as a house-warming gift.
** Mickey Mouse-shaped cookie cutter. This is my other go-to kitchen item from Walt Disney World. For the longest time, the baking tools were hard to find, and I used an egg yolk shaper to make cookies and cut out my kids' sandwiches for school. Now, they are readily available at the theme park and sell for less than $10.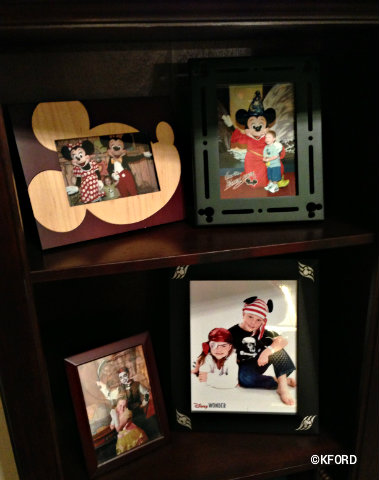 ** Wooden Disney-themed picture frames and photos from Disney's PhotoPass. Some of the most cherished souvenirs I have from our theme-park trips are the professional photos of our family we have purchased over the years. My husband has to listen to me deliberate whether we should spend the money each and every time — especially when we take the same shot on my camera — but I have never been sorry I purchased the prints or downloads. There have been plenty of times when I offload the photos at home and they are not as I expected. There is no replacing the photos that show each child's wonder at meeting Mickey Mouse for the first time or the sheer joy of standing on the deck of a Disney Cruise Line ship.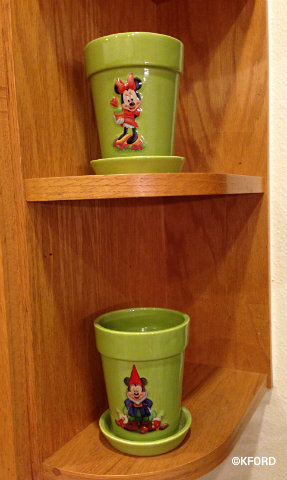 ** Mickey and Minnie garden statues and small pots for plants. Merchandise at the Epcot International Flower and Garden Festival tempts me every year. So far, I have kept my purchases to the garden statues and these tiny green pots. I keep the statues on our covered patio and the little planters in the house so the Florida sun cannot fade them. All of these items are still sold at the festival, though in different versions each year. If I remember correctly, the statues were about $25 apiece.
** Seasonal merchandise. Bring out the Halloween- or Christmas-themed merchandise in the Walt Disney World gift shops, and I have to shop! Halloween is more of a Not-So-Scary affair than a Haunted Mansion ghost-and-gravedigger theme at our house, so we have plenty of lighted Mickey-shaped jack-o'-lanterns — but there's always room for one more! And, of course, we have Disney Christmas ornaments and mugs for hot cocoa. One of my favorite traditions is giving our son and daughter Disney World-themed Christmas pajamas each year, too.
** Walt Disney World monorail play set. My son has been receiving pieces of the monorail set for Christmas since he was very little. It began when he was fascinated by the Dumbo attraction, and I found the toy ride at one of the outlets. He finally completed the set this year when he received the retired Mad Tea Party toy. When my son was younger, he would spend many happy hours playing with these toys, which have since become collector's items.
** Disney-themed bags. If I collect anything, it's Disney purses. I have one Dooney & Bourke bag that I carry every day. Best gift ever! I also received each of the three Vera Bradley Disney patterns on hipster-style bags that were released in the fall. These are my favorite bags for a hands-free day in the theme parks.
I'm sure each of you has Disney-themed merchandise that you just can't do without, too. Tell us in the comments, please, so we can all plan our next shopping trips!