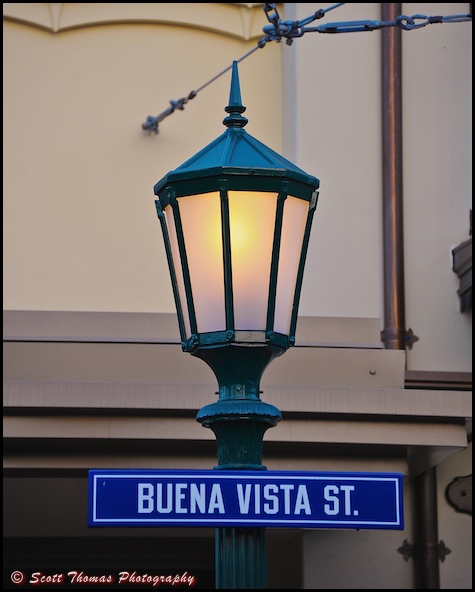 Buena Vista Street lamppost sign.
Nikon D700/28-300VR, 1/125s, f/5.6, ISO 360, EV 0, 210mm focal length.
Disney parks are known for their Main Streets. In Disneyland and the Magic Kingdom, I have walked up Main Street USA. In Disney's Hollywood Studios, it's Hollywood Boulevard. For California Adventure, Buena Vista Street is where you enter the park and takes you back to the time when Walt Disney first came to Los Angeles in 1923. Complete with buildings, characters and music from the era. There is even a Red Car Trolley to transport you up the street, around Carthay Circle and off to Hollywoodland.
Red Car Trolley on Buena Vista Street.
Nikon D700/28-300VR, 1/400s, f/10, ISO 200, EV 0, 50mm focal length.
Like its other themepark Main Streets, Buena Vista Street is full of stores where you can buy all manner of souvenirs, clothing, gadgets, toys, candy, coffee, baked goods, fresh fruit and accessories for your digital lifestyle. You will find helpful Cast Members ready to answer your questions about the park, assist you with a problem and trade the ever popular Disney pins.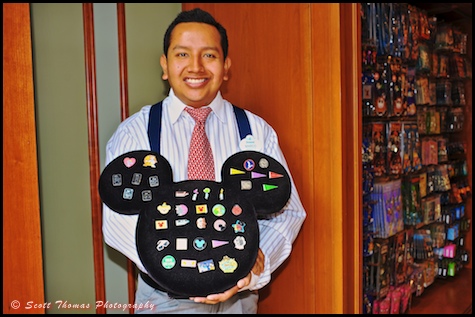 Cast Member ready to trade pins on Buena Vista Street.
Nikon D700/28-300VR, 1/60s, f/5, ISO 200, EV 0, 34mm focal length.
At the end of Buena Vista Street is Carthay Circle. Carthay Circle is the "hub" of Disney's California Adventure. Throughout the day you will find entertainment in the way of Five & Dime (the gal is named Dime) and the Red Car News Boys with a very Walt Disney like costumed Mickey Mouse reliving the days when anything seemed possible in California.
Entertainers performing around Carthay Circle.
I always smile when I find a reference to Walt Disney in the parks. In one of the display windows of Elias And Company, I found this publicity photograph of Walt Disney nicely matted.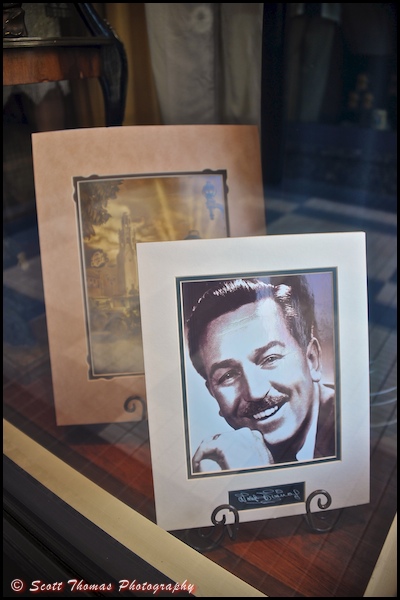 Photo of Walt Disney in the Elias & Co. store window.
Nikon D700/28-300VR, 1/125s, f/3.5, ISO 250, EV 0, 28mm focal length.
Buena Vista Street is full of great details to find and photograph, wonderful atmosphere and the famous Disney Magic. Fits right into my definition of a Disney Main Street.