Thanks for coming back for the 2nd half of my didn't-go-as-planned getaway. If you missed last week's entry, you can read it here.
Upon waking up on Saturday morning at Ramada Gateway, I realized I was covered in sweat from my head to my cute wide feet. The flashbacks started to my Walt Disney World visit last May (I never learn, do I?) when the same thing happened and I knew it meant I had sun poisoning. I gulped down half a liter (shout out for my readers outside the US) of water, made a few non-prank phone calls, showered, dressed, iced my achilles, and stared at a broken television. At check out, I told the girl about the broken TV and how security had tried to fix it and said he would have someone make notes in my reservation. Guess what? There wasn't any mention of the TV not working. The front desk clerk said she couldn't give me a partial refund because I had prepaid through a travel agency so she gave me a coupon for a free continental breakfast.
My longtime friend Joe (good evening, Joey) called me back and read me the symptoms of sun poisoning and how to take care of it from WebMD. I checked nearly every box. Hooray! I got an A.
I've never been served a continental breakfast before. The beyond-a-shadow-of-a-doubt New Yorker who served me gave me various choices. I went with cottage cheese, a bagel, fruitcup, and some hideous tap water. The Coke I requested was Pepsi. Ech. I took the Pepsi Challenge multiple times and always picked Coke. You can't fool me. I also had Chobani yogurt that I'd bought the night before at a grocery store practically beside the hotel but I didn't have any silverware until now. You should have seen me try to make microwaveable Kraft Monsters Inc Mac 'n Cheese the night before using a coffee stirrer. It was like an episode of Seinfeld and I was Kramer.
My next, third, and final hotel for the weekend was Pop Century. When I checked in online, I informed them of an early check-in, before 7 AM as I had planned to stay up all night at Magic Kingdom. The security guard was the most jovial I have ever met. She laughed at me when I told her I had sun poisoning. I didn't take it personally, her personality made it difficult to be upset. Cast Member Allen tried to land me a room that was ready but it was a no-go. He had me cracking up as he demonstrated how I should "run from shadow to shadow" to avoid more sun exposure and worsen my condition.
My friend Tracy (see, I have multiple friends) called and sued her medical assistant/mommy voice and told me I had to stay out of the sun for 24 hours starting yesterday. I listened and follow instructions. I lingered around the lobby, had some snacks in the food court, made lunch plans for Sunday with my cousin Matt, signed up for a Disney Vacation Club tour with a pick-up in just 20 minutes, and called to check on my room. It was ready! I dropped off my bags and saw that housekeeping was next door so literally, my room had just been cleared for check-in.
Shortly thereafter I was in a van and off to Saratoga Springs at 1:20 PM for my 2nd DVC tour. The driver was very friendly, too bad he didn't give me the actual tour. Instead I wound up with Joshua from Bethesda, MD. He plopped down on a couch and began reading me the riot act, telling me I had signed up for tour after tour so why was I there again and what did I need because people either buy right away or come back once more and buy. According to him, Disney knew more about me than the NSA (National Security Agency. He insulted my photography skills by saying he didn't know why I was taking photos to show my mom when the website ones were better. He criticized the fact that I was staying at Pop Century and not at a Disney Vacation Club resort. Yeah, he was the kind of real estate agent that doesn't belong there and Disney will get a letter from me in greater detail.

Gamorrean at Disney's Hollywood Studio, nice guy.
A different driver, who was also very nice, took me back. I had considered eating and shopping at Saratoga springs but after dealing with Joshua, I wanted to get away from the place. I had a chicken sandwich ordered to go so I could watch TV in my room, relax and watch Flea Market Flip. After lunch I failed at napping.

The party atmosphere had begun. I liked this DJ's blend of Disney songs and Star Wars music.
Evening had begun and I headed off to Disney's Hollywood Studios. The plan was to take it easy, get character photos, have dinner, and see what Darth Mall had to offer. Finally, things got better. I grabbed pics of Darth Goofy, some Star Wars characters, and a video of Darth Vader walking from the gate to his photo op location, back towards Pixar Place, and then turning back towards his meet and greet spot.
I had tried to get into Mama Melrose's for dinner and was told they could possibly take walk-ins after 8:30 PM. No problem. From there I watched Jedi Training Academy with special guest Darth Maul. It was pretty funny. I couldn't tell if the kids got to battle him and Darth Vader or one or the other because I came in late. A little shopping was on the agenda. I got myself a Passholder Star Tours name tag. It's black with pretty gold letters. I'm Leia from Naboo and before you think I'm a nerd (I'm a dork), Leia is my Hebrew name so my name tag is legit-ish.

Whoever was running the Angry Birds game at Darth Mall flew the coop.
It was about 9 o'clock now so I tried Mama Melrose's again where I was initially told they weren't taking walk-ins anymore. The hostess called 50's Prime Time Cafe and Brown Derby but neither one was taking walk-ins. Finally, it sunk into her head that I was a party of one and suddenly they could take care of me. In fact, I was seated at a table that was empty (they had plenty of open tables) from the moment I arrived. Chef Rafa took great care of me and I had a very friendly server. I wish I had written down his name because if I guess at the spelling, I'll butcher it. He's a cute fella from Morocco. Dinner was chicken, penne, and vegetables. I took half of it back to the room.

She's not in the photo but I swear the Jedi Master and Darth Maul had googly eyes for each other. It's like Romeo and Edna just in a galaxy far, far away.
Sunday morning came around and I quickly packed most of my stuff, got ready for the day, and polished off last night's leftovers. Why not, protein is good for me. After much back-and-forth discussions within my head, I decided to start out at Disney's Hollywood Studios. It was closest to Pop Century and a quick drive to Downtown Disney where I planned to meet up with my cousin for lunch.
Traffic was crazy just in that short distance. It was like being in Los Angeles where driving 1 mile takes 10 minutes. Parking was off the charts. Stage was practically empty but we were routed down and around to Music/Donald, row 62. I got into the park around 10:30 AM and hung out in the shops until the parade started. Then I ventured out into the shaded side of the street, about 5 rows deep and became that person who holds the camera high up in the air, angles it down, and uses the flip out LCD screen to see. If anyone had been behind me, I wouldn't have done it.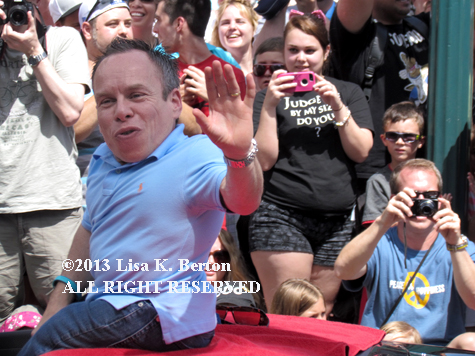 I didn't even notice what's going on in the photo until I edited it.
I spent the next few hours getting more character photos and avoiding the sun. The Great Movie Ride came as a great relief from heat and we got the cowboy live-action sequence. When did Alien move back to the wall? I kept looking up until I realized nothing was popping out. Oh, maybe the other guy went away for the holiday weekend. That makes sense now. Another great place to cool off is The Magic of Disney Animation, they have padded benches in each room. You can also watch Drawn to Animation and sit in an actual chair. Party like a rock star! I grabbed an eclair and bottle of overpriced water at Starring Rolls and sat in the shade. Thankfully, I also had a package of tuna with me. I was starving. I called Matt, my cousin, and the call went straight to voicemail. I left him a message and never heard back. He's coming up here in a few weeks for a family affair. If you could see the expression on my face you'd be scared of what's going to happen to Matthew, and you should.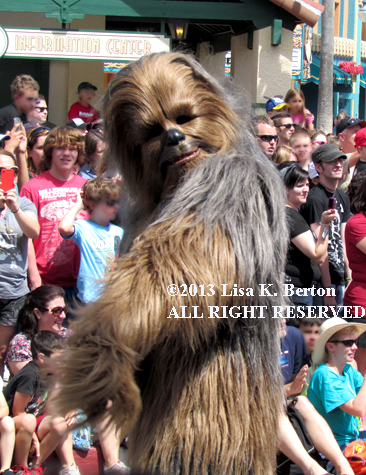 Chewie strikes a pose. He's too sexy for the heat.
The car told me it was in the mid 90's. Knowing I should keep out of the sun because I felt as though the sun poisoning may have returned, I headed to Downtown Disney to see a movie. Once I was informed that AMC is split into 2 different theaters, I tracked down the one I wanted. With my kid's pack in hand, my face beat red, and my heart racing, I plunked down to watch Star Trek into Darkness. The theatre was cool and refreshing, at first. About 30-40 minutes into the movie I was freezing and couldn't figure out if I had chills from sun poisoning or the room was just too dang cold. My nose started getting stuffy, my throat was closing, and I felt crappy. I found the manager and told her I thought it was the theater. She asked for the number and when I told her she said they were waiting for maintenance to fix the air conditioning, it was in fact, busted. She offered me a full refund and a pass to use at home. Now that's excellent customer service.
It had cooled off outside and there was a good steady breeze coming off the water. Still feeling off, I asked a pin cart worker if they had a First Aid station. There isn't one and by no means did I require emergency medical attention so I sad and drank my water and called my mommy. The Cast Member was very nice and lent me a water squirting fan and talked to me. A late lunch was necessary so I walked to Planet Hollywood.
My friend had given me a gift card for the restaurant. I had a baked potato and a plain chicken sandwich for $13.00. Yes, that is above normal chain restaurant pricing. Anyway, while I was there I started getting phone calls from Southwest. The 1st one said my flight had been delayed from 9:10 PM to 12:30 AM. Guess whose face turned red again?! The car was due back at 7:30 so I stuck with the original plan. When I gave the waitress the gift card she said I either had to use the whole thing ($25) or pay. They couldn't give me a credit for the balance. I paid, Southwest called back and my flight was now back to its original time and I took my gift card into the gift store.
Long story short, I didn't buy anything. I complained that I've never had a gift card that forces you to use the full amount in one transaction. I was given a coupon for 20% online purchases and the store manager's business card. Aside from my fiasco in April at Trump Taj Mahal where they wouldn't take my Trump gift card, this was the worst gift card headache ever. There's more to this story but I'm in the middle of said Planet Hollywood manager completing my online transaction because the website isn't designed to take a gift card.
I was so happy to head to the airport until Southwest called me, again, and again, and again. By 8 o'clock, they had called me 5 times. By the time we got on the plane at 11:15, they had called 3 more times. I found out there was a mechanical issue with the plane early on in the day. They replaced our airplane around 8 but the only crew they could get was coming in from Milwaukee at 10:30. It was a loooooong day. I slept almost the entire flight home and then had to drive another 45 minutes to my house.
I'm not going back to Walt Disney World in May or June, July, August, and probably not in September. If I ever buy into Disney Vacation Club, it won't be through Joshua. John Ames is a great friend and travel agent. Be nice to airline employees, especially when things are out of their hands. They just might give you special treatment. Clouds can trick you into thinking the sun isn't as brutal as you might think. Finally, I think that the skywriter working on "Jesus loves you" should have spelled out "Jedis love you", that would have been perfect themeing.
Come on over and "Like" my Facebook; page or follow me on Twitter, my handle is lisano1.