Animal Kingdom's newest attraction, Wilderness Explorers, is built around a theme from the Disney-Pixar film "Up." One of the main characters in the 2009 animated movie, Russell, is a Wilderness Explorer, which is a fictional version of Boy Scouts. As Russell is working to earn his final merit badge, he gets caught up in an elderly man's drama and ends up traveling on an unexpected journey.
Now Walt Disney World's newest theme park has developed a Wilderness Explorers program that encourages kids to learn about specific areas of their world by earning merit badges, similarly to how the group functions in the movie. The Wilderness Explorers attraction at Animal Kingdom, which debuted June 1, is open to all guests, though the materials are geared toward kids ages 7 to 10.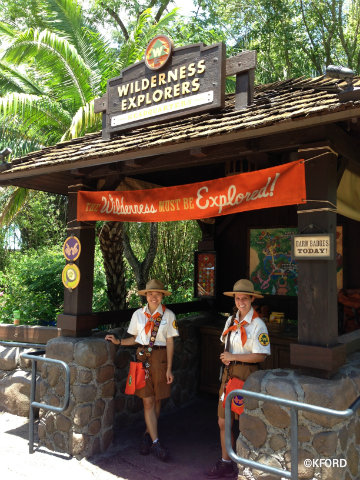 With both of my children in the target age range and involved in real-life Scouting, our family was eager to try the new attraction this weekend. To get started, we visited the first troop leader post, which is located just over the bridge on the edge of Discovery Island. (There are other starting points in Africa, Asia, DinoLand U.S.A. and Rafiki's Planet Watch.)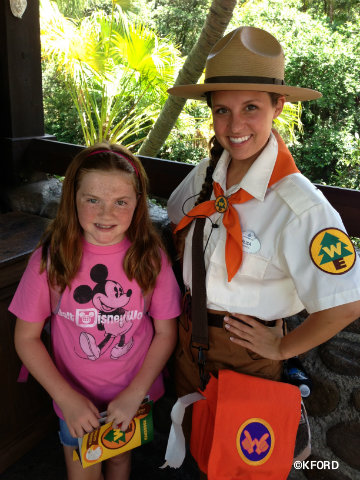 Troop leaders initiate kids by teaching them the Explorer call, which has three hand gestures and corresponding vocals: "The wilderness must be explored!" with hands framing a view; "Caw Caw" with hands shaping a bird; and "Roar!" like a lion (or other large beast) with paws up and out. They also say the Wilderness Explorers' Motto, which is a short pledge to be "a friend to all, be it plants or fish or tiny mole." Like real-life Scouts, kids earn their first badges after mastering the group's mission statements, and they receive a handbook outlining the other merit badges they can earn and a sticker to wear in place of "uniform."
Wilderness Explorers can complete 30 additional badges — which actually are stickers placed in their handbooks — in any order or timeframe they choose. They don't have to be finished on the same day.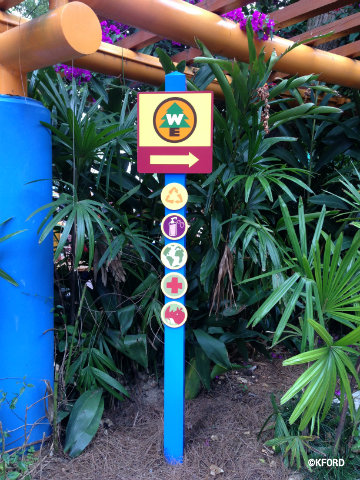 In several sections of the park, multiple badge locations are grouped together, making it easy to complete related badges together. For example, six Wilderness Explorers stations can be found at Rafiki's Planet Watch. Here's a plan: Ride the Wildlife Express Train to Rafiki's Planet Watch, stop to earn the Habitat badge on the walk to the Conservation Station. Once inside, learn about Animal Nutrition, Veterinary medicine and Recycling to earn badges, which are requirements for the Conservation badge. Step outside into the Affection Section, a petting yard, and earn the Hand Washing badge after visiting the animals. Be sure to check the map in the handbook indicating locations for each badge to plot your course.
Habitat badge
Animal Nutrition badge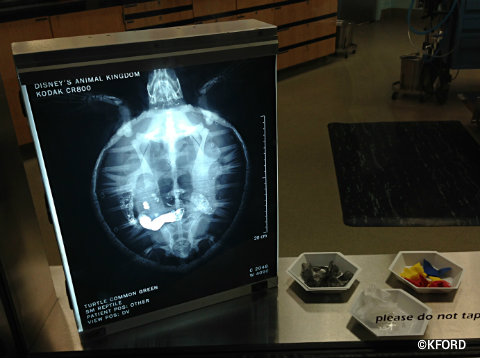 Veterinary badge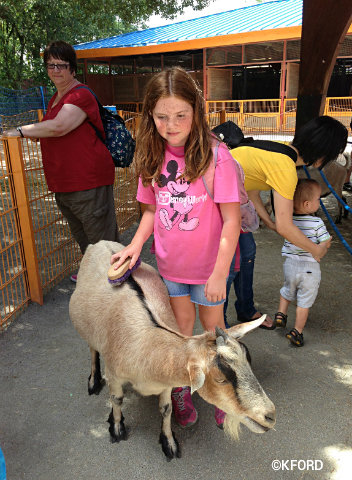 Brushing animals before earning Hand Washing badge
Some badges are more interactive than others, and that certainly affects the interest levels of the kids participating. My children really enjoyed the Animal Find badge, which challenged them to find 22 specific animals anywhere in Animal Kingdom during their day. When we stopped at the locations for the Asian and African Culture badges, they were taught a foreign-language phrase and were less enthusiastic about those experiences. Overall, my 8-year-old daughter was more excited about the Wilderness Explorers attraction than my 10-year-old son. She was happy to learn at each station and wanted to complete as many badges as possible. My son, on the other hand, was embarrassed to wear the Wilderness Explorers sticker and thought many of the exercises at the stations were too easy for him.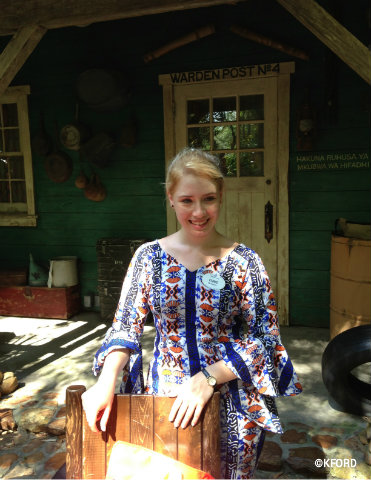 African Culture badge
Wilderness Explorers has replaced the Kids' Discovery Club program, which featured six learning stations throughout the park. Those stations, such as one where kids dig for fossils and then assemble a color-coded dinosaur, have been absorbed into the new program as badge locations.
Wilderness Explorers is included in regular admission to Animal Kingdom. The attraction opens at 10 a.m. daily, one hour after the rope drop.