Chef Tony Mantuano of Chicago's Spiaggia, Cafe Spiaggia and Bar Toma will be hosting an adult cooking class at Downtown Disney's Portobello Restaurant on Friday, June 14.
During the two-hour Pantry Raid cooking class, Mantuano will show participants how to use ingredients most people keep on hand at home to create a variety of Italian specialties. Among the demonstrations are pickling vegetables, fresh pasta preparation, and balsamic and honey tastings.
"Like our cooking classes for children, this class will have ample participation from audience volunteers, and the dishes that are demonstrated will be served to the class," said Steven Richard, area chef for Levy Restaurants and former executive chef at Portobello.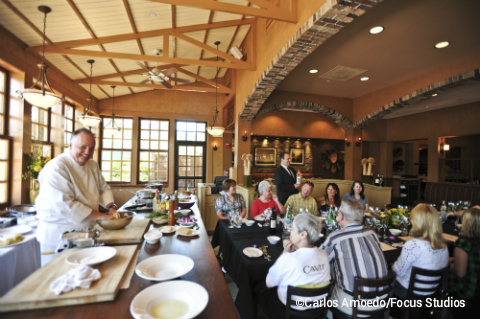 Also, wine will be paired with each of the dishes: Zonin Prosecco with antipasti, Bertani Valpolicella with pizza, Mazzei Badiola with pasta, and Ruffino Moscato with dessert.Ӭ
Certainly, attendees at cooking classes have a desire to become better chefs themselves. I recently asked Chef Mantuano, though, what he thinks motivates adults to become creative cooks.
"I think adults are inspired by memories from their childhood and from their travels. We all want to recreate a dish our grandmother made or other family recipes. We also want to recreate them with our own little twist," he said. "I've added a few of my nonna's recipes, some with my own take, at my restaurants. I also love traveling and bringing home food memories to recreate favorite dishes or meals with my family or at one of my restaurants."
The Pantry Raid class is designed to appeal to cooks of all skill levels, and Mantuano will offer tips, tricks and strategies to take away and use at home. For beginning cooks — who might feel motivated, yet overwhelmed, by the many possibilities — Mantuano offers this advice:
"Start with something simple and make a cuisine or dish you already like or know. This way you know what to expect in the end.  You do not want your first attempts at cooking to be overly complicated or with cuisines you're not sure of the flavor profile. For those who like authentic Italian food, I'd suggest making a spaghetti pomodoro. Find a great dried pasta brand, such as from Giuseppe Cocco, and a pomodoro recipe online either with fresh tomatoes (in the summer) or canned San Marzano tomato puree. This is typically a simple and easy-to-follow recipe that will help build up confidence in the kitchen. From there they can start advancing with other recipes." 
Mantuano encourages budding chefs to enjoy the entire creative process involved with cooking. He said he thinks many adults actually find the most pleasure in shopping for each dish.
"I think adults like sourcing ingredients the most. Going to their local grocery store or food shop to pick out the ingredients themselves is an exciting part of the process, especially as they get to know their butcher, fishmonger, cheesemonger, and others," he told me. "I think the more adventurous like going to the market and seeing what is in season and then figuring out a menu."
ҬThe Portobello Pantry Raid cooking class, which runs from 1 to 3 p.m. June 14, is $49.95 per person. The class will be capped at 32 participants to maintain an intimate experience with Chef Mantuano. To make a reservation, call 407-828-8996.