Best Friends Pet Care at Walt Disney World
When families travel to Walt Disney World for the holidays, many wouldn't dream of leaving their pets home. And although most of the resorts on Disney property do not allow animals to stay with their humans, there is a special facility that not only welcomes furry friends, but caters to them, as well.
Best Friends Pet Care opened a luxury kennel at Walt Disney World in 2010. The national chain is known for its customized services and the individual attention that employees give each client. The Lake Buena Vista facility took those concepts a step farther, offering pets some over-the-top amenities, including a private dog park with a walking trail and a 1,300-square-foot "canines only" splash pad.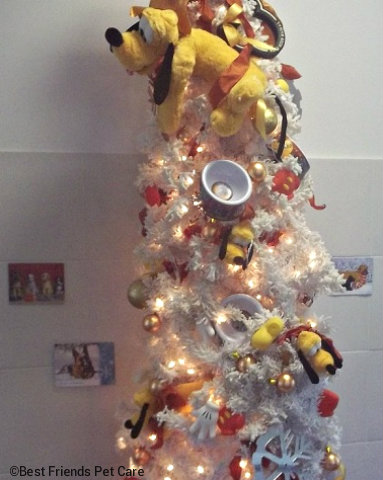 Pluto is, of course, a popular theme at Best Friends Pet Care at Walt Disney World.
During Christmas week, Mrs. Claus will be visiting and having her photo taken with guests. (Santa is too busy!) And on Christmas Day, dogs and cats who are boarded will be served a holiday dinner. For dogs, the meal includes turkey, carrots, green beans and sweet potato biscuits; cats are treated to caviar and shrimp.
Best Friends associates Aimee (left) and Joann lead the dogs in "reindeer games."
As a result of special touches such as these, the kennel is often a busy place, but never more so than the weeks surrounding Christmas and New Year's. In fact, Best Friends at Disney World is fully booked for overnight boarding and day care through Jan. 2, 2013. There is a waiting list, too.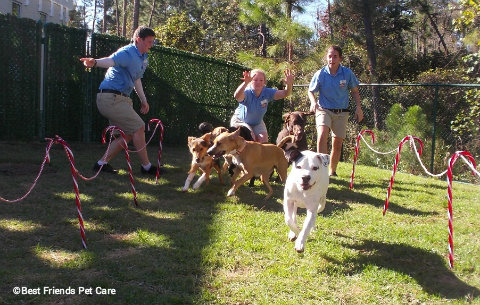 Dogs are cheered on during Candy Cane Races by Best Friends associates (from left) Crystal, Joann and Taylor.
At this point, those guests on the wait list may be lucky to have a day care spot open up with a last-minute cancellation, but overnight boarding is unlikely, said spokeswoman Debra Bennetts. She recommends making holiday reservations by Oct. 1 at the latest. Bennetts said some families reserve one of the four VIP (Very Important Pet) suites — with raised-platform beds, flat-screen televisions and private, covered outdoor play yards — a year in advance.
A VIP (Very Important Pet) suite
Even if you can't book a stay for your pet at the local Best Friends site, you still might be interested to know about other events being sponsored by the company. Disney World's Best Friends location is celebrating the winter holidays in a variety of ways, including decking the halls and helping the less fortunate. Each of the 42 pet-care centers in the chain has an Angel Tree in its lobby with paper ornaments featuring photos and information about dogs and cats waiting for permanent homes. Guests are invited to choose a rescue or shelter animal in need to help with basic supplies.
Best Friends associate Adam and guest dog Trinny pose near the Angel Tree at the Disney World location.
Donations to the Walt Disney World facility benefit Pet Rescue by Judy and Paws for Peace Kennel at Harbor House of Central Florida, a shelter for domestic-violence victims. Best Friends contributes to these organizations, as well, Bennetts said. The Angel Tree program is accepting donations through Dec. 31.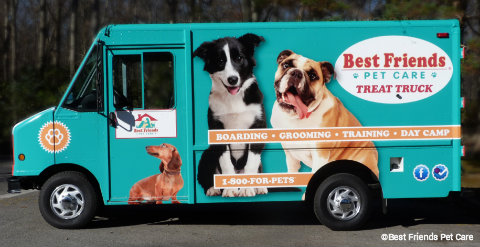 Best Friends Treat Truck
Want to give your pet a free taste of the good life? Best Friends' Treat Truck has been traveling between cities where the kennels are located. Today (Dec. 20), the truck will be parked at Partin Triangle Dog Park, 2830 Neptune Road in Kissimmee, from 3 to 6 p.m. Canines are invited to sample doggy ice cream and cookies while their owners learn about the fun and services offered at Best Friends centers.
The Treat Truck will remain in Orlando in January, before heading to Texas in February and then north through the spring. Check here for the official tour schedule.
Check out the AllEars Reader Reviews (and leave one of your own)