Walt Disney World is, of course, known for making memories that last a lifetime. For Disney fans like me who live locally, the memories may even include celebrating recurring holiday activities, such as a visit with Santa Claus.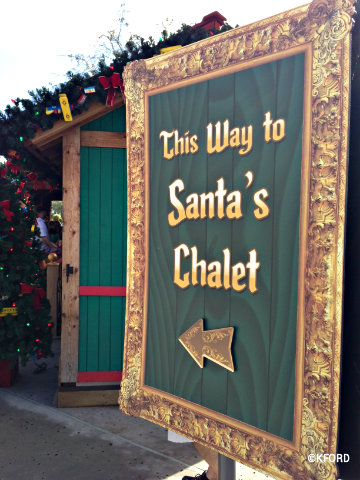 My son was just months old when we stopped to see Santa at the Downtown Disney Marketplace for the first time in 2002. Since that year, we have revisited Santa's Chalet there several times.
Along the way, we learned a few things. Here are some tips that might save you time and hassles:
** If you want to see Santa when he arrives at noon, get in line well before that — especially on weekends and as Christmas draws near. We arrived about 11:45 a.m. last Saturday and waited a little over an hour for my children's turn with The Big Man.
** If you're not working around nap schedules or restaurant reservations and are flexible on time, get in line after the initial crowd disperses and you'll have a shorter wait. Santa will appear at his chalet in front of World of Disney from noon to 9:30 daily. He takes short breaks at 2:15, 4:45 and 7:30 p.m.
** You can take photos with your own camera, but be aware that you will be standing slightly off to the side, unlike the professional photographer. Also, the lighting in the chalet leaves a lot to be desired for folks using point-and-shoot cameras or cell phones. It certainly can be overcome with a more advanced camera, though. Ideally, you might want to try setting your light metering before it's your turn to talk to Santa. If there's a long line when you arrive, you still might be able to stand to the side and set up your camera for the optimal setting.
** Don't despair if you don't have fancy photo equipment! Professional photo prices are reasonable, compared with visiting Santa at many malls and events. I speak from a decade's worth of experience of meeting Mr. Claus when I say this. You can order a download of your favorite photo on DisneyPhotoPass.com for the regular price of $15 (and it's on sale now for $10). Once you download the photo, you can make as many prints as you wish.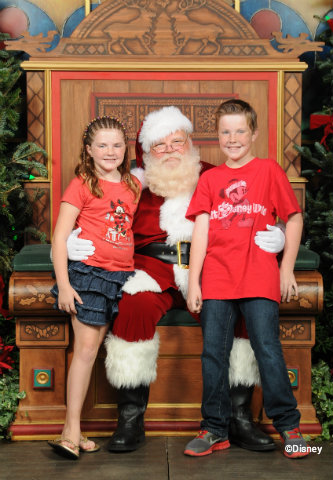 Despite his busy schedule the week before Christmas, Santa Claus will be making varied appearances at Walt Disney World. It would seem impossible, but the Jolly Old Elf can be found in these additional locations:
** Epcot: Santa and Mrs. Claus listen to guests' wish lists and pose for pictures at 1:30, 3:30, 5:30 and 7:30 p.m. daily through Dec. 24 at The American Adventure. Plus, each country in the World Showcase also features storytellers who describe local holiday traditions. In many countries, the storyteller is a representation of Santa, such as Pere Noel in France and Father Christmas in England.
** Magic Kingdom: Santa makes an appearance at the end of Mickey's Once Upon A Christmastime Parade at Mickey's Very Merry Christmas Party. Remaining dates are tonight (Dec. 180 and Dec. 20, 21. (Dec. 21 is sold out.) Admission to the party requires a separate ticket.
If he's not called back to the North Pole, Santa likely will be in the Magic Kingdom on Dec. 22 to 24 and in most hotel lobbies between 5 and 9 p.m. on Christmas Eve. (At Fort Wilderness, he can be found on the porch at Crockett's Tavern.)