For Disney guests who book a magical cruise, the island of enchantment now awaits.
Disney Cruise Line recently added a new port of call on the Disney Fantasy's Eastern Caribbean itinerary: San Juan, Puerto Rico. And the cruise line offers passengers a wide range of opportunities to explore the island through its 26 shore excursions.
Last week, I was among the guests exiting the ship and stepping into the rich history of the U.S. commonwealth. For me, it even was a homecoming of sorts because I lived on the island when I was in elementary school and hadn't been back to visit in more than 20 years.
Although my family chose to visit our favorite places on our own, I can tell you that Disney Cruise Line's offerings will give guests a true taste of the Puerto Rican culture. What and how you experience it depends on your selections.
There are typical Caribbean outings such as a beach day in Isla Verde, snorkeling from a catamaran or scuba diving. My family always enjoys these types of excursions, but I think choosing them in Puerto Rico is almost doing yourself a disservice when there are so many unique experiences to be enjoyed.
The Disney Fantasy docks in historic Old San Juan, and this part of the capital is marked by narrow brick streets with many artisans' shops, authentic Spanish and Caribbean restaurants, piraqua (shaved ice) vendors in parks, and two of the oldest Spanish forts in the Caribbean. Passengers from many cruise ships wander this area without guides, and it generally is considered safe for tourists.
Still, Disney Cruise Line offers walking and bicycle tours and shuttle excursions of Old San Juan, too. Some include the exploration of San Cristobal fortress, and one allows passengers a hands-on cooking demonstration and lunch.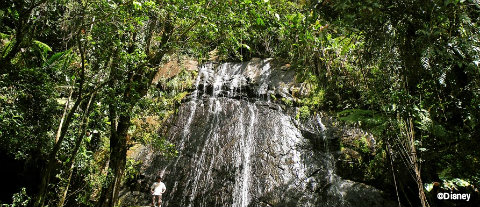 Another wonderful place in Puerto Rico to explore is its tropical rainforest, El Yunque, which is part of the United States National Forest System. Disney Cruise Line offers port adventures for hiking, horseback riding and ATV exploration of El Yunque. These excursions begin with a 75-minute ride from the port to the rainforest. Once you arrive, be on the lookout for waterfalls and listen for the persistent sounds from coquis, Puerto Rico's native frogs.
Passengers who enjoy active adventures also can experience the natural beauty of Puerto Rico from a kayak or zipline. A less strenuous taste of the island can be enjoyed with a tour of Puerto Rico's famous Bacardi rum distillery, the largest in the world.
Finally, Disney Cruise Line offers its passengers the opportunity to create their own customized itinerary for the day by choosing a private car and English-speaking driver for 4 or 8 hours. (Spanish and English are official languages of Puerto Rico, and English is spoken in all major tourist areas.)
The Disney Fantasy is scheduled to stop in San Juan on select Eastern Caribbean sailings through April 2013.