To all who come to this photo trivia game, Welcome! Along the way, the photos can make us relive memories and see details Walt's Imagineers put into everything we love in Walt Disney World!
Hold the phone, Players! Barrie Brewer, as I mentioned a couple weeks ago, started this weekly challenge to point out details in the Walt Disney World resort. I've also said that I would do horribly at this game if I didn't have the "teacher's book" with the answers in it, per se. This is a perfect example: Bill McKim was the first winner for the Jungle Cruise sign Field and Spice sign challenge. Bill McKim is the name of the man in the Test Track film: "Hi, everybody. Welcome to the Test Track. My name is Bill McKim, I'm up here in the control center and in just a couple of minutes you're gonna be out there on that track." Wow! Kudos to Karen Smith for noticing that! I am whatever is beyond impressed! OK, Bill, is that your real name or where you trying to see if anyone would notice? Either way, thumbs up on the name!
Belated Happy Birthday to Kerry Mccaffrey! I hope you had a great time at your celebration!
Time to wave Bon Voyage to Kara Cummings and Kelly Cummings! We know you'll have a wonderful time! Enjoy the magic! Take me with you!

On the other hand, Mary Beth Tarbet has the post-magic blues. Time for one of these?

Here was the challenge last week:

And here's the answer: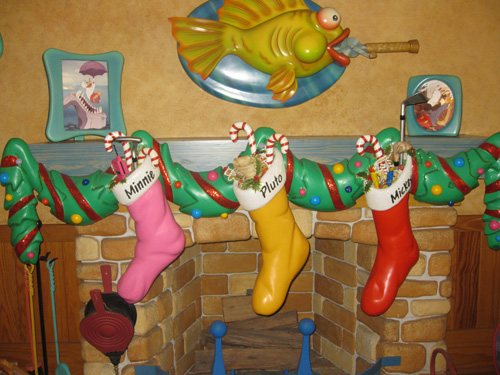 Copyright © Erin Blackwell
This fishing trophy hung above Mickey's mantle in his house in the erstwhile Mickey's ToonTown Country Fair in the Magic Kingdom. As you can tell, I was visiting Mickey at Christmastime for this picture!
Like the majority of you said in your answers, I love that we are getting new things in Fantasyland, but I wish they had incorporated it with ToonTown. "It all started with a mouse", so instead of his house being gone, I'd like to have seen ToonTown expanded with these new elements blended to it. Maybe move it over to the Studios with the full details that Disneyland has. And an Epic Mickey state-of-the-art ride with Mickey and his brother Oswald saving the day!
Jeremy Mccaffrey was the first to send in the correct answer! Congratulations to Jeremy and to all the readers who got the answer right: Craig, Jenny Brennan, Patti Mccaffrey, Diane Curfman, Jen Cerce, Gabriella, Terry And Matthieu, Alicia Henderson, Mary Beth Tarbet, Jim Riddle, Evanna Huda, Laurie Walker, Larissa Huda, Ken Clark, Brian Gallant, Bill Mckim, Sharon Pierce, Janet Thorn, Paul Knott, Jennifer Richmond, Janice, Kara Cummings, Candy Dadswell, Christina R, Evelyn Vertefeuille, Scott Cullen, Misty Mehelic, Belicia Cullen, Kerri Coggins, Kelly Cummings, Stephanie Newell, Megan W, Rob Blundin, Doug Olson Family, Walter N. Clark, Clay Anthony, Paul Dickson, Vera Williams, Chris, Amanda & Maranda Nichols, Rita Henderson, Hoekzema Family, Dallas Hamilton, Cameron Lange, Tricia Noble, Lisa Zitek, Monica Owens, Joann Albrecht, Sharon Dale, Les Stewart, Lauren Blundin, Shirley Garcowski, Claire Gregory, Joseph M. Zafia, Kerry Mccaffrey, Ainsley Poe, Josh Weiss, Vicki And Elizabeth Edwards, Emily Hudson, and Evald Olson. Each of you are entered in this month's winners' drawing.
_____________________________________________________ _____________________
Challenge #258: Where in the world is this?
Staying in the parks!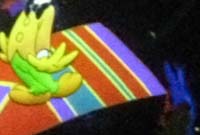 Do you know? Do you have a guess? Please send in your answer, before the end of the day on Thursday, December 13th, by clicking on the blue box below. Please do not post answers using the Feedback Form link at the bottom of this post.
See you next week, Players!


_______________________________________________________________________
Everyone who sends in a correct answer to a Where in the World Challenge this month will be entered in a drawing at the end of the month for some special AllEars® goodies!