Riding around on the monorail just for the sake of doing so is a nice way to relax and see things from a different perspective. It's even better when you can find yourself a window seat without standing passengers in your compartment.
There are 3 routes to enjoy. For those rushing back to their vehicles from the Magic Kingdom or who've just arrived at the Ticket and Transportation Center (TTC), take the express train. This is the shortest ride and only serves two stops, Magic Kingdom and the Ticket and Transportation Center.
The second longest ride makes 4 stops and is referred to as the monorail resort route. Stopping at the Ticket and Transportation Center (TTC), Polynesian Resort, Grand Floridian Resort, Magic Kingdom, and Contemporary Resort/Bay Lake Tower (BLT). You can get off or on at any of these enormous resorts and go shopping, enjoy breakfast, lunch, or dinner, check out the overall themeing, or watch the Electrical Water Pageant.
Your third option takes passengers from the Ticket and Transportation Center to Epcot and back. This is the longest and most scenic of the routes. Monorails actually loop above Future World giving Guests a bird's eye view of the beautiful and colorful landscaping.
I picked up my Canon EOS 30D with Canon 17-40mm L USM lens, set it to Shutterspeed Priority at 1/500, the ISO at 400 which I later upped to 500, and grabbed a few shots before feeling crowded. If you're traveling with a point and shoot camera with manual controls, you can do just as I did. Otherwise, you can try Sports Mode. No matter what you shoot with, keep the lens as close to the monorail window as possible to reduce reflections.

Space Mountain is viewable from both the express route and resort route.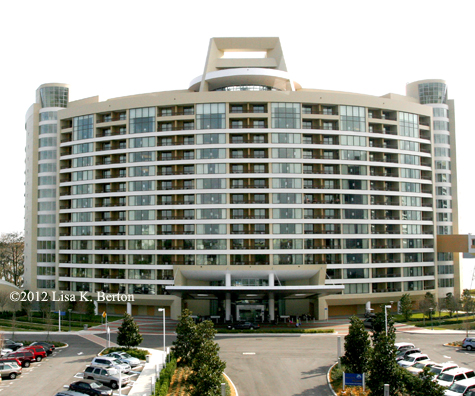 The world's largest BLT, although not at all easily digested.

Take a gander at Chef Mickey's, a buffet with characters.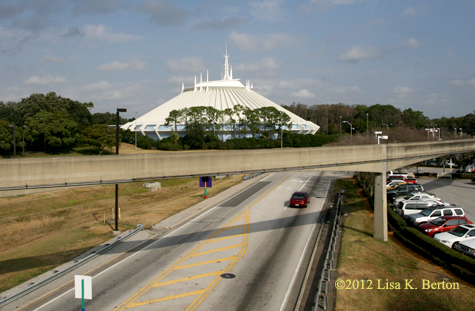 Space Mountain again? Yes, so you can see the express route track, literally.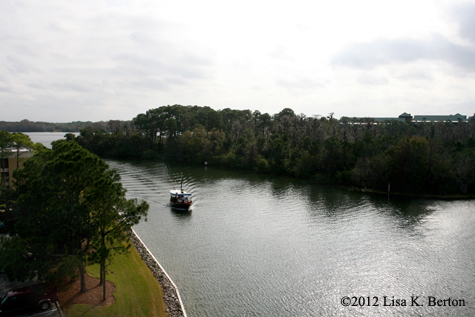 Bay Lake ripples between the Contemporary Resort and Fort Wilderness. Catch the free ferry service from Ft. Wilderness to the Magic Kingdom.
Hop on board my Facebook page.