Italy is hosting three Food and Wine special events this year and any one of them is worth a try.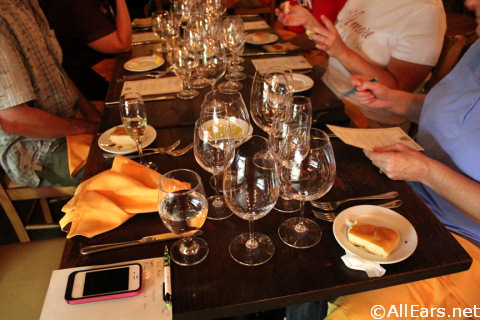 First, the Italian Food and Beer Pairing at Via Napoli which Linda already blogged about,
Then there is the Italian Food and Wine Pairing, also at Via Napoli, which we have yet to blog about.
Finally, brand new this year, is the Italian Regional Food and Wine Luncheon at Tutto Gusto.
"The new Tutto Gusto wine pairing event will showcase a variety of regional Italian wines. These wines have been selected to pair perfectly with freshly prepared Italian dishes. The pairings will be presented in the new Tutto Gusto Wine Cellar that has been modeled on an authentic rustic Italian wine cellar."
Our luncheon featured the wines of San Giuseppe, located in NE Italy! Owner Bob Musso was at the event and I so enjoyed talking with him. Bob not only spoke to the entire group about each wine, but worked his way around to each table several times chatting about his wines and answering questions. His enthusiasm and knowledge really added to the event.
The staff at Tutto Gusto was also excellent and kept our bread plates full of the yummy focaccio and our glasses filled with our choice of still or sparkling water (Pelligrino).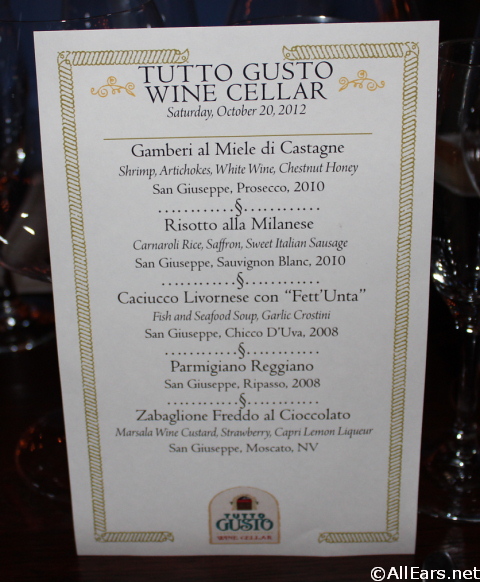 Once I saw the menu, I alerted one of the Cast Members about my shell-fish allergy. Soon, Dan, the restaurant manager, was over to explain what alternatives they were able to offer. I was thrilled!
Let's get started with the food and wine:
Gamberi al Miele di Castagne
Shrimp, Artichokes, White Wine Chestnut Honey

Served with San Giuseppe, Presecco, 2010

The artichokes were fried and had a light crust, the shrimp steamed and complemented by the chesnut honey.
The Prosecco, a single vintage brut, was perfect for our opening wine with it's light crispness.
My substitute was a fresh green salad with a light Italian vinaigrette. I was happy to start off light knowing what was in store for us.
Next …………………
Risotto alla Milanese
Carnaroli rice, saffron, sweet Italian sausage

San Giuseppe, Sauvignon Blanc, 2010
The risotto – OMG (oh my gosh!). It was done al dente, perfect for my tastes (although several at our table wished it were cooked a bit more). Creamy and luscious, the flavors melted in my mouth. The red sauce was very light and the sausage turned out to be a small touch blended in the red sauce. I don't think any of us tasted the sausage, but we didn't need to. Each person at the table finished their bowl and most of us wanted to pick it up and lick it! Yes, it was THAT good. I asked if it were served in any of the restaurants and learned it is available with seafood in Tutto Italia.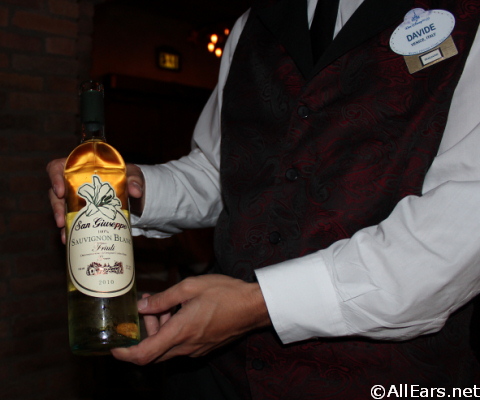 The risotto was paired with a Sauvignon Blanc, which should have worked well. However, of all the wines we tasted, the Sauvignon Blanc was my least favorite. It was very earthy, grassy and almost, well, gravelly.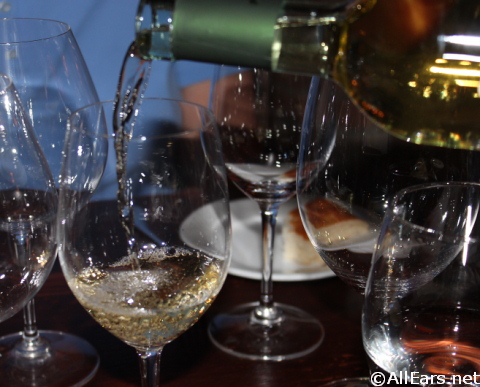 Course number 3…..
Caciucco Livornese con "Fett'Unta"
Fish and Seafood Soup, Garlic Crostini

San Giuseppe, Chicco D'Uva, 2008
The soup was light with a slightly sweet taste. There were scallops, mussels, clams, white fish and a light broth.
My substitute was Zucchini Parmesan. Another OMG, it was SO yummy. Paper thin slices of zucchini layered with tomato sauce and Parmesan cheese, topped off with fresh basil. More please?
The Chicco D'Uva wine was medium bodied and dryy' it went well with the food.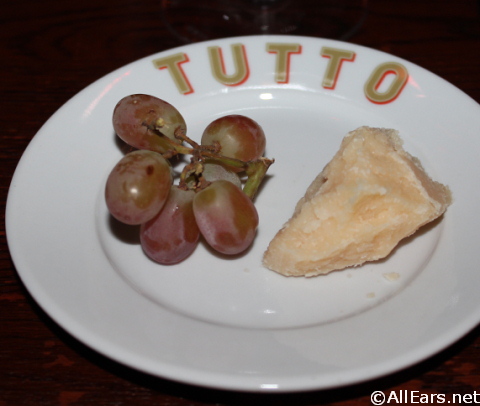 Parmigiano Reggiano – Grapes and Parmesan Cheese

San Giuseppe, Ripasso, 2008
While the Parmesan cheese didn't excite too many at my table, I LOVE it, especially with a good red wine. Needless to say, I enjoyed myself.
The grapes for the Ripasso are from the Negrar Hills of Verona Italy; 70% Covina Veronese, 15% Corvinone, 15% Rondinella
Loved the Ripasso, the most full bodied of the wines we tasted. " San Giuseppe's master craftsmen place the grapes of this Valpolicella through a double process to ensure its rich, velvety smooth taste. After an initial fermentation, the young wine is mixed with just-pressed Amarone skins to undergo a second fermentation or ripasso. This process enriches the wine, adding body, rounded texture and a complex bouquet. The wine is then matured in oak barrels to obtain exceptional balance and harmony."
And our final course
Zabaglione Freddo al Cioccolato
Marsala Wine Custard, Strawberry, Capri Lemon Liqueur

San Giuseppe, Moscato, NV
The dessert was light and flavorful. A perfect ending.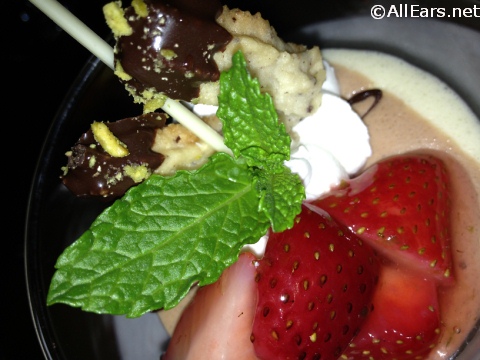 The Moscato was a pleasant surprise. We were all expecting a heavy sweet wine, but it had a soft sweetness and tiny light bubbles that made it refreshing and a nice complement to the dessert.
Some of the San Giuseppe wines can be found in local stores, Publix for those in Florida.
The prices are reasonable (all estimated under $20/bottle except the Ripasso around $25) and the wines are worth a taste.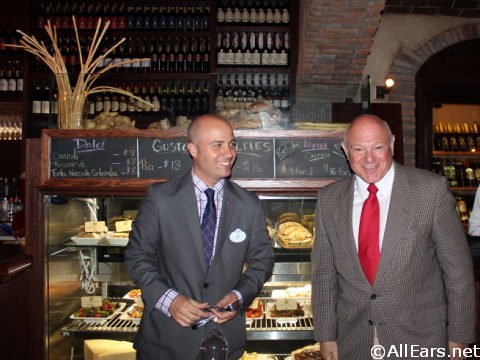 The event started a bit late but once the food and wine began to flow, I don't think anyone cared. It was nicely paced and lasted about 2 hours. I do wish the Chef had come out more often to talk about the food. I enjoyed myself and will return if offered next year.
You may still be able to sign up as the lunch is offered Wednesdays and Saturdays, Noon-2:00pm for $75 plus tax (gratuity included). You also need your own theme park admission. A "regular" told us each week has the same food, so Wed and Sat will serve the same and then it changes the next week.