To all who come to this photo trivia game, Welcome! Along the way, the photos can make us relive memories and see details Walt's Imagineers put into everything we love in Walt Disney World!
Happy Birthday, Karen Ramirez! May you have a magical year!

James And Kathy Berry, you're at Walt Disney World the week before me! We'll have to wave as we pass each other!
Mike and Susan Hill asked what's the largest number of correct numbers we've ever had. OOOO good question! We actually set a new record last week: 555! So it's a good thing you asked or I wouldn't have noticed!
Heather Young and Lauree Little, thank you so much for the lovely messages!
I can't get over the number of people who are on Disney vacations and stopped to check out "Where in the World"! Of course, you had to tease me about being in places like the Italy Pavilion (Rob & April Vanderpool), just got there & looking forward to a whole Disney trip (Caroline Burmester) and enjoying Magic Kingdom (Les Stewart). Then there's Danielle Ciotti Harsley in Bermuda!
And while you were all playing around the World for last week's Challenge, Annie Snodgrass is there now for this week. Have a great trip, Annie! Are you going to get Oswald the Lucky Rabbit ears? I bet you are!
Here was the September 23rd challenge:

And the answer:


Copyright © Erin Blackwell
Penny Urell, put on your rain poncho because we are staring up at Chickapin Hill before someone else plunges down Splash Mountain into (say it for us, Matt Holley and Herb Miller) Pleeeeeease, Brer Fox, roast me if you have ta. But please don't throw me in that briar patch! Just where you can get really wet, right Taylor K? Which is nice if you want to cool off, as Janet Thorn pointed out or, on the flip side, get colder on a chilly day. Sadly true, right Paul Moore?
And thumbs up to our Disneyland brethren, Nicole Fink and Craig, especially Nicole who has never been to Walt Disney World and still knew exactly what this was. 🙂
Do you guys deliberately sing in your answers, Players? Because you know the song gets stuck in my head and I have to break out with it? Is that what you did, Patti Mccaffrey & Steve Knapp? The Patterson Family? Patrick Broaddus? Hmm? Jason & Melinda Lenz? Because here we go! Everybody, sing!
Zip-a-dee-doo-dah, Zip-a-dee-ay!
My oh my, what a wonderful day!
Welcoming back Brer Rabbit today.
We always knew that he'd get away!
He's had enough of movin' on now.
It's where he's born and bred in.
The briar patch is where he's headin'.
Zip-a-dee-doo-dah, Zip-a-dee-ay!
Wonderful feeling, wonderful day!
By the way, the singing chickens on the riverboat? One of my favorite things in all the World. Just so you know.
Rob Jacob, I want to ride with you and your daughter. She's got connections!
Jennifer Rowell was the first to send in the correct answer! Congratulations to Jennifer and to all the readers who got the answer right: Evanna Huda, Virginia Pierce, Chris Masse, Linda Scrivano, Davidw, Tanya Hinnes, Mary Beth Tarbet, Mike Walter, Larissa Huda, Ed Elder, Barbara Ajak , Nicole Amidon, Sharon Pierce, Mike O'brien, Jenny Brennan, Linda College, Bruce Jones, Curtis Bille, Cynthia Hitchcock, Chris And Alison, Tinkerbell W, Deb Ragno, Mackenzie D., Kerry A, Chris Kelly, Veronica Peterson, Maggie Klotz, Scott Mitchell, Hunter Armstrong, Laurie Walker, Louise Barton, Ken Maikowski, Emily Jabas, Paul Dickson, Emily Hudson, Belicia Cullen, Scott Cullen, Bill And Jack Foley, Kelly Zanauskas, Christie, Maryann Eckenrode – Courtney Crow, Team Hill, Michelle Mcspadden, Vicki Edwards, Kristi Strembicki, Leach Family, James And Kathy Berry, Annette Nuenke, Steve Narel, Dave Wang, John Hout, The Moore Family, Kameo Crea, The Omeara Family, Wendy Barney, Griffin Harpel, Hannah Couture, Becky Norman, Pam Lorenz, Double Family, Betsy Silvestri, Carolyn Como, Angie Young, Carol Bolger, Janine Pelfrey, Allison Fourney, Jen Richardson, Colette S, Eileen Wiederspan, Amy Schweizer, Anne Marie Cronin, Sam Magri, Bob Rowan, Colette S, Anne Marie Cronin, Kerry-lynn Mcgregor, Crystal King, Allie Foster, Gabriella And Matthieu, Heather Devito, Mindy Adams, Dawn Lamothe, Melissa Skinner, Josh Weiss, The Kahle Family , Gordon Cavalero, Karen Ramirez, Kandis Dawkins, Chloe & Karen Boosey, Erin, Jason & Melinda Lenz, Shannon Milair, Chris Hanna, Tricia Petty, Mary Virginia Clause, Hannah M, Jane Pope, Dave Gross, Candice Grimes, Lois Lynch, John Menjes, Matthew Peterson, Marissa F, Brent Lollar, David Blevins, Claire Gregory, Melissa Such, Alicia Gillmer, Lisa Rhinehart , Heather Young, Kevin Jones, Trisha Malinky, Debbie Desimone, Jessica Iglesias, Jennifer Walker, Trina Noggle, Tamara Michaelson, Kathy Morris, Kathy Miller, Linda Shatzer-miller, Kely Deleon, Paul Moore, Marsha Waidelich, Sandy Weiss, Kathy Huckabee, Kenny, Kathy Huckabee, Brian Barbieri, Ronnie Schreyer, Mary Emich, Brian Gallant, Carla Nale, Steve Cummings, Susan Karberg, Karen Stevens, Taylor K, The Kertes Family, Amanda Sage, James Schmidt, Tracy King, Kim Howe, Chris Linscott, Meredith Rule, Trisha Johnson, Vicki Maciag, Catherine Anderson, Maureen Handy, Danielle Ford, Sharynne Smith, Katerina Purdy, Kelsi, Juli W, Dee Dee Kenney, James Dezern, Marcie Moss, Rebekah Anguish, Mike M., Pamela Bainter, Kerri Coggins, Patti Gumiela, Gary Cruise, Chris Horne, Janet F, Bonnie C, Brendan Abel, Jamie K, Bruce Hinterleitner, Angel Diven, Janet Thorn, Connor Neal, Nancy Jordan, Stacy Wilson, Ken Daube, Gerald Skanes, Lindsay Coram, Steve Smith, Keirsten Sangster, Gallagher Family, Janet Fishman, Pam Vanaustin, Stephanie, Ed Suscreba, Millie Tenreiro, Lauree Little, Jeffrey Martin, Nicole Fink, Kathy O, Michelle Boewe, Antoinette Leblanc, Kelly Cummings, Kara Cummings, Linda Kasych, Paul Knott, Penny Gibson, Kris Nixon, Stephanie Farneth, Beth Mcmeekin, Erin Hammer, Rob Blundin, Teri & Kelly Michalski, Herb Miller, Jason Hocker, Kent Martin, Chris Rowlands, Chris Connors, Stephanie Newell, Courtney Payne, Julie Wickware, Megan Krainski, Clinton Dickinson, Kim Mobley, Phil Vickers, Allyson & Ben Sodrosky, Scott Precise, Lori Rienhardt, Kelly Mager, Leigh Ridgell, Lisa Zitek, Christina Trigiani, Nathalie Periard, David B., Kim Skanes, The Malesky Family, Chrysty Summers, Diane Curfman, Jennifer Snook, Brian Miller, Jennifer Richey, Stephanie Mcnamee, Mike Mondoux, Stuart Hale, Kellie Conway, Tom Hermes, Tom Koval, Caryn Schill, Penny Urell, Craig, Jan Fee, Nathalie Periard, Lauri Phillips, Hobbes And Snorky, Jim Finley, Betsy Dross, Dan Matheke, Lisa Kuebler, Tom Donnelly , Christopher Barnes, Karen Adamakis, Stacy Aghalarov, Brian Haas, Jennifer Chartier, Al Sandal, Regina Allen, Jeff & Cheryl Simmons, Debbie Kichline, Marshall Stevens, Josh Dean, Jodi Cook, Bob Henriksen, Kyler Scott, Wendy T Faler, Ashley Hill, Staci Plunkett, Kris Blamphin, Sandy Kanigowski, Dave Kanigowski, Misty Mehelic, Sharon Dale, Kerry Mccaffrey, Susan Doucette, Tom Buck, Madison Hovan, Hillary Waldroop, Mary Thatcher, The Palmer Family, Wendy Snelgrove, Tara Weaver, Jaime Thomson, Lorine Landon, Teresa Plunkett, Marjie Phillips, Robert Anderson, Chloe Mayhew, Jennifer Townsend, Jeremy Mccaffrey, Patti Mccaffrey, Bill Demaio, Pam Tees, Bill Demaio, Josh Carney, Jennifer Greene, Andy Hickey, Brenda, Doug Olson Family, Jeremy Hardy, Regina Seaner, Bryan Kruse, Jennifer Bourg, Joshua Swainston, Katie Bray, Toni Smith, Lisa Edens, Daniel Meagher, Wayne Chadourne, Bill Cudney , Jonathan Ward, Kevin Scott, Jean Conner, Billie Jean Albolino, Mike Haven, Becky Fields, Emily Henderson, Jennifer Pulver, The Strukel Family, Lindsay Kasawski, Carla C, Ivanna Strokyaof, Andy Raffel, Laura V, Clay Anthony, Shelley Diederich, Jim Ell, Gaylene, Russ Morgan, Natalie Soares, Derek Carty, Andrew Mulino, Kathy Askew, Matt Holley, Bob Patterson, Cameron Lange, Ken Clark, Wade A. Williams, Dallas Hamilton, Dana G, Brian Grabowski, Mary Kay Samluk, Donna Boyd, Paula Massarelli, Kevin, Andrew Pettit, Stefanie Stewartz, Jessica Folan, Jennifer Harmon, Meghann Zanotta, Kerrie Hogan, Tricia Noble, Elyssa H., Krista Spears, Paul Ignudo, Jr, Erin Loring, Dan Johnston, Diane Hunt, Bonnie Tulenko, Alison Rosenberger, Anna Keene, Amy Young, Kelly Smith, Kate Fischer, Heather Hynes, Melodye Berry, Zachary Ott, Will Gates, Monica Owens, Timothy Hutchinson, Andy Schumacher, Mary Greger, Rick R., Diane Batista, Davida, Tim Looman, Fred Shakeshaft, Noah And Daniel Schweizer, Lindsey Nozal, Shelly Borella, Emily Watson, Brian Nale, Karen Martin, Maryann Romagnano, Carrie Rampy, Jeremy Reichelt, Chris Bauman, Sara Holloway, Emily Dagney, David And Melissa Lizewski, Nancy, Steve Knapp, Karen Smith, Annie Snodgrass, Robert Bostic, Stephanie Linares, Doug Andrews, William Sharp, Michelle Wilinski, Matthew Jadro, Jaclyn Kelch, Debbie Hicks, Debbie Cody, The Patterson Family, Jen Cox, Adam, Mike Hitzel, Elaine Tomko-deluca, Jim Thompson, Jeff Finger, Vera Williams, Robbyn Anglin, Ken Rhinehart, Leigh Mertz, Kristyn Scibienski, Alissa, Patricia Ovesny, Mickey Mouse , Scott Sangston, Jim Logue, Rebecca Keenan, Wendy Mowery, Erin Connell, Matt Ciccone, John Foggo, Patty Carty, Stephanie Hardhouse, Stephanie Dollar, Mike Haeberle, Schuyler Stewart, Patty Rochford, Theresa Rucando, Mary Graves, Heidi Goodhue, Carri Marotto, Kirsten Miller, Allison Esker, Eva Mayhew, Colleen Murphy, Jennifer Mccurry, Andrew Swiatowicz , Jenifer Moyer, Jared Orth, Gregg Mcglasson, Erica Zielewski, Allison Caputa, Walter N. Clark, Kendra K., Blake Schmidt, Les Stewart, Linda Grau, Bonnie Jenkins, Ron Harper, Ariana Stowe, Morgan M., Linda Mac, Mark Proper, Lou Baker, Nathaniel Clements, Chuck Everson, Kathy Rosenwinkel, Joy Ousterout, Brandi Schiller, Angela Fennell, Earl Wilcher, Sonya A., Vanessa Stjohn, Kelly Feeko, Jillian Domings, Sarah Haas, Payton Dross, Kristen Carde, Chuck Everson, Vicki Vaught, Greg Berg, John And Tracey Roerty, Kellie Seberson, Stefan Owens, Danielle Ciotti Harsley, Nicole Shuler, Kelly Rose Barnes, Vickie Scioneaux, Kate Flanagan, Evald Olson, Sharon Leitgeb, Ellen Stevenson, Dawn Bach, Vanessa Gordon, Maureen Hanlon, Jackie Graebel, Liz Moreau, Tommy Montgomery, Jennifer Bogdan, Joseph Zafia, Bill Sherwood, Leah Althiser, Vickie Smialkowski, Deanna Thomas, Tyra Trueblood, Jackie Klafeta, Heather C, Jeff Kays, Trish Babler, Thomas Higbee, Kristen Mccoy, Anastasia Macneil, Emily Harper, Roye Ann Morris, Mickey Eckert, Ed Bene, The Hicks Family, Patrick Broaddus, Diane Ramos, Eric Enli, Maryann Daly, Rob & April – Team Vanderpool, Peggy Saeger, Carolyn Duff, Barclay Bakkum, John Pasqueralli, Stephanie Horning, Lauren Thomas , Liv D., Chrissy D, Kelly Montgomery, Luis Rodriguez, Katherine Gast, Julie And Kody Rider, Elaine Kleinhenz, Bob Burge, Jenny Nijak, Michael Nanney, Robert P. Flaherty, Melissa Littman, Tom Armstrong, Lana Hauth, Bonnie Bradford, Jay Bradford, Chris Stockton, Alan Mize, Andrew Weed, George Mundy Jr, Mike Kaczanowski, Caroline Burmester, Agnes Ciotti, Rebecca Baker, Amy S Kleinfieldt, Rob Jacob, Tracy Discher, and Jessica Reed. Each of you are entered in this month's winners' drawing.
_____________________________________________________ _____________________
Challenge #249: Where in the world is this?
Here it is! The last Challenge for September! Can you believe it?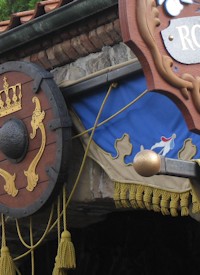 Do you know? Do you have a guess? Please send in your answer, before the end of the day on Thursday, October 4th, by clicking on the blue box below. Please do not post answers using the Feedback Form link at the bottom of this post.
See you next week, Players!


_______________________________________________________________________
Everyone who sends in a correct answer to a Where in the World Challenge this month will be entered in a drawing at the end of the month for some special AllEars® goodies!