I know a lot of you are wondering what's so special about Disney's newest cruise ship, the Fantasy — what's new about it, and what makes it different from its sister ship, the Disney Dream? Deb Koma and I are blogging about those differences as we try to recap our experiences from our three-night media preview cruise on the Fantasy.
The Disney Fantasy has added several new water features for guests to enjoy.
1) Satellite Falls is a great addition to the adult only water areas. Located on Deck 13 forward near the Currents Bar, this brand-new water feature is a circular splash pool with benches and a gently falling rain curtain that provides cool comfort. You can sit inside the rain curtain or outside of it. The water from the rain curtain felt oh so refreshing. In the adjacent areas, soak up the sun in loungers or relax in the shade under a canopy.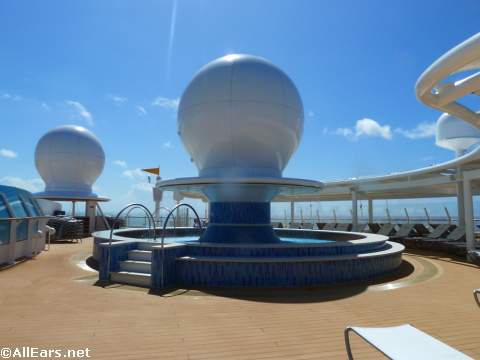 2) The new Wading Pool is located on Deck 12 and available to all cruisers. There is a small water fountain in the pool. You have to step into the pool. An adult will have to lift a toddler or small child inside.
There are some shaded areas on the far sides of the wading pool as well as some lounge chairs. Also, a small stage area in the immediate area for low-key live entertainment (like a guitar player).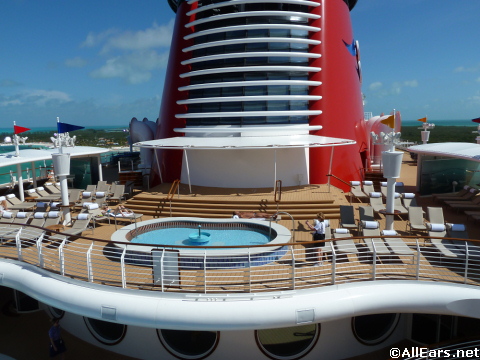 The one odd thing about this wading pool is that it overlooks the quiet adult pool area. In the photo below, the wading pool is on the bottom right and the adult pool is one deck below in the bottom center area.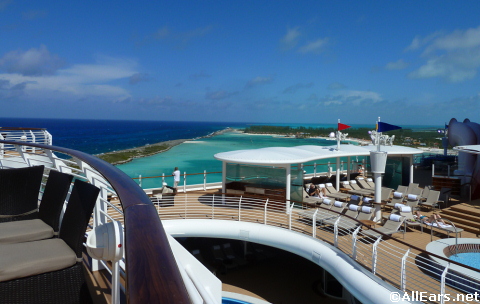 3) Aqua Lab is the brand new play area on Deck 12 near the Aqua Duck. As the story goes, AquaLab was created by Donald Duck's nephews, Huey, Dewey and Louie, and features a variety of water "experiments" designed to drench the whole family.
This area offers lots of fun ways for everyone to get wet. You can experience everything from a leaky wall, spurting pipes, sprays from the Ducky Dinghy suspended overhead and the spinning buckets of Donald DuckBoy that tip over full of water. Hundreds of gallons of water a minute leak throughout the play area. Everything is timed for a wide variety of experiences and water spurts out when you least expect it.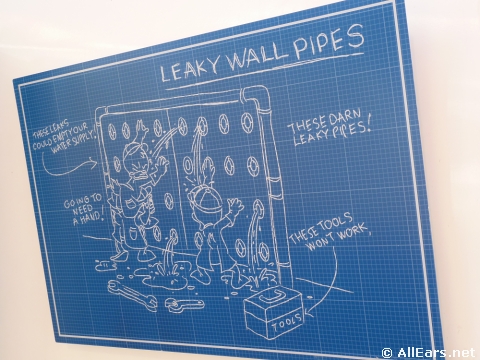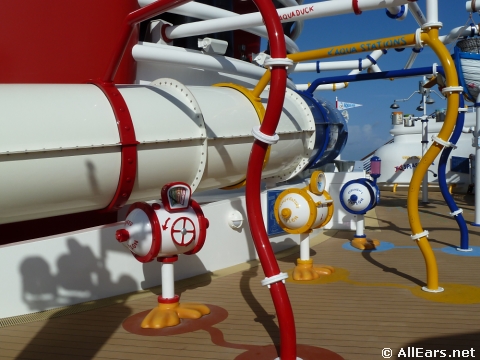 Don't forget to pack your bathing suit!
DISCLOSURE: As an invited media guest, AllEars' cruise expenses for the Disney Fantasy Preview Cruise were paid by the Disney company. Opinions expressed herein are solely mine.