My family and I make deals these days when spending time at Walt Disney World. They give me time to photograph and I give them time to shop. They also know to feed me just to be safe. Like at the Earl of Sandwich when the day calls for a shopping safari at Downtown Disney's Marketplace. Else, I might start to look like Donald Duck does in Disney's Pin Traders.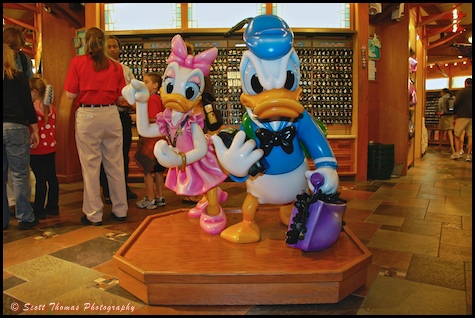 A grumpy Donald Duck in the Disney's Pin Traders Shop at Downtown Disney.
Nikon D70/18-200VR, 1/15s, f/4, ISO 200, EV +0.3, 18mm focal length.
Just beware that even if you are going to Downtown Disney to dine. A few of the restaurants have shops inside of them like the T-Rex Cafe where the popular Mall favorite, Build-A-Bear, has morphed into Build-A-Dino.
Build A Dino shop inside the T-Rex Cafe.
Nikon D70/18-200VR, 1/60s, f/3.5, ISO 1600, EV +0.3, 18mm focal length.
Then there's the World of Disney store. It is approximately 51,000 square feet housing every imaginable kind of Walt Disney World souvenir, clothing and merchandise. The entrance below is guarded by Stitch and is the reason why you should always look up when on Disney property.
World of Disney shop entrance guarded by Stitch.
Nikon D700/28-300VR, 1/60s, f/5.3, ISO 320, EV -0.3, 98mm focal length.
I do find many ways to entertain myself while my family shops. The stores are filled with wonderful details, colors and Disney magic. However, after a while, I do feel like time is just tick-tocking away and we should be getting back to a park for more fun and photography.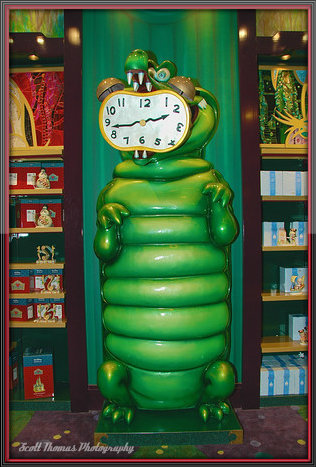 Time ticks and tocks away inside the World of Disney.
Nikon D70/18-200VR, 1/30s, f/5.6, ISO 200, EV +0.3, 18mm focal length, rear-sync, bounced flash.
Remember, give others in your traveling party time to enjoy what their passions are. Even if it means spending time doing things you would rather not be.
I will be off next week for a family vacation. Not to Disney this time though I have a feeling I might find some Disney magic along the way. If you would like, you can follow my non-Disney twitter account here: Scott Thomas.