When it comes to truly immersive dining experiences, Epcot's World Showcase offers a tremendous variety of restaurants to try. While each country's restaurants offer something a little different for guests, they share a common thread in that they all strive to achieve a level of authenticity that helps immerse guests into that country's cuisine and culture. The restaurants in World Showcase are among the most unique in all of Disney World. These are restaurants that are about so much more than just the food they serve; it is truly about the complete dining experience.
These are all restaurants help to transport guests, introducing them to cultures that can sometimes be very different from our own. They are able to do this not only through their unique cuisine, but also through tremendously detailed decors and servers who are actually from that country. My next few reviews will highlight several of these restaurants beginning here with the Rose and Crown, a restaurant that will truly immerse you in the sights, sounds, smells, and tastes of the United Kingdom.
Overview:
When it comes to all the various cuisines found around World Showcase, the United Kingdom is probably not on the top of many lists. Overshadowed by the more well-known foods of other countries such as Italy, Mexico, and France people might tend to overlook the Rose and Crown or dismiss it for one of these other options instead. It is true that the United Kingdom is probably known more for its beer than its food, but a meal at the Rose and Crown will certainly help to open your eyes to the different dishes and flavors of English cuisine.
Here in lies one of the great values of World Showcase, and specifically its restaurants: the ability to allow guests to experience cultures and cuisines that they may have never experienced before. It is restaurants, like the Rose and Crown, that allow guests to step out of their comfort zone and be adventurous, trying new foods and experiencing new flavors that they may never have tasted before. If you have never really sampled English cuisine, the Rose and Crown is certainly worth a visit, delivering a truly authentic and immersive dining experience unlike any other in Epcot.
Atmosphere:
The Rose and Crown's high degree of immersion and attention to detail start before you even set foot inside the restaurant. Even though there is just one restaurant inside, the building's exterior has the appearance a several different structures. The varying architectural details and designs found on the building's facade are meant to reflect four distinct pub styles found in different areas of the United Kingdom (and each is also reflected with a corresponding room inside the restaurant as well). The first style is the "city" or "street" pub that dates from the Victorian era of the 1890s and is distinguished by a facade of brick and wood paneling.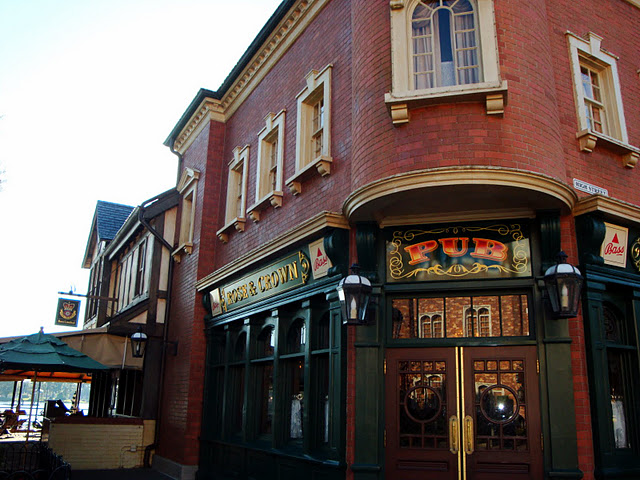 Next comes the Dickensian pub, its Elizabethan-styled exterior includes the restaurant's large brick-walled, flagstone terrace, a slate roof, and a timbered facade. Also featured is the "waterfront" or "river" pub. Located on the rear of the restaurant, facing the water, it is a modest stone building with a clay tiled roof and decorative doorways.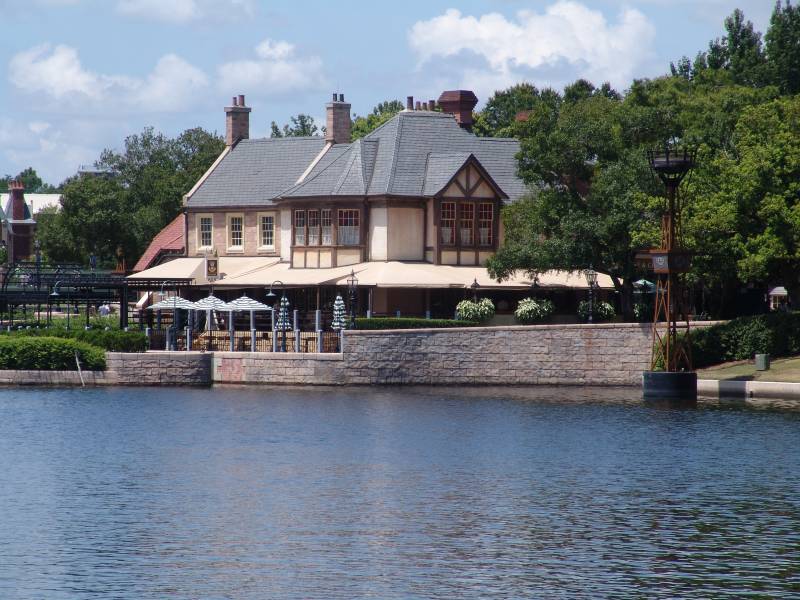 The final section of the building's exterior is the "country" or "provincial" pub found in the suburbs of the 17th and 18th centuries, featuring a slate roof and plaster facade with stone-quoined corners.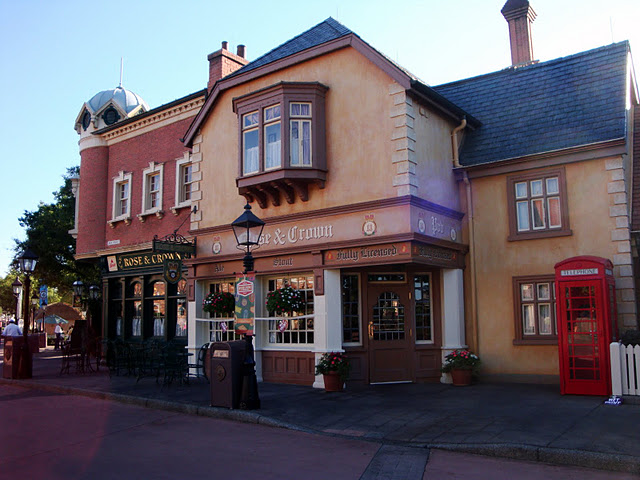 The Rose and Crown is unique among World Showcase dining locations because it functions as both a sit-down restaurant and a walk-in pub. If you enter Rose and Crown through its front entrance you will find yourself in the pub, featuring a large bar as well as some additional seating that is available at a first-come-first-serve basis. Guests can order drinks at the bar to either to have inside the pub or take with them to go. This pub section of Rose and Crown can become very crowded, especially at night and on weekends, and its boisterous, lively atmosphere is carried throughout the rest of the restaurant. This really helps to give Rose and Crown a lively and energetic atmosphere that really makes it feel like an authentic English pub.
As with the pub section of the restaurant, the main dining room (which is actually entered into through a side entrance) features a decidedly laid-back, relaxing feel. In fact the motto of the Rose and Crown, as seen on the restaurant's entrance and on the menu, is "Otium cum Dignitate," Latin for "Leisure with Dignity," which perfectly describes the overall feel of the restaurant.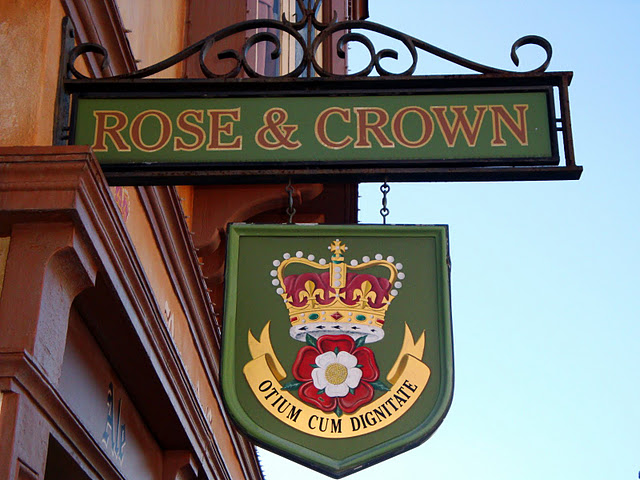 The dining room, just as with the restaurant's exterior, is divided into a series of smaller rooms and as you pass from one to another you are transported to a different styles of pubs found in various part of the country. Each room has its own distinct feel and character along with a wide array of tiny details and theming that help to truly immerse you into different aspects of British culture from different time periods.
The first section is reflective of the Victorian era "city" or "street" pub, the likes of which would have been found in London. This is the grandest and most elaborate of the restaurant's rooms, featuring a large mahogany bar, etched glass, and a molded plaster ceiling.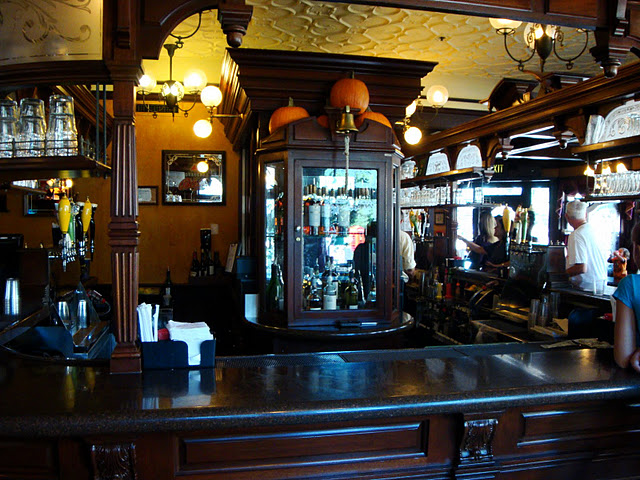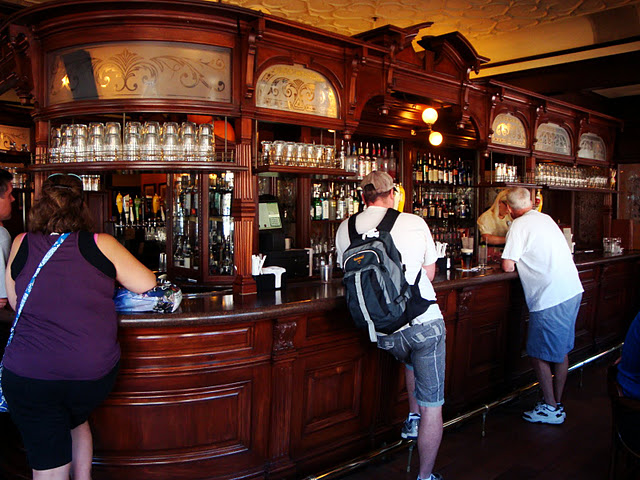 The next room is far smaller and is reminiscent of the "country", "provincial" pubs of the English suburbs. This section has a far more intimate and modest feel. Here you can find many more outdoor, rustic touches such as antlers, a hunting horn, as well as pewter cups and teapots. This part of the restaurant actually feels more like an English country home than a pub.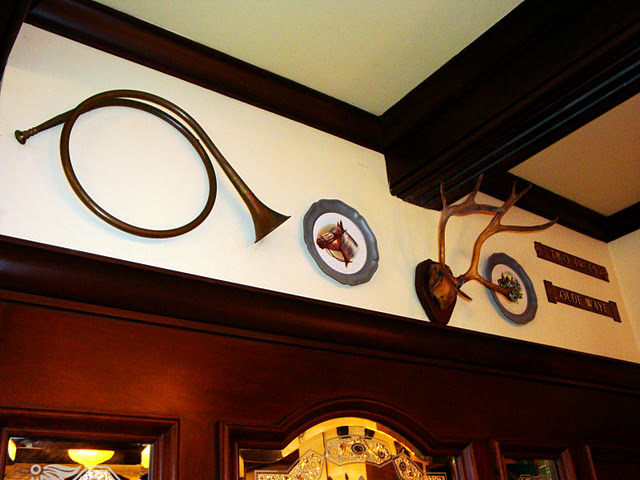 Moving through the restaurant you next come to the room representing the Dickensian pub of the Elizabethan era. This room is not only larger in size, but also features more elaborate and intricate decorative elements. One of the main features of the room is its wood-paneled walls that really help to give the room more of an upscale feel.
Adding to this is the room's large fireplace (although this is just decorative in purpose).
Along the tops of the wall are numerous porcelain dishes of various colors and styles, their intricate details adding a sense of refinement to the room.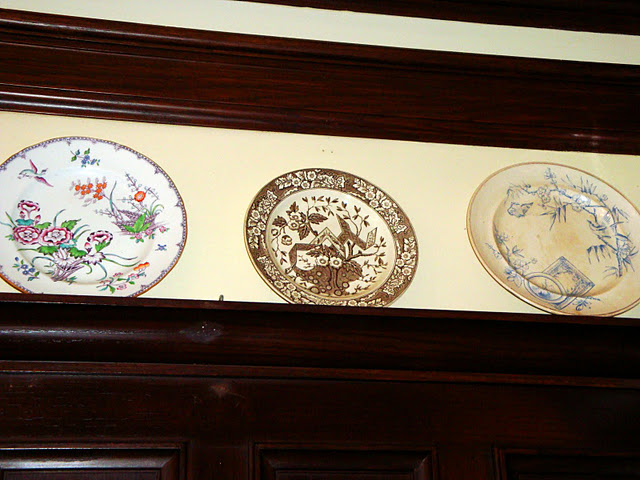 The final room is reflective of the "waterfront" pub and has a distinctive inn-styled feel. Here the walls are completely covered with various knick knacks that reflect the pub's river locale, such as black and white photographs of sailboats, knots, compasses, and other seafaring items. Also adorning the walls are framed newspapers that lend an even greater sense of authenticity to this section of the dining room.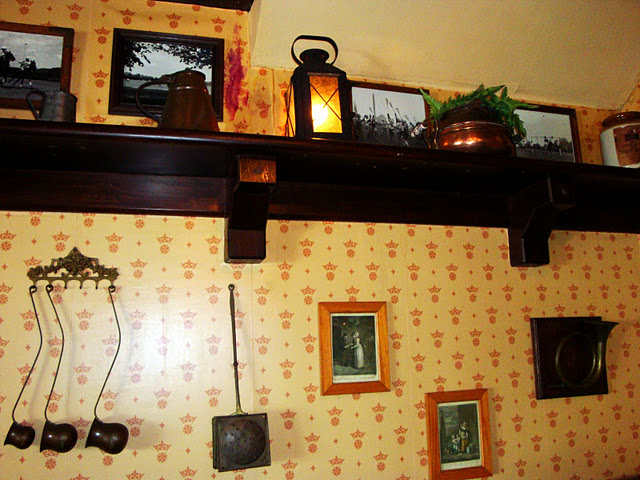 No matter what section of the dining room you are seated in there are large windows that let in ample amounts of sunlight during the day and offer tremendous views of the World Showcase lagoon.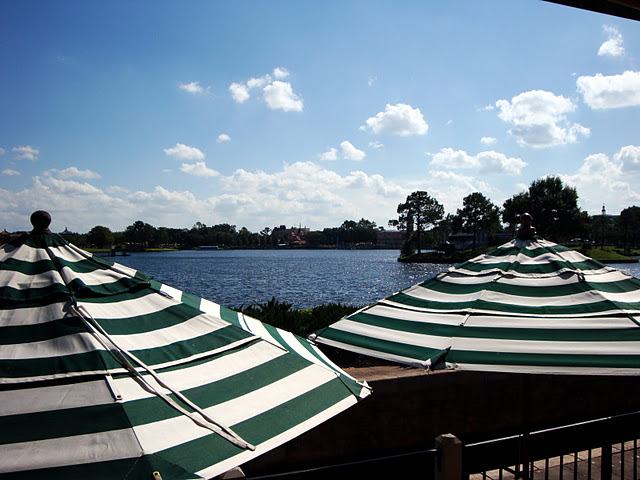 One of the main allures of Rose and Crown is its tremendous location and the ample outdoor seating found on its patio. The restaurant's patio is fully covered and wraps around the entire side and rear of the building; it is a great place to enjoy your meal with a great view.
The covered seating along with the breeze coming off the lagoon means that, even during the hottest months of the summer, the patio is a relatively cool location to enjoy your meal. The patio seating is in high demand during the day, but even more so at night when it is a prime viewing location for Illuminations. While outdoor seating cannot be guaranteed when making reservations at the restaurant, you are able to request a table outside.
Of course, no English pub would be complete without some live entertainment and at the Rose and Crown this is provided by the Hat Lady. With her numerous, crazy, colorful hats, the Hat Lady performs at select times throughout the day in the pub entertaining guests with jokes and encouraging everyone to sing along to well-known songs. One of the loudest moments I ever heard inside the Rose and Crown was when the Hat Lady started playing "Don't Stop Believing" and nearly everyone joined in the chorus.
This entertainment helps provide an added degree of energy and excitement and helps to establish the restaurant's authentic English pub feel. This is not necessarily the type of restaurant to go to if you are looking for a quiet, romantic meal, but if you are looking to have a good time with friends or family the Rose and Crown is definitely a dining location that you want to try and is great for the entire family.
The Menu:
The Rose and Crown features three distinct menus: one for lunch, another for dinner, and a third just for the pub section. The lunch and dinner menus are similar, but have some items that are exclusive to one or the other.
When it comes to appetizers the menus for both lunch and dinner are the same and feature several intriguing choices, some familiar and others unfamiliar. There is a Trio of United Kingdom Pasties ($16.99) featuring a sausage roll, mushroom wellington, and beef pasty, Pan-Roasted Mussels ($10.99) with tomatoes, herbs, and a bass ale reduction, a Trio of United Kingdom Cheese ($9.99), Winter Squash Bisque ($4.99), and Potato and Leek Soup ($3.99), Mary and the Lads ($9.99), shrimp cocktail served with a spicy Bloody Mary mix, and Scotch Eggs ($8.99) which are fried hard boiled eggs wrapped in sausage meat and served with a mustard sauce.
For entrees, the lunch menu includes a Grilled Pork Brisket ($15.99) served with marble mashed potatoes, green beans, and a mushroom ragout, there is also the Sunday Roast ($16.99) accompanied by Yorkshire pudding, roasted potatoes, and seasonal vegetables with a shallot gravy, Bangers and Mash ($14.99), the United Kingdom Pub Burger ($13.99) topped with bacon, cheddar cheese, and crispy shallots, Fish and Chips ($16.99), a Romaine Salad ($13.99) with chicken, bacon, and a mustard vinaigrette served with cheddar cheese scones, Shepherd's Pie ($17.99) with lamb, onions, carrots, and mushrooms topped with mashed potatoes and cheddar cheese, and a Corned Beef Sandwich ($11.99) served on toasted sunflower bread with cabbage, Swiss cheese, and spicy mustard.
The dinner menu features several of the same dishes, but also includes some additions as well. There is a Grilled Salmon ($20.99) with caramelized marble potatoes, baby carrots, and a malt vinegar reduction, Grilled Sirloin and Fried Fish ($26.99) served with Yorkshire pudding, roasted potatoes, seasonal vegetables, and a red wine sauce, Pan-Roasted Cornish Hen ($18.99), and a Pork Duo ($15.99) featuring grilled brisket with a mushroom ragout and braised pork with mashed potatoes and a red wine sauce.
The dessert menu is the same for both lunch and dinner and includes Cheesecake ($5.49) with a Drambuie ganache, Irish Whiskey Caramel Custard ($5.99) a Bakewell Tart ($5.49) with a cherry compote, Sticky Toffee Pudding ($4.99) served with a warm vanilla custard and hot butter-rum sauce, and a No Sugar Added Fruit Tart ($5.49) with layers of yellow sponge cake, fresh fruit, and custard topped with whipped cream.
If you do not have dining reservations and are not able to get a table in the restaurant's main dining room, or if you are just looking for a quick bite to eat, there is the option of eating in the pub section. The pub menu is simple and features items on the regular lunch and dinner menu that pair particularly well with a beer from the bar. There is Fish and Chips ($7.99), Scotch Eggs ($8.99), the Trio of United Kingdom Cheese ($9.99), and the Corned Beef Sandwich ($11.99). One item that is unique to the pub menu is the English Bulldog ($6.99), a split banger stuffed with mashed potatoes, chopped bacon, Irish cheddar, and a spicy mustard sauce.
For my entrée I decided on the Sunday Roast. When I placed my order my waitress commented that it was her favorite item on the menu, something she recommends to everyone, and I am happy to say that it lived up to her high praise. When the dish was set in front of me I was first impressed with the large portion size, with a generous helping of roast beef and equally large amounts of potatoes and vegetables. The roast beef was very tender, the meat nice and moist. The flavor of the beef was greatly enhanced by the shallot gravy that complimented it extremely well. I did not find the flavor of shallots to be too overwhelming, but it did add a nice bit of extra flavor to the dish.
I was surprised to find that the dish came with not only roasted potatoes but also mashed potatoes as well. I was initially a little disappointed that there were only two roasted potatoes, but I actually liked the mashed potatoes more. The mashed potatoes were smooth and creamy and had a decidedly buttery taste. I really enjoyed the string beans especially because they were cooked perfectly so as not to be too mushy nor too crunchy.
What interested me most about the dish was the Yorkshire pudding, something which I had never tried before. I found the Yorkshire pudding to be very similar in flavor, texture, and consistency to a popover. It was a light, fluffy pastry that provided a nice contrast to the heartier roast beef.
For dessert I was very intrigued by the Sticky Toffee Pudding and I will not hesitate to say that it was one of the better desserts that I have had in all of Disney World. This dessert is not the type of pudding that you may be familiar with, but more like a soft, moist cake. This is a dessert with tremendous flavor and I really enjoyed the way that the contrasting flavors of the warm vanilla custard and hot butter-rum sauce combined with one another. I found that there was just the slightest flavor of rum, not overwhelming but just enough to give the dessert a little bit of a kick.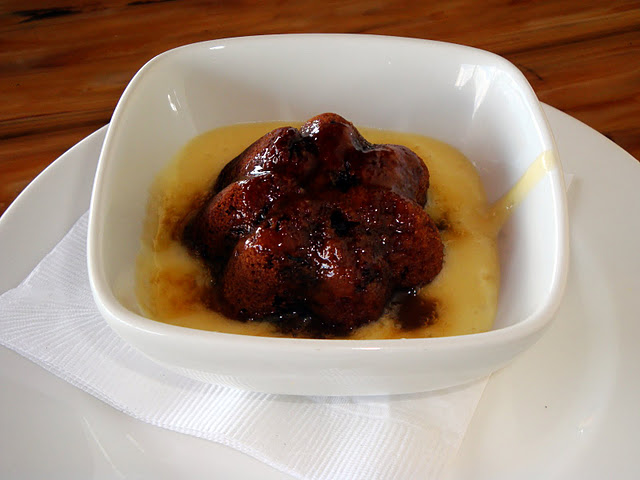 Service:
One of the great things about the restaurants of World Showcase is that you get to interact with people actually from these countries. The Cast Members working at each of the restaurants are more than just servers, but rather are "cultural representatives" who help give us some insight into the lives and customs of the countries they are from. I found the servers at Rose Crown to be extremely pleasant, peppy, and friendly. My server in particular was very talkative. We had a long conversation about how she was making the transition from England and getting used to the different environment and culture of Disney World and the United States.
I also found the servers here to all be very polite and courteous. When I asked my server about the Yorkshire pudding she went out of her way to explain how it was prepared. She also offered explanations of other items on the menu and gave recommendations of her own personal favorites. I found it a little funny at first that my waitress kept referring to me as "hun," "sweetie," or "my love," but then I realized that the servers at other tables were referring to their guests the same way. I found this to be a reflection of English culture and how the servers at Rose and Crown were genuinely concerned with making their guests feel welcome; it showed that they really cared about ensuring their guests had the best dining experience possible.
Dining on a Budget:
When it comes to the sit-down restaurants around World Showcase, Rose and Crown is actually one of the more affordable for both lunch and dinner. The lunch menu, however, does feature some cheaper options. Less expensive items on the lunch menu such as the United Kingdom Pub Burger ($13.99), Romaine Salad ($13.99), and Corned Beef Sandwich ($11.99) are replaced with pricier items at dinner such as the Grilled Sirloin and Fried Fish ($26.99) and the Grilled Salmon ($20.99).
One item I would not suggest ordering at Rose and Crown is the Fish and Chips largely because of its $16.99 price tag. Located just outside of the Rose and Crown is the Yorkshire County Fish Shop which offers Fish and Chips for $8.19. If you are in the mood for Fish and Chips I would go here instead. While the size may not be as large as the one served inside the Rose and Crown dining room, it is still a good-sized portion and filling enough to be a meal unto itself.
In addition, Fish and Chips can also be found on the Rose and Crown's pub menu for $7.99. The pub menu, while not as extensive as the dining room's lunch and dinner menus, is a great alternative if you are looking for an authentic English meal at a more affordable price while still enjoying the immersive atmosphere that Rose and Crown has to offer. In addition to the Fish and Chips the pub menu also features a cheaper version of the Scotch Eggs appetizer for $8.99, the Corned Beef Sandwich for $11.99, and the very intriguing English Bulldog for $6.99.
The Rose and Crown is on the Disney Dining Plan and is worth one credit for both lunch and dinner. While there are no discounts for Disney Vacation Club or Annual Passholders, the restaurant is a part of Tables in Wonderland and offers its 20% discount.
The Overall Experience:
English food might not be my favorite type of cuisine, but dining at the Rose and Crown has showed me that it can deliver a wide range of great-tasting and flavorful dishes. This is the type of restaurant that is great for trying something new, to break away from foods you are used to eating in your everyday life. The Rose and Crown is a nice change of pace from the other restaurants around World Showcase, not only in terms of the food on its menu but also because of its very distinct atmosphere.
With its pub-like feel, the Rose and Crown is one of the more lively and energetic dining locations in all of Epcot. Combined with its immersive theming and attention to detail, you really feel as though you have been transported to England. Only adding to the restaurant's allure is its tremendous location right on the World Showcase lagoon, offering tremendous views by day and an ideal location for watching Illuminations at night. Dining at Rose and Crown is a fun, laid-back, relaxing dining experience that is great for everyone in the family, kids and adults alike. Not being too familiar with English cuisine, Rose and Crown certainly exceeded my expectations in every facet of my dining experience and I look forward to returning there again in the future.
See past restaurant reviews by Guest Blogger Andrew Rossi.
Check out Reader Reviews of Rose and Crown and post your own too!